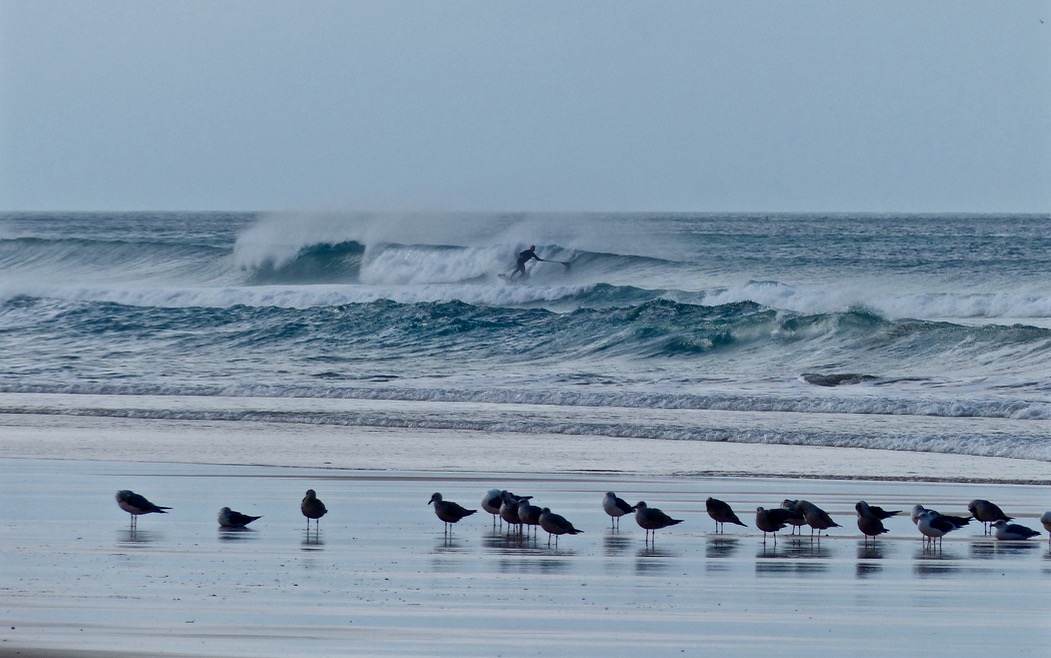 Lets SUP safely
Back in January 2015 we released a feature called 'A leash is a necessity not an accessory'. We promoted this topic for two reasons. 1- The use of leashes in many brand catalogues and websites is very rarely seen in the promotion of SUP. We too are guilty of this with some of our POTDs. Also the large number of new people getting into the sport many are not aware of the need for a leash when SUPing. 2- SUP is easy… and the fact that SUP lends itself to being able to just jump fully clothed onto a board mid summer and paddle without a care in the world. The last thing that many paddlers think about is wearing a leash. But there are many dangers that often paddlers are not aware of by not wearing a leash. Obviously there are a few situations when either not wearing a leash (or wearing a quick release leash) is advised over wearing a leash, but these situations are few and far between. The loss of Andres Pombo who sadly died earlier this year whilst training on Hood River put the spotlight on leash and buoyancy aid use in Stand Up Paddleboarding. Unfortunately nothing will change what happened that day, but his loss hopefully means that more paddlers will think about safety before they take to the water, and that means thinking about leashes and the environment you're paddling in, every time you paddle.
More events than ever before
Over the last year in the UK alone there has been a SUP event on almost every weekend somewhere around the country. Put the UK events in the mix with the events around the world and it made for an action packed event calendar for all abilities. From small local club races to the stand-up world tour it's been clear to see the competitive side of SUP is increasing. Not only is the performance level increasing but also the number of people turning up to each event, creating a fantastic atmosphere. In the UK alone paddlers taking part in events has doubled in the last few years. Paddlers and event organisers are always on the lookout for the next type of event. And 2015 saw the launch of the first SUP triathlon – SUPBIKERUN which proved to be very popular. And the most unique event that caught our eye was the Bat race held in Switzerland as a part of the Alpine Lakes Tour, where the whole race took place inside a cave! Definitely a first.
The next generation is here
To go with all these new events 2015 has also seen an increase in the next-generation paddlers. Its clear to see that more young groms around the world are taking to the water on a SUP. And from the progression we've seen over the last 12 months we can guarantee that the level next year will be a step higher. Young paddlers now have so many more kit options designed specifically for their needs. From iSUPs to high performance surf SUPs and race boards… its all out there for them to try.
By encouraging and helping grow these young paddlers passion for the sport, we can all guarantee the sustainability of SUP in the future. This will allow SUP brands to continue making better equipment thus allowing us to enjoy a better paddling experience. The SUP circle of life.
The waterwomen
25% of our SUPboarder readers out there are women, and the number of women taking to the water and participating in events of all levels has increased significantly. Afew are also pushing the level of women's SUP into the level of the mens. There are two girls who have really made a mark in 2015. The first being the women's Stand Up World Tour surf champion Izzi Gomez. Her super powerful style and ability to throw a board around in the surf like many of the guys meant she smashed her second World Tour win in 2015. Then just when it looked like Izzi was set to be at the top of the womens podium for years to come, a new face paddles onto the SUP scene… Fiona Wylde. At first Fiona started making her mark putting in the miles to hit the racing podiums. Then we saw her compete with the guys in the Stand Up World Tour on Hawaii at the notorious big wave spot Sunset beach. Izzi Gomez and Fiona Wylde entered the Men's trials event in what you could say was a solid swell for anyone at Sunset beach! But Fiona impressively went on to win her heat and made it into the mens main event which was a first in SUP surfing history.
Izzi and Fiona are Starboard team mates, and by training and competing together will no doubt be pushing each others limits once again in 2016. A bit of a worry for the other girls on the SUP tour! We look forward to seeing them hit the SUP surfing scene again next year, and following Fiona's racing. And seeing if there are any new female faces on the SUP scene to hunt them down!
You can do anything if you want it bad enough
SUP is the perfect way to explore new places, and going hand in hand with the new generation of touring boards, exploring the water standing up has never looked so good. With inspirational SUP stories coming from every angle there's definitely something to drag you off the sofa and get you paddling that waterway or discovering a new spot.
For us at SUPboarder there has been one man this year who has really inspired us to do more and live life to the full on and off the water. We first heard of the name Dean Dunbar back in March when the video of him paddling the Caledonian Canal was released. Dean wanted to become the first registered blind person to Stand Up Paddleboard the full 96km of the Caledonian Canal… and he did! This inspiring watch is a true act showing that you really can do anything if you put your mind to it. He also demonstrates that SUP isn't just about paddling in the sun and taking in the views. The feeling it gives you, the buzz of getting out there and doing it, and the achievement of being the first to do something or paddle somewhere new can be just as rewarding. But Dean didn't stop there! Back in the summer he decided to raise the bar and do an open water paddle from the Isles of Scilly to Cornwall!
The journey took him 50 km through some incredibly busy water ways and choppy open water. With his 3 friends as guides Dean tackled this monumental challenge and completing it inspired us that you can do anything if you want it bad enough.
Thank you Dean for showing us all how to go for it and take nothing for granted.
This is obviously just a snippet of whats happened in 2015. And as for things to come… well thats the really exciting bit! Some things are for sure. Boards will be faster and lighter than ever before. And there are bound to be even more boards to choose and deliberate over. We will be here to try to help guide you through the kit market maze and get you on the water on the right board, with our independent kit reviews. New podium faces and possibly even new SUP techniques may also make an appearance in 2016 with new kit and new paddlers coming into the sport all the time. After all SUP is still young in the grand scale of things!
As for things to try and do for 2016… paddle more, try new equipment, get a friend SUPing and take a SUP everywhere you can. From Inverness to Invercargill and beyond… the world is there to be paddled. Make the most of it!
Merry Christmas and Happy New Year.
Reuben Ellis (SUPboarder editor in chief)