"I like to travel with a paddle along the East of Australia because you have the choice of both flat water paddling and SUP surfing, waterways are easily accessible, the surf is consistent and the country is sprawling with unique wildlife, landscapes and experiences." - Beau Nixon
Hear from professional stand up paddleboarder and founder of 'Travel with a Paddle' travel agency, Beau Nixon, why you should explore the East Coast of Australia from the water not just from the road...
There's a stretch of coastline between Sydney and Brisbane that for me encapsulates the lifestyle, culture and landscape of Australia. Most people experience this area through a road trip, but a whole other immersive cultural experience can be found by stand up paddling the rivers, beaches and lakes along this stretch of coastline. This is the Australia I prefer, one where you can find hidden gems such as limestone cliffs towering above the
"This country is a stand up paddlers dream and the unique perspective from the water is something most tourists don't get to see."
Hawkesbury River, drawing you back 40,000 years ago to when Indigenous Australians thrived in this area, their rock art still visible in secluded caves.
A great way to start would be exploring the Great Lakes to the north of Newcastle by paddleboard, immersing yourself on an easy route surrounded by nature. You can call into the hills to hear your echo bounce and remind yourself how vast the wilderness is. The silent and effortless nature of SUP means you can get up close and personal with the endemic wildlife.
Or you could paddle the Clarence River to find yourself in Australia's first Scottish town and delight in reading the clan names painted in their tartan colours on the telegraph poles. As any navigable waterway in Australia can be paddled, you can make anywhere you stop an adventure. This country is a stand up paddlers dream and the unique perspective from the water is something most tourists don't get to see.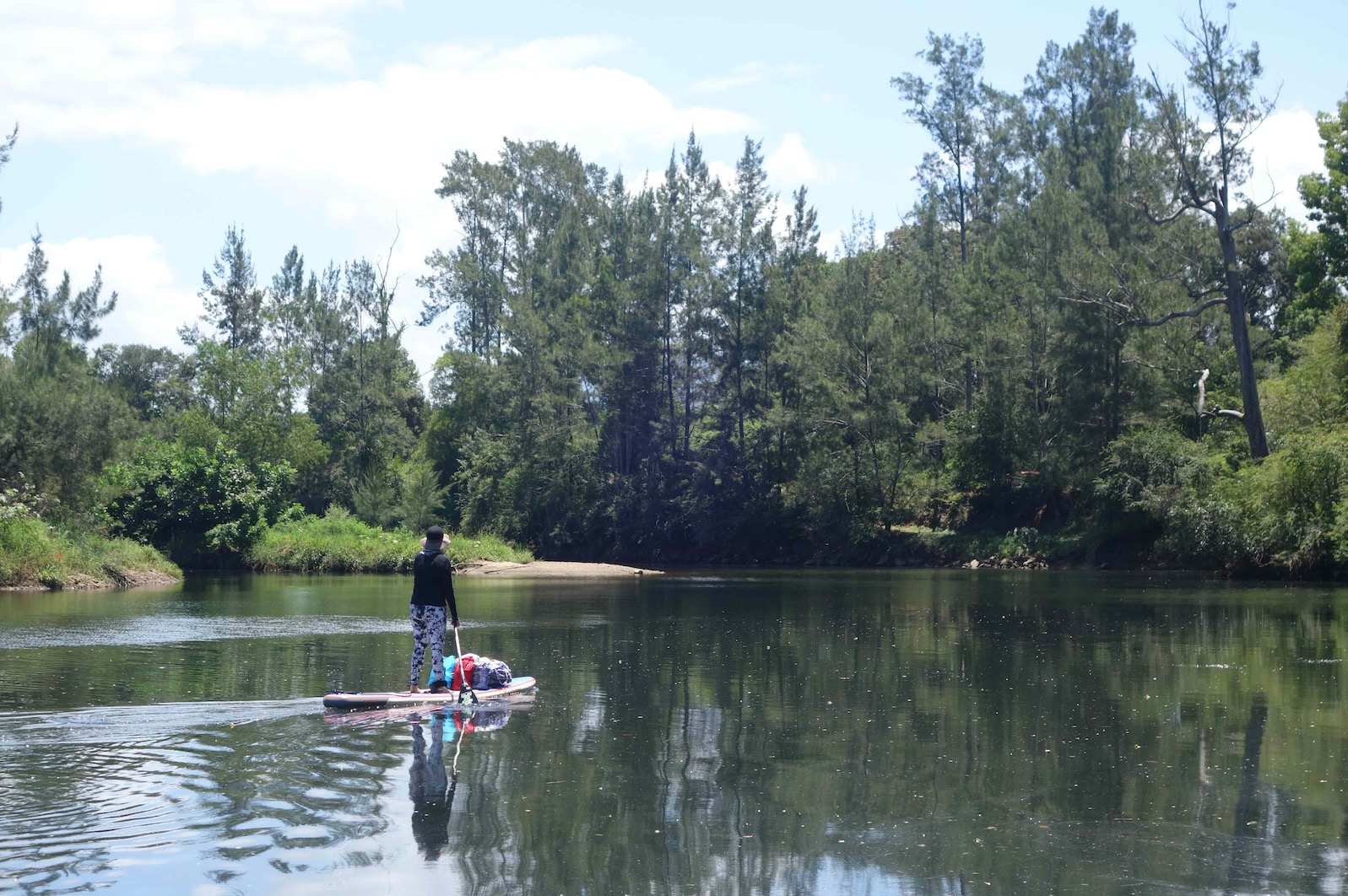 The best time to flat water paddle the East Coast is March to May and September to November. The weather is consistently warm with daytime temperatures averaging 22ºC. With nice weather on your side, the pace at which you paddle allows you to notice more of your surroundings. Rent a car, or travel via public transport and dedicate at least 1 month to fully experience this area of Australia. You will need a versatile SUP that can safely and securely transport all of your gear, so pack an inflatable paddle board either 12'6" or 14' in length.
Flatwater SUP isn't all we have. There are SUP surfing waves in the Central Coast that instill excitement because of the incredible variety of waves. On your way through Newcastle, stop to converse with the local SUP community and gain valuable insight to find the best surf breaks. SUP surf the endless right-hand point breaks along the coast, most of which are sand bottom waves that need the perfect combination of sand banks, wind, tide and swell to work, making it so much sweeter to score a good ride. Surf the Tweed Shire's beaches and the infamous Gold Coast, but steer clear of the crowded line-ups. The empty beach breaks are just as fun! The best months to visit as a surfer are April to June. Whilst the water temperature can be a little cool at 18-21ºC, you will be rewarded with clean, head high waves most of the time.
"A SUP holiday in Australia makes you an explorer, not a tourist. And the best thing is, all paddling abilities can enjoy it."
If you're all paddled out, try dining at a beachfront surf club, tasting some of Australia's best wines in the Hunter Valley, or climb to the top of Mount Warning. Visit the Currumbin Rockpools for a refreshing dip and a picnic and for the adventurous type, try canyoning or caving in the Blue Mountains. Between May and November, you can watch humpback whales migrate along the coast, breaching with their young calves.
A SUP holiday in Australia makes you an explorer, not a tourist. And the best thing is, all paddling abilities can enjoy it.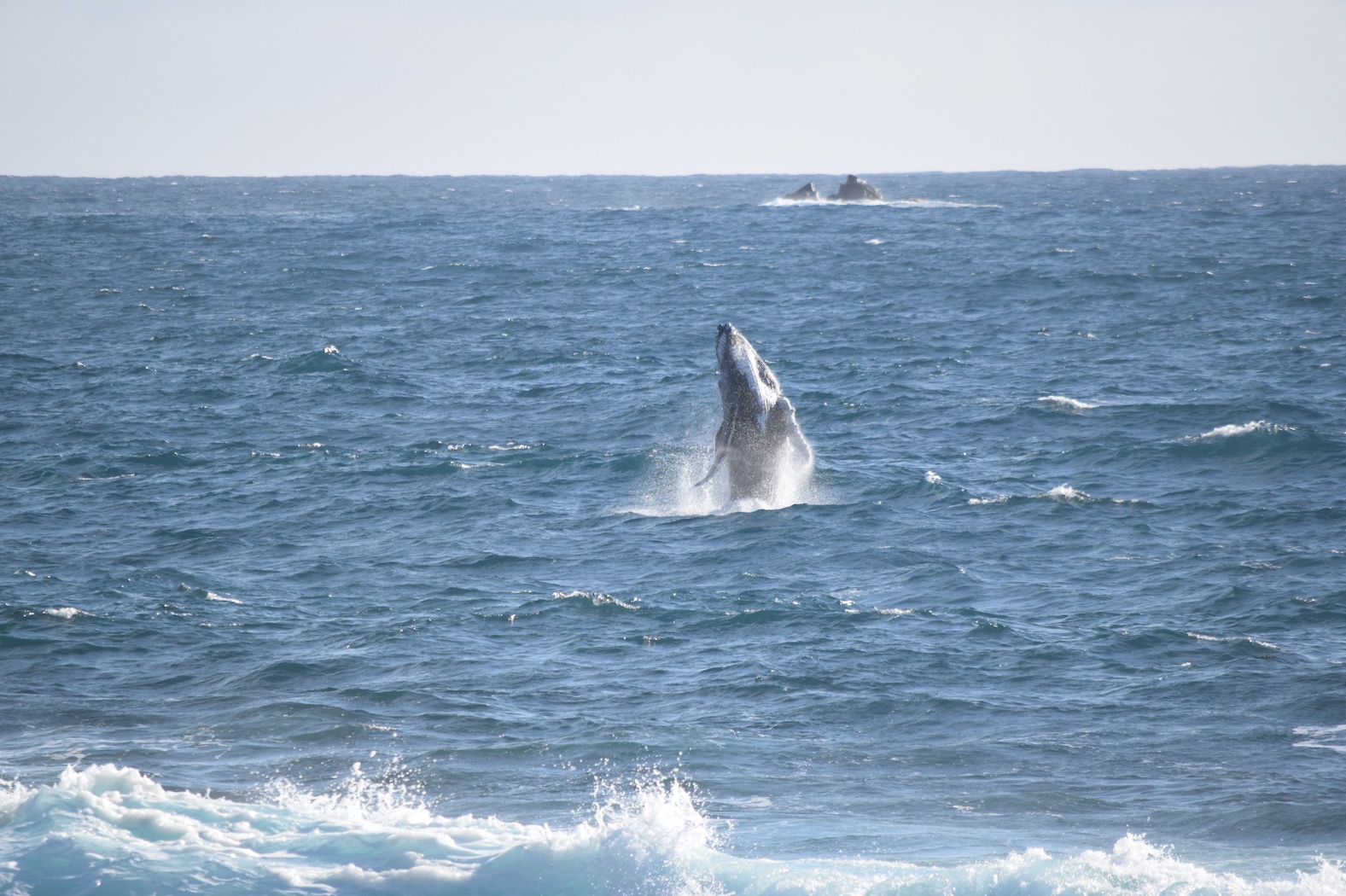 Beau's Top Tips for Travelling with a Paddle along Australia's East Coast…
1. Stay hydrated. Always drink plenty of water as the heat will dehydrate you quickly, even when you're not paddling.
2. Wear sun protection (hat and sunscreen) for the Australian sun.
3. The best place to spot dolphins and the migrating Humpback Whales is Point Danger on the the New South Wales & Queensland state border.
4. Respect the surfers of Australia. If you respect the locals, you'll be sure to catch your fair share of waves. A great tip is when you are in line waiting for your next wave, sit down on your SUP and say hello to the surfers. This gains respect and when you sit down, you become less intimidating for the surfers.
5. Safety and preparation. Ensure you are well prepared for flat water paddles and know your route, exit points and emergency contacts. Don't cut corners with safety. Always study the weather and wind forecast and remember to keep an eye on the tide times so you're paddling with the current on rivers.
Keep an eye out for more of Beau's 'Travel with a Paddle' travel articles from across the globe on SUPboarder over the coming months. 
About 'Travel with a Paddle'
'Travel with a Paddle' is a bespoke travel agency specialising in stand up paddle surfing holidays and flat water paddle adventures. Their main aim is to understand your needs and wildest dreams so they can personalise your next SUP holiday, taking the stress out of the travel process so you can rest easy knowing you're in great hands.
Travel with a Paddle's founder, Beau Nixon is available for private SUP coaching on your holiday. A highly trained competitor and professional in the stand up paddle and surfing world, Beau has competed on the Stand Up Paddle World Tour and won the Australian Men's Longboard Championship and the Australian Men's Stand Up Paddle Championship. Beau has been tailoring SUP holiday experiences for the past eight years and uses his first-hand knowledge of waves and waterways to tailor you the trip of a lifetime.