As a SUP surfer, it is easy to visit the North Shore of Oahu and only see the waves. Surfing is an important part of Hawaiian culture, yet there is also so much more to explore. From unique wildlife experiences and to lesser-known cultural traditions, you can immerse yourself in the region. Following a recent adventure to North Shore Oahu, Travel With A Paddle's founder Clare Baranowski, shares her top tips to finding the hidden treasures this magical place has to offer...
Secret Surf Spots
The endless number of surfing beaches around the North Shore allow for solo sessions if you're keen enough to find them. By remaining respectful to locals when you find these quiet beaches, you will be able to join the lineup and enjoy the waves. Our favourite place on Oahu is a secret spot that breaks both left and right. If you follow enough overgrown dirt tracks to the beach you will eventually find plentiful waves perfect for a SUP surf session. Even when the swell isn't big, there's plenty of energy in the ocean and we found ourselves stoked by the prospect of getting wet every day. As the swell rose throughout the week, we moved onto the more iconic breaks. But our preference was for the days we spent alone at this spot, testing equipment, sharing waves with locals and spending the day watching turtles swim in the shore break.
Short and Sweet River Paddles
Haleiwa River, a popular paddle boarding spot, can be easily accessed from Chocolate's Beach car park and you can paddle up and down the smooth water with green sea turtles popping up around along the way. In the distance, waves stack up to the horizon, whilst you cruise along taking in the palm trees, rope swings and beautiful houses lined along this lesser seen part of Haleiwa town.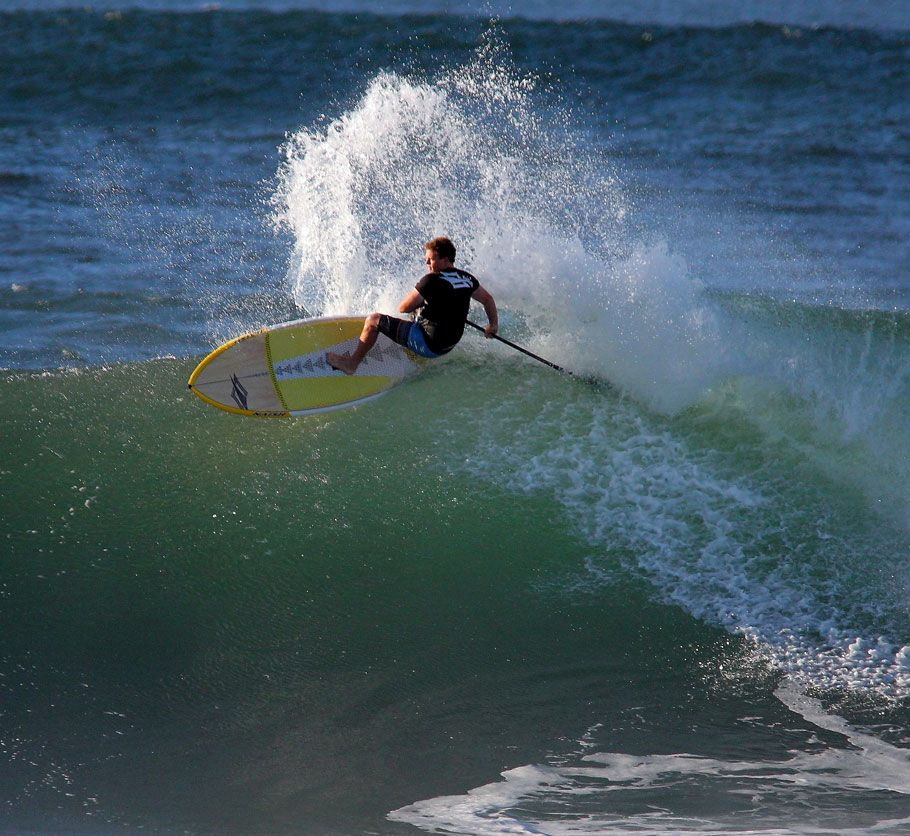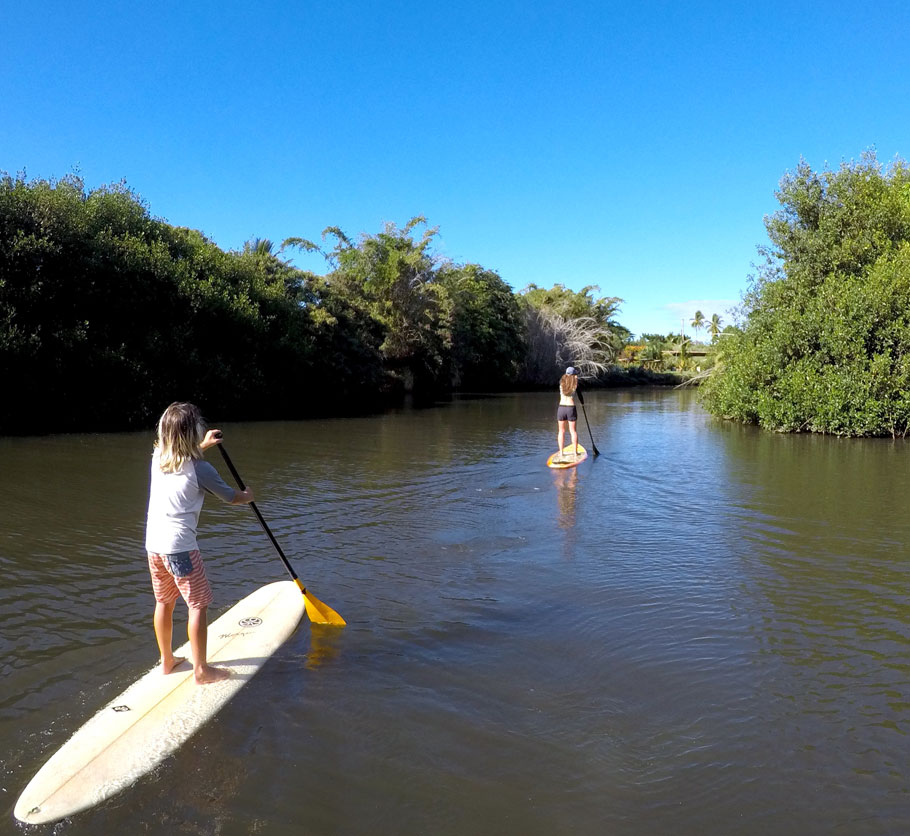 Hiking Off the Beaten Track
Numerous hiking trails wind upward along the mountains that line the landscape. Expansive views of the coastline reward hikers, along with the added health benefits of fresh air and vitamin D. We recommend a three-hour round-trip hike on the coastline track into Ka'ena Point Reserve, an Albatross nesting area. The nesting season begins in November and continues through to the summer months. Our experience here was life changing as it was coupled with the conservation information about the human pressures reducing the number of mating Albatross pairs returning to Oahu each year. Impacts such as plastic pollution and increasing ocean storms due to climate change complicate the life cycle of these birds. However, one success story is the predator-proof fence erected by the Department of Land & Natural Resources in Hawaii to stop land dwelling predators raiding Albatross nests. It has had success in protecting the chicks each year and it is wonderful to see these magnificent birds up close.
Snorkelling with Sharks
Shark research snorkels mix a wildlife encounter with conservation learning experience. To safely interact with pelagic sharks such as Galapagos and Sand Bar sharks in such clear water allows a unique perspective of these ocean wanderers. The boat trip took us three miles out to sea to where these animals rest and hunt. Our Marine Biologist briefed us on how to act when entering a shark's domain so we entered the water feeling at ease. At first, the sharks disappeared into the deep, but as they got used to our presence, they slowly became more inquisitive. After 45 minutes in the water, these beautiful animals were swimming gracefully by us. It is such a privilege to be so close to these protected species.
"Even when the swell isn't big, there's plenty of energy in the ocean and we found ourselves stoked by the prospect of getting wet every day."
Iconic Animal Sightings
Hawaiian Monk Seals are endemic to Hawaii and a rare sight to see with less than 1,500 individuals left in the wild. We felt privileged to see one sunbathing on an isolated beach, but were also overwhelmed with sadness to think that us as humans have contributed to this incredible decline. Overfishing, beach disturbance, discard fishing equipment and long line fishing are the main causes and although we're to blame, we are also the solution. Marine charities in Hawaii are at the forefront of protecting the endemic species of the Hawaiian Islands and have a strict 50-foot rule in place when encountering the seals to ensure humans don't disturb them whilst resting.
Village Life
As you enter the quaint surf town of Haleiwa, every second car has surfboards strapped to the roof or hanging out of a pick-up truck, a good sign that there are waves nearby. The pace of life slows immediately and you become surrounded by surf shops, food trucks and farmer's markets along the streets. There's no high-rise buildings or shopping centres here. People seem happy; content with living away from the city in a place they call the "Country". There's one road in and one road out and the locals want to keep it this way. We recommend a visit to the vegetarian café Beetbox for their smoothie bowls. For us, the people of the North Shore really do make the experience. A simple hello, brief chat or friendly smile can really go a long way in cultivating relationships with the local Hawaiian community and spreading the 'Aloha' spirit.
Written by Travel With A Paddle Founder, Clare Baranowski
The North Shore of Oahu certainly sounds like a great place to explore, not only along the coast but inland too. Whether it's Oahu or somewhere else in the world, next time you're on your travels remember to go in search of all the hidden gems, not just the waves!
About 'Travel with a Paddle'
Travel With A Paddle is a bespoke travel agency specialising in stand up paddle surfing holidays and flat water paddle adventures. Their main aim is to understand your needs and wildest dreams so they can personalise your next SUP holiday, taking the stress out of the travel process so you can rest easy knowing you're in great hands.
Travel with a Paddle's founder, Beau Nixon is available for private SUP coaching on your holiday. A highly trained competitor and professional in the stand up paddle and surfing world, Beau has competed on the Stand Up Paddle World Tour and won the Australian Men's Longboard Championship and the Australian Men's Stand Up Paddle Championship. Beau has been tailoring SUP holiday experiences for the past eight years and uses his first-hand knowledge of waves and waterways to tailor you the trip of a lifetime. Clare is also available to guide you on marine wildlife encounters and educational experiences.