Narrow streets, sunny piazzas, and plenty of pasta and lemoncello. That's what most people associate with Italy. But when you explore the Amalfi Coast by SUP you'll discover there are alot more hidden gems, above and below the water... secluded coves, turquoise waters, and an abundance of wildlife to name a few. Clare Baranowski explains how when you explore the Amalfi Coast by SUP it really is a world away from the busy narrow streets above...
"We saw a large fin moving along the surface of the water and paddled closer until one eye became visible, peering up at us from the clear, cool water below. "Mola mola" our marine biologist whispered as she motioned for us to stay quiet so as not to scare it. We watched as the magnificent, two metre sunfish investigated us before propelling itself into the depths. We continued on, smiling, to leave it in peace and to process how lucky we had been - Beau Nixon."
Although some may picture the crowds of Positano when thinking of the Amalfi Coast, there is a far more secretive side of the coast to experience when exploring by stand up paddleboard. The coast is dominated by steep cliffs and hidden beaches which are sun drenched and teeming with wildlife. We packed our inflatable SUPs and took advantage of the few low-lying bays to begin and end our day's paddling. We were more often than not the only people on the beaches as they were solely accessible by water.
A lot of our paddle trips took place close to the marine reserve running along the coast, where boats cannot stop or anchor. The region is abundant in wildlife and we saw gulls, dolphins and sunfish in their natural habitat. The towering cliffs cast a shadow and gave us shelter from the heat of the sun and thanks to the cool wind and regular swims to refresh ourselves, we often paddled through the day exploring the caves, arches and turquoise water that the Amalfi coast is known for.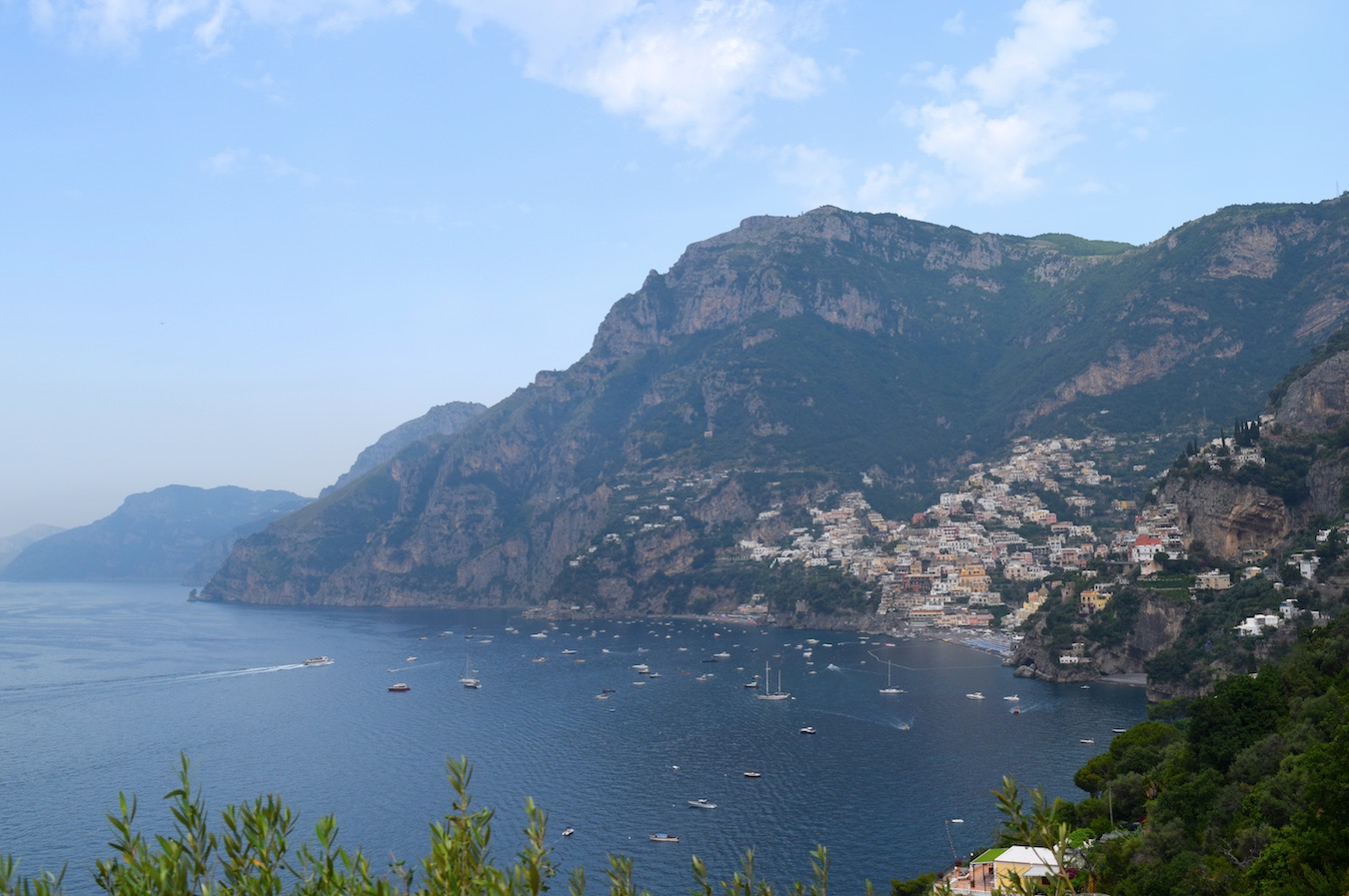 During one paddle we stopped for a lemon grove tour which offered an amazing insight into the local farming and the birthplace of Sorrento Limoncello, a strong lemon liquor famous in Italy. We ate our fill of homemade pasta and fresh fish drenched in olive oil at both high street restaurants and unassuming little beach bars along the route. To our delight and after a full day of paddling, most beach bars offered a shuttle service to the nearest town, or even to our villa which stood high on the cliffs above Massa Lubrense.
Where possible, we explored the towns of the region; Sorrento, Massa Lubrense, Positano, Amalfi and Capri. Each had its own delights, but for me it was the quiet, flag stoned square of Massa Lubrense that caught my heart and the quaint harbour positioned below from where we started some of our SUP adventures.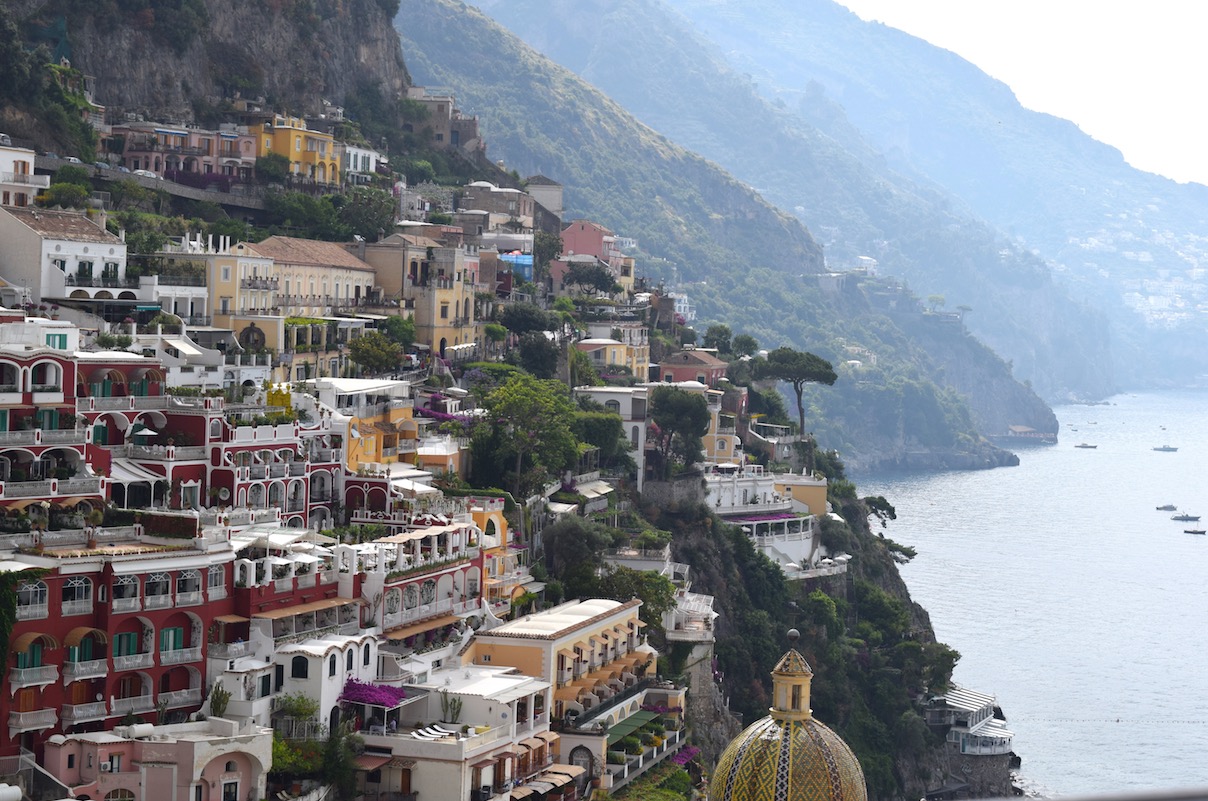 "For a true Mediterranean adventure, I highly recommend taking to the ocean on a stand up paddleboard. It is underestimated and truly rewarding when you explore it at your own pace. With the expert knowledge of Travel With A Paddle SUP guide and a marine biologist, you will uncover hidden secrets and unexplored regions of Italy's Amalfi Coast. "
When to go?
The best time to stand up paddle the Amalfi Coast is during the summer between May and September. Favourable, light winds grace the coast during this time and rainfall is very low. Just remember to keep hydrated, cool and protected from the sun during the hottest months of July and August.
Clare's Top Tips for Travelling with a Paddle along the Amalfi Coast, Italy…
1. Take a boat trip around the island of Capri. Or take the ferry across and use your inflatable SUP to paddle around the island.
2. Bring your own inflatable SUP as it will be easier to carry and travel through the narrow streets and up and down the steep stairs.
3. Taste the Seafood Linguine.
4. Pack a hat, sunglasses, loose clothing and bring an underwater camera to capture incredible moments.
5. Although it can be sometimes unreliable, travel on public transport. The roads are really narrow and navigating these tricky lanes is best left for the local experts.
To find out about other great places to 'Travel with a Paddle' check out Beau & Clare's previous articles on SUPboarder. More great paddling locations coming soon too.
About 'Travel with a Paddle'
'Travel with a Paddle' is a bespoke travel agency specialising in stand up paddle surfing holidays and flat water paddle adventures. Their main aim is to understand your needs and wildest dreams so they can personalise your next SUP holiday, taking the stress out of the travel process so you can rest easy knowing you're in great hands.
Travel with a Paddle's founder, Beau Nixon is available for private SUP coaching on your holiday. A highly trained competitor and professional in the stand up paddle and surfing world, Beau has competed on the Stand Up Paddle World Tour and won the Australian Men's Longboard Championship and the Australian Men's Stand Up Paddle Championship. Beau has been tailoring SUP holiday experiences for the past eight years and uses his first-hand knowledge of waves and waterways to tailor you the trip of a lifetime. Clare Baranowski is also available as your private guide for marine wildlife experiences.