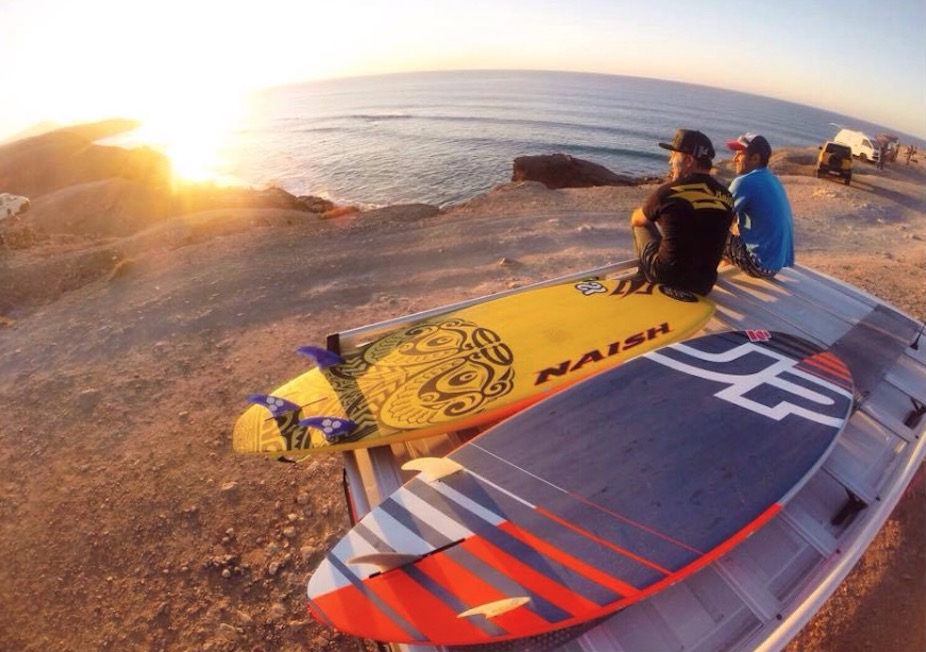 You might think of fins as just the things that stick out the bottom and back of your board, that you never take out and just get in the way. Or maybe you're interested in fins and want to change them and try something new but don't know where to start. Well, whether it be on a performance race board or first time surf SUP all fins work the same way, but the shape and position of your fin can make your board feel very different and perform in a very different way. In this, SUPboarders fourth feature on 'SUP shape & designs' we talk about the role fins play on your board and how the different fin shapes effect the feel of the board.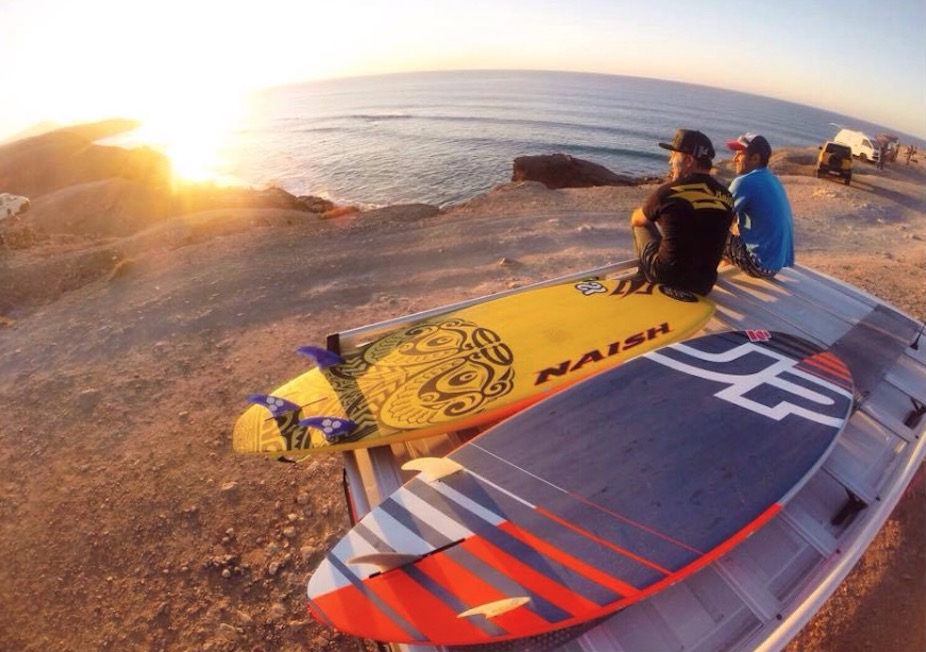 Before we start we need to talk about when you will really notice the difference in your fins. The rule of thumb is, the faster you are moving or the further you are paddling the more impact your fins will have on your paddling. Whether it be racing, touring, surfing or cruising you will feel the difference between fins. However if you are just paddling at 1 mph having fun with family/friends the fin becomes less important. Any fin would do the job for that!
What does a fin do?
So… what does a fin do? And why do we need a fin on our board? In simple terms, a fin provides Drag, Control & Grip.
Drag : Any fin on any board will slow the board down because it produces drag at the back of the board. But by doing this it helps keep the back of the board behind the front of the board, enabling you to paddle in a straight line. Take your fin out and you will soon discover the importance of having a fin! It will be impossible to paddle in a straight line and your board will just spin around in a circle because there are no fins to produce drag and keep the board moving in a particular direction.
Control & Grip : Having fins will give your board more stability in a sideways motion and also help you with grip and control when your board is moving at faster speeds.
In a surf environment fins play an important role on a wave, but they're not the only thing that aids the boards performance. It's important to remember that the rails of your board are equally as important in helping to control and turn your board. As you can see in the latest 'Dogman' SUP surf action video, where there's a clip of him riding on the nose of his board and using only the rails of his board to turn and grip. It just goes to show you that fins aren't solely responsible for riding and turn on a wave. They very much work together with the other parts of the board. When riding finless the hardest bit is paddling on the wave in the first place!
Fin position
Before we move on to fin shapes it's very important to look at the fin position on your board. By using the words fin position we are going to be talking about position in terms of forward or backwards on the board and not side to side.
Forward position : By moving your fin to the front of your fin box it will make the board turn easier because you have moved the centre of effort further forward.
+ Pros Great for making your board turn faster for less effort.
– Cons Not as good in a straight line. Your board will tend to drift sideways more.
Back position : By moving your fin to the back of the fin box it will keep the board moving in very much a straighter line than the forward position (like a tail of a kite).
+ Pros This is a great tip for first time paddle who are finding it hard going in a straight line. And racers wanting to move as fast and as straight as possible.
– Cons Will take longer to turn the board, And if you want to do a faster step back turn your foot will have to be further back on the board to do so.
For this reason, flatwater straight line race boards will have their fin nearer the back of the board. Compared  to an all round SUP shaped board that will have their fin box set a little further forward to enable the paddle to have the ability to turn easier.
Fin shape
There are many different shapes of fins on the market, however we are going to look at the three main fin shapes… the swept back, upright and the general all-round fin.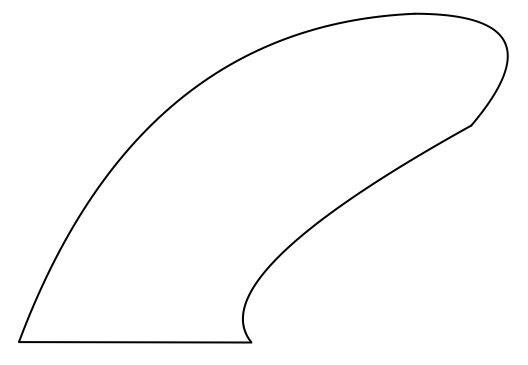 Directional swept back
The swept back fin works in very much the same way as the fin position does. By moving the main shape of the fin back it will draw out the turn and also make paddling in a straight line easier. And also because this fin has a large surface area it will give the paddler more sideways stability too.
+ Pros This is great fin shape for paddlers wanting a super stable fin with great straight line performance. A great long distance fin.
– Cons Will really suffer if the paddler wants to turn the board quickly. And it won't be the fastest fin due to its larger size.
Common board type : Long distance touring/race boards and larger cruising SUPs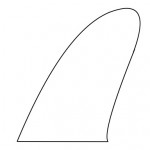 Upright
The upright fin is the opposite to the swiped back fin, keeping most of its area forward above the fin. Because of its smaller area it will produce less drag and be faster through the water.
+ Pros This is a fin shape that will suit a paddler wanting to go fast and be able to turn too. 
– Cons Will not track in a straight line as well as a long swept back fin. 
Common board type : All round race boards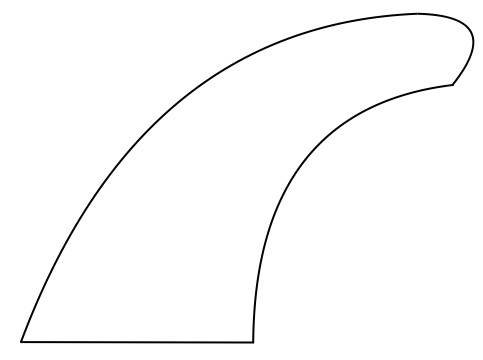 General all-round
Probably the most common shaped fin that comes with 80% of SUPs. As you can see its very much a combination of the swept back and the upright fin giving you the best of both fins.
+ Pros Fin shape works well in the surf and for general flat paddling. Good beginner all -round fin. 
– Cons Not great for more performance specialist race SUPs.
Common board type : All-round SUPs from cruising to surf.
Other things to consider
Fin shape and position are just two of the basic factors regarding fins. There are many other things to consider re; fins including…
Fin construction : This relates to weight and stiffness of the fin. Generally the stiffer the fin the more power, drive and speed it will produce. This is why carbon is used for many top quality fins.
Profile and fin thickness : Looking down over the fin will show you its profile and thickness. A super thick fin will be slower than a thin fin. However a thin fin will have less profile shape and will most likely not be as stiff as a thicker fin (which is why many thinner fins are made from carbon)
Fin size : In general the bigger the fin the more sideways stability you'll have but also the slower the fin because it will produce more drag. But there's a lot more to fin size than just that! (which we will cover in a separate article)
How many? : 4, 3, 2 or 1? This is really a feature in its own right! But the basic way to think about it in the SUP world is, if you want to go fast and find it easy to paddle in a straight line then 1 longer centre fin will suit you better than 2 or 3 smaller fins. Boards that are set up with 3 (thruster) or 4 (quad) fins are really designed for a board wanting more grip i.e a surf SUP. Therefore a very common SUP fin setup that comes with 90% of all-round SUPs is the 2+1, 2 smaller side fins and 1 larger centre box fin. A great setup to enable you to paddle lots of different SUP disciplines.
2 + 1 fin setup Top Tip If you are paddling on the flat, try paddling with just your centre fin (i.e remove your side fins.) This will make the board faster to paddle because you have reduced the drag. But if you find that there isn't enough straight line performace compared to your original set up then put your side fins back in or try using a bigger more swept back fin.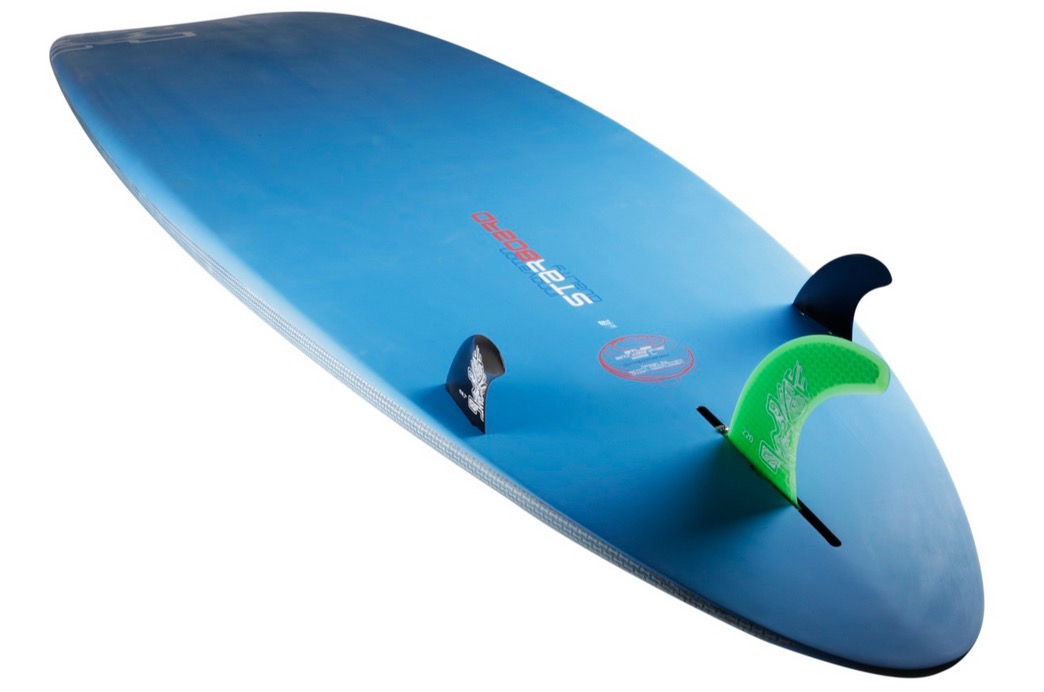 Fins really do make a difference to the feel of your board. And it is a very easy and relatively cheap to play around with and replace your fins. So if you feel like changing the feel of your SUP and getting to know your board better, then have a play around with your fins. You'll be amazed at what they can do.
This is just an overview about the importance of fins, and we will be covering profiles, thicknesses and shapes of fins in more detail in another article. But until then hope you found this article informative. To read more similar articles check out the other SUPboarder SUP shapes & designs features; 
The deck under your feet
The magic of rails
It's all in the tail
Also for more information about how many fins check out 4,3,2,1 or no fin? How do you decide?