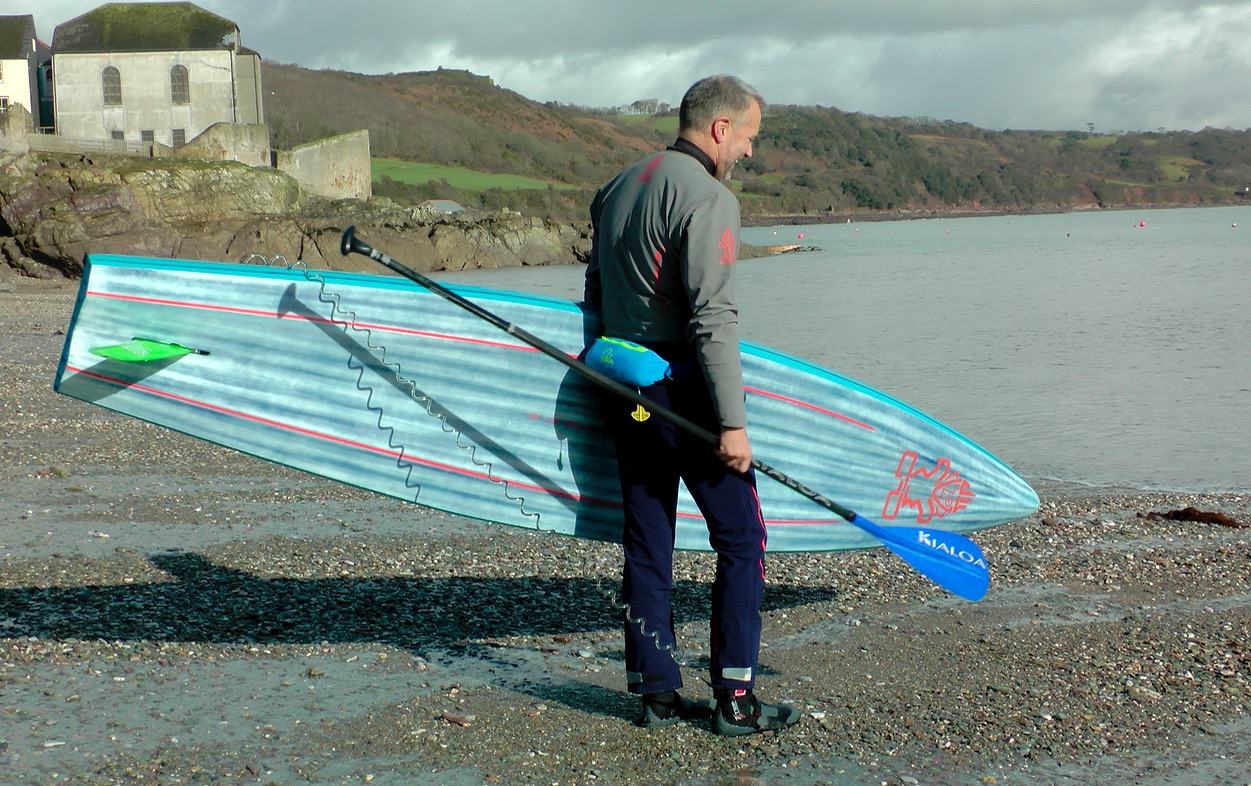 Palm Glide Inflatable PFD – £89.99
The Palm Glide Inflatable PFD is the first such device to be ISO Certified as a Personal Flotation Device. That takes inflatable, waist worn safety devices up a level making them a serious alternative for SUP paddlers looking for a less bulky buoyancy aid. SUPboarder took one for a practical test at the beach;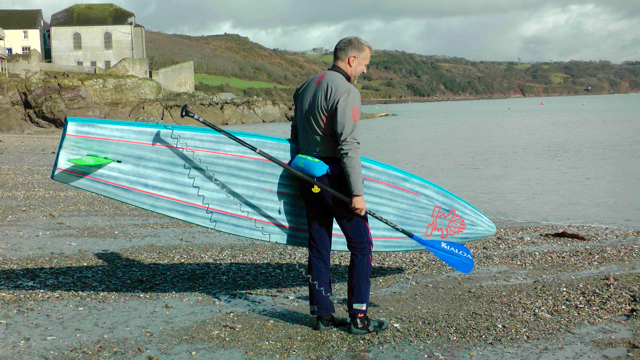 Inflatable buoyancy aids have been available in the UK for some time. Almost all are housed in a bum bag and use a CO2 canister to inflate at the tug of a cord. Palm, a longstanding British maker of equipment and safety gear for paddlers have taken that basic design and improved it, gaining ISO accreditation for their product.
There is an increasing move to have some sort of flotation when paddling. Largely it's a personal choice but there are an increasing number of locations and events opening up to SUP where a PFD is mandatory, the ICON Classic from 2015 and the SUP Armada to name two. PFDs typically are designed for other sports, and they are often perceived as bulky items that 'get in the way' which misses the point of their purpose, to keep the wearer afloat if they get into trouble.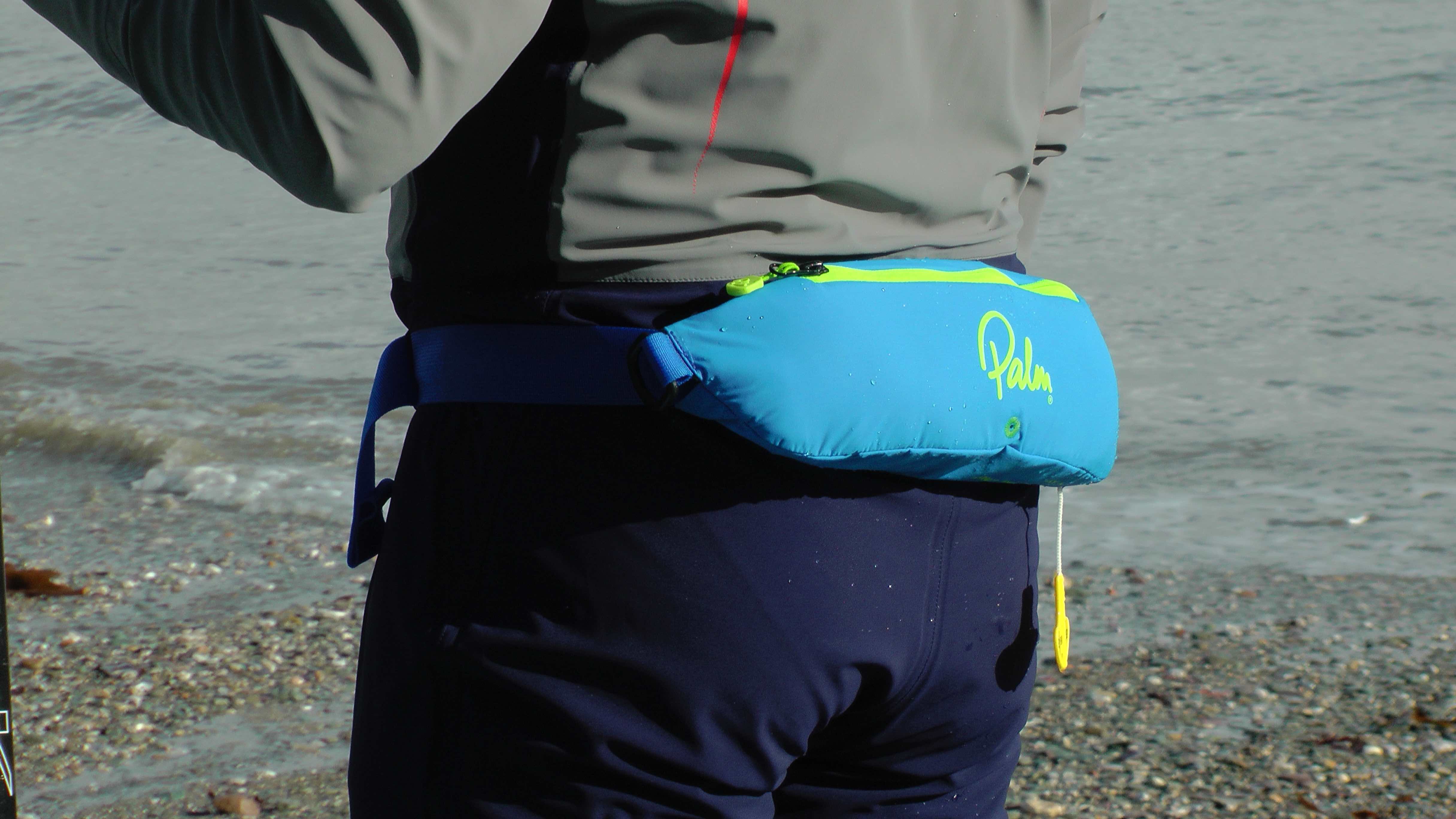 The Glide tackles the image problem that PFDs have head on. It's a well made, well designed bit of kit. That doesn't look like a PFD. The designers at Palm have created a simple nylon bag with a single waist strap, one main compartment contains the PFD, a 100N flotation bladder inflated by a single 24g CO2 canister and the trigger. There is one small external zip pocket for keys or beer money. The material is a soft nylon that feels like stretchy neoprene and Palm have put in fabric garages between any plastic hardware and the paddler so it won't rub against bare skin. The CO2 canister is threaded and simply screws into place. Replacement canisters can be easily bought but not to be confused with canisters for other applications, so worth checking the thread size before buying.
The compartment with the PFD is accessed from below with velcro strips holding things secure. The inflation toggle sits on the right of the bag when worn. And that's it, a simple, sleek product.
Until you pull the toggle!
Rather than sit in the studio and watch it inflate Chris from SUPboarder took to the water to test it properly, water temperature was around 10 degrees celsius, air temperature was around 8 degrees on an overcast day.
How hard could it be to fall into the water, find a toggle and be safe…
Worn as a bum bag the PFD is on the wrong side when you need to use it so once the falling in was completed (into water that was a lot colder than anticipated!) I slid the bag around, found the toggle and pulled… Hard. Initially it seemed that nothing happened but then there was a strange whooshing sound, I felt the velcro on the bag burst and the yellow plastic PFD popped up in front of me. I then simply pulled that over my head and hey-presto. PFD in place. There is an inflation tube on the PFD to top up the volume if needed, or deflate. The adjustable strap that pulls the PFD to the bag/belt, was easy to find and to pull tight as was the waist belt adjuster. Once done it felt as I'd expected it would, no problems with keeping 100kg of me afloat. That part of the test highlighted one thing, the waist belt needs to be fairly tight to hold the PFD to the torso of the user.
Importantly, paddlers can use the Glide with a hydration pack, because the Glide has to be moved to the front before use and therefore it will not foul on any pack.
The difference between this and a traditional PFD is that this is one use only, after inflation the CO2 cartridge has to be replaced. So rather than pull myself back on board I headed back to the beach. In the real world I'd  only pull the toggle if separated from my board and swimming, or at least moving in the desired direction, was a more representative test of the product.
Pros Lightweight, unobtrusive, sleek PFD for those who want the sense of security of a PFD without the bulk
Cons None

Conclusion
It works as expected. That's not faint praise but that's exactly how safety equipment should be. The toggle is easy to grab, the two straps are nice and wide and work as they should.
Should an inflatable PFD be part of your paddling kit? SUPboarder thinks so, for the application it is designed for it's a well designed bit of kit. It is not a replacement for careful planning or taking responsibility for your own safety, neither is it a replacement for a traditional PFD but for occasional use it's hard to find any reason not to use one.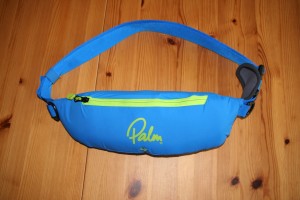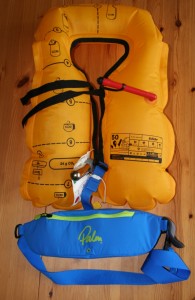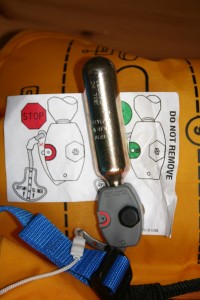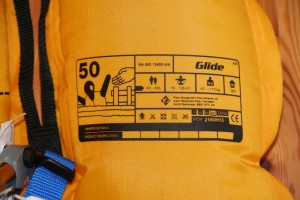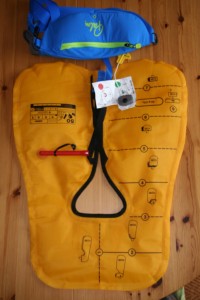 ISO who?
The International Organisation for Standardisation (ISO) was created to make sure things work. There's a lot more to them than that but for the sake of brevity we've copied this paragraph from the ISO website
What are standards?
International Standards make things work. They give world-class specifications for products, services and systems, to ensure quality, safety and efficiency. They are instrumental in facilitating international trade.
There is a process to getting any product certified and the Palm Glide is certified in accordance with two standards for personal floatation devices, ISO 12402-5 and 12402-6. These are;
—

 Part 5: Buoyancy aids (level 50) — Safety requirements

—

 Part 6: Special purpose lifejackets and buoyancy aids — Safety requirements and additional test methods
There is more information on the ISO 12402 Personal Floatation Device legislation here, note that the full document can only be viewed for a fee.
Why is that important to a paddler?
From the ISO site "ISO International Standards ensure that products and services are safe, reliable and of good quality". Of course that doesn't mean that a non certified product won't work but you'll find ISO certification on a lot of safety gear so it makes sense to SUPboarder to use a certified product if one is available.