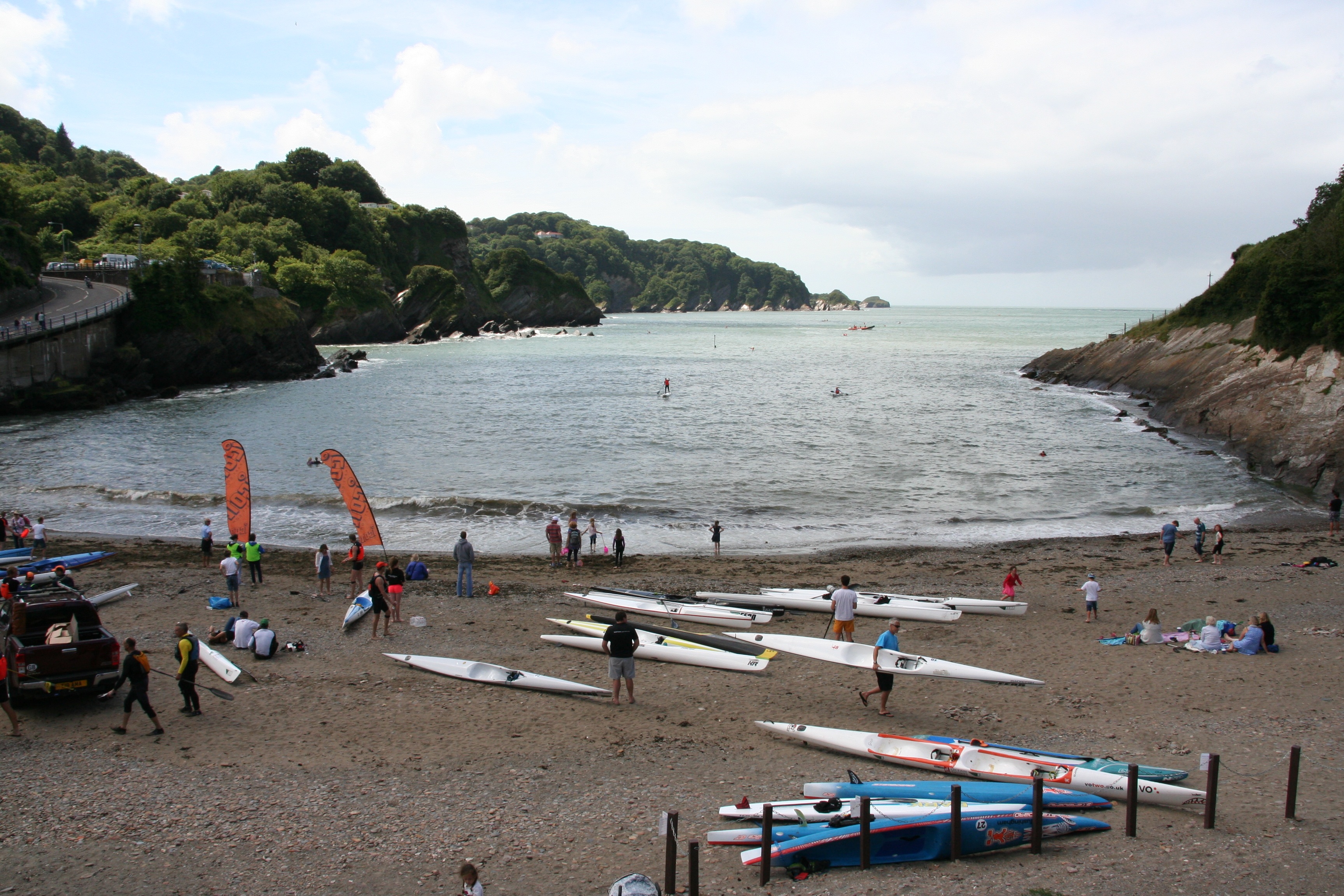 Last weekend saw something a bit different for UK SUP racing. An open water downwind event took place off the coast of North Devon. For the first time the 'ICON Classic Ocean Ski Series' 2015 invited 10 experienced SUPers the opportunity to take part in the challenging approx 7 mile downwind event. A first for SUP and with limited entry, paddlers were quick to put their names forward. Among the first were experienced downwind paddlers Marie Buchanan and Paul Simmons who are always up for a challenge and a bit of competition! Here's their account of the days exciting off-shore racing…
Marie Buchanan – SUPboarder & Starboard SUP UK team rider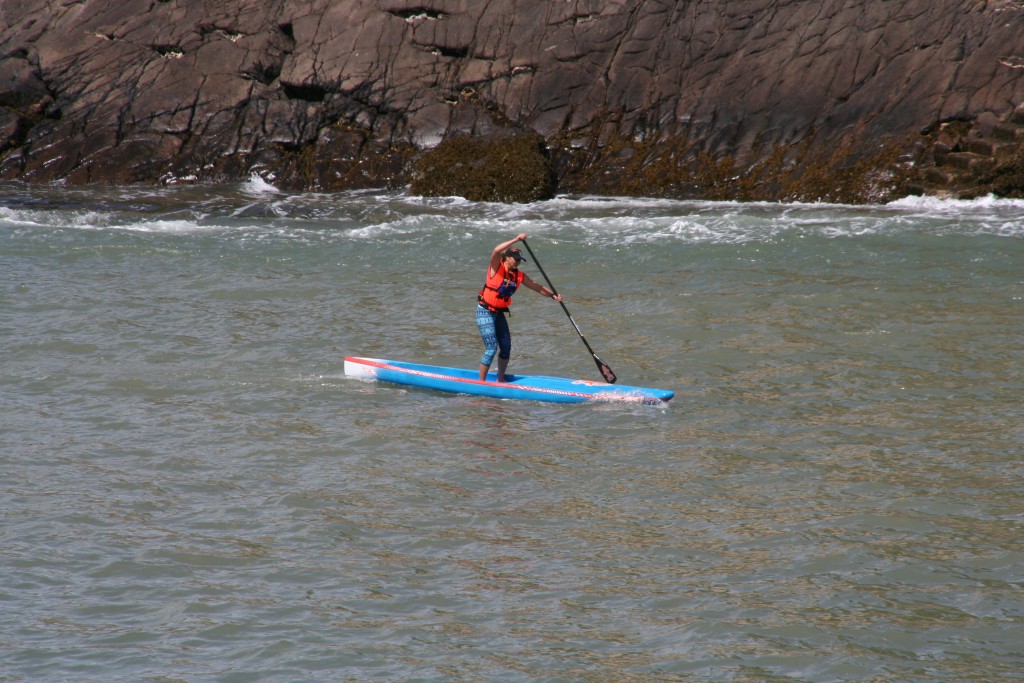 Back in April this year, when David 'Tids' Tidball announced a limited entry of 10 experienced SUP paddlers to take part in the already established ICON classic Ocean ski series race, I jumped at the chance! My entry was in within the first 10 minutes!
Although SUP racing is growing each year in the UK, the majority of racing takes place on sheltered inland waters and rivers, with only a handful of races currently held on the open sea. For ocean lovers and down winding enthusiasts like myself this was an opportunity not to be missed!
After watching the forecast intently all week, when the day arrived we were blessed with perfect down winding conditions, moderate warm Westerly winds and 4-6ft of predicted swell. After registering and attending the safety briefing together with the Ski paddlers in Woolacombe Village hall, our group of 8 SUPs made our way in van convoy to our separate start from the more remote and sheltered Lee Bay.
We arrived in Lee Bay with 45 mins spare before our 1.15pm start, plenty of time to prepare our kit and decide what to wear and avoid overheating in a full length wetsuit! Our mandatory kit included a leash, waterproofed Phone/VHF, high visibility numbered vest, whistle and personal Flotation (PFD). Most of us chose to carry a hydration pack and wore some sort of neoprene ranging from just a neoprene vest top and board shorts/skins to a full length summer wetsuit, depending on how much we were likely to fall in!
After a gentlemanly start from Lee Bay, the leg to the first Mark was against a brisk sidewind and chop before rounding it to head straight downwind to the next headland towards Ilfracombe. After starting from 'cold' it took me a while to warm up and find my rhythm and I rounded the mark in 5th position just behind Damian Warner, with Ollie Shilston in the lead, followed closely by Paul Simmons and then Andy Joyce not too far behind. From behind, I could see the leaders diverge, Ollie Shilston heading out to sea and Paul Simmons taking an inside course closer into the headland. Once further into the channel and clear of the back wash from the first headland, the bumps cleaned and were all enjoying some nice runners and a had a decent tail wind to help us along!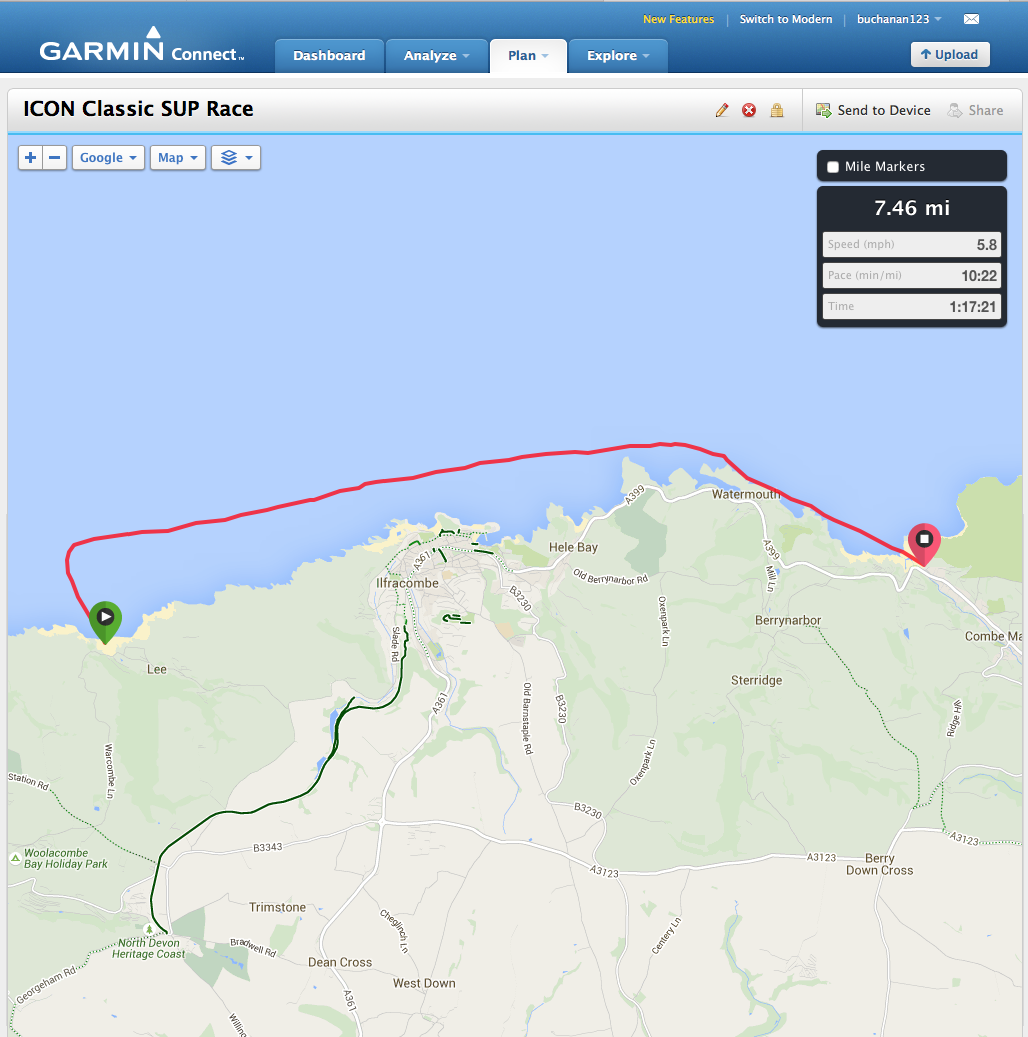 It wasn't long before we were approaching the final headland and could see Great Hangman Hill in the distance. This was our landmark and prompt to head right and hug the coastline inland towards the finish at Combe Martin. Luckily I chose to take an inside course and to hug tight to the final headland, rewarding me with some steep fast bumps to surf down. Great fun riding my Starboard 14ft Ace from the tail like a surf board clocking up 18km/hr!!! Hugging the headland and taking an inside line into Combe Martin Bay paid off, being in the lee of the headland avoiding the sidewind and picking up some lovely clean bumps as they wrapped around the headland in towards Combe Martin. This allowed me to sneak into 4th place a minute ahead of Andy Joyce who chose a much wider course and lost ground against the stronger sidewinds, not easy with the added windage of his Starboard 17'4" ACE GT!
The hilly backdrop of the North Devon coastline provided spectacular scenery with plenty of recognisable landmarks to provide reassurance that you weren't straying off course, and heading deep into Bristol Channel! This was such a great event to be part of, fun racing with great conditions and a lovely vibe. For me, the enjoyment was more about the personal challenge and achievement rather than my overall position. Great to discover some new paddling territory and to share the passion and enjoyment for paddling on the open sea with others, in a safe and fun environment!
Paul Simmons – Starboard SUP UK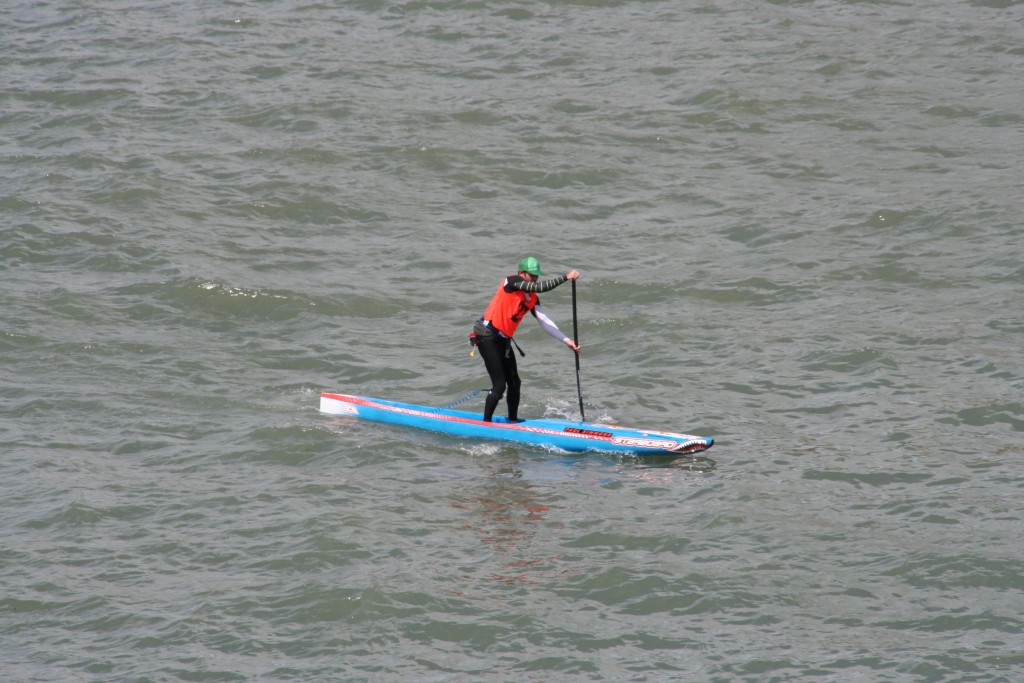 Paddling downwind around or along the coastline in choppy or rough conditions can be one of the most exhilarating and challenging aspects of stand up paddling. Unfortunately until now, the UK has not seen any true downwind racing, I suspect due to logistics, safety and insurance issues. Thanks to the efforts of David "Tids" Tidball we were able to add the SUP discipline to an existing ocean ski race, which allowed a controlled number of experienced stand up paddlers to participate.
We took a route out of Lee Bay to avoid the breaking surf and treacherous sea state around Morte Point (if your French isn't up to scratch then it's worth looking up the translation!)  Once out of the bay conditions were challenging in places with a moderate swell and chop bouncing back from the rocky coastline. We had a fresh side-wind out to our one and only turn around a RIB , and from there it was downwind all the way.
I chose an inside line and lost ground to speedy Ollie Shilston, who was storming off taking a more offshore route. There were occasional good runners and all paddlers enjoyed the seven mile route. Unfortunately in my desperation to close the gap on Ollie I chose to cut inside what I thought was an island and ended up going down a dead-end a kilometre or so before we actually needed to turn in! I was redirected by some fishermen and had to step up the pace as Damian Warner, Marie and Andy Joyce weren't far behind and on a better line with the swell taking them straight towards Combe Martin. I finished a distant second but comfortably ahead thanks to some hard work inside the last headland.
As growing numbers of stand up paddlers become proficient on the ocean, it's important we demonstrate proficiency in challenging conditions and thanks to Tids' efforts we have hopefully begun the start of a strong relationship with the ocean ski paddlers for future events.
ICON Classic Gallery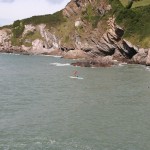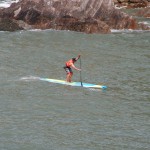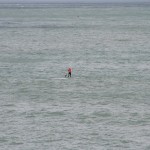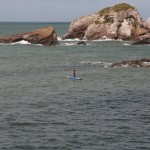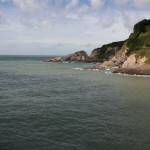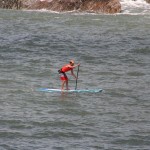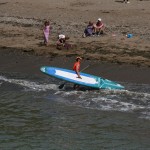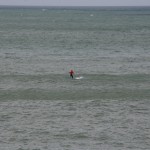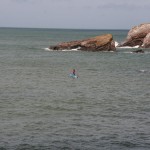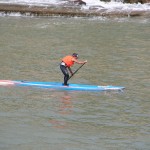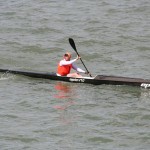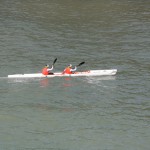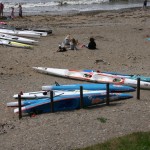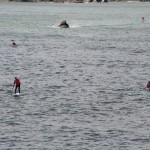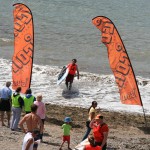 Huge thanks to organiser Mark and the Ocean Ski guys for allowing SUP participation. Also Tids & family, plus all the safety crews and Martin Tillman, all of whom ensured a smooth operation with the logistics of board and paddler transportation!
Words: Marie Buchanan and Paul Simmons
Images: Chris Jones
For more information about Tids and the Phibian SUP Shop in Exeter check out his website and Facebook.