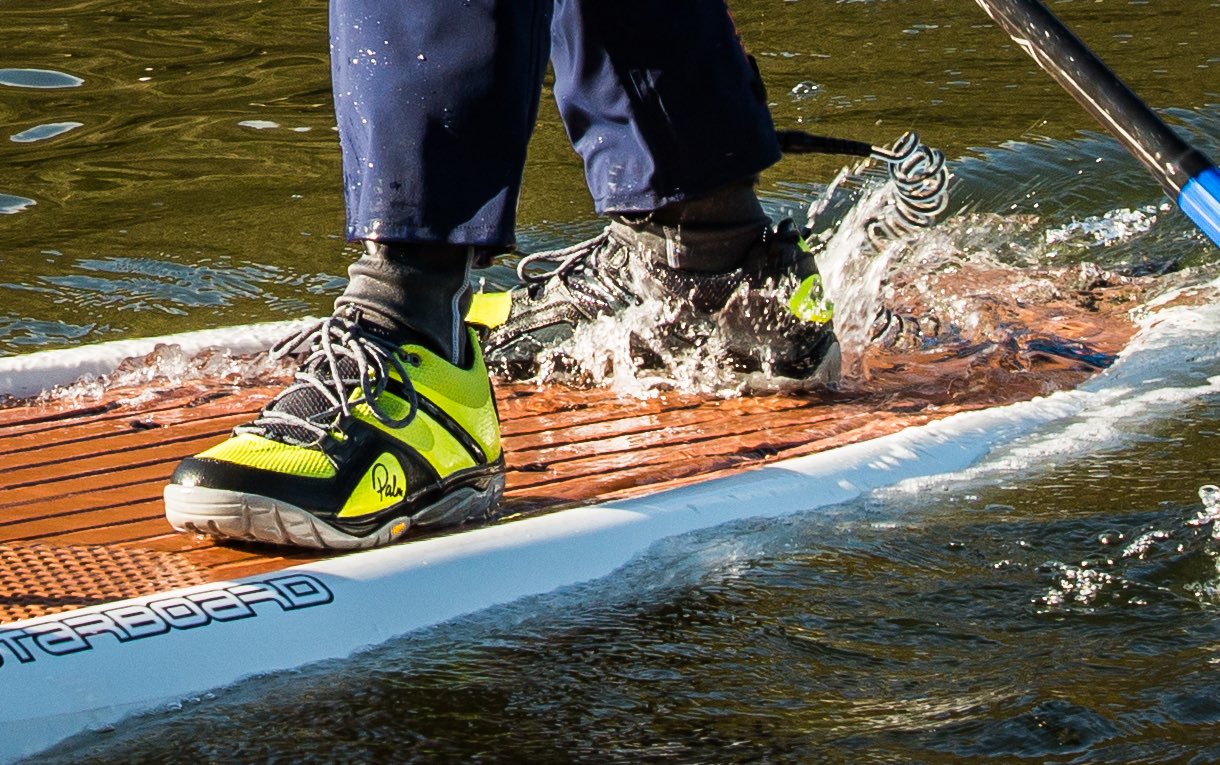 Palm Camber Shoe – £69.95
Knowing what to wear on your feet when paddleboarding can be difficult. Not only do they need to remain comfortable when wet, but also provide good grip on the board and be sturdy enough to get you and your kit to the waters edge. Palm gave SUPboarder their Camber shoe to review. The Camber is an approach shoe designed for use in and around water. Here's the full SUPboarder verdict;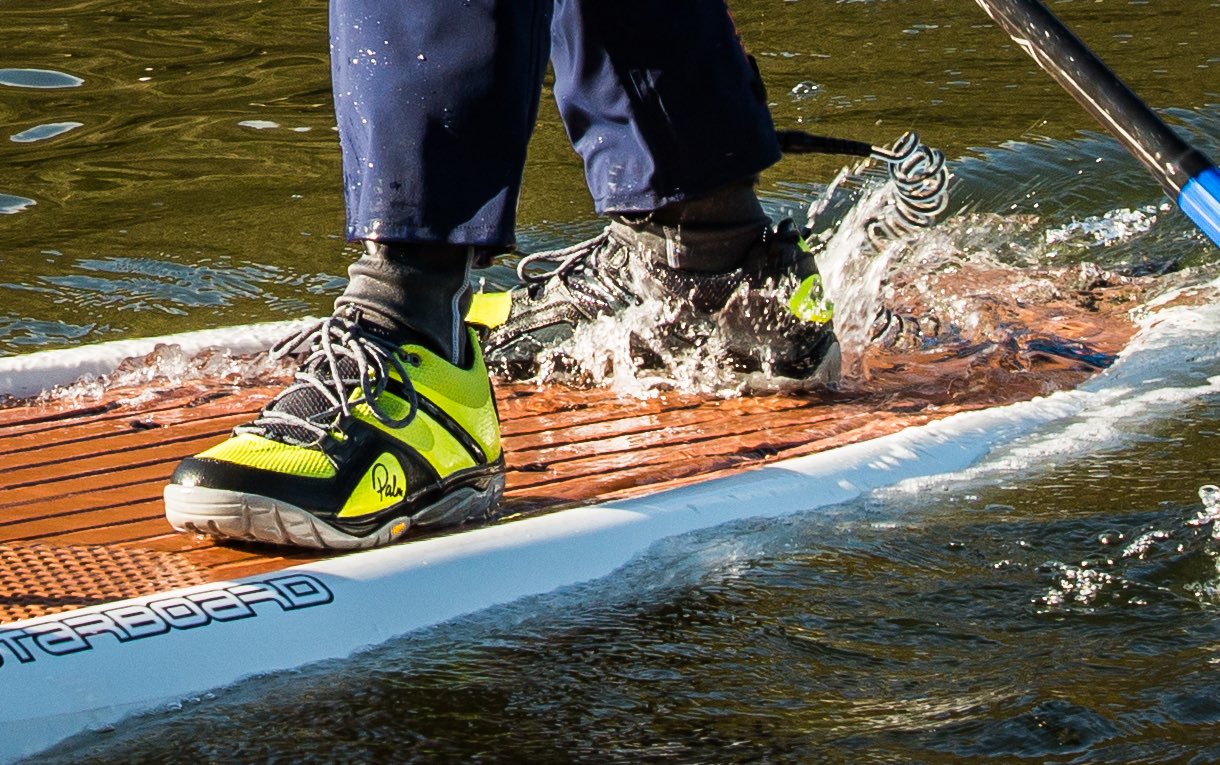 About Palm
From their origins in a shed in Somerset in 1979 Palm Equipment have become one of the leading designers and manufacturers of "Gear for Paddlers.' Originally for the kayak and canoe market they are now making more equipment for SUP.
About the shoes
Palm describe these as "a versatile river and approach shoe to wear on land and water" on their website, suggesting they would be pretty good for SUP. The shoes headline feature is the sole, which is described by Palm as having a 'Multitendo'  sole pattern and made from Vibram's MegaGrip compound. The sole is as described "mega grippy on all surfaces, wet or dry."
They use good old fashioned laces in place of other systems like the Boa. This means that they are far less likely to fail and if a lace breaks anyone can fix it. The tongue wraps around the top of the foot which is very comfortable with or without socks and the width is generous. The size 11 supplied fitted the testers feet well, Palm have designed this shoe with a finished footbed and an insole so that the 'size' can be adjusted. Simply remove the insole in the winter when you need more room in the shoe for drysuit socks and pop it back when the water warms up.
They also perform as any shoe should away from the water, and this pair has been used everywhere from walking the dog in the woods to the weekly shop.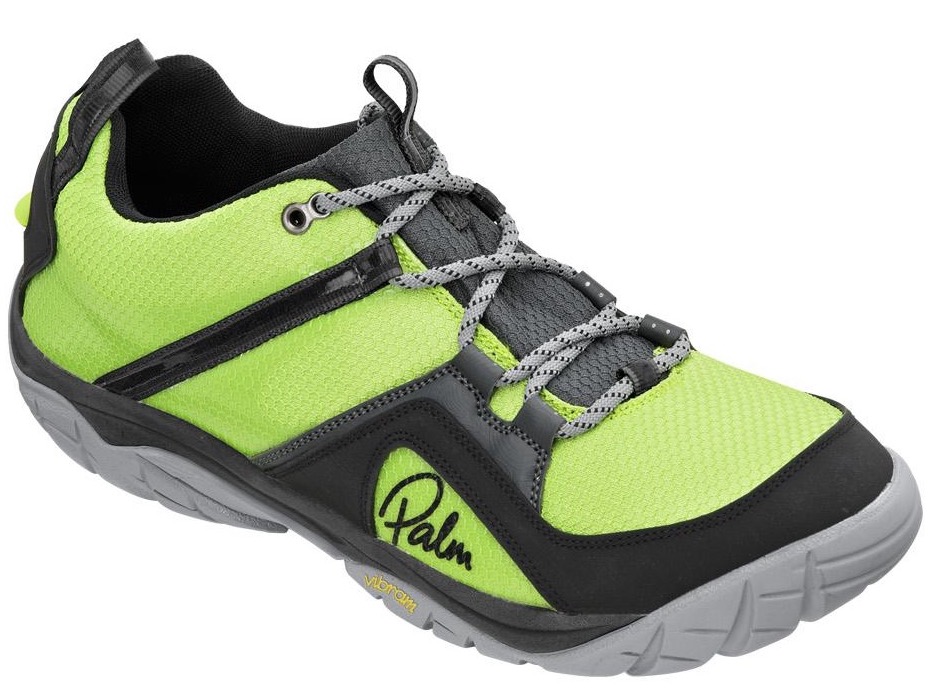 The shoes are light, bright and comfy to wear, and the sole gives inspiring levels of grip on land, but on the deck of the board they don't make you feel like you are stuck to it. They are good for paddles where the 'getting the feel' of the board through the soles of your feet isn't an issue. Great for flatwater and white water paddles particularly where there's a walk to and from the water. No more tiptoes through a gravel car park! We found that they are a great alternative to traditional wetsuit boots or bare foot paddling.  

Pros Lightweight with inspiring grip, far more comfortable than neoprene on the river bank or in the car park. Clean up well.
Cons Take a while to dry when compared to other water shoes. Some of the printed reenforcement detailing is starting to come away after 5 months use. 
Overall these are good shoes, comparable in price to any approach shoe from other outdoor brands with the advantage of being designed by paddlers with features that work well in a wet environment. The colour might not be to everyone's taste but the performance will satisfy the most fussy paddler. 
Find out more about the Palm Camber Shoe : palmequipmenteurope.com