Charley Boorman leads a group of friends, including Iwan Thomas, Wayne Bridge, Matthew Wright, and Damon Hill to stand up paddle board (SUP) the length of the Basingstoke Canal in support of men's mental and physical health.
**Press Release: The Big Stand Up
Over two days in May 2021, a team of 11 men are embarking on a 30 mile endurance paddle to complete the length of the Basingstoke Canal in support of Movember and raising awareness of men's mental health and the importance of social connection during these unprecedented times. The team will set off on the 17th May to give hope and optimism to others for the coming year. They will be paddling from Odiham to Weybridge along the canal.Originally planned for Blue Monday (The most depressing day of the year) Covid19 lockdown forced a change in dates but the team are committed to take on the challenge show that fun and adventure can be found close to home. 
The team consists of Charley Boorman (Adventurer/Presenter), Wayne Bridge (England Football), Iwan Thomas (Olympic 400m runner), Damon Hill (F1 World Champion), Matthew Wright (Journalist, Presenter), D*Face (Street Artist), Nick and Giles English (Bremont Watches Founders), expedition organiser Ben Bowers and paddle guide Paul Hyman.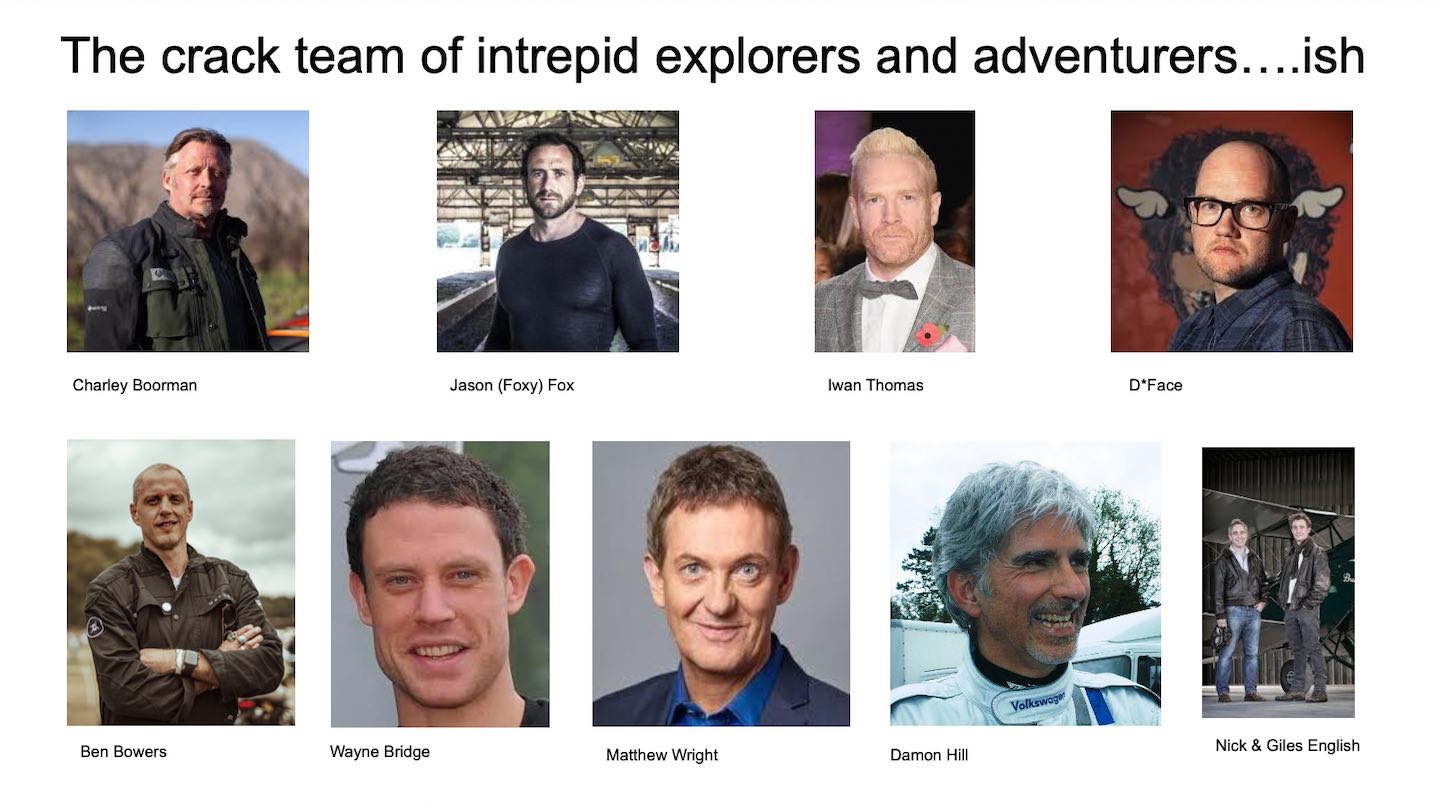 "Having had a pretty tough year as everyone has in 2020, I was in need of doing something positive not only for myself but for other men. I've had worse years through my cancer fight and I was able to draw upon the resilience built through those experiences to stay mentally well in lockdown. For me keeping mentally well meant getting outside and engaging with nature. I'm so pleased that with Charley's help we've pulled together our crack team of paddlers and hope we can inspire others to take positive action regarding their wellbeing. " – Ben Bowers
The group of friends are coming together, shoulder to shoulder through a shared activity to set an example for other men that no matter the situation you find yourself in, looking to friends for support and sharing in experiences can be a good way to get through the tough times. The trip will require both physical and mental resilience which all the team members have developed over time through their own personal challenges. Building the resilience to overcome those challenges, talking about their experiences and seeking help and support have been vital tools to thrive.
Paddling together they will help each other through the challenges on the water whilst also taking time along the way to connect and talk opening up about some of the tough stuff in their lives.
Itinerary
Day 1: Greywell to Mytchett – 17 Miles – 1 lock
Day 2: Mytchett to West Byfleet – 14 miles – 28 locks
The initiative has been spearheaded by two-time testicular cancer survivor and Movember Ambassador Ben Bowers and his good friend, Charley Boorman who has also had testicular cancer as well as many other life threatening accidents over the years.
"I first met Ben a number of years ago. We both had gone through  a scare with Testicular Cancer. Our path's crossed through a mutual friend and we became friends for life. When Ben asked me to get involved in the expedition to highlight men's health and mental health I jumped at the chance. All my life and all our lives we are faced with challenges big and small. It's how we get through them and what we do that counts. Our family and friends around us are also really important. So I'm delighted to join a bunch of like-minded people and get involved in this challenge in May."  – Charley Boorman
Charley Boorman

Iwan Thomas MBE

Matthew Wright

Damon Hill

D*Face

Wayne Bridge

Nick & Giles English

Ben Bowers
About Movember
Movember is the leading charity changing the face of men's health on a global scale, focusing on mental health and suicide prevention, prostate cancer and testicular cancer.
The charity raises funds to deliver innovative, breakthrough research and support programmes that enable men to live happier, healthier and longer lives. Committed to disrupting the status quo, millions have joined the movement, helping fund over 1,250 projects around the world.
In addition to tackling key health issues faced by men, Movember is working to encourage men to stay healthy in all areas of their life, with a focus on men staying socially connected and becoming more open to discussing their health and significant moments in their lives. 
The charity's purpose is to have an everlasting impact on the face of men's health. To donate or learn more, please visit Movember.com.
Supported By
Gladiator Boards, Active 360, NRS, Bremont Watches, British Army Royal Engineers, Luxottica, Accor, Dan Jones (photographer), Malle, Oakley, Science In Sport, Movember.