What's happening in the world right now is a very daunting and uncertain time for us all. Sitting in my office at home looking out of the window on a sunny spring day, it almost seems unreal. But the reality is, the UK, where we are based, like many other countries around the world is now in lockdown. Shops and businesses have been forced to close, people are being encouraged to work from home, and leisure time and normal daily life as we know it has been restricted.
There is good reason for this, I know… to try and reduce the spread of the deadly coronovirus.  But as someone who lives and breathes the outdoors, and with daily water time being not only part of my job but also very much part of family life, it's a tricky time. As well as feeling anxious about the health of the loved ones around me, I feel sad about not being able to do all the usual fun things with my 5 yr old and family, and yes I admit it… frustrated. I'm not one for home workouts or going for a run… my exercise is usually my time spent on the water. So with all that restricted at present I am twitchy to say the least! I have to keep reminding myself that this lockdown period will not last forever, and the time will come when like you, I can get back on the water again doing what I love most. In the meantime I will keep talking to myself infront of the camera, keep making videos…. and keep smiling!
"We are all a part of a large SUP food chain…"
As well as the huge impact the coronavirus is having on the health and daily lives of people all around the world, the coronovirus is also having a huge impact on the SUP world. The closure of factories, reduction of workforces, shutting of shops, and the requirement for people to stay at home is effecting the industry as a whole. Behind the scenes there is a lot that goes on in the SUP world… and right now it is a tough time for them all.
We are all a part of a large SUP food chain…
Paddlers need the water.

Shops & schools need the paddlers.
Local brand distributors need the shops & schools.
Brands and their teams need the local distributors.
Manufacturers/factories need the brands.
And SUPboarder and other magazines need them all!
Take out any part of this SUP chain and it has a knock-on effect, as we are currently seeing.
We thought it would be interesting and useful to look at this bigger picture. How are the SUP factories, the brands, the importers, the shops, the schools and the magazines all being effected at this current time? As well as what impact does it have on you as a paddler? Hopefully by being more aware we can all be more supportive, more understanding, and more prepared for the difficulties being faced not only now but also in the coming months/years in the SUP world….
The early days
In order for the SUPboarder team to review and test SUP kit they need to get hold of kit! And this involves liaising with the different brands to find out when their kit is available.
Back in January we were already starting to become aware of the coronavirus, hearing about the impact it was having in China, and struggling to get hold of kit here in the UK. China is a large producer of SUP equipment and is where most of the worlds iSUPs come from. As the dreaded virus started to take hold many factories were losing staff to illness and some were being forced to close all together. It then wasn't long before a complete lockdown was enforced in China bringing all factories and the countries workforce to a standstill. As a result, iSUP board production was halted putting factories way behind schedule. And many of the boards that were finished before the lockdown, ended up stacking up at the shipping ports with thousands of other containers due to the reduction of staff and closure of ports. The production and shipping of SUPs out of China basically came to a halt.
The knock on effect
Moving onto February early March. This is when local brand distributors and shops should have been seeing their new equipment arriving for the coming season. But the first physical signs of the impact of the coronavirus in China was becoming apparent with a lack of new kit arriving in continents all over the world. The hardest thing for many brands was that they just didn't know where their new stock was or when it would be arriving. Or if it had even been made! The lockdown in China and interruption of the usual production and shipping process was the start of a challenging time in the SUP world. Many shops had been gearing up for a super hot summer of SUP, and some retailers were already on the search to find alternative inflatable paddle boards that were available to stock if their original orders were delayed. For the SUPboarder team, we were rescheduling reviews and trying to gather what equipment we could. But with so much uncertainty it was difficult to make any real plans. 
Photo below / Myself and Will before the lockdowns and social distancing.  Photographer : Harry Newton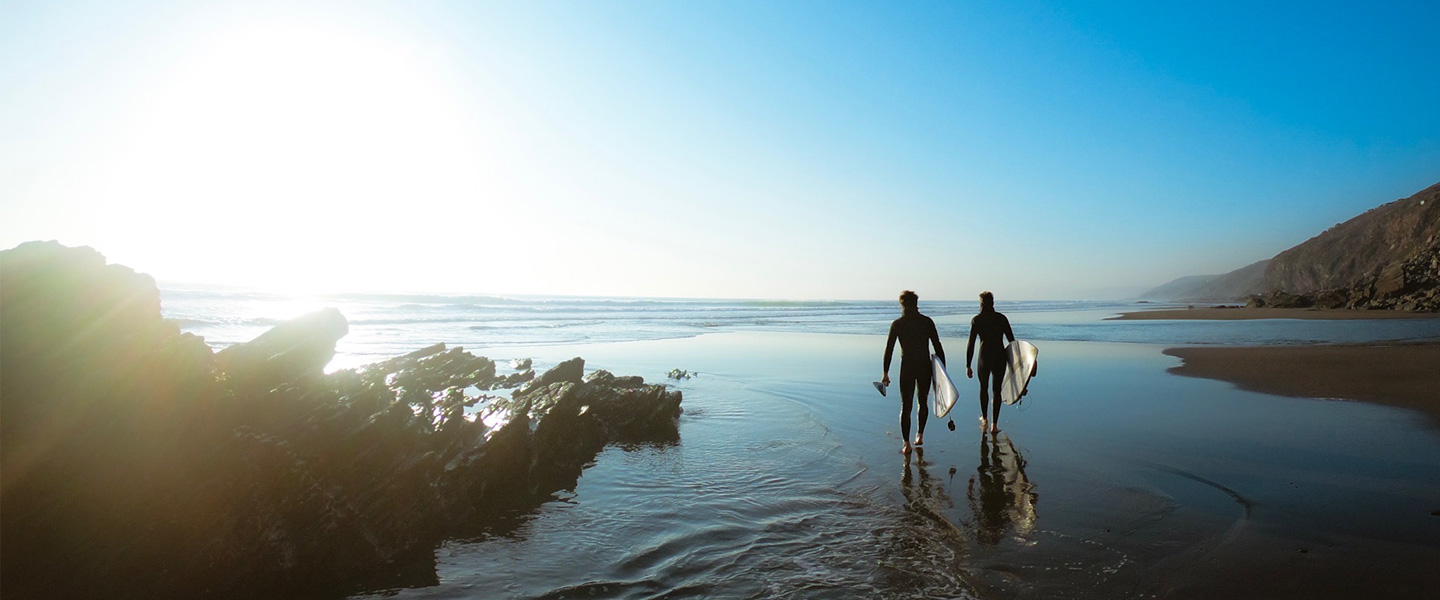 "Life had suddenly changed in the UK and in other countries across Europe and the world similar measures were in place or soon would come. "
It all happened so quickly
By mid March the virus had really started to spread with mainland Europe and Italy really seeing the impact. For many parts of Europe a lockdown was already in place and social distancing was the norm. Back in China we were having confirmation from many factories that they were on the road to recovery and many of the inflatable board factories were back to work and trying to catch up with the delays from January. Life in China was far from normal but the amazing Chinese work ethic meant they were working hard and many factories were back producing paddleboards again. But even though the factories were back open, the lockdowns elsewhere in the world were about to have a major impact on a different part of the SUP industry. For many of us up until now it was still pretty much work as normal. I remember Will driving up to collect some boards for a review from a distributer on a Monday at 6pm, by the time he was returning home at 8.30pm, the UK's Prime Minister put the country into lockdown.  Life had suddenly changed in the UK and in other countries across Europe and the world similar measures were in place or soon would come.
It's for the best… BUT
The lockdown is obviously vital to help save lives and try and reduce the pressure on the health care services around the world. But a lockdown means paddlers are no longer heading to the water or to the SUP shops. New SUP kit at this time is simply not required, which then has a huge knock on effect to the distributors, the brands and the factories.
What now and what about the future
It's a tough time for the whole world right now. And with regards to the SUP world it's hard to know how long it's going to be before it's back on track. But this is what we do know…
Factories –  At present the SUP factories in China that have orders and a large enough work force are still making iSUPs. But also many factories have now started making ventilators and other health equipment. Hopefully these factories can keep busy enough to keep employing their workers and keep going so that they will be ready to get back into producing SUPs again when they are needed again.
Brands – It's going to be tough for brands to know what to do. Most brands will have already signed off and designed the 2021 equipment by now. But will they still be releasing their 2021 kit if there is still a backlog of 2020 equipment in the market already? We may see a very different approach to how brands deal with this potential flooding or drought of kit in the next 6 to 8 months. Or maybe not?!
Local distributors – Many distributors are still trying to track down their kit or find out when it will become available. And the current lockdowns in many countries means brand distributors are not driving around the country visiting shops as they usually would be. So kit is not being demo'd or new deals being made. It is also very hard for them to predict what the 2021 season will be like, making pre-orders with the brands a real challenge.
Shops –  It's always difficult for shops to know how much and what kit to stock. Depending on how long this all lasts, shops are going to have a really tough time this year, managing their current stock and ordering new stock. As well as the usual questions… Will it be a hot summer? Do I need to order more beginner boards than last year? And what type of paddling will paddlers be doing this year? The uncertainty of it all will also have them asking – Will paddlers be back out paddling in time for this summer? Will people have money to spend on SUP kit when the shops are open again?
SUP schools / clubs – With the country in lockdown all SUP schools and clubs are currently closed. And it is not known when they will be open again. Many have no doubt been busy planning for the season ahead and have bought new kit which is sitting on the rack ready to go. A frustrating start to the season for them.
Magazines – Due to the reduction of sales, struggle to obtain new kit and huge financial pressures the brands are under, advertising is one of the first things to go. At SUPboarder we have seen this first hand and have taken a big hit too.
Obviously the financial impact for all involved in the SUP market is going to be incredibly hard. From small SUP schools to the largest most well-known brands the knock-on affect will be big. How big we don't yet know.
But what we do know is that even though you may not be able to get out paddling right now, there's no reason to loose your stoke for SUP…
"Just because you can't paddle right now doesn't mean you can't continue to learn, get inspired, and to keep dreaming about that next bit of kit, or next paddle."
As co -founder and editor of SUPboarder, I must admit, over the past few weeks I have questioned my role and exactly what I should be doing at this challenging time in our lives. Is it right that I should be hiding away in my studio still filming and producing SUP videos, when others are out there trying to save lives?
But you and those around me make me realise I am doing my part. Although your feet may be dry and boards in the garage, SUPboarder allows you to stay in touch with SUP and keep that passion alive. Just because you can't paddle right now doesn't mean you can't continue to learn, get inspired, and to keep dreaming about that next bit of kit, or next paddle. As well as it providing that much needed break from the main news now and again.
I know staying enthused about a sport you can't do is not easy. But why not use this time to catch up on those SUPboarder features you missed, learn about that new manoeuvre, plan that next adventure or do bit of kit maintenance. Or make the most of what SUPboarder PRO has to offer and ask us a question, send in your paddling video for us to take a closer look at, and treat yourself to a new SUP t-shirt! We have loads of new exciting content planned on SUPboarder and SUPboarder PRO.
Myself and Will started up SUPboarder 8 years ago because we wanted to share our knowledge and passion for the sport. We still love SUP and know you to do! So please please, keep logging onto SUPboarder and following our content, subscribe to our YouTube channel, and support us via a SUPboarder Pro subscription. By supporting the small SUPboarder team we can keep you connected to SUP so you're ready for the next time you hit the water. And we can keep supporting the shops and brands by telling you about all the great kit already out there, and exciting kit to come.  When we are all out paddling again please also support your local shop, buy that board you've been dreaming about the last few months or if money is understandable tight, how about a t-shirt or a block of wax or SUP accessory. Go and book a session with you local SUP school or paddle with your local club. Introduce your mates to SUP and tell them why they're missing out! It's a tough time right now for everyone in the SUP industry so please show your support. It needs you as much as you need them.
We're all in this together and ultimately we all want to get back to doing what we love most… SUP. And we will.

"It's a tough time right now for everyone in the SUP industry so please show your support. Its needs you as much as you need them."