One family, a one way paddle, and one hundred and twenty miles of untouched natural beauty. Hear how Beau and his family escaped from it all to enjoy some quality family time...
Somewhat of a diamond in the rough, the Green River, Utah, USA offers paddlers tranquillity and adrenaline all in one. For 10 days, our small family of five were armed with two canoes and a stand up paddleboard as we camped, hiked, paddled, connected as a family and reconnected with nature. This would truly be a family paddle trip to remember.
Location – Moab & Green River, Utah, USA
Route – Crystal Geyser to the Confluence of the Green and Colorado rivers
Distance – 120miles / 193km
Length – 10 Days
Accomodation – Camping
*Shuttles, Permits and other requirements are needed for this paddle.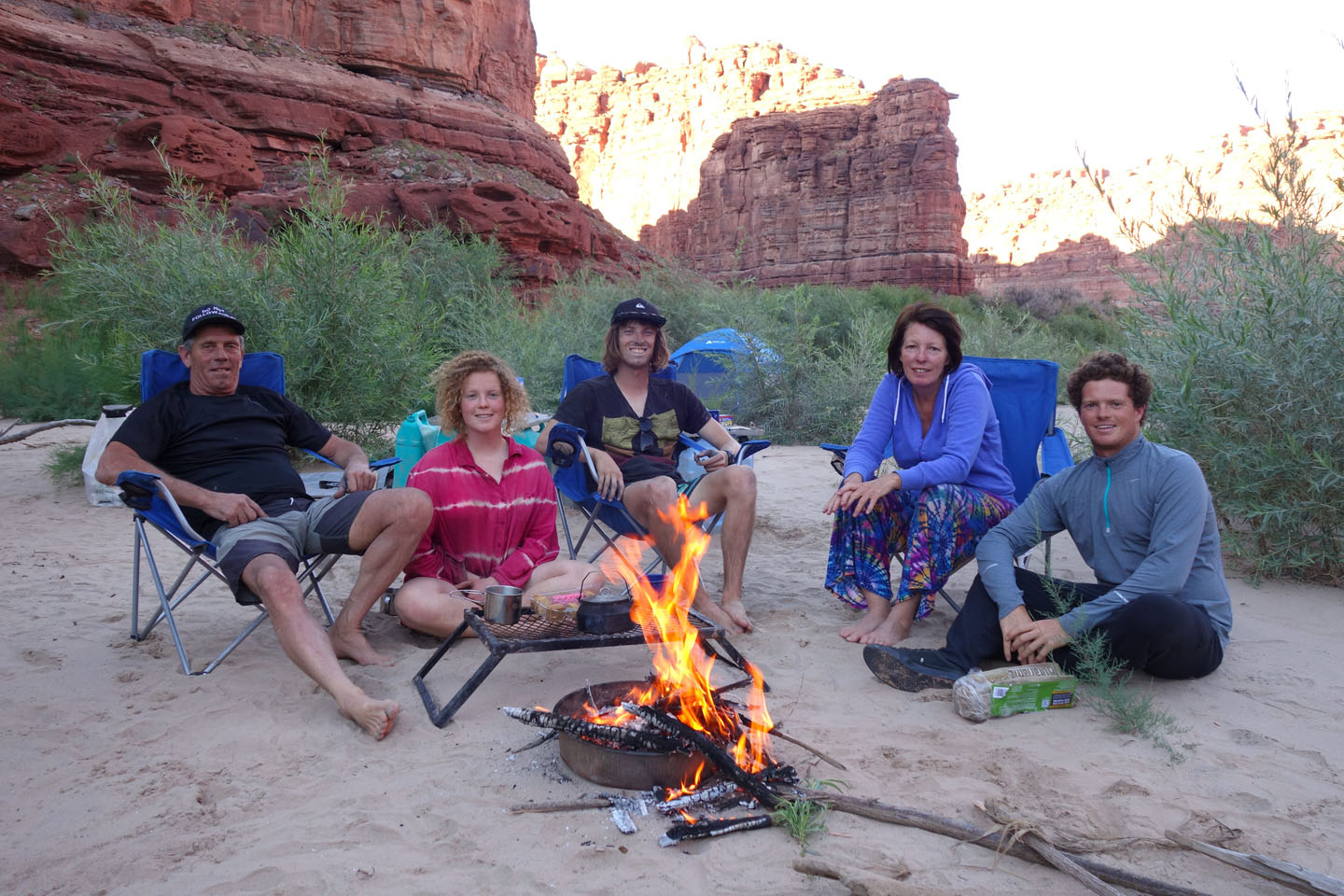 From the mountainous, rocky rapids and lush forests of Wyoming to the desolate but awe-inspiring canyons and calm, flowing water through Colorado and Utah, the Green River shows many different faces before meeting as the chief tributary to the infamous Colorado River. Flowing over 730miles, the Green River's untouched and natural beauty is something to behold. Our adventure started 120 miles upstream from the confluence of the Colorado River where the canyon walls slowly started to rise from the vast expanse of desert.
Our entry point for the paddle trip was at Crystal Geyser, a sometimes erupting carbon dioxide driven geyser. This is a popular place to launch from as the rapids almost cease a few miles upstream. There is however, quite a flow on the river which makes the first few miles exciting. With a little rainfall, two small grade rapids form in the first five miles of the paddle. We could hear the roar of the rapids from around the bend as we approached which gave us some time to prepare ourselves. As we cast our eyes up ahead, we noticed the rapids were quite tame and not too tough to handle on the SUP. We passed them with ease.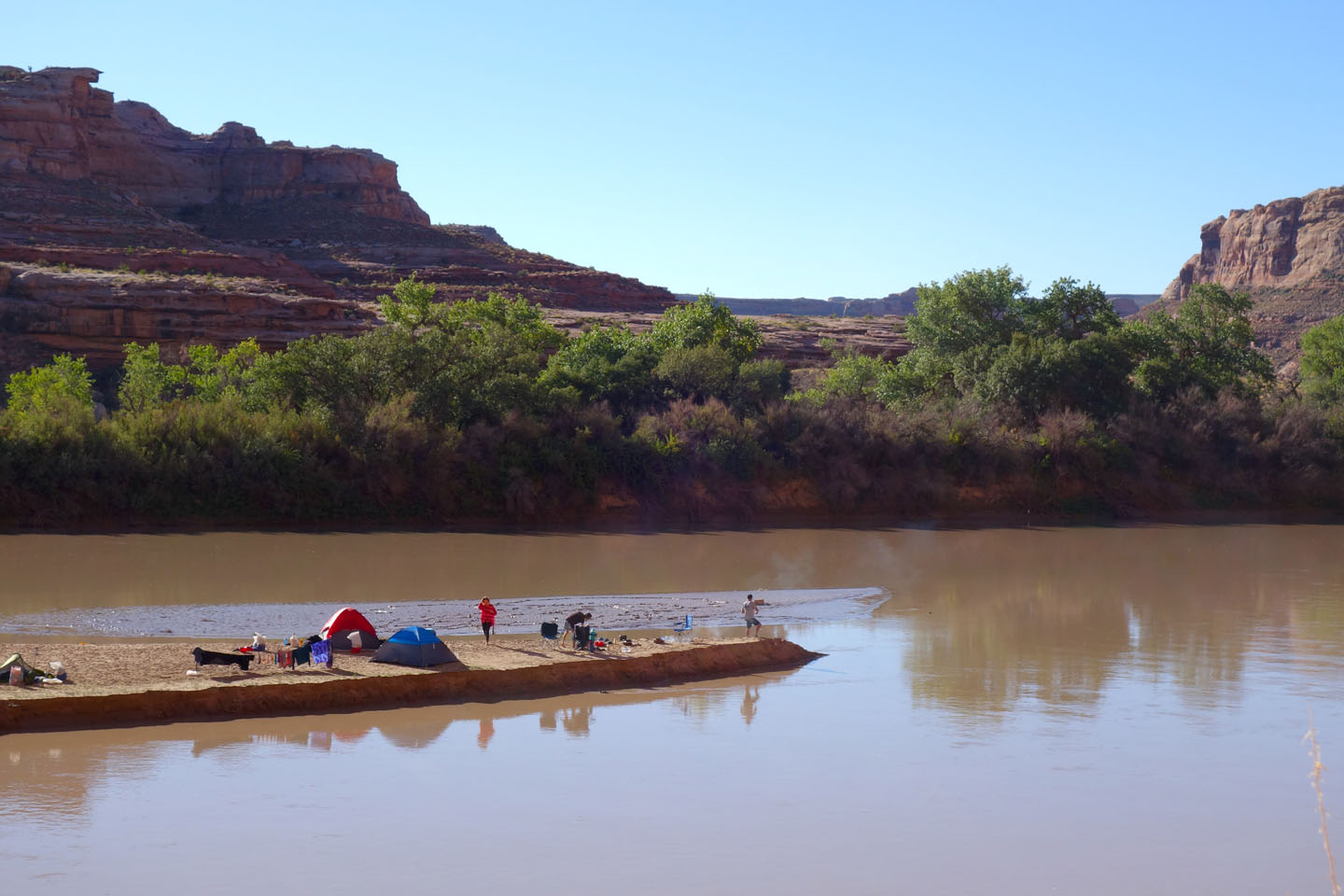 "There is something special about the disconnection from the modern world and the reconnection with nature and your family"
As the sun began to sink in the sky, we knew it was time to start searching for a suitable campsite for the first night so we could set up before nightfall. This was probably one of the most fun and exciting things on the paddle as it was different every day. We experienced camping on sandbanks, islands, in bushland and desert and high on riverbanks. Fellow paddlers had told us about their past experiences camping and how the river changes the landscape every time they come by shifting sandbanks, moving islands and tearing down riverbanks that were once prime camping locations. They, just as much as us, loved the thrill of setting up camp in a new location each afternoon.
The Fremont People were known to be the earliest signs of life in the canyon areas, dating back about 2000 years. Native American tribes such as the Shoshone and Ute peoples occupied the land throughout the states of Colorado and Utah in later centuries. Today, the names of the canyons, rapids and geological features along the river are named after the 1869 mapping expedition of John Wesley Powell and his team.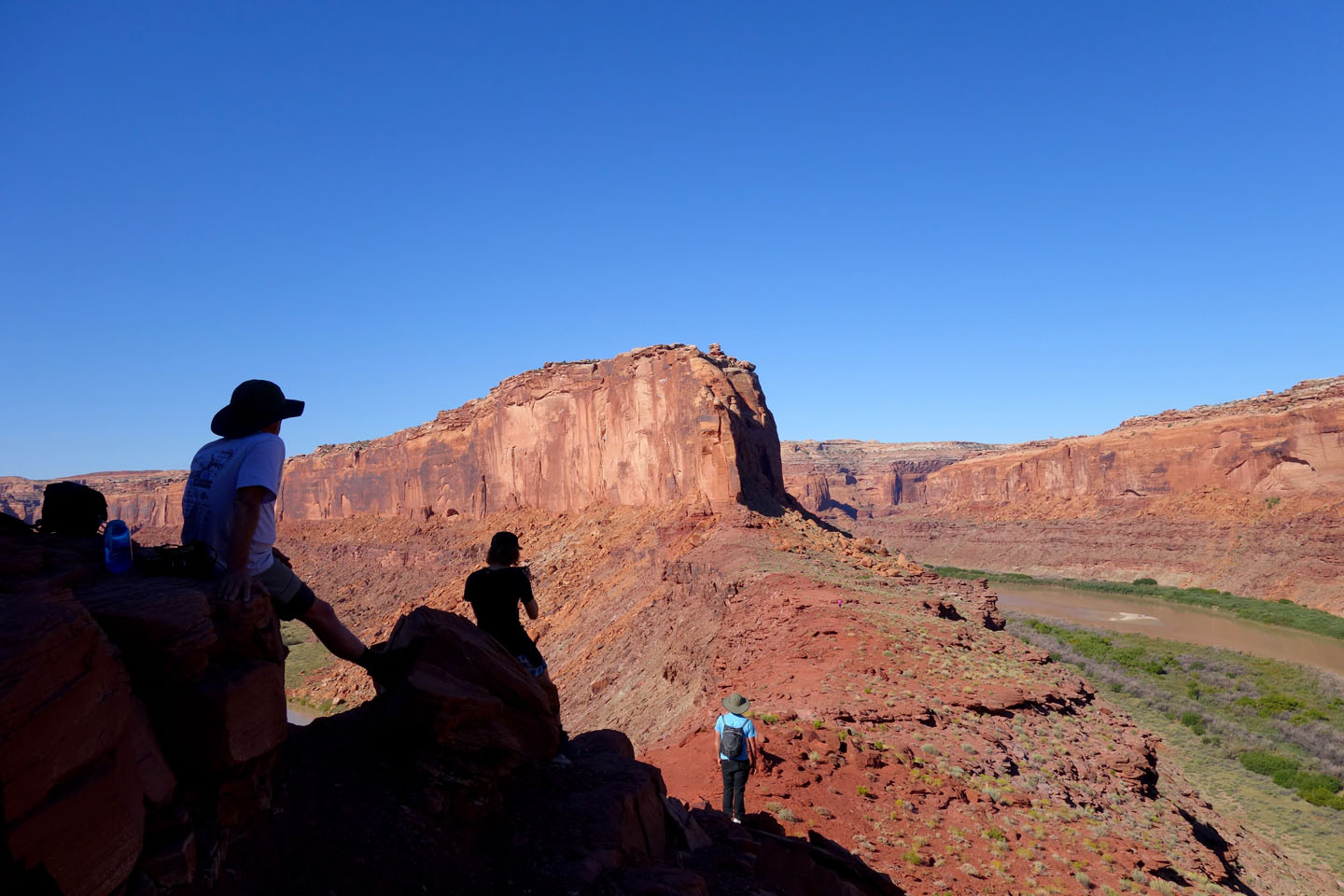 One of the most famous landmarks of the river is Bowknot bend. You can really feel the history here imagining yourself standing in the footsteps of all those who travelled here in the past. We pulled our vessels aside on the riverbank, tied them up and began the ascent to hike to the top of a ridge where the river bends, lending a spectacular view of two sides of the river. There are numerous other hikes to be done including a long hike to experience an ancient meteorite site called Upheaval Dome and a canyon top hike to a masonry tower structure which has beautiful views.
Paddling the Green River is quite an easy task, considering the length of the paddle. A steady downhill flow keeps you moving a comfortable pace and we often paddled upwards of 30 miles on some days without worry. There's plentiful time to stop for a rest or a snack, or even a quick dip in the river. The silt and mud actually felt nice and soft on your skin. Evenings were spent by the fire, playing games and cooking meals. Our canoes were once stacked high with supplies but with each passing day, they became lighter and lighter. The only thing that was getting heavier was the compulsory portable toilet called a 'groover'!…
The scenery is simply breathtaking. Known as the 'backcountry', you do feel small against the backdrop of high canyon walls. Yet, there is something special about the disconnection from the modern world and the reconnection with nature and your family. In a remote wilderness like the Canyonlands National Park, being self-sufficient, relying on your maps and sharing knowledge amongst other members of your family certainly strengthens bonds and family ties. We are much closer as a family after this experience and often reminisce about our epic adventure. A family that paddles together, stays together.
I am not going to lie, there is a lot you need to consider for a paddle as long and epic as this. Being fully self-sufficient means you need to prepare food, fresh drinking water, cooking water, shelter, camping equipment, cooking equipment, SUP kit and extra paddle, first aid, safety devices, solar charging devices, waste disposal, clothing, permits, transfers, accommodation, etc.
But with some good planning and a desire for adventure anything's possible!
"A family that paddles together, stays together"
If you're interested in this paddle adventure or other adventures, get in touch with Beau at Travel With A Paddle. He will be able to recommend suppliers, permits, equipment and all of the other finer details of the trip.
About 'Travel with a Paddle'
Travel With A Paddle is a bespoke travel agency specialising in stand up paddle surfing holidays and flat water paddle adventures. Their main aim is to understand your needs and wildest dreams so they can personalise your next SUP holiday, taking the stress out of the travel process so you can rest easy knowing you're in great hands.
Travel with a Paddle's founder, Beau Nixon is available for private SUP coaching on your holiday. A highly trained competitor and professional in the stand up paddle and surfing world, Beau has competed on the Stand Up Paddle World Tour and won the Australian Men's Longboard Championship and the Australian Men's Stand Up Paddle Championship. Beau has been tailoring SUP holiday experiences for the past eight years and uses his first-hand knowledge of waves and waterways to tailor you the trip of a lifetime.