Nike Swim onboard with the Dragon World Championships 2019.Read the latest Red Paddle Co Press Release below...
The world's leading inflatable SUP brand, Red Paddle Co has announced Nike Swim as the headline partner for this year's Dragon World Championships 2019 in the beautiful setting of Lake Annecy, France.
Now in its third year, the dedicated, team orientated stand up paddle board (SUP) world championships is one of the most global and fun SUP events on the planet with teams from across the globe battling it out on giant, four person, 22-foot inflatable Red Dragon boards. Featuring fast, adrenaline fuelled racing, Nike Swim and Red Paddle Co are working closely with the Alpine Lakes Tour to make the event bigger and more inclusive than ever before.
Held on June 15th and 16th 2019 in the picturesque village of Talloires on the shores of Lake Annecy, just a thirty-minute drive from Geneva airport, everyone of any ability is encouraged to enter (Closing date for entries is 13th June 2019). Many teams have already signed up from across Europe, ranging from last year's world champions through to families new to Stand Up Paddleboarding keen to be involved in the world's only dedicated global team SUP competition.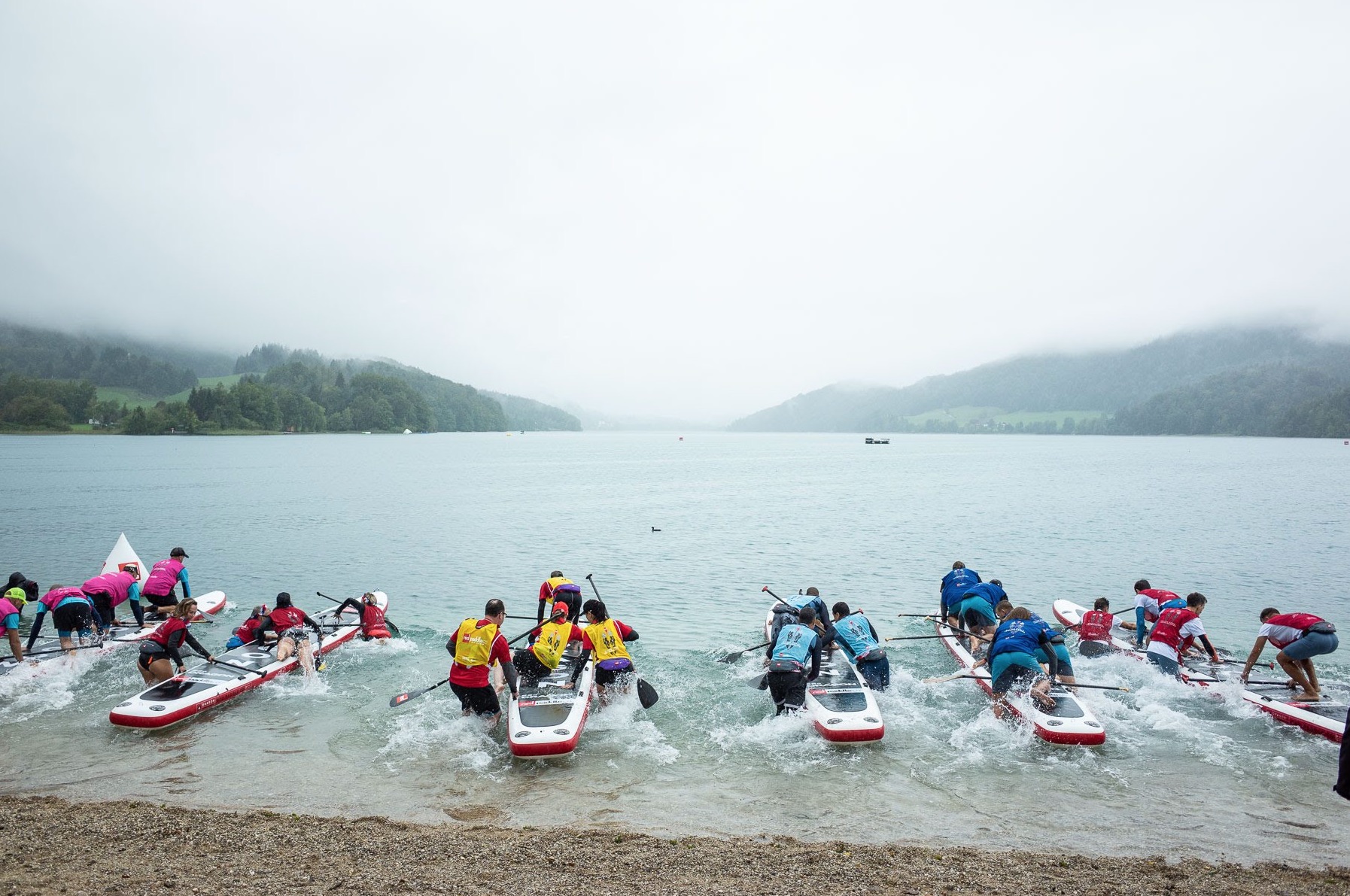 Head of Marketing at Red Paddle Co, George Shillito commented…
"The Dragon World Championships is always a highlight in the SUP calendar. It is incredible to be working alongside Nike Swim once more to bring together paddlers from across the world for yet more fun, fast, team racing in a SUP festival like no other. It is an event everyone should experience and is the reason no qualification is required – simply rally the troops and unleash the dragon!"
Offering a kit-out service for every Dragon World Championship participant, Nike Swim's high-performance, zero distraction swim apparel will be put to the test as paddlers push their own boundaries looking to become the world champions. Running alongside the championships is the Alpine Lakes Tour's 'Fat' and 'Pop' races which incorporates elite endurance racers and complete race novices alike. For those looking for something a little more relaxed; unwind with Nike Swim and the rest of the crew before the racing gets underway with a unique SUP Yoga session free for all participants.
"The Dragon World Championships is a completely unique event by combining elite performance and inclusivity, ringing true to what Nike stands behind; if you have a body you are an athlete. Nike Swim reflects this ethos by developing athlete informed product that allows paddlers and all water-goers to flow easily from their favourite body of water to dry land and back again. We are proud to support such an amazing culture of sport and inclusion once again this year. "- Alex Maier, Marketing Director, Nike Swim.
It's not too late to get involved! Participants can take part in as much or as little as they like over the course of the two days with the itinerary crafted to ensure maximum water time. Entry to the Red Paddle Co Dragon World Championships 2019 costs just €40 per person for the two days which grants free access to SUP Yoga, board demo, event village and of course the infamous Saturday night party!