After talking about the Naish Wing Surfer only a few weeks ago and about how many other brands will no doubt be releasing their version of this new SUP Wing side of the sport, Duotone have recently announced the launch of their Foil Wing.
This wing from Duotone will offer many different pros and cons to other wings on the market. And its cheaper price will appeal to many paddlers for sure! The Foil Wing has been designed by the well respected Ken Winner and with its solid centre boom and clear window it's very different to other wings we've seen. This wing like others can be used with both foil and non foil SUPs, but if you really want to fly a Foil board will allow you to get the most out of the Foil Wing. Look out for some real world tests and the pros and cons to using wings on SUPboarder soon. We look forward to finding out how the wings can be used for SUP touring too.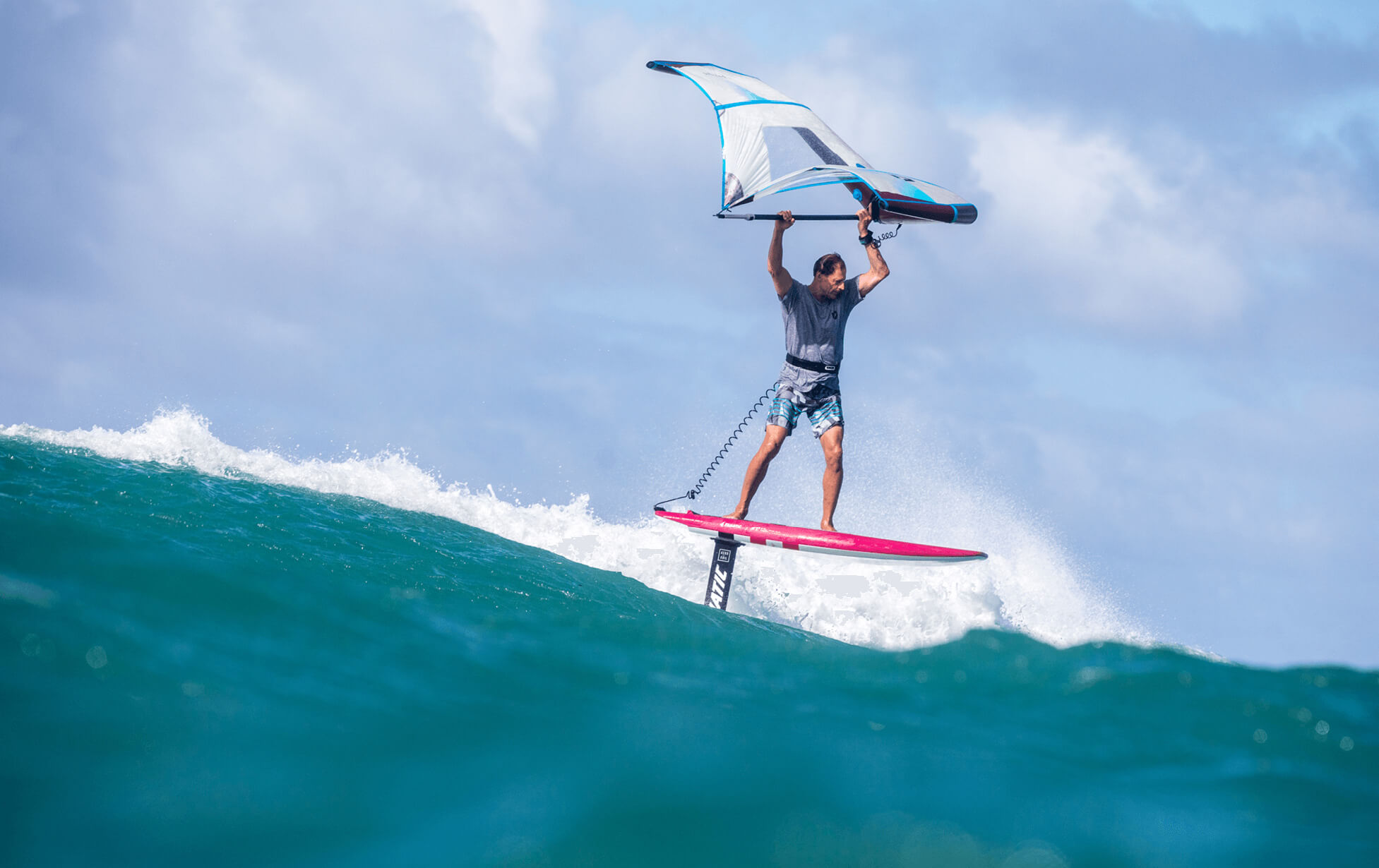 Duotone say:
By now you've seen the videos and heard the news, the Foil Wing is here! All you have to do is give it a try and see how this fun new water sport feels and be one of the first ones to try it. Wings have been around for a while, however, with the evolution of surf foiling they finally offer a totally new way to enjoy the ocean. The Duotone Foil Wing has been in development for a couple of years, and the design team have tested countless prototypes in order to create the perfect shape. During this process, it quickly became apparent that there were numerous advantages to using battens in the wing. They help to keep it rigid, reduce flutter and consequently drag, making it much more efficient.
Wind Range & sizes
(for a 75kg rider using foil board with a 2000cm2 front wing)
2m2 – 22 to 35 knots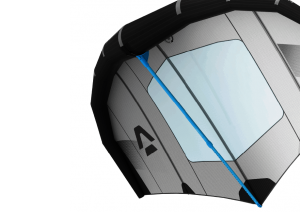 BOOM
Gives the best ease of use and highest level of performance.
Easy handling
You choose the position of your grab on the boom, even if it just a few milimeters
– Easily sliding hands to the correct position allows the rider to more easily balance load on arms perfectly.
Stabile/stiff feeling of the wing, no flexing
– More solid connection tot he wing and so more effective pumping
Compatibility with every wing size due to lenght adjustment – One size boom fits all sizes of Duotone Foil Wings
– Saves weight, bulk and cost
Our first prototypes had (like the Duotone iRig) an inflatable strut (or struts) and webbing handles. We quickly evolved to a version in which the inflatable center strut was enhanced with a pvc tube (boom) that attached to the strut.
DIHEDRAL – WING (UP) GEOMETRY
Of roll stability, which is helpful for keeping the lower wingtip out of the water (the most common difficulty for beginners) and for stabilizing the wing during both straight-line riding and transitions
This roll stability is most obvious when the Foil Wing is shee- ted in a bit or a lot, so the rider can always get better sta- bility by pulling in with the back hand. If the wind is strong, just put the Foil Wing overhead (it will never just lift you up the way a kite will) and sheet in a bit for great automatic stability.
Balanced dihedral angle opted for a good blend of power and stability.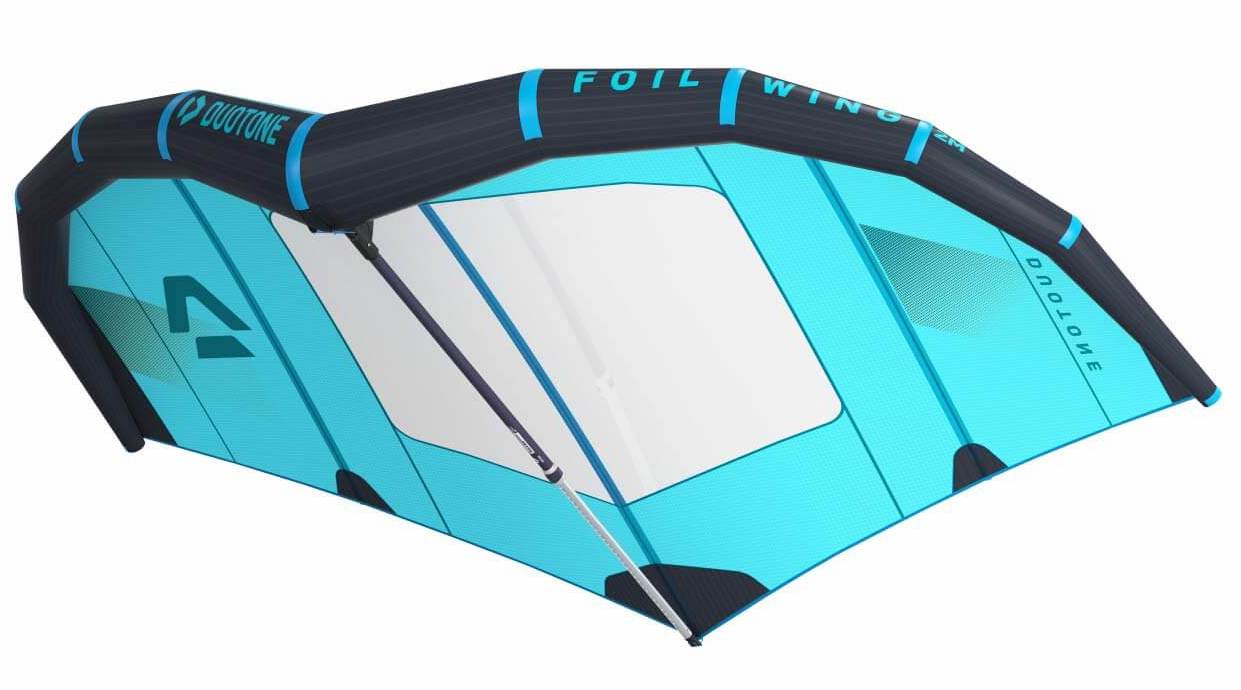 WINDOW
• Windows, of course. Alan Cadiz (HST), who was an early ad- opter, an early master of the sport, and is the master instruc- tor, insisted on big windows. They're super helpful whether you're cruising around in traffic or surfing swells downwind.
BATTENS
Adding battens improves wind range. A batten-less canopy that flaps a lot is a canopy that has a lot of drag. This drag makes the wing harder to handle in high wind and so redu- ces the wing's wind range.
Adding stability in the canopy and reduces flattern to a minimum
Give better upwind ability and therefore better for safety and versatility and increase top-end
Read the Duotone interview with designer Ken Winner here. 
With many shops already starting to take stock of these Duotone Foil Wings and with the smallest wing starting at £430 they're getting a lot of interested from SUPers. As always we ask... have you ordered or used one yet? Let us know, we'd love to hear your thoughts. We will be testing and talking more about Wing Surfers and Foil Wings in the coming months, so watch this space.
Look what else you can do with it too! The SUP North crew have been playing with the Foil Wing on land… great stuff.