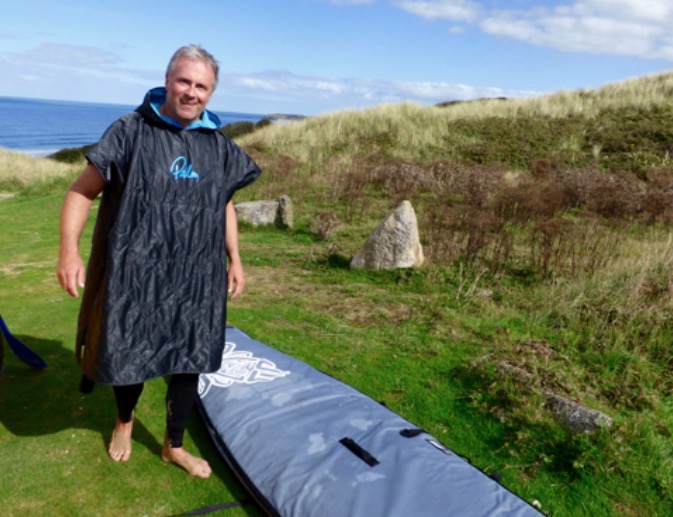 Palm have joined the ranks of brands offering a changing solution to help with the post-paddle car park dance with two products, the Palm 'Poncho' and the Palm 'Poncho Grande'. Ponchos are an easy way to get changed after a paddle in any public space… slip it on, get changed and drop the damp poncho in the bucket with your paddling gear.
About Palm
From their origins in a shed in Somerset in 1979 Palm Equipment have become one of the leading designers and manufacturers of "Gear for Paddlers.' Originally for the kayak and canoe market they are now making more equipment for SUP.
The Poncho – £39.95
The majority of ponchos available are like the standard offering from Palm, a simple sleeveless towelling robe with a very lose cut that enables anyone to maintain their decency. And the poncho, in Palm's trademark turquoise does exactly that. It's nice and long so that even our rather tall tester could use it easily and maintain his modesty and it has nice big holes at the shoulders making it easy to get your arms in, and out. Unlike many similar garments it has a hand warmer pocket across the front that's ideal for putting your car keys in when changing.

The Poncho Grande – £69.95
The Grande is a different garment altogether. Sharing the same sleeveless design as the Poncho but with the addition of a weather resistant outer layer making it a far more useful bit of kit particularly in cold, windy conditions (also known as British weather, at any time of year!) Its first test was at the British SUP Club Championships on a typically autumnal day in September at Bray Lake. It was breezy and overcast with a hint of drizzle and the Poncho Grande stayed firmly in place on our testers shoulders between events. It's warmth and protection from the weather was particularly appreciated between each of the SUP Polo rounds where dunking was guaranteed! Like the standard poncho it is long with a generous cut and a hand warmer pocket.

The SUPboarder Verdict
Both versions of the Palm Poncho do the job they are designed for. The standard poncho competes with dozens of other similar garments available today, while the Grande has few competitors, certainly at its retail price. The outer layer makes it much more versatile than basic towelling robes, and as well as using ours all day to get changed at the British SUP Club Championships we've also hung out in the Grande between autumn surfing sessions. The fact that the Grande can be used for more than a quick change makes it a SUPboarder winner.