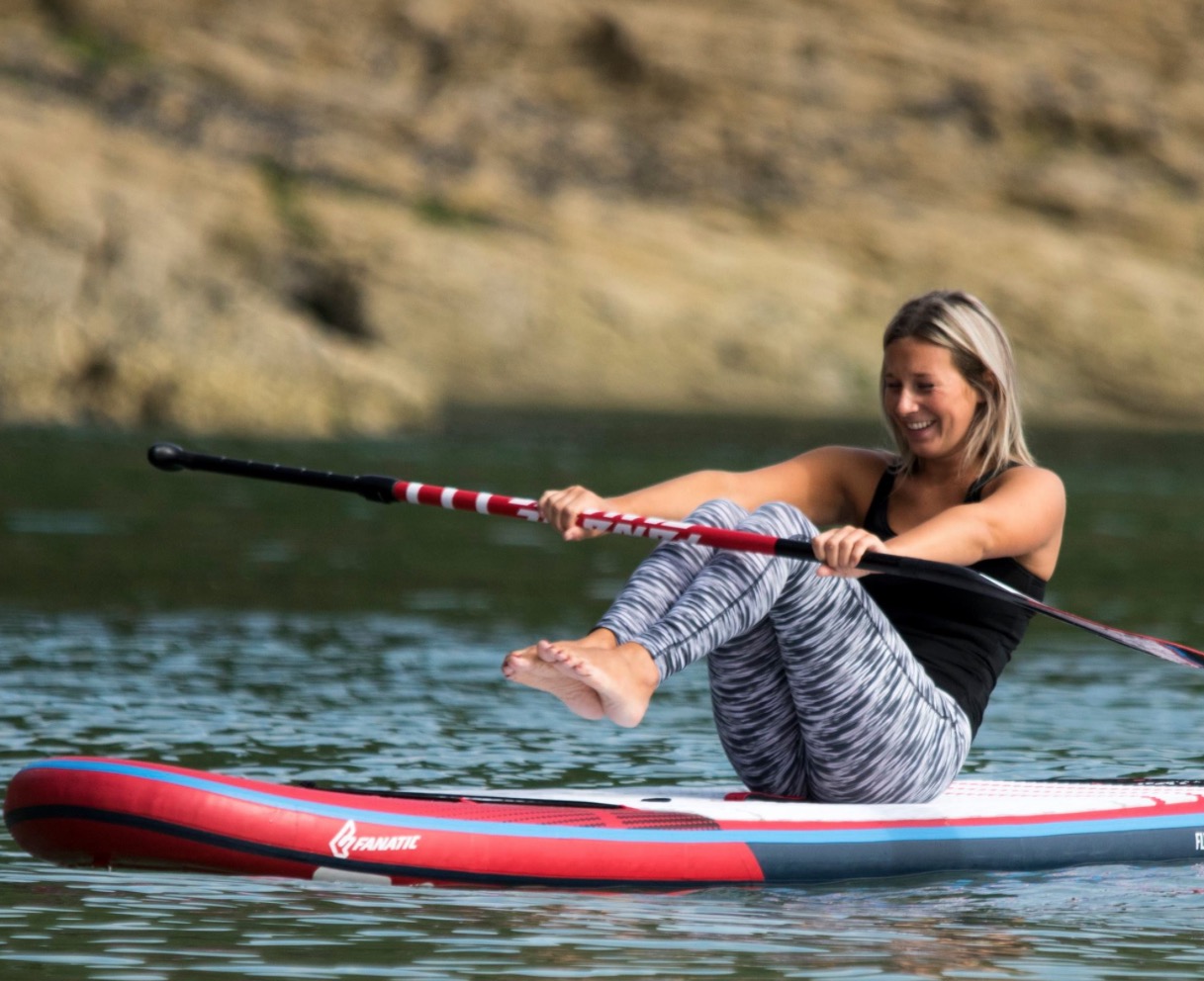 SUPfit have been busy working hard over the last year and are now very excited to announce their new SUP Fitness Instructor Training specially designed for SUP instructors.
SUPfit Press Release:
Working alongside Active IQ they now offer a nationally recognised SUP fitness qualification, giving SUP Instructors the opportunity to spend three action packed days on the water learning how to teach SUP Fitness and enabling them to deliver three of SUPfit's signature classes including SUP & Run, SUP Circuits, SUP Stretch & Strengthen. Upon successfully completion SUP Instructors will hold a nationally-recognised fitness qualification and be part of an exciting SUPfit network that is growing rapidly across the UK.
The last few years has seen Stand Up Paddle boarding in the UK grow rapidly. SUP Fitness has also seeing a massive rise this summer with national magazines and newspapers taking note and helping to push this exciting aspect of the sport.
As well as SUP being on the rise so is the fitness industry, the 2015 State of the UK Fitness Industry Report revealed the UK health and fitness industry has more clubs, more members and a greater market value than ever before.
With the fitness industry rise being linked to innovation and fresh thinking and consumers appreciating new experiences, maybe this can explain the growing popularity of SUP Fitness and SUP Yoga. Lucy McCormick founder of SUPfit tells us "Health conscious consumers are said to be looking for the most effective and fun ways to workout and performed the right way, Stand Up Paddle Boarding can offer a low impact workout and challenging exercise options wherever there is water"
Physical activity offers massive opportunities for individuals and society at large: improved health, but also huge potential social and economic benefits. Public Health England wants to drive a step change in the public's health, as one in two women and a third of all men in England are damaging their health through a lack of physical activity. Tackling physical inactivity is a key part of making this change to reduce the burden of preventable death, disease and disability, and support people and their communities to achieve their potential. Having ran successful SUP Fitness classes herself in Brighton and Cornwall, Lucy tells us "By offering different options for people to get active, watersports centres can appeal to different markets and encourage people to partake in an active outdoor lifestyle, promoting physical activity"
About SUP Fitness
Combining elements of SUP, fitness and yoga, SUPfit introduces you to working out on water, surrounded by nature, with the elements to challenge you, making each workout interesting and never the same. Reaping huge benefits to both mind and body and enjoying the lifestyle that Stand Up Paddle boarding brings. With the correct technique mastered you can move onto combining exercises on the board with intervals of paddling, or perhaps tethering your board so it remains static and practicing body weight moves or yoga postures to increase the challenge of your normal routine – the options are endless and all importantly fun and effective. A new and exciting way to workout on water, dynamic and effective classes on Stand Up Paddle Boards (SUP). Different exercises are performed on the board whilst floating on water, your balance will be challenged and fun guaranteed! The intensity of each exercise is increased, ensuring an effective workout with many health and fitness benefits.
About Active IQ
Active IQ is one of the UK's leading awarding organisations for the active leisure, learning and wellbeing sector. Active IQ is recognised and regulated by Ofqual, Qualifications Wales and CCEA and design qualifications that support clearly defined career pathways for the active leisure sector.
About SUPfit
SUPfit offer high quality classes, workshops and retreats in SUP Fitness and Yoga, as well as delivering our Active IQ, REPS & Skills Active accredited Instructor Training courses. Our Instructor Teacher training courses provide extensive training using up to date knowledge and the latest developments in Stand Up Paddle Board Fitness, as well as providing ongoing support and assistance to ensure all SUPfit Instructors deliver excellent quality classes.
Find out more information, including dates and prices here:
Contact SUPfit at info@supfit.co.uk / 07889041871
The first training date will be in January 2017. So if you're already a SUP instructor and are interested in holding a nationally recognised fitness qualification allowing you to deliver SUP & Run, SUP Circuits, and SUP Stretch & Strengthen classes then check out SUPfit.
UK racer Ryan James will be the centres Internal Verifier and help with training so you can be sure it will be quality training.