Welcome back and what a week it has been for Stand up paddleboarding! Lots of news from the world of SUP and the UK SUP scene!
The week ended with some beautiful sunshine across the UK as well as Europe, giving us a real taste for summer.  This weeks SUP weekly image (displayed on the home page) was sent to us by Nick Coleman from London, who snapped this stunning shot after a 3 hour session at Bantham, South Devon.
Some of the biggest news of the week is certainly the Stand up world tour that has now come to a close at Sunset Beach, Hawaii. The competition kicked off with the first ever womens stand up world tour competition – for the full results from this event, including videos of the level of some of the women, check out SUPboarder's mini feature from earlier this week.
The main event was claimed by Maui ripper and all round waterman, Kai Lenny – conditions were typical Sunset – big and impressive and Kai claimed victory over fierce competition from experienced paddler Robin Johnston. Here's the final days highlights – judging by Kai's barrel, he deserved the win!

This week the Team GB ISA worlds team will be heading out to put their mark on international competition – we wish the team the best of luck! If you haven't read the interviews from the team members check them out here: Ollie and Marie, Charlie and Andre & Jim and Abi .If you want to know more about the ISA SUP event, check out SUPboarder's preview or read about 10 things you should know about the ISA worlds.
Now, as we demonstrated last week in the lifestyle mini feature, SUP is not just all about the competition, its a great way to just get on the water, relax, see nature and enjoy life with friends. We felt that this short video summed up SUP extremely well, flat water paddling, 2 barbecues and an attempt at whitewater SUP all in one weekend! Not great for SUP/Fisherman relations though….

The SUP lifestyle has started early for this little fella, who hopefully has made it firmly onto the Loco team rider list for the future – perhaps Loco should bring out a line of tiny toddler SUPs to develop their talent?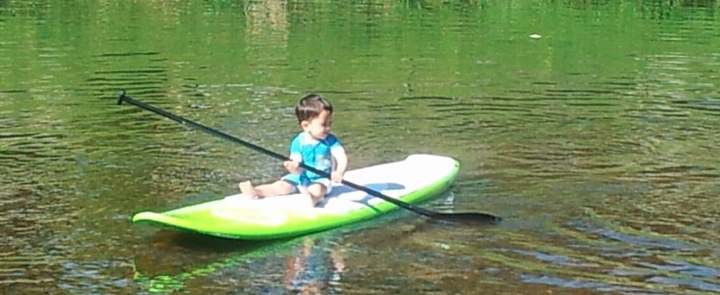 Again, keeping it simple, this really cool little video was sent into us by the Brog Lake team – they have just starting getting into SUP, and have already seen the scope of what they can do – great video guys, keep it up.

Its brilliant to see some exposure for SUP in this months Canoe focus courtesy of Central SUP- a great step forward for SUP as the paddling fraternity are starting to accept SUP as a paddle sport. Interestingly SUP is such a young sport, it does not yet have a National governing body. One organization that could do this is the British Canoe Association – whats your view on whether SUP should have its own governing body such as BSUPA? Is SUP canoeing or is its own sport? Share your views in the SUPboarder Forum.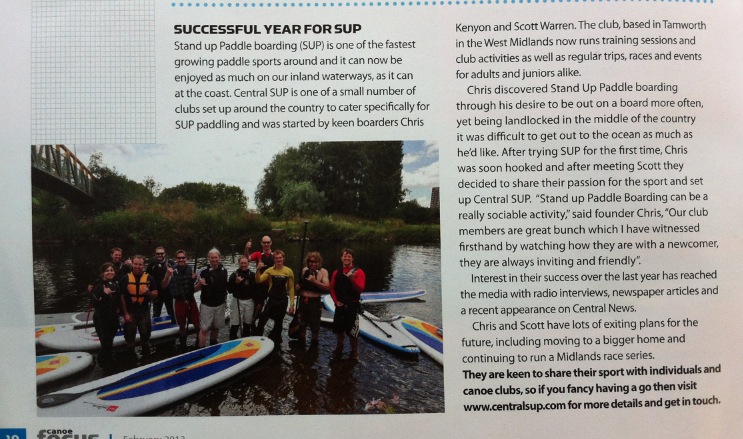 Down in the South west – WeSUP have been attempting to spread the world worldwide during Tanker tagging by sticking WeSUP and SUPboarder stickers on the mega tankers. If you haven't got your SUPboarder stickers yet, send us and email and will will send some out – see if you can better WeSUP on the coolest place to stick a SUPboarder sticker and we will give an awesome prize for the best location! We are thinking cruise ships, Eiffel tower, Fastnet rock and the the statue of Liberty.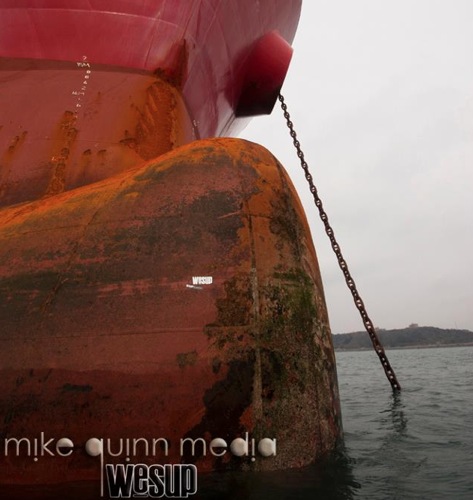 Talking of competitions, the first person to send us some sofa SUP surfing pictures, gets a SUPboarder prize – thanks to Surf Steps Bournemouth for bringing this to our attention!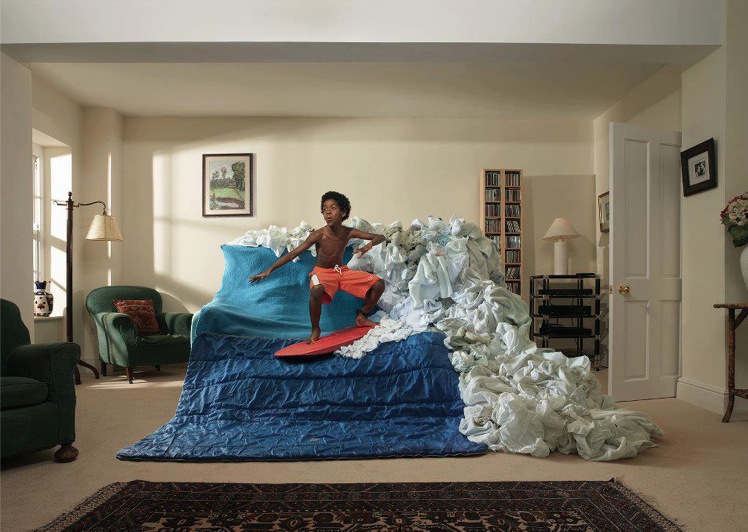 That's all for this week, keep tuned for some exciting features this week!
Happy Paddling!
SB/