The next two Team GB riders to be interviewed by SUPboarder in the lead up to the ISA 2013 World Stand Up Paddleboard and Paddleboard Championships in Peru are, André Le Geyt and Charlie Grey. Both team riders are already well known on the  SUP competition scene, however SUPboarder takes this opportunity to find out abit more about each of them.
André Le Geyt
André, from Jersey has many years of short and longboard surfing experience, and is now a Loco SUP Team Rider and RnD tester. In 2012 André won the BSUPA National Championships at Watergate Bay in very challenging conditions, with his impressive short board SUP surfing style. This is this first time André will be competing as Team GB and he's well up for it. Keep a eye out for Andre's solid surfing style out in Peru.
Here's what André had to say to SUPboarder about his SUP surfing and the Peru event;
SB/How does it feel to be representing Team GB in Peru?
Andre'/It feels amazing to be representing team GB in Peru!! To represent your country in a sport you love doesn't get much better than that!!
SB/How did you become selected for Team GB?
Andre'/I was selected for winning the British SUP surfing title in Watergate.
SB/What disciplines are you entering in Peru?
Andre'/I will be taking part in the Stand up surfing event. Maybe the prone racing aswell ??
SB/What boards and equipment will you be taking with you?
Andre'/Not exactly sure which board or board I'm taking yet?? I know it will be a Loco board but I'm just testing the new 2013 range so I'm just trying them out!! I think it will be the 7'10'' or maybe the 8'4'' might have to just take both with me?? Haha they both go so well!!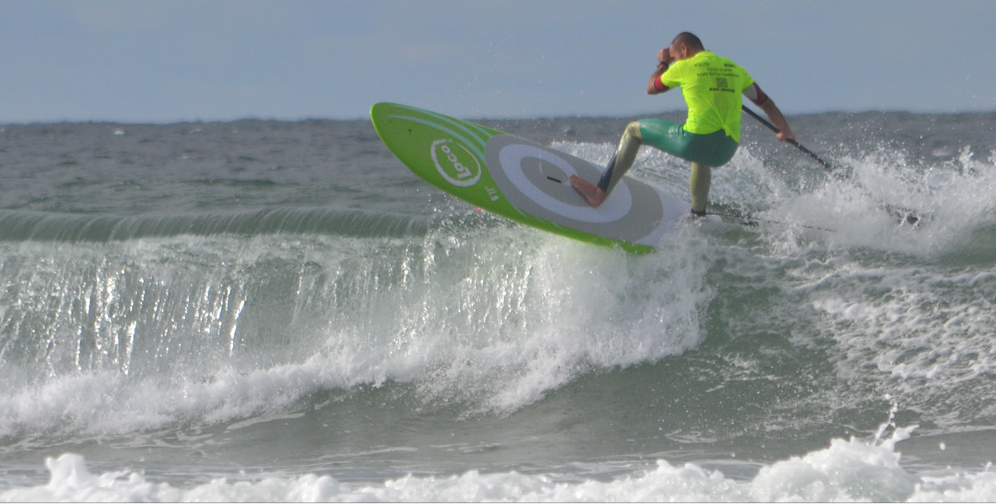 SB/What is your chosen paddle height and blade size?
Andre'/Paddles at the moment I usually about 3'' to 4'' inches taller than me depending on the boards float, I've generally been going for a smaller blade recently I find you can get a quicker stroke in and they tend to row less aswell?? I've been trying some C4 paddles but am also hoping to try some new Loco paddles?
SB/How have you been training and preparing for the event?
Andre'/My training has been lots of paddling in the surf and flat water, but also some running, cycling, circuit training and yoga.
SB/Who are your sponsors for the event?
Andre'/My sponsors for the event are Hatstone Lawyers based in Jersey, I'm also getting some support from my sponsors, Loco paddleboards, Snugg Wetsuits, STARK surfboards, gonepaddling.com and Tako Apparel.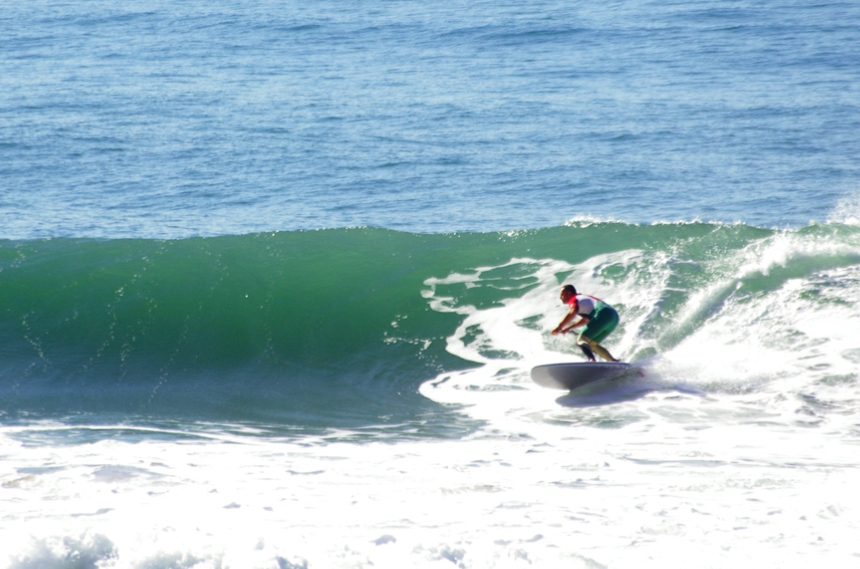 SB/Which watersports did you do participate in before SUP?
Andre'/Before I started stand up I surfed short and longboards for 20 years winning a few titles in Jersey in the open , seniors, masters and longboard, I also was British longboard masters champ in 2008 and also used to kayak a lot between swells to keep fit, so it seemed like a great cross over. At first I started flat water mainly to keep fit then started going out in small waves and it kind of took off for me from then.
SB/Where is your favourite SUP location in the world?
Andre'/I would say anywhere warm with long peeling waves !! But December last year I went to Morocco and had some great waves at Boilers and Killers, both great for SUP.
SB/Who do you take inspiration from to try and take your SUPing to the next level?
Andre/My inspiration comes from many places. I check a lot of movie clips from the top guys, I try to surf my SUP the same way I surf my shortboard
I also get a lot of inspiration from surfing with the boys at home. John Harvey, Aaron Rowe and Gary Smith all push me to surf better.
Thanks André… we're sure there'll be some warm, long, peeling waves out in Peru for you to enjoy! Best of luck from the SUPboarder team and readers.

Charlie Grey
Charlie is a top level SUP racer, who always seems to have a smile on this face! In 2012 Charlie had some great racing results, including 2nd at the Paddle around the Pier 26 Mile Sup Marathon, and no doubt he'll be looking to continue his top racing form throughout 2013. Charlie has done lots of travelling worldwide with SUP equipment… so he'll be a big help in getting all the teams kit out to Peru.
Here's what Charlie had to say to SUPboarder about his SUP racing and Peru;
SB/How does it feel to be representing Team GB in Peru?
Charlie /To be honest it feels a little odd and I don't think it will really sink in until I am on the plane and heading there, that said I'm super excited to go and it is a privilege to be part of  team `GB
SB/How did you become selected for Team GB?
Charlie /In October 2012 we had the Watergate Bay Championships which was to be used as the qualifier for Peru 2013. I think everyone will agree, who was there, how horrific the conditions were on the Saturday. I took a proper beating in one of my heats and woke up Sunday hardly being able to move my head and shoulders. However, the conditions couldn't have been more different on Sunday, with perfect glassy waves and flat sea's. I was considering not racing due to the pain I was in but thought I probably couldn't make it any worse. I love surf races and this race would play on those abilities a fare bit and the end of the first lap I managed to put myself into first position and hold it until the finish.
SB/What disciplines are you entering in Peru?
Charlie /I will be racing in the Technical and Distance events for Peru 2013.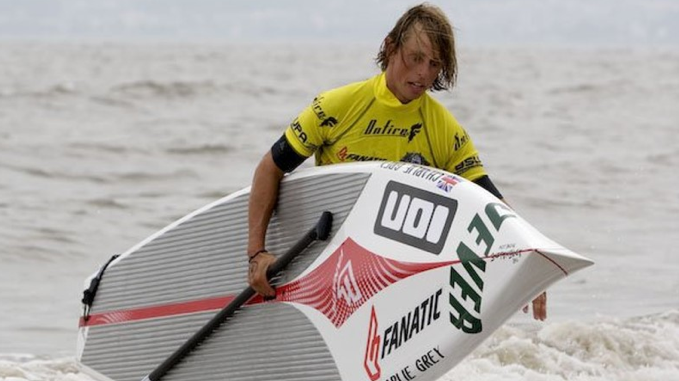 SB/What boards and equipment will you be taking with you?
Charlie /1 x Surf Paddle
1 x Quick blade  Race Paddle
1 x Spare quick blade magic un cut paddle
2 x My own Custom Surf sup's
2 x leash
1 x snugg team thermo vest
1 x GoPro
multiple pairs of board shorts
tropical surf wax
Custom WhaSup Coffin bag that holds everything!
SB/What is your chosen paddle height and blade size?
Charlie /I use a 90 for both surf and race. Paddle lengths vary depending on my board but generally my surf paddle is head high and my race paddle is 6″1/2 over head.
SB/How have you been training and preparing for the event?
Charlie /Since the end of last season I have tried to keep my paddling fairly regular but nothing too crazy as I feel it is important to have some sort of break in the winter to mix it up. In the off season I like to keep as busy as possible with a mixture of sports depending on the weather… paddling, windsurfing, mountain biking and various other sports. I was also lucky enough to have just got back from 10 days in Florida for my brothers wedding so I managed to get a fare bit of paddling time out there in the hot weather. However now back in the uk and the snow, things couldn't be more different, and its going to be just a matter of working around the weather.
SB/Who are your sponsors for the event?
Charlie /At present my main sponsor for the event is WebCast-TV who have very kindly help  with funding to get to the event. Also Quick Blade Paddle UK and George Baxter Chartered Architect R.I.B.A.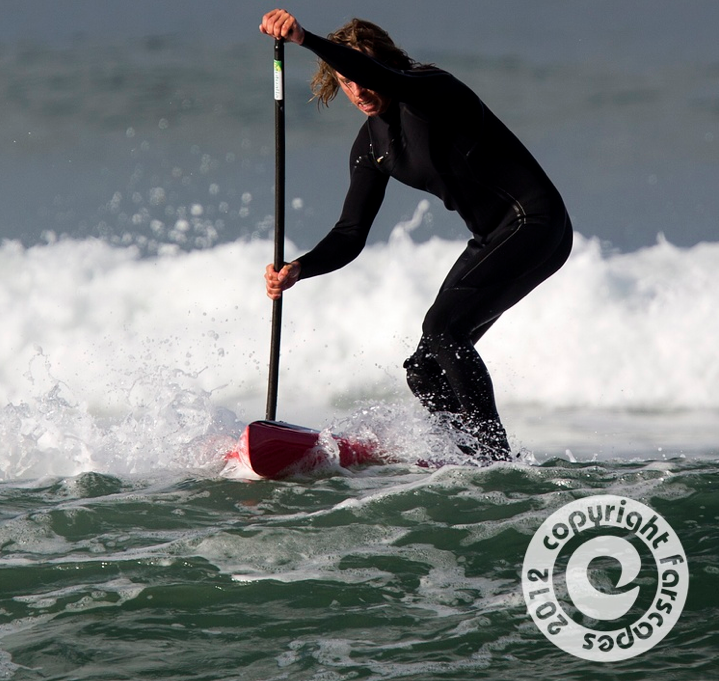 SB/What are the logistics of getting a 12'6 race board on a plane?!! Have you got any SUP traveling tips?
Charlie /Normally it isn't to much of a problem getting a 12'6 onto a flight to one of the larger destinations. However with Peru not being a direct flight from the UK it has made things very hard and extremely expensive to get our own boards there. With a very limited budget it is looking like the only option is to rent a race board in Peru, which isn't the best solution as they will be different to what we are used to but it is just something we will have to work around.
I have now done countless trips on planes with sup boards and touch wood have not had any major problems yet.
My tips for travelling;
– Pad the boards well, I like to use a strip of old carpet around each rail inside the bag to protect them. It's free and you can bin it when you're done with it.
 Always carry a set of inflatable roof rack straps, they are great for rental cars and also if left inflated double up great for more padding inside the board bag.
– Use a length of pipe lagging around the shaft of your paddle to protect them and make sure the blade, which ever way up, is supported when lying against your board.
– Always take plenty of luggage straps (not the ratchet kind they are too aggressive)  with you. I like the cheap light weight ones you get from the supermarket  for like £3 a pair. They always come in handy for strapping boards together, to the roof of the car or to hold the boot down!
Thanks Charlie… some great travelling tips, just hope your custom bags big enough! Good luck with the racing out in Peru, and have fun!
 To stay up to date with the ISA Worlds in Peru, stay tuned to SUPboarder online and on our Facebook page.
Read more about ISA WORLDS GB TEAM – Abi Barker-Smith & Jim Richardson