Over the next few weeks SUPboarder will be bringing you a series of Team GB ISA Peru features. SUPboarder will be interviewing all the guys and girls making up Team GB at the ISA 2013 World Stand Up Paddleboard and Paddleboard Championships, in both the racing and surf disciplines. All the Team GB riders are already well known on the  SUP competition scene, however SUPboarder takes this opportunity to find out abit more about each of them.

Abi Barker-Smith

Abi, 33 from The Mumbles, Swansea, has been paddleboarding for approx four years and is often seen out in the surf at her local spot, Rhossilli Beach in the Gower. In preparation for the event Abi has been paddling at every opportunity, even braving the recent freezing conditions in Swansea, and going out SUP surfing in the snow! That's what you call dedication!
Abi has also recently returned from a pre-worlds training trip to Morocco, with her husband Matt, who will also be heading out to Peru as the GB Team Manager at the event.
Here's what Abi had to say to SUPboarder about the event and SUP surfing;
SB/ Congratulations once again for being selected for Team GB at the ISA Worlds in Peru 2013. How does it feel to be representing GB?
Abi/ I am thrilled to be representing GB. It's a real honour and very exciting. I really hope we can inspire more people to get into SUP.
SB/ How did you become selected for Team GB?
Abi/ I came 2nd at the British Stand Up Paddle Association (BSUPA) National Championships in October 2012.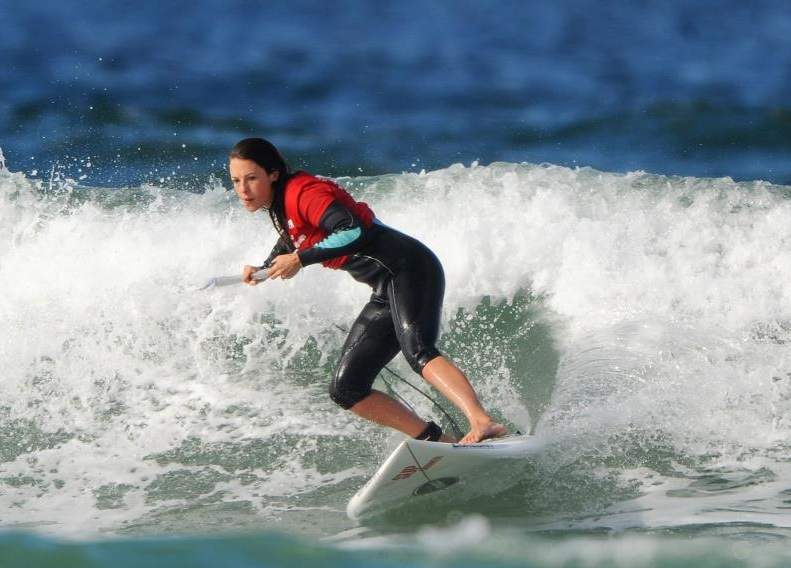 SB/ What disciplines are you entering in Peru?
Abi/ I am entering the surfing.
SB/ What boards and equipment will you be taking with you?
Abi/ I'll be taking a 7'11 GONG pro surfboard and quick blade paddle.
SB/ What is your chosen paddle height and blade size?
Abi/ My paddle is cut about 3 inches above my head and I have a Select small paddle blade…Brad from Quick Blade Paddles UK has kindly sponsored me with an awesome Kahana 36/90 Quick Blade Paddle so I'll be using that in Peru, and very excited!
SB/ How have you been training and preparing for the event?
Abi/ Training wise….every opportunity has been spent in the sea…my husband Matt ( on the ground manager in Peru ) has also been a very strict coach and doing lots of running and hill training, and taking me out on the surf/carver skateboard. We had a week sup surfing in morocco in the first week of January which was great. It's snowing at the moment so it's going to be pretty freezing in the sea this weekend!
SB/ Who are your sponsors for the event?
Abi/ I have been very lucky with sponsorship… Wavehunters Cornwall have been really supportive along with Clean Earth Energy who are both helping with costs. Quick Blade Paddle UK are sponsoring me with a fab QB Paddle and 'The Sup Hut' www.thesuphut.co.uk with my new board. The team have also been lucky to have Snugg Wetsuits offering to make us all custom rash vests and lots of cheap kit.
SB/ Give 2 reasons why girls should get into SUP surfing?
Abi/ Girls should absolutely get in to sup, it's such a versatile sport….great fitness and a great way of seeing the coast.  I love how even if its flat, then we can explore places we haven't seen before, or do some fitness distance paddling, and sup surfing is really fun!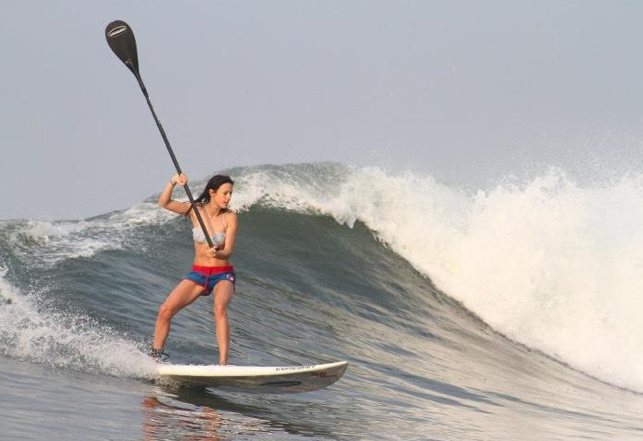 SB/ What is your favourite aspect of SUP and why?
Abi/ My love is sup surfing, you can have great fun on small waves but also on bigger days. It ticks a lot of boxes and is highly addictive! I love how we can paddle to different surf spots in the Gower, so if its crowded on one surf break, we can just paddle to another quite easily. We always take our sups on holiday, and its a real adventure finding surf spots that we can access by paddling to so we are always on a mission to find uncrowded waves!
SB/ When did you first have a go on a SUP and what was it?
Abi/ I first tried sup about 5 years ago on a HUGE board and did lots of flat water paddling with my next door neighbour, now husband, and gradually built my confidence on waves and started using smaller boards.
Thanks Abi…The SUPboarder team and readers wish you all the best in Peru. We'll all be following your progress closely and wishing we were there too in sunny Peru… please bring us back some sunshine!
Jim Richardson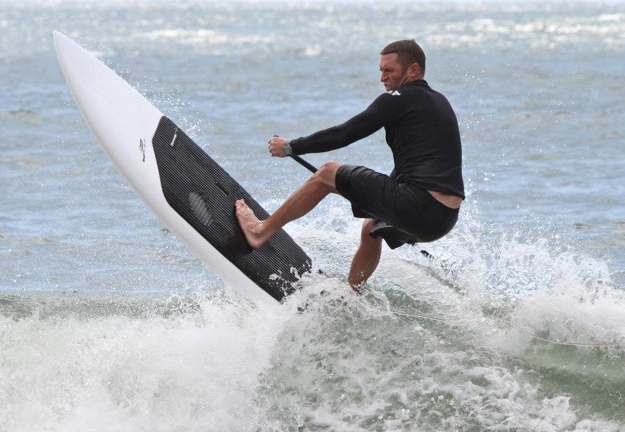 With many years of paddling and contest experience Jim is already well known on the SUP surf competition scene. Also from The Mumbles, Swansea Jim is often out paddling with mates Abi and Matt. And if he's not out on the water you're likely to see him running the cliff paths with his dog! Jim had a successful 2012 and this will be his 2nd time going to Peru representing his country.
SB/ How does it feel to be representing Team GB in Peru?
Jim/ It feels great, myself Gareth, Mark and John had such a laugh last year I was delighted to get the chance to go back!
SB/ How did you become selected for Team GB?
Jim/ I came 2nd in the BSUPA National Championship.
SB/ What disciplines are you entering in Peru?
Jim/ Mens' SUP surfing.
SB/ What boards and equipment will you be taking with you?
Jim/ I'll be taking 2 x JP custom SUPs – an 8'2" swallow tail and a rounded square tail. My boards have 'On A Mission' deck and tail pads. And paddle wise I'll take 2 x Kialoa Methane Paddles, one cut slightly longer if the water is choppy.
SB/ What is your chosen paddle height and blade size?
Jim/ Um height – I don't know, I'll measure it. Blade size the Kialoa is 8"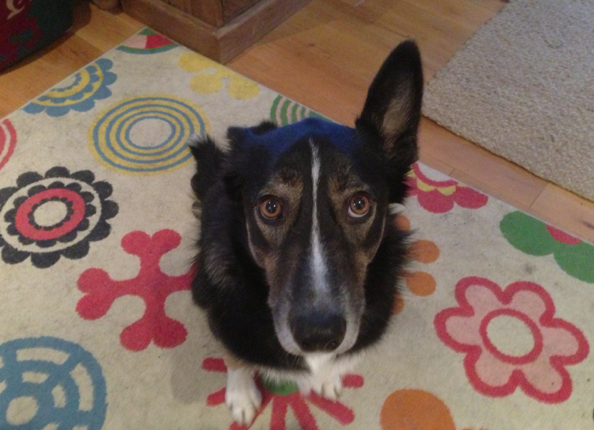 SB/ How have you been training and preparing for the event?
Jim/ Surfing as much as conditions and work will allow and after that it's fitness and "conditioning". Me and Merlin my dog go running round the cliffs every morning in the dark. I wear a head torch and he has a flashing collar. We stop every few hundred yards or so to do star jumps, press-ups and burpees.  In the evening it's weights, stretching and balance board training and often all at the same time.
SB/ Who are your sponsors for the event?
Jim/ Boards: JP surfboards www.jpsurfboards.co.uk Paddles: Kialao, Hardware OAM and Team GB Financial Sponsors are Penguin Recruitment Ltd, Simon Wyatt Financial Planning and Eden Currie Business Technology.
SB/ You competed in Peru in 2012. How was your experience?
Jim/ It was a once in lifetime experience – Well twice maybe! The water was warm, the surf was good every day, and you get a chance to surf with the best SUP surfers in the world. There was lots of time for free surfing so you could find yourself in the line up with Colin McPhillips, Sean Poynter or Ivan Van Vuuren  And then there is the exclusive Waikiki Surf Club Miraflores which is a super luxurious beach club where, as competitors you can eat drink and relax all for free. The whole experience was intense and competition focused but at the same time a huge laugh, like when we challenged Australia, South Africa and Argentina to a swimming relay race in the surf club pool. We didn't win! It was also quite a coincidence that not one of us well traveled team mates spoke a word of Spanish which possibly simplified things when we were constantly stopped by the Peruvian Police looking for a bribe –we only found out what was going on later.
SB/ In Peru last year you were 15th out of 32.  What are your hopes for 2013?
Jim/ 14th !  No actually my main goal is to surf better and get higher wave scores! I came home happy enough with my result but my board arrived on the day of the contest so I missed out on the warm up, I had the wrong fin set up and nothing seemed to flow. So this year, all going well I can score a little higher. We learned a lot last year so I think my surfing has improved, but I suspect so too has everyone else!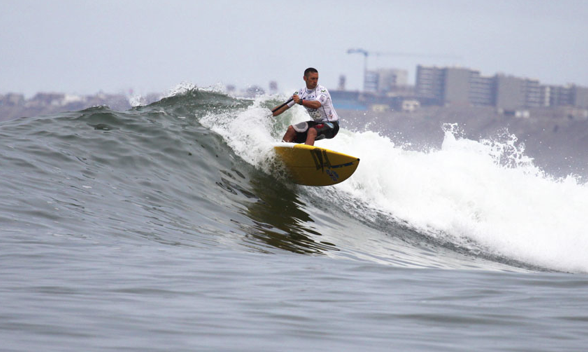 SB/ How do you stay motivated to train during the UK winter months?
Jim/ Well, like most I surf all year round anyway so the cold isn't too much of a big deal, but for this contest – I remember I have no choice. You can't take on a challenge like this and not take it seriously. And Merlin barks a lot!
Thanks Jim… We're sure all those early morning runs in the dark will pay off! Good luck with those high wave scores. SUPboarder will be watching closely!
To stay up to date with the ISA Worlds in Peru, stay tuned to SUPboarder online and on our Facebook page.