Peru is getting ready to once again host the ISA World Standup Paddle and (Prone) Paddleboard Championship event. Top athletes from all over the world will gather near the famous Waikiki Club in the "Costa Verde" of Miraflores, to compete from February 24th to March 2nd, 2013.
For 2013 Peru is anticipating 150 of the world's greatest watermen and women from 25 countries to compete in 11 different events, all in search of taking home the medals. The 2013 World SUP and Paddleboard Championship will include Men and Women's SUP Surfing, SUP Technical Race, SUP Distance Race, Prone Paddleboard Distance Race, Team Relay Race, plus a new exciting event, the Prone Paddleboard Technical Race for both Men and Women.
"SUP is one of the fastest growing sports, not just within surfing, but of all sports around the world," said ISA President Fernando Aguerre. "It is an honor to also have the Paddleboard Championship because prone paddling is an ancient discipline of surfing that dates back to the 1700's in Hawaii, and it's also strongly growing right now. Thanks to the continued support from legendary Club Waikiki, IPD (Peruvian Institute of Sports), ADO (Peruvian Association of Olympic Athletes), and COP (Peruvian Olympic Committee), we look forward to replicating the success of the inaugural 2012 ISA World SUP and Paddleboard Championship. It is with great pleasure that we will once again watch the world's best competitors showcase their talent at the historic surf beach of La Pampilla, in Lima, Peru."
Last January, 17 teams (Argentina, Austria, Australia, Brazil, Chile, France, Great Britain, Ireland, Italy, Mexico, New Zealand, Peru, South Africa, Spain, Switzerland, USA and Venezuela) gathered in Miraflores, to become part of surfing and ISA's history, as the first countries to compete in the ISA World SUP and Paddleboard Championship.
The Australian team dominated the event winnng six out of the eleven possible Individual Medals plus the Team Relay Race, giving them the overall Team Gold Medal and the Club Waikiki-Peru Trophy.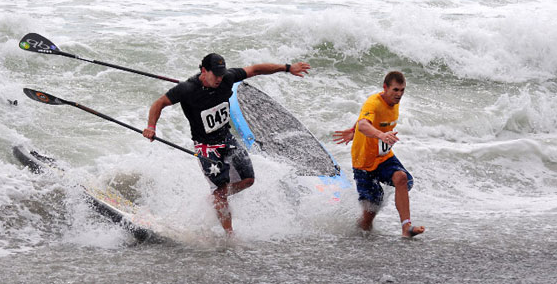 Australia and the USA were fierce competitors in 2012
The larger teams to watch are obviously Australia, France and the USA but there will also be many other smaller teams representing countries (e.g Sweden) that are much newer to the whole SUP scene.
Our small 2012 GB team competed in only the Men's SUP racing and SUP surfing disciplines, finishing 12th in the Final Team Standings . However it's great to see that in 2013 GB will be competing in every discipline for both men and women.
Check out Team Great Britain – 2013 ISA World Stand Up Paddle and Paddleboard Championships
Men's SUP Racing: Charlie Grey (Brighton)
Men's SUP Racing: Ollie Shilston
Women's SUP Racing: Marie Buchanan (Devon)
Men's SUP Surfing: Andre Le Geyt (Jersey)
Men's SUP Surfing: Jim Richardson (Wales)
Women's SUP Surfing: Abi Barker-Smith (Wales)
Men's Prone Racing: TBA
Women's Prone Racing: TBA
Team Manager: John Harvey (Jersey)
SUPboarder will be following the event and wish the GB Team all the best out in Peru.  We will be running interviews and training series with some of the athletes as they prepare for the event – STAY TUNED!
For now, like and share the GB stand up paddle board team Facebook page, and help them generate support for the event.
For further event information check out