The next two Team GB riders to be interviewed by SUPboarder in the lead up to the ISA 2013 World Stand Up Paddleboard and Paddleboard Championships in Peru are, Ollie Shilston and Marie Buchanan. Both team riders are already well known on the  SUP competition scene, however SUPboarder takes this opportunity to find out abit more about each of them.
OLLIE SHILSTON 
Ollie,  from Cornwall is a keen competitor in not only SUP but whatever he sets his mind to! When he's not training for a SUP event, Ollie's out at his local beach Godrevy, running or swimming, and training for something else!!  Last year Ollie's SUP race results included, 3rd in both the 2012 Head of the Dart SUP Race and the BOP Men's 12'6 class at the National Championships at Watergate. Ollie showed his strength and determination also during the surf  heats at  Watergate, being the only one able to make it out back during his first heat, in solid swell and nasty onshore conditions! So whatever the conditions in Peru, we're sure Ollie will be ready to take on the challenge!
Here's what Ollie had to say to SUPboarder about the Peru event and SUP racing;
SB/ Congratulations once again for being selected for Team GB at the ISA Worlds in Peru 2013. How does it feel to be representing GB?
Ollie/ It's really exciting to be selected for the GB Team going to Peru. Representing my country at a world championship is something I've dreamed of. I've represented Great Britain at distance running but this is something totally different. Usually that involved running around muddy fields somewhere cold and not the sunny beaches of Peru!
SB/ How did you become selected for Team GB?
Ollie/ I was selected from the National Champs at Watergate Bay last October.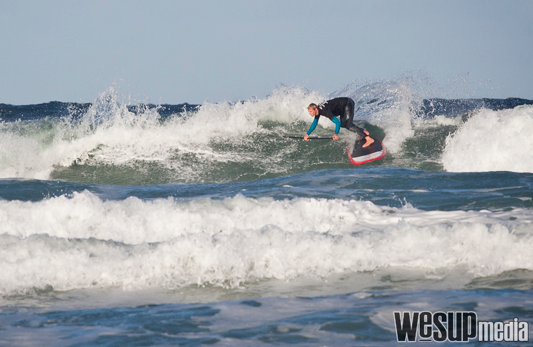 SB/ What disciplines are you entering in Peru?
Ollie/ In Peru I will be doing the 18km long distance race, the 6km technical race and hopefully the team relay.
SB/ What boards and equipment will you be taking with you?
Ollie/ I will be taking my Surftech Jamie Mitchell 12'6. She's been good to me this season so I wouldn't want to ride anything else.
SB/ What is your chosen paddle height and blade size?
Ollie/ For racing I switch between my 8" and 7.75" ZRE power surge, with a palm grip, and both cut at 82cm. For surfing I'm using an 8" ZRE flat face with a T-grip cut much shorter.
SB/ How have you been training and preparing for the event?
Ollie/ I've tried to mix up the training this winter. It's mainly consisted of running, swimming, surfing and paddling. As it's mostly open ocean to paddle on down here in Cornwall training has depended on the conditions.Having said that I have been trying to get in as much time on the water as possible and as it hasn't been cold up until now, it's just been the daylight that's been the issue. The most important thing for me is to keep things interesting.
SB/ Who are your sponsors for the event?
Ollie/ My two main sponsors are Surftech and ZRE paddles. I'm very thankful for their support.
SB/ Why did you decide to get into SUP?
Ollie/ At first I started paddle surfing just so I could get in the water more often. My local beach, Godrevy is so busy these days I wanted to do something different. Then I realised that people were racing in Stand Up. Being pretty competitive as soon as I knew that, I was always going to race.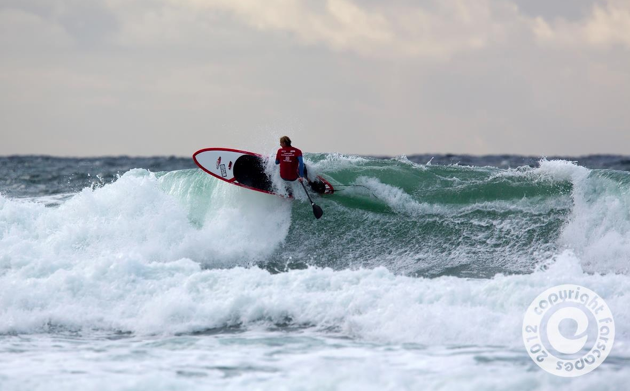 SB/ What advice would you give to someone wanting to get into the race scene?
Ollie/ The best thing to do is get down to your local club and give it a go.
SB/ The future of SUP – how big and where do you think it will go?
Ollie/ The amount of people participating in stand up paddle boarding is increasing all the time. I think it's a great activity for anyone to do. I hope to see a solid National race series at a variety of venues to incorporate the different types of race disciplines there are these days. This would give everyone the chance to focus on some quality races and use the local smaller races as a build up to them.
The SUPboarder team and readers wish you all the best at the competition Ollie…. and also good luck getting your 12'6 board on the plane!! We'll be following your adventures and action in Peru closely from start to finish!
MARIE BUCHANAN
Marie, from South Devon, is probably better known as 'super woman' because when she's not working, she's out either paddleboarding, windsurfing, coastal running or doing something else just as energetic!! Her mates say they feel warn out just being around her! Marie's high fitness level and previous wavesailing experience, meant that when she discovered SUP 6 years ago it wasn't long before she realised she was good at it! Enjoying a challenge and always giving everything she does 100%, Marie soon got involved in SUP competitions (both surf and race) and making a name for herself. Marie has competed at both national and international level, achieving some impressive results (amongst the men too!) Marie is currently the womens UK SUP wave and race champion, so along with the other riders, has well deserved her place on the GB Team going out to Peru for the World Championships.
Now over to Marie, to hear what she had to say to SUPboarder about her trip to Peru and overall passion for SUP;
SB/ Congratulations once again for being selected for Team GB at the ISA Worlds in Peru 2013. How does it feel to be representing GB?
Marie/ Fantastic! Its great to be part of the GB team and I'm really excited to be representing my country in a sport that I adore.
SB/ How did you become a part of Team GB?
Marie/ I won both the surfing and racing disciplines at the BSUPA National SUP Championships at Watergate Bay in October which was the selection event for the ISA Worlds. Following this I was offered the opportunity to compete in either the Surfing or Racing disciplines at the Worlds. Since Abi and I were so closely matched in the surfing at Watergate,  it made sense for me to enter the Racing and Abi the surfing and hopefully maximize our teams overall chance of success.
SB/ What disciplines are you entering in Peru?
Marie/ I'll be competing on the 12.6 Red Paddle Co Red Race in the Distance Race (18-20km) and also the Technical Course Racing qualifying heats (5-6km). Hopefully by doing well in the heats I'll be racing in the finals too!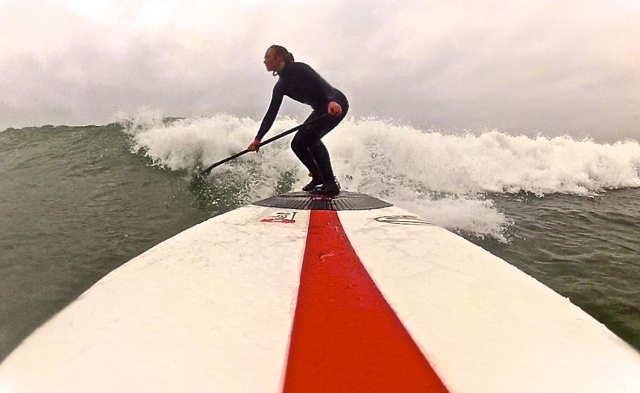 SB/ What boards and equipment will you be taking with you? 
Marie/ I'll be taking the Red Paddle Co. 12.6 Red Race, a choice o  2 x fins,  2 x pumps, 2x leashes  all neatly packed into the amazing Red Paddle Co backpack!  I'll also be taking 2 x Starboard Carbon Enduro Paddles and my Starboard Carbon 8'pro Surf SUP for a spot of free-surfing for the non-racing days.
SB/ What is your chosen paddle height and blade size? 
Marie/ I have a number of different paddle heights depending on which board I am using and type of conditions I'm paddling in. On average my paddle measures about 6 inches above my head. Slightly longer when using the Red Race as this sits slightly higher on the water compared to my Starboard Race board where the hollowed out deck brings me much closer the the water level so I use a slightly shorter paddle to compensate for this.  My shorter paddle also doubles up as my surfing paddle.  I use two blade sizes: the Starboard  Enduro 475 and 525. I generally use the smaller 475 blade for longer distance paddling to help to reduce fatigue and repetitive strain over a sustained distance. I use the 525 for surfing and down-winding.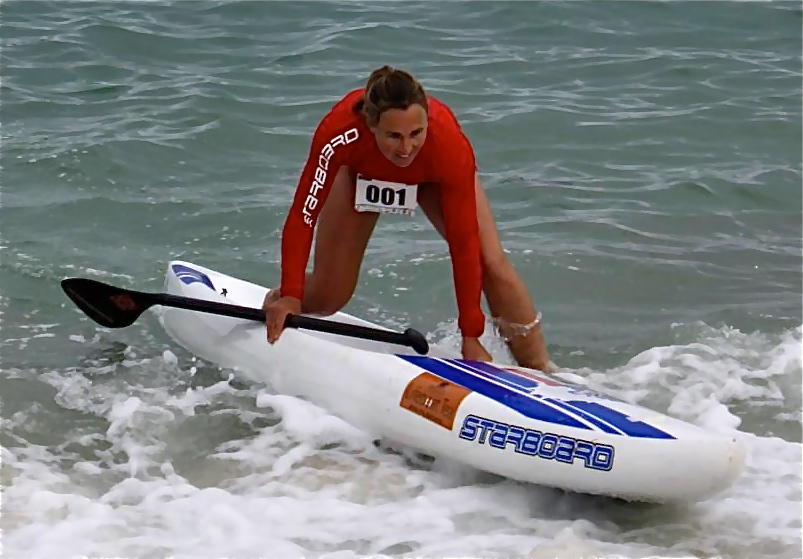 SB/ How have you been training and preparing for the event?
Marie/ I have been getting on the water paddling as much as possible, mixing it up with some flat water distance paddling, SUP surfing, and plenty of downwind paddling with the windy conditions of late. In the winter with our inclement UK weather you have to be imaginative in order to maximize your time on the water. Last week I even found myself paddling downwind in the safety of  Salcombe estuary with a 44mph wind behind me!  In December, I raced in the 13k SUP crossing in Paris which really helped to keep my training focused through the cold, dark  winter months. When not on the water, I love running along the coast path, we have plenty of mean hills in to get the legs and lungs burning!  I have also been circuit training twice weekly since Christmas and try to do Yoga regularly to aid my recovery and keep me supple.
SB/ Who are your sponsors for the event?
Marie/ I am hugely grateful to Red Paddle Co (www.redpaddleco.com) who are providing me with a 12'6″ Red Race to use in Peru and have generously contributed towards my costs. I also wouldn't be where I am today without the help of Starboard UK over the last 5-6 years and their support with my boards and paddles. I would also like to thank Juice Board Sports (www.juiceboardsports.co.uk) for helping me out with the latest GoPro 3. Thanks also to Snugg Wetsuits, Carve Sunglasses, Ion and FCS for providing us with team kit.
SB/ We understand that you're going to be competing on Red Paddle Co's new 12'6 Race Board… How have you been tuning the board for the event? i.e. what psi and fin set up?
Marie/ I'm really pleased to be taking part in this prestigious event using the new Red Race and will possible be the first to do so at an international race?  I'm using the new High Pressure pump that allows me to generate around 25psi.
 Together with the stiffening battens in the rails effectively makes the board rigid. As for fins, to be honest I haven't tried different fins as the standard fin works well for both flat water and catching small waves. From previous experience, fin type and size can make a huge difference in the surf or for downwind paddling when the board is planing. I am yet to notice much difference for flat water distance paddling, except when using an upright racing fin which has a tendency to attract the seaweed!

SB/ And have you heard of anyone else planning to compete on an iSUP out in Peru?
Marie/ No, but It wouldn't surprise me if there were a few countries using them. Given the difficulties and expense we encountered with the airlines when trying to get our 12.6 race boards to Peru, using an inflatable board makes perfect sense to me!
SB/ We know you've been training hard… have you had to change your diet in any way in the lead up to the event?
Marie/ I haven't drastically changed anything, my diet is restricted to being gluten and milk free which is going to interesting in Peru!  I generally try to eat healthily,  I haven't touched alcohol since Christmas which helps to keep me hydrated whist training almost everyday. I also tried to reduce my intake of starchy foods such as potatoes and grains and increased my intake of protein and fresh vegetables. I feel this has really improved my energy levels.  I try to restrict sugary snacks to either immediately before, during or immediately after a race or intense training session in order to keep my muscle energy stores replenished ready for my next session. I still enjoy a daily dark chocolate treat!
SB/ You're the top female UK SUP racer. What it is you love about SUP? And why should girls get into SUP racing?
Marie/ As soon as I tried SUP for the first time back in 2007 I was immediately hooked! I love the fact the fact that no two days on the water are ever the same and I always have fun paddling no matter what!  SUP totally fuels my need for outdoor adventure and offers the perfect way to explore the beautiful coastline and diverse marine environment which surrounds us in South Devon.  It can also be a really enjoyable way of getting and keeping fit too! I relish the additional challenge and intensity that SUP racing provides and would highly recommend it to all girls to give SUP racing a try. It has opened up opportunities to travel and meet new people, visit new paddling venues, and experience the most physically invigorating side of the sport . It's also really exciting to be part of SUP racing as it evolves rapidly within the UK.
Thanks Marie…We're sure all the hard winter training will be worth it, and you'll more than deserve that bar of dark chocolate at the end of the comp! At least you wont have to worry about getting your 12'6" board on the plane!! We wish you the best of luck, from the SUPboarder team and readers.

Read more about the ISA WORLDS GB TEAM in our previous SUPboarder interviews –
Abi Barker-Smith & Jim Richardson
 To stay up to date with the ISA Worlds in Peru, stay tuned to SUPboarder online and on our Facebook page.