After more than six weeks of deliberations and intense evaluations, Supconnect are pleased to announce the winners of the 14th annual Supconnect Awards.
Release: Supconnect
With more than 36,000 views of the Awards it has been a very meticulous journey to get to this point. In following our criteria for choosing the winners (Ambassadorship, Involvement, Performance and Support), to help us decide the winners of these awards, we here at Supconnect go through an extremely rigorous process in selecting the winners. We seek insights and feedback from our esteemed advisory board, comprising avid stand-up paddling enthusiasts with a distinctive perspective on the sport. Additionally, we consider the extensive interactions and responses from fans and consumers regarding the Awards. Our editorial board's insights also play a pivotal role, and we actively engage in extensive correspondence and communication with industry brands and retailers. Countless emails and personal conversations have transpired to ensure the most comprehensive and insightful feedback on our nominees. So without further ado, here are the winners for the 14th Annual Supconnect Awards.
Man Of The Year
-
David Haze
David Haze is the perfect example of what you can do with a second chance. David, also known as the Nomadic Paddler, is a remarkable individual who has triumphed over adversity and transformed his life from an ex-criminal to an 8-time SUP world record holder, activist, teacher, and inspiring leader. He stands as an ocean activist of the year and has undertaken the world's first carbon-neutral environmentally friendly expedition. David's achievements include holding the most SUP world records and pioneering high-altitude lake paddleboarding in the Pyrenees mountains. His dedication and passion for stand-up paddleboarding know no bounds, manifesting in his tireless efforts to spread the joy of the sport, teach beginners, and uplift disadvantaged children, embodying a true embodiment of positive change and resilience. Need we say more? Congratulations to our 2023 SUP Man of the Year: David Haze.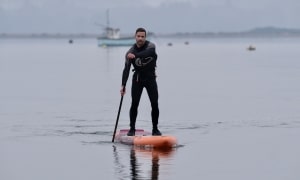 Woman Of The Year
-
Esperanza Barreras
With a background in sailing and boats it's no wonder Spain's Esperanza (Espe) Barreras' path led her to standup paddling. Her beginnings in competition and in overcoming herself, make Espe take values such as illusion, perseverance, respect, ambition… who define her as an athlete delivered in everything she does. Espe first made her way into the competitive SUP scene in 2019 and hasn't looked back since with impressive results year after year. 2023 however has really been her year. She completely dominated the Euro Tour this summer, showed up to the ISA World SUP Championships and dominated there as well earning 2 gold medals AND she's had multiple podium finishes on the APP World Tour. And while this year of domination certainly has earned her merit, it's not the only reason we're selecting Espe as our SUP Woman of the Year. It's her off the water attitude and demeanor that we've been paying attention to. Her smile and cheerfulness is contagious. You can tell she is just having a complete blast and really proves the age old statement that the one who is having the most fun wins. Congratulations to 2023's SUP Woman of the Year: Esperanza Barreras.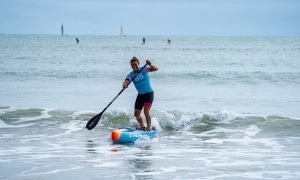 Grom Of The Year
-
Shuri Araki
Japan's Shuri 'Shrimpy' Araki is the future of SUP racing. This kid, who now has officially reached the end of his junior status at 17-years-old, is solidifying himself as one of the best in the world. In 2023, Shuri really stepped up his game and has been competing in both the junior and elite race categories, beating the best in the world again and again. This year, he just made history at the ISA World Championships, becoming both the youngest World Champion in his division and the first male to win the SUP Technical & Distance Races in the same year, a feat which the 17-year-old has repeated in 2023, to remain undefeated in any discipline he has entered in the ISA! But that's not the first time he set records. At 13-years-old, Shuri became the youngest-ever finisher of the coveted Molokai-2-Oahu race and then went on to become the youngest member of the APP World Tour at 15-years-old. If that doesn't scream Grom of the Year we don't know what does. When not paddling, you'll be able to find Shuri helping his family organize SUP downwind races at home and fishing with his family. Shuri's bright smile, positive attitude and talent go a long way and we're excited to name him as our 2023 Grom of the Year.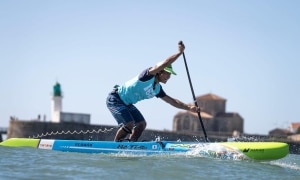 Shop Of The Year
-
101 Surf Sports
101 Surf Sports based in San Rafael, California is a full service Water Sports Sporting Goods Shop specializing in Stand Up Paddleboarding, Prone Paddleboarding, Windsurfing, Kiteboarding, Surfing, and Kayaking. 101 Surf Sports is known for carrying premium quality products with a staff that is incredibly knowledgeable and friendly. What's more, they're very active in their local SUP community putting on a race series annually. In 2023 they added to that list and even organized a fundraiser for Maui wildfire relief efforts, helped provide gear and clinics for expeditions and more. These guys and gals are the real deal who live and breathe our sport and who work tirelessly to educate consumers and make a positive impact in our sport. Congrats to our 2023 Shop of the Year.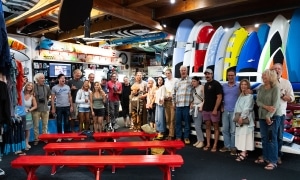 Brand Of The Year
-
Starboard
In selecting the Brand of the Year, we carefully consider numerous factors such as product excellence, community engagement, dealer relationships, and more. For the fourth consecutive year, Starboard has once again emerged as the standout choice. Starboard consistently displays innovation and commitment to the sport, unveiling new products annually and providing support to top athletes globally as well as at the local level. Notably, their dedication to environmentally-friendly production and proactive engagement in beach and waterway cleanups showcase their environmental responsibility. Moreover, positive feedback from dealers underscores Starboard's strong customer service and backend support. Beyond these aspects, Starboard's enduring support for the SUP industry is evident through collaborations with global media publications, active involvement with industry associations like SUPIA, and partnerships with organizations like the ICF to promote environmental initiatives and advocate for SUP safety. Collectively, these compelling attributes reaffirm Starboard as our unequivocal choice for the 2023 SUP Brand of the Year.