As a SUPboarder PRO subscriber, you get the opportunity to email us directly and ask any questions you have about SUP, equipment, technique or content suggestions through our 'Ask The Experts' email. In the article below, we describe how we helped Fiona choose the best gear to achieve her goal of paddling in a long distance SUP race.
Fiona's ambition was to paddle the Loch Awesome SUP Challenge in May, 2022 (75km team SUP paddle) and she needed some advice on which gear would be the best for her. Using the 'Ask The Experts' perk of being a SUPboarder PRO member, Fiona wrote in to ask her question;
I have signed up for Loch Awesome in May this year. My two team mates have 14' boards (one Naish hardboard and a Starboard Airline) therefore I now have a time target to decide if I'm definitely doing the event and hence get a hold of a comparable board for myself!! I think realistically due to storage I will need to stick to an iSUP. Will again however be worried about volume if I am going 14'. Any thoughts or advice welcome.
To give you some background information about Fiona… she started paddling in early 2021 and fell in love with the sport. She outgrew an all-round iSUP after the first week paddling and now has a solid quiver of SUPs including a lot of time spent on a Red Voyager 12′ x 28″. She enjoys longer paddles in the lochs and ocean environments around Scotland.
We got back to Fiona via email as quickly as we could to help with this question, and Lucy & Reuben teamed up to offer their expert advice. They described the differences of paddling 12'6 vs 14′ boards and why opting for a 14ft board was key to keep up with her teammates. The thickness of course was a hurdle for Fiona as it can be tough to manoeuvre a long and thick board. After recommending a few initial options, Fiona was asking about 28″ width boards and how they would compare or feel on the water. Knowing Fiona rides a Red Voyager at 28″ wide, she feels super confident paddling so we helped her realise that going narrower in a board will help with speed, manoeuvrability and give her the best chance to compete in this race.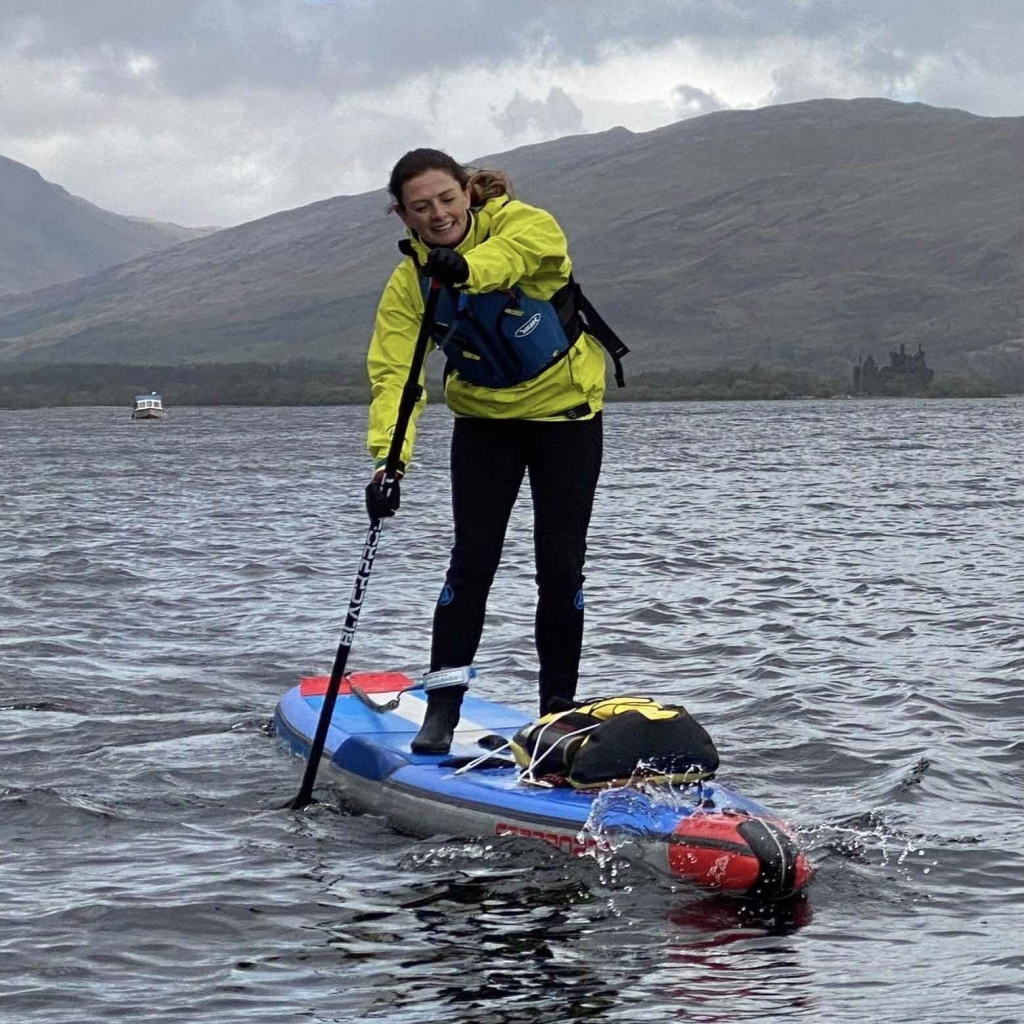 As with a lot of our recommendations about kit, we always advise that you try and have a go on a board to see if it's right for you, before you buy. We realize this can difficult, especially given the availability of gear recently, but borrowing a friends board that is similar in size is a good idea if you can. Luckily, Fiona had the opportunity to try and test a few different boards through SUP schools and friends.
Lucy & Reuben settled on recommending a Starboard Airline 14′ x 26″ for Fiona to compete on. After finding one close to her and testing it out, she instantly felt fast and comfortable on the board and immediately ordered a second hand one she saw online. Yew!
But we don't stop there! Throughout the conversation we also asked about which paddle Fiona was considering using over such a long distance. To best suit her size we recommended Fiona opt for a slim shaft and a smaller blade which takes the stress off your shoulders and allows for a faster paddling cadence. After considering a Starboard Lima and not being able to find one, Fiona settled on the perfect option of a Black Project Lava slim shaft with small blade which saved her body during the endurance event. Fiona also purchased a Palm Terek Jacket based on a SUPboarder review.
Fiona completed the Loch Awesome SUP Challenge along with her teammates from the West Coast Misfits and we are so stoked for them.
Day 1 was brutal – the 24km return leg back down the loch was in pretty horrendous winds but all in all I loved every minute.
The starboard airline was perfect for it so thank you for helping me get to the point of going for that board, it was fast but stable in the choppy washing machine zones!! Also ended up with a small slim shaft black project lava paddle – fantastic and totally protected my shoulders. Now I'm starting to obsess about fin upgrades – always more to spend money on!
Thanks again for helping me with the big decisions as getting those right were key! I am actually still in a state of disbelief that I did it…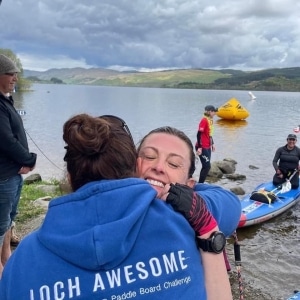 (photo by Loch Awesome)
Our goal for 'Ask The Experts' is to provide you with impartial, real, honest advice on anything to do with SUP. We have paddled a lot of gear (if you didn't know already!) and because we don't sell equipment or have ties to any brands, we share our experience to make sure you get the right bit of kit. The same goes for advice on technique where you can also enter a readers video breakdown to help you progress with your paddling. From race, surf, touring, whitewater, winging, foiling, beginner, intermediate, advanced, no matter what discipline or level you are, we are here to help.
Thanks to Fiona for allowing us to share your journey. And well done Fiona and the West Coast Misfit Team for completing your epic paddle challenge. Loch Awesome sounds like a great event… same again next year?!!
We hope you see the value of SUPboarder PRO, and make the most of the full range of benefits and features on offer, to help reach your SUP goals.