Surfcare is the new company that can insure your new board against dings, breaks and damage so you'll have peace of mind when on the water.
There's nothing better than the feeling and excitement of a new SUP, but you know at some point in the near future that first ding is coming. With SUPs now setting you back thousands of dollars, it's about time a company like Surfcare came into the market so we can now insure our new SUPs against damage.
Currently only available in the USA, Surfcare covers damage to SUPs, surfboards, foils and fins and they are hoping to expand into overseas markets in the near future.
Make sure to scroll down to complete a very short survey so we can send the feedback to Surfcare and hopefully expand their network to your country.
---
*Press Release
Stand Up Paddle boards are more popular than ever, as we all know, and they aren't cheap. Unfortunately, they're also prone to damage. Dinging or breaking your new epoxy manufactured investment happens to just about every paddler and when that happens there is rarely a solution that protects you. 
Well, that has now changed, Surfcare now offers protection on all epoxy and polyurethane (hard boards that are not inflatable) based boards. Because SUPs are extremely fragile and paddlers are constantly maneuvering their boards through challenging landscapes, at some point their prized possessions are likely to become damaged. We believe providing Surfcare will keep customers' boards looking and riding like new, extending the value and life of their most valuable purchases.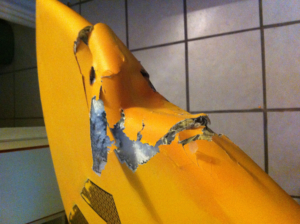 Surfcare is excited to bring a protection plan to market that is meant for everyday use, going above and beyond 'travel insurance' that is traditionally only used for a minority of the days most paddlers spend using their SUPs.  
"We're happy to be offering a product that will protect and enhance our customers' paddling experience", says Surfcare co-founder Nick Stolz, "giving them peace of mind while purchasing a new SUP."
Surfcare co-founder Rhett McNulty, believes that the first days on a new board are critical to how a stand up paddler views that brand for years to come. "If a paddler has an accident resulting in damage to their new board, it's highly likely that reflects poorly on the board manufacturer and the store who sold it."
There are three types of Surfcare Protection Plans along with three ways to pay for each. Here's a brief summary of them… 
Surfcare Essential
The entry level and must-have plan is Surfcare Essential. This plan ensures minimal mental anguish caused when breaking your new board. As with all Surfcare plans, you'll have entirely free damage repair and the ability to replace your board for a deductible based on 25% of the board's receipt price. 
Surfcare Premium 
The most popular plan. It covers everything in the Essential plan plus unlimited ding repair as you need it. Surfcare Premium is the hassle-free, no brainer option, ensuring your board gets fixed correctly by the best possible ding repair specialist.
Surfcare Premium + Fins 
For those of you who spend a pretty-penny on fins, Surfcare's top-tier plan will be perfect for you. It includes everything from the Essential and Premium plans but adds additional financial protection on the replacement or repair of removable fins. 
---
About Surfcare
Surfcare is the first surfboard, SUP and flat water board protection plan in the world for everyday use. The company is backed by an A-rated insurance provider and licensed in 36 States and expanding. Surfcare plans can be purchased directly at Surfcare.co within 30 days of a new board purchase and also sold by Surftech, Dive n' Surf, Becker, HaydenShapes, RipCurl San Clemente, Spyder, Almond, Album, Station RBNY, Eastern Lines, and more.