3 ex-review Yellow V iSUP packages find new homes and bring some SUP smiles...
2020 has been a tough year for us all. The Coronavirus pandemic has brought with it so many different challenges, and we've all had to find our own ways to cope during these unsettled times.
For many of us, the SUPboarder Team included, SUP has been a lifesaver over the last few months. Being able to get afloat and have some time out from what's going on in our personal lives and around the world right now, has been invaluable. It has allowed us to bring a bit of normality back to our lives… fun with the family, solo adventures, and laughter with mates. Time to reflect and appreciate what we do have to smile about right now:) Being out on the water has so many benefits, and it's been great seeing so many new paddlers discovering and enjoying SUP over the last few months. So many so, that it became almost impossible to get your hands on an iSUP afew months back!
The SUPboarder Team appreciate how lucky we are having access to SUP kit. And we realise that there are many people who are not as fortunate, and for many different reasons have not been able to enjoy the water and the sense of freedom and other benefits it brings.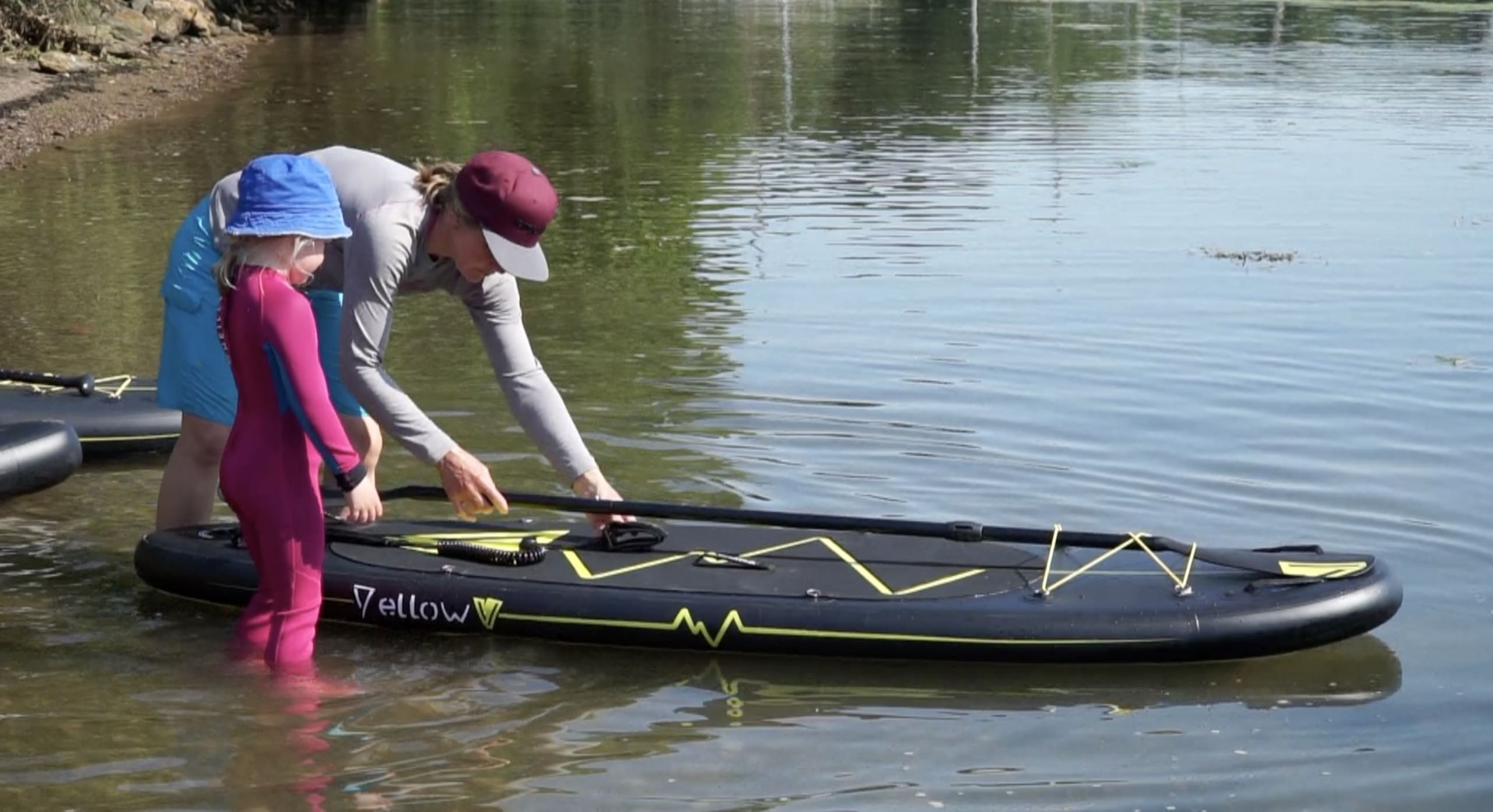 That's why we decided to run a competition afew months back… giving away 2 ex-review Yellow V iSUP packages for free.  We wanted to give more people the opportunity to experience the benefits of SUP, and to give them something to smile about in 2020. So we asked you to nominate someone who you felt really deserved to win a paddleboard in 2020. Somebody, who for whatever reason, deserved to smile on their own SUP this year.
Thankyou for sending through your nominations. We had hundreds of entries, and every single one of them deserved to win a board. Aswell as the challenges brought by COVID, many of you have also been facing your own tough personal challenges, and we admire you all for your courage and determination.
The SUPboarder team had the very tough job of choosing the winners. We first shortlisted the entries down to 100, then 50, then 10, and finally 3. We found it totally impossible to short list 2 so decided the only solution was to give away 3 iSUP packages not just 2!
If you haven't heard from us already then I'm sorry to say you weren't a SUPboarder winner this time.
But 3 lucky SUPboarders have been contacted and have already received their boards.
Here's what the winners had to say…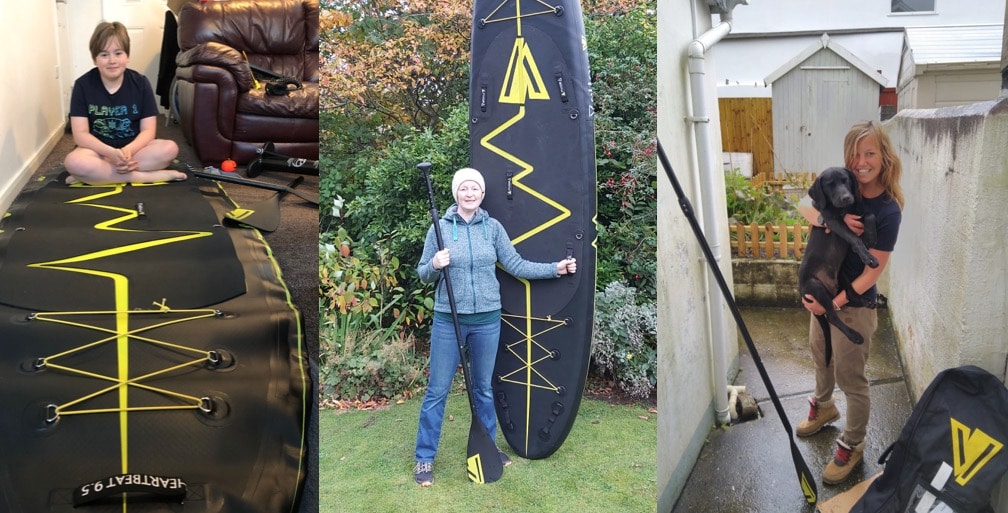 9'5 board
-
won by Joshua Ashley
" I'm really excited that I've won as I love paddle boarding and when I'm on a paddleboard I'm the same as everyone else, thank you!" – Joshua Ashley.
13 yr old Joshua has had a tough time since birth requiring numerous hospital visits, and the use of a wheelchair at times due to muscle pain and fatigue. Josh first had a go on his uncles SUP 2 years ago, and loved it. Unfortunately this summer due to shielding from covid 19 he has been unable to get on the water, and has really missed it. We hope that Joshua's overall health will benefit from having his own board and he will enjoy being able to join his uncle on lots more SUP adventures.
11' board
-
won by Sarah Bronsdon
"My sister nominated me for this and that makes me so proud! Thank you so much for the awesome prize, I cannot wait to get it on the water. It's been a tough year! Covid has brought us all challenges and I have really struggled with not visiting the coast and the sea. I started paddle boarding as an organised activity that was still allowed and I totally fell in love with it! I enjoy the tranquillity, the opportunity to see our beautiful coastline from a new vantage point and the challenge of keeping my balance! Sadly even that all stopped with my breast cancer diagnosis at the end of May which resulted in us shielding whilst I underwent treatment. When I got the news of winning this I was actually in hospital with neutropenic sepsis and feeling very sorry for myself. The timing was perfect, it really cheered me up." – Sarah Bronsdon.
"I started Lil with my pal Louise 2 years ago. It's all about helping people make good choices for the health of the planet and people. We struggled to find groceries without plastic, palm oil and toxic ingredients in our area and realised that a lot of people, us included, were finding the problems facing the environment so overwhelming they didn't know where to start! We decided we could be part of the solution.
Lil stands for lower impact living. We are a social enterprise and all profits from sales in the eco shop go to outreach and education. We work in schools and support communities and businesses across East Lothian and Edinburgh to understand and make changes – that might be tackling fast fashion with swishing events or tackling marine pollution with community beach cleans. My top moment was introducing a 3 year old nursery child to her first crab! It's a massively rewarding job, so much so I gave up my consultancy job 12 months ago to do this full time.  So far we have saved over 1,000,000 pieces of unnecessary plastic from polluting the planet.
We haven't been able to do any outreach work lately but have focussed on getting zero waste groceries and household essentials to customers so they can avoid busy shops. We have such demand now that we are trying to expand with the support of a crowdfunder campaign and if folk want to find out more they can see it here www.crowdfunder.co.uk/support-the-lil-hub
I have just this week been told I am clear of cancer which is the most amazing news! Once my treatment is completely finished, I am looking forward to getting out on the board. It'll be great for beach cleaning the hard-to-reach nooks and crannies of the East Lothian coast." – Sarah Bronsdon
Email hello@dolilthings.org
Insta, fb & twitter @dolilthings
8' board
-
won by Sarah Jellard
"Thank you SUPboarder SO much. Winning the kid's paddle board is incredibly exciting. Tango (dog!) and I are going to be leading 1:1 paddle boarding river cleaning sessions in North Devon, UK with the Wave Rangers. The Wave Rangers project is for 10-20 year olds in North Devon with many vulnerabilities. The young people take part in regular environmental and community volunteering projects to not only help our planet but also to support their well-being and understand the importance of being part of a community. Through commitment to the Wave Rangers project, they will also have the opportunity to take the paddle board home for a few days to use with their families, guardians and carers. We are so delighted to have won this board and it is without doubt going to be an incredibly popular activity and an amazing incentive to keep the young people volunteering in their community. Thank you so much. We are smiling ear to ear with huge thanks to SUPboarder." – Sarah Jellard.
To find out more check out the Wave Rangers website.
A great project. And we hope the Wave Rangers SUP brings lots of enjoyment to the members, their families and carers.
Well done to the winners. We really hope you enjoy your new boards and can use them to introduce others to the great world of SUP too! We look forward to hearing about your SUP adventures. Stay safe on and off the water. From all the SUPboarder Team.
Find out more
-
about the Yellow V range