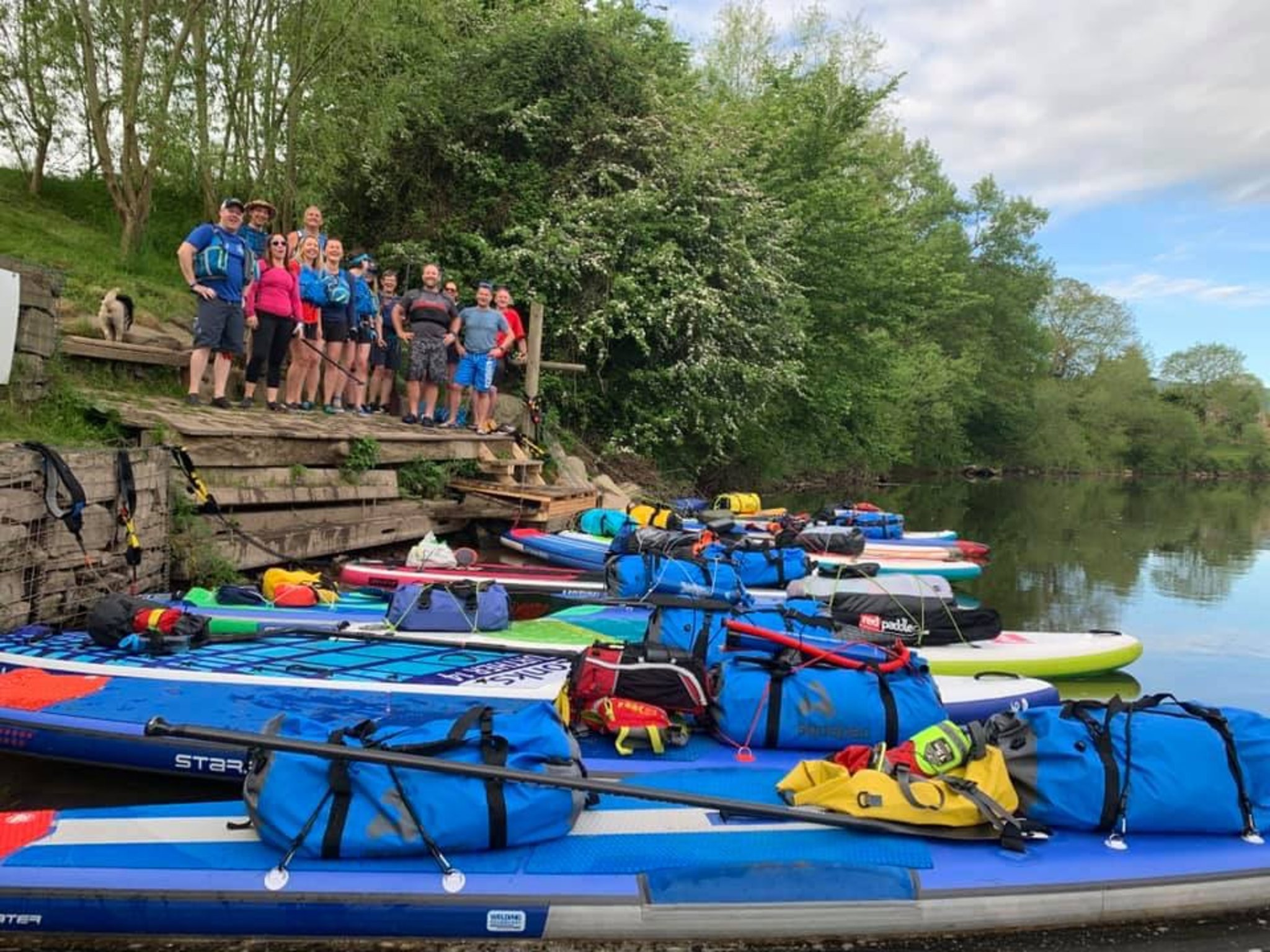 Earlier this year Stacey Smithson organised a group of UK paddlers to paddle the Wye 100 – a 100 mile paddle challenge along the River Wye from Glasbury to Chepstow, UK. The SUPboarder team caught up with Stacey and the team before the challenge (read here). And in May 2019 they successfully completed it, paddling the full 100 mile route in 4 days (24th – 27th May). Stacey shares her Wye 100 experiences, tips and route cards…
In this article
Flatwater / All-round
Touring & Exploring
Adventure & Lifestyle
Travel & Inspiration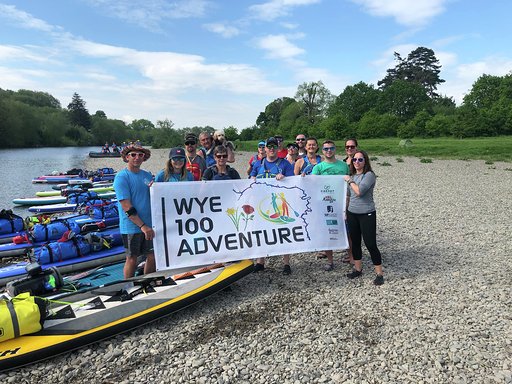 Day 1: Glasbury – Byecross
(24 miles)
Day 2 :Byecross – Hoarwithy
(30 miles)
Day 3 :Hoarwithy – Symonds Yat
(26 miles)
Day 4 :Symonds Yat – Chepstow
(26 miles)
The group was made up of 14 paddlers: Myself (Stacey Smithson), Jonny Hebert, Adam Burke, Lucy Pearce, Dave Mistry Pain, Kirstine Archer, Helen Clarke, Jan Johnson, Pete Kellett, Fraser Whithey, Kathy  Marston, Coralie Farren, Rich Stokes, & Matt Goddard.
All paddlers were competent paddlers who I'd either paddled with before or had been recommended as experienced paddlers suitable for this trip.  I' d been a little selective as this was my first time organising a group multiday trip.
Meeting on the Thursday evening for our 1st nights camping in Glasbury, Ty Rhosyn Coch Campsite we took this as an opportunity to meet each other in person after months of communicating through social media platforms. It also meant we could have a more relaxed start on the Friday morning, not having to paddle straight from a long car journey. Not being able to launch in Glasbury before 10:00am also helped make for a leisurely start!
We were extremely lucky with the weather, with blue skies and sunshine for most of the 4 day trip, and the occasional light showers being a welcome relief!
The last day paddling was a bit more challenging with brutal headwinds down towards Chepstow. But we were rewarded for our hard work paddling against the incoming tide and the wind with a visit from a couple of seals.
Each paddler carried their own kit. Here's my kit list:
Board – 14′ x 28″ Starboard Airline
Paddle – Starboard Carbon Bolt
Fin – 4 inch river fin – definitely the right choice having had a dry spell leading up to the event the river levels had dropped and those with standard fins soon found out! However by the end of the 4 days paddling, new skills were learnt by some to negotiate the shallows!
Quick Release Waist Leash
Buoyancy aid – Peak UK River Guide Vest
Kit Bag – Aquapac 70ltr Dry Bag and smaller dry bags from Desperate Measures to separate kit inside main bag (double bagging your equipment may add a little weight but it's worth it to ensure your kit stays dry, especially your sleeping bag.
Tent – Geer Top 2 man Tent – was like a palace!
Snugpak 3 Season Sleeping bag – this time of year you could get away with a lighter weight 2 season bag, but I opted for comfort.
Jetboil – because who doesn't need a good brew in the morning?! Also comes in handy for making your food.
Food – Firepot dehydrated food, which were super tasty, can definitely recommend the posh beans. Using dehydrated food also keeps the weight of your pack down. But it wasn't all campsite cooking… pubs, cafes and ice cream stops were all taken full advantage of!
I was happy with my kit choices, particularly my board choice 14 x 28 Starboard Airline, which was a joy to paddle. The only thing I wished I'd taken with me was a drone to capture some aerial shots of the beautiful location.
The final day,  Symonds Yat to Tintern was my favourite section of the paddle. However as well as the stunning scenery along the way, what really made the trip special was the amazing team work and bond created over the 4 days.
Paddling as a group meant there was plenty of opportunity for chat and laughter along the way. But I admit it takes a bit more planning, organising a group multi day trip than a solo mission!
The group have continued to chat on the private group set up for the event and we now have two more multi day trips in the pipeline for 2020, with recce one day paddles already happening.
Paddling the Wye 100 is not for the faint hearted and takes some careful planning. But if you're up for a paddle challenge amongst stunning scenery then here are my top tips:
1. Keep an eye on river level
2. Paddle within your ability
3. Break it down into chunks you can manage.  There are plenty of campsites along the route that allow you to do the full distance over shorter paddling days.
4. Be aware that from Brockweir down the river becomes tidal.  To get out at Chepstow you need to arrive at high tide, otherwise you may face a muddy bank climb to exit!
For more detailed information about each section of the Wye 100 check out my route cards below:
Day 1
-
Glasbury to Byecross
Distance : 24miles
Time : 8 hours (including breaks)
Paddling conditions : Flowing river, shallow sections
Launch : Glas-Y-Bont common, left bank of the river, stone beach area
Landing : Byecross Campsite – decked launch/landing area, steep steps/bank to negotiate
Stopping points on route : Hay-on-Wye – just past the bridge on the right hand side of the river there is a landing area.  A short walk in to town (remember to carry 20p's for the public toilets)
Whitney on Wye – Boat Inn – River left, this is a pub stop, it was a planned stop however we would have had to take all 14 boards off the water, so we paddled by – however having visited the pub on recce-ing the route, the landlord was super helpful and if you are a small group or solo paddler I'd recommend stopping here.
End of day campsite : Byecross Campsite – toilets / showers (£1) / food / alcohol / fire pits
Day 2
-
Byecross to Hoarwithy
Distance : 30miles
Time : 10hrs (including breaks)
Paddling conditions: : Flowing river, shallow sections
Launch : The campsite has its own launch; you do have to negotiate some steep steps.
Landing : Tresseck Campsite beach launch, some more steps to negotiate up to the campsite
Stopping points on route : National trust – Weir garden
Asda, stop opposite Hereford rowing club
De koffie pot (just after the rowing club go left after 2nd bridge)
Lucksall caravan camping – ice cream refreshments stop – also a good place to get supplies if needed as good campsite shop (if you didn't pop to Asda)
End of day campsite : Tresseck campsite – This site currently only has portaloos, but is under new ownership so this may change.  Great pub at the end of the driveway, food was delicious and the host had us in stitches.
Day 3
-
Hoawithy to Symonds Yat
Distance : 26miles
Time : 9hrs (including breaks)
Paddling conditions : Flowing river, shallow sections
Launch : Tresseck Campsite beach launch, some more steps to negotiate up to the campsite
Landing : Symonds Yat Caravan & Camping – (£1 to land)
Stopping points on route : Ross on Wye – hope and anchor inn landing point food in town or in pub
Kerne Bridge – landing point for rest stop
YHA Wye Valley – Ice Cream stop
End of day campsite : River Wye Caravan and Camping – showers (£1) / toilets / lots of food options / pub / arcade
Notes : Motorway traffic (busiest section) / be aware of straying canoes and kayaks / the castle you will see is Goodrich Castle
Day 4
-
Symonds Yat to Chepstow
Distance : 26miles
Time : 10hrs (including breaks)
Paddling conditions : Flowing river, shallow sections, rapids (Symonds Yat), Tidal section
Launch : Symonds Yat Caravan & Camping – (£1 to land)
Landing : Boat Inn Chepstow (right bank of river after 1st Bridge past the castle)
Stopping points on route : Monmouth rowing club – big concrete steps to sit on – or short walk in to town
Redbrook Village – village shop and The Bell pub left bank or Boat Inn right bank of river
Llandogo  – snack stop river right (little scramble but there is a village shop or stop river left on the beach area
Brockweir last stop as tidal after here and nowhere to get out
Notes : Tintern Abbey / Chepstow Castle / be careful of Jet skis & wakeboarders / keep eye out for seals we saw a couple
Follow Jonny h on the GeoSUP app for more details about the route.
More information about the Wye 100 challenge can also be found on the following websites.
Thanks for sharing your Wye 100 experiences Stacey. We hope the weather is kind for the other paddles you have planned this year!If you've completed the Wye 100 Challenge we'd love to hear your thoughts and tips below...