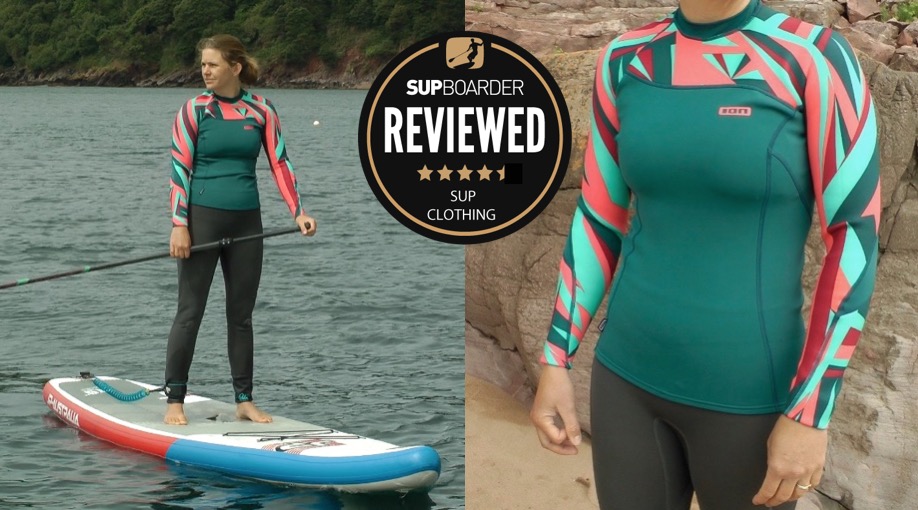 In the past the decision was "wetsuit or no wetsuit?" when paddling. But today there are so many more great clothing options, keeping paddleboarders warm, protected and comfortable on the water. ION is one brand who have a comprehensive clothing range suited for all types of paddler. SUPboarder has been putting the ladies ION Neo Top (also available in mens) to the test. Here's the SUPboarder verdict… 

About ION
ION is a brand "run by passionate people, whose big love has always been watersports." ION develops gear that is not only smart and innovative, but also transforms this passion into a unique design. Originally launched as a watersports brand back in 2004, focusing on wetsuits and neoprene products, ION then expanded to include accessories, apparel, and also in 2012 functional gear for cycling.
ION's belief that "even the smallest items in the product range deserve the same dedication and precision as every complex item" explains why their high quality, stylish neo products have found fans all over the world.
ION Neo Long Sleeved 2/1 Women's Top – £96.95
ION's Neo Tops are designed for use "in warmer waters to keep the sun and wind off the skin, or as a second layer underneath a wetsuit in colder climates." With a more detailed and technical construction than that of a standard rash guard, they have been designed to provide "100% UV protection, efficient heat retention and a reduction in irritations and bruising often caused by harnesses and surfboards"
Available in 2 colour ways in ladies – Petrol or Raspberry
Choice of 5 sizes – 34/xs 36/s 38/m 40/l 42/xl
Long and short sleeve version available.
UV Resistant – UPF 50
Available in both men and womens.
The SUPboarder verdict
The ladies long sleeve Neo top looks and feels quality, and is super soft inside and out. The stretchy 2/1mm neoprene makes it extremely easy to get on and off. And the wool-like Hot-Stuff lining is very cosy and feels great against bare skin. The bright colourful design across the shoulders and both arms gives the top a unique stylish look, and will certainly make you stand out from the crowd! The top is a good cut, fitted but not too tight. And the longer back means you stay well covered and protected from the sun and wind when paddling. There is a front loop which can be attached to your shorts to prevent the top from rising up, however the tester did not feel there was any need to use this as the top stayed in position well. There is also a good quality, short side zip to allow a looser fit and aid getting the top on & off.
The long sleeve neo top tested was size 38/M (petrol) and fitted the size 10 female tester well.  It was worn as a single layer with a pair of neo leggings and also under a summer wetsuit in the surf. When worn alone the top provided excellent UV and wind protection, and it was comfortable to paddle in when both wet and dry. No chaffing experienced, comfortable around the neck and the top provided a nice warm layer following a quick dunk! It absorbed little water so the top dried quickly and kept the tester warm.
Under a thin wetsuit the Neo Top provided an excellent 2nd layer keeping the tester warm and comfortable throughout the session. The added layer also provided excellent impact protection when climbing back on the board in the surf.
The long sleeve Neo Top from ION is an excellent versatile top which can be used all year around. It performs just as it says it should as a single layer or under a wetsuit, and having the option of long or short sleeve is ideal if you prefer to keep your arms free. Perfect if you want to stay protected from the sun and keep warm without having to wear a full wetsuit during spring/summer. And a cosy second layer to wear under a wetsuit on those colder days. It's quite thick so probably more suited for someone going for a leisurely paddle rather than paddling hard. As with all neoprene products its important to rinse with fresh water after each use to ensure it dries properly and doesn't smell! But after frequent use throughout the spring the testers long sleeve top still performs well and looks like new. A very useful neo accessory to have in your bag whatever the weather.
Pros – excellent quality, 2 colour choices and very versatile (can be used as a single layer or under a wetsuit in a range of weather conditions)
Cons – bold design (you'll either love it or hate it!)

For more information about ION and their products check out the ION website. 
Words – SUPboarder tester Lucy Ellis