The SUP pump can make the start of your inflatable SUP session easy or it can break you into a big sweat and leave you exhausted before you even get on the water.  iSUP pumps are not all the same and they really can make or break your SUP session. SUPboarder put 5 main branded iSUP pumps to the test, each of which are easily available on the market around the world. The pumps were used to inflate a 150 litre board from the same rolled deflated state to 15psi.  Inflation speed and the pumpers heart rate were recorded each time.
Things to note
One or two way
The big things that make pumps different from each other in the current SUP pump market is… one way or two way? Some pumps only inflate using the downward push on the handle and some inflate also using the upward pull of the handle too. Two way pumps will generally get more air in the board in one up and down movement but sometimes this can require a lot more effort.
Pump technique
It is important to note that as well as being fit and physically able to pump up an iSUP, technique plays a massive part in inflating any SUP.
Brands and manufacturers
Some SUP companies will have the same pump but call it a different name. The pumps we have picked for the test may be available on other branded boards too. But it's important to remember that the finish, graphics and quality of the pump bags and other pump accessories may vary massively.
Heart rate
By looking at the average and maximum heart rate it gives you an idea of how much effort it takes to use each pump.  Small chamber pumps are generally easier to push down but due to the smaller volume of air being pumped into the board with each pump, they may take longer and require more overall effort. Something to think about?
Bravo – High volume pump £29.95
Time : 1:25sec
Heart rate
Avg : 126 bpm
Max : 156 bpm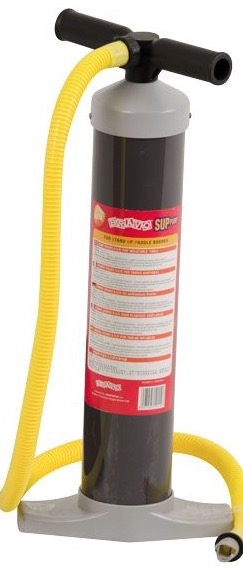 The Bravo High Volume pump is one of the oldest and most commonly used SUP pumps on the market. Available with many different SUP brands, it is a fast pump at getting a large amount of air in your board. It works when you push down on the handle.
One or two way? – One way
Manufacture – Bravo
Pros – A solid and trusty pump that with a good technique is still a favourite with many more experienced iSUP pumpers.
Cons – Your pumping technique needs to be better to get the higher pressures in you board. Better for 15-20psi. 
Red Paddle Co – Titan £54
Time : 1:33sec
Heart rate
Avg : 120 bpm
Max : 156 bpm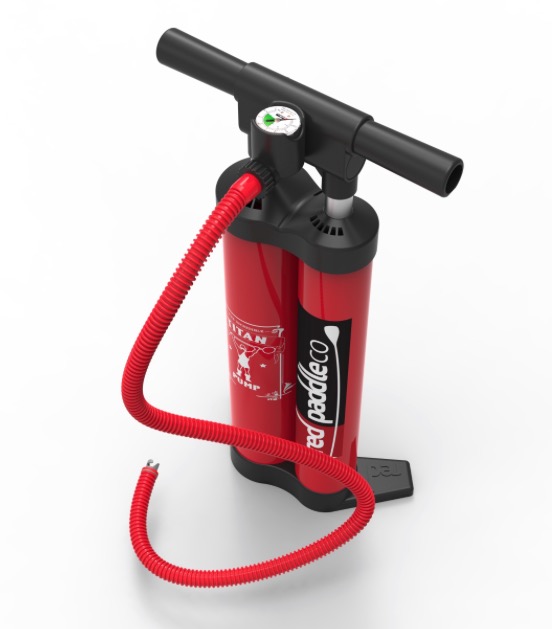 The Red Paddle Co Titan is their newest pump and is only available from Red Paddle Co. It uses two chambers that can work together when you push the handle down. Then when the downward push gets too hard you can switch to using the smaller chamber only to finish the inflation.
One or two way? – One way
Availability – Only from Red Paddle Co
Pros – A well finished pump that works well. Easy to use for all abilities. Good for all pressures and works  to higher psi levels (15-25psi) easily.
Cons – Bigger and more bulky than other pumps on the market, and a bit more expensive.
Fanatic – Power pump £39.95
Time : 1:45sec
Heart rate
Avg : 126 bpm
Max : 153 bpm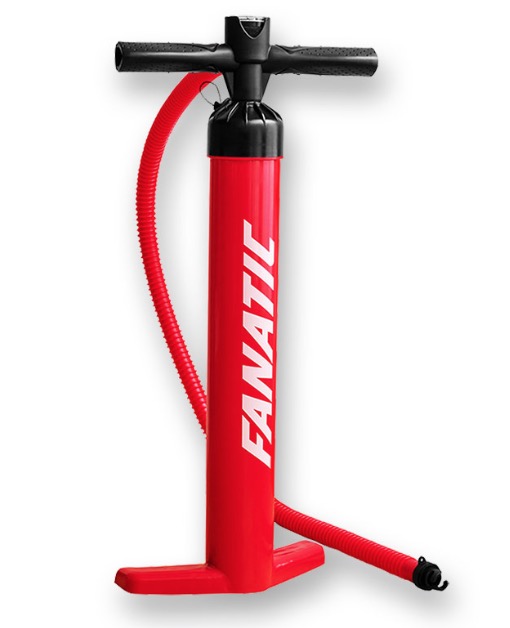 The Fanatic power pump is one of the newest pumps on test. It uses a smaller chamber but pumps air in using both the upward and downward push of the handle. It can then be switched to inflate using just the downward push when pumping gets hard. This pump is available with other board brands too.
One or two way? – Two way
Manufacturer – GRI
Pros – A very well finished and comfortable pump that is easy to use and is a favourite for those wanting a smaller and more compact efficient pump. Happy pumping 15-23psi.
Cons – Not quite as fast as the bigger pumps on test.
Red Paddle – HP pump £34.95
Time : 1:57sec
Heart rate
Avg : 133 bpm
Max : 154 bpm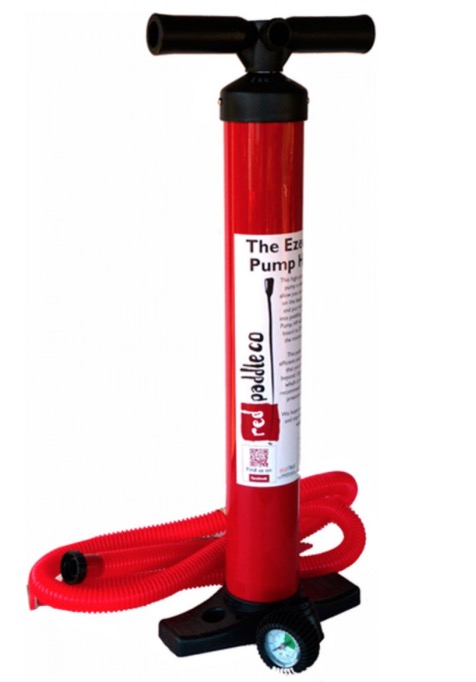 The Red Paddle Co HP (high pressure) has been around on the SUP market for many years. Using the same size chamber as the GRI pump, but it only uses the downward push to put air in the board. It is also available with other branded boards.
One or two way? – One way
Manufacturer – Bravo
Pros – A pump that has great top end performance and is happy at the high pressures 15-25psi
Cons – Can take a long time to get a larger volume board to the required pressure. 
ION – Electric pump £219
Time : 2:43sec
Heart rate
Avg : 90 bpm
Max : 103 bpm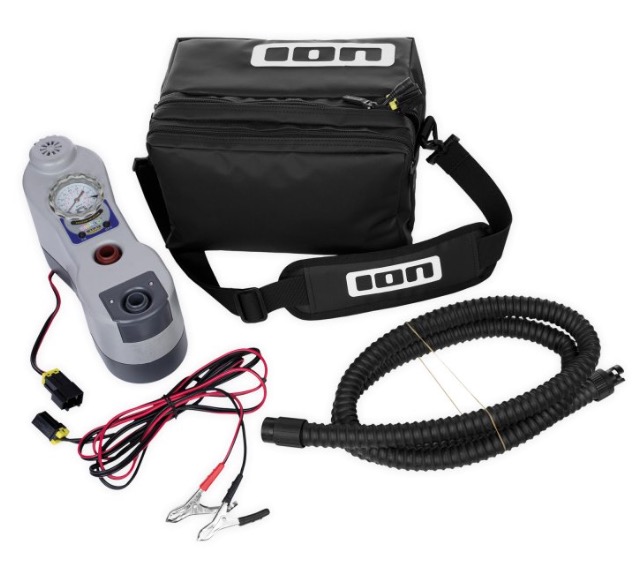 The ION E pump is a rechargeable battery packed pump that will inflate up 7 – 10 boards on one charge to 15psi. It also has car battery connectors to allow you to use it without the battery pack charged.
One or two way? – N/A
Manufacture – Bravo
Pros – This a great pump and battery kit that comes in a nice bag with all you need to get even the bigger boards pumped up in under 5mins. 
Cons – Takes longer than pumping by hand. Can't pump any higher than 15psi.
All of these pumps will suit different paddlers for different reasons. And therefore it is not possible to say which is best. But we hope that with this information and video it will help you understand more about the different iSUP pumps available and find out what pump will work best for you. Apart from the ION E pump all of the other pumps will require a basic good pumping technique. And like the saying goes… ' Practice makes perfect!' So get pumping!