It was only a matter of time until someone would take a victory at a downwind event using a hydro foil SUP. And it was almost done by super SUP grom Fin Spencer. 13 year old Fin narrowly missed out on the overall SUP win at the Bluesmiths Paddle Imua by just over 3 minutes. Check out the Bluesmith press release and photo gallery below: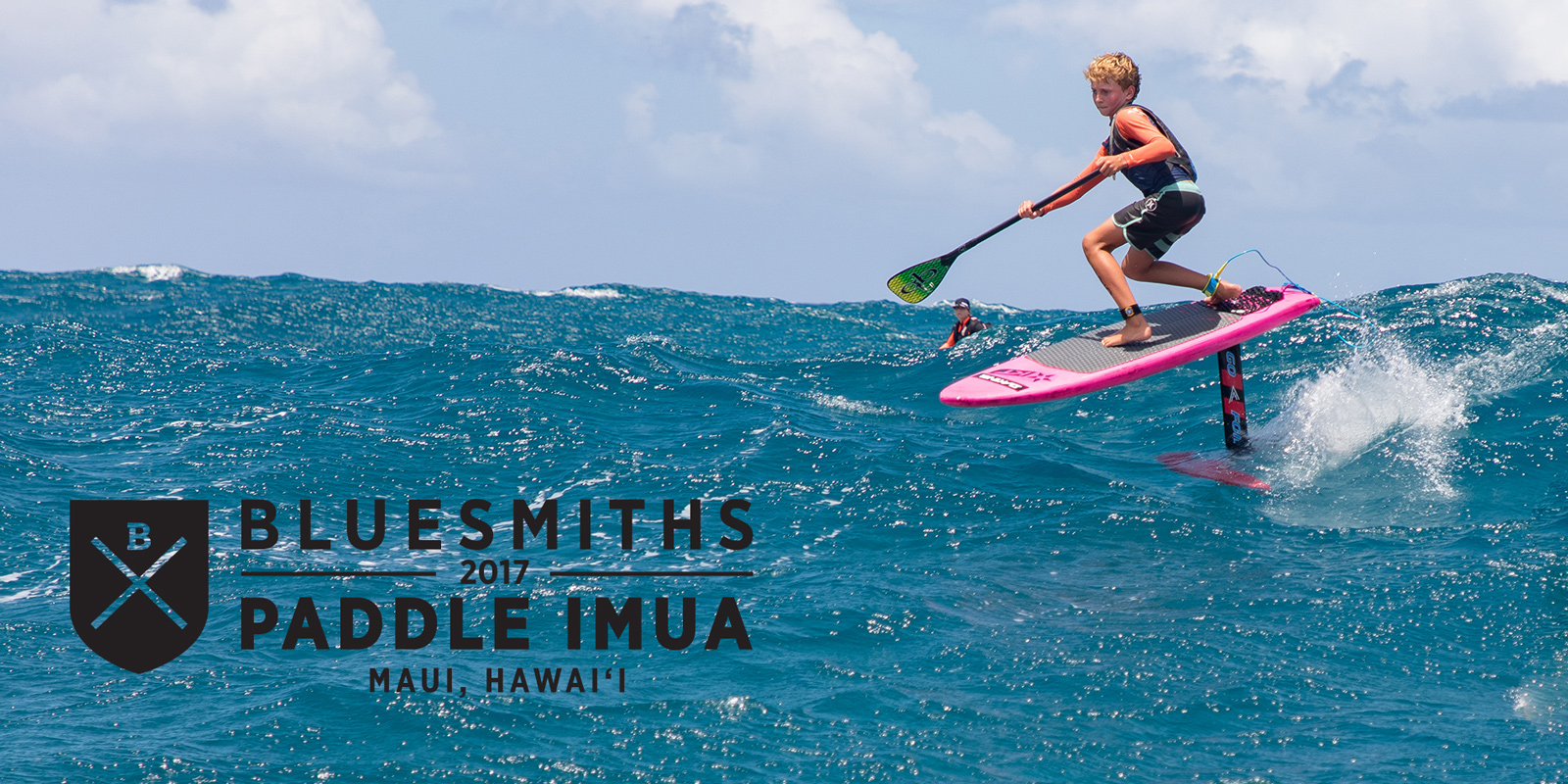 13 year old on hydro foil sup almost beats unlimited sup experts in bluesmiths paddle imua
Bluesmiths Paddle Imua 2017 took place in perfect Maui conditions. 210 stand-up paddlers, prone paddlers, hydro foil paddlers, OC1s, OC2s, OC6s and Surfskis took part in a ten mile Maliko Run downwind race for the benefit of children with special needs. Strong trade winds and solid wind-swell made for very fast overall course times.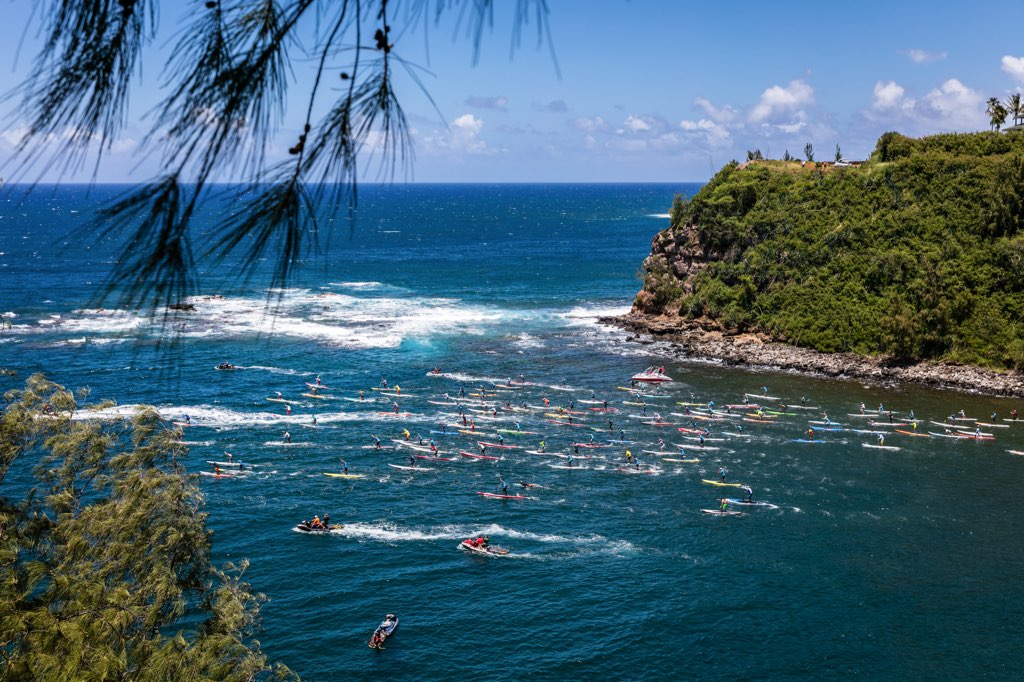 Had the start and finish been in the open ocean, the final results for the stand-up paddlers would likely have been very different.
In epic downwind race conditions and riding a Hydro Foil SUP, 13 year old Finn Spencer cut through the entire pack of stand-up paddlers, becoming the first to round the final turn into Kahului Harbor.
On the home run inside the harbor, riding a tiny board and without any swell to propel the hydrofoil, he was chased down and overtaken by elite SUP racers including Kody Kerbox (SIC) who took the win, and Jeremy Riggs (Bluesmiths/SIC) who came in second.
"It was pretty cool to be the only person competing in hydro-foil today because I could just go out and have fun. I was the first person to the jetty, but some other guys passed me on the way. This wasn't my first Maliko down-winder, but this was my first Paddle Imua. The conditions were perfect. It was super fun." Finn Spencer (GoFoil/Quatro)
On her own turf, Andrea Moller (SIC/Bluesmiths), Bluesmiths Paddle Imua Ambassador, took first place in the Women's SUP.
The traditional crafts, however, took the top overall time spot with Michael Owens on SurfSki the fastest over the entire course. Second overall was Kristina Dougherty's crew in OC2, followed by Lopaka White (OC1).
The question for many is whether hydrofoil SUP can soon overtake traditional craft?
This slideshow requires JavaScript.
Results and quotes
First Placed SUP Unlimited Men's – Kody Kerbox:
I was riding a 17' 4" Unlimited SIC V1 Bullet. The wind was awesome, the first 3/4 was really windy, really fun, and then it kind of died off a bit. It was a bit of a grind, back and forth with the top four guys the whole way. I'm stoked to take it on the top." Kody Kerbox (SIC Maui)
Second placed SUP Unlimited Men's – Jeremy Riggs:
"This is the 6th time I've done Paddle Imua; every year seems to have more and more people. For me, it's the best race on Maui. We get to do the full Maliko Run and you can ride anything you want. 
"I was riding a custom 18" SIC Bullet. I was battling with Kody Kerbox back and forth the whole time. It was tied the whole way; I thought I might have the edge on him for the first half, but he was right there on my tail. I fell, he fell, we kept exchanging the lead" Jeremy Riggs *SIC Maui/Bluesmiths)
First Placed Women's SUP Unlimited – Andrea Moller:
"Today, the conditions were epic. The wind was really good, the current was good, there was plenty of bumps that created surf- you could just surf the glides. So, it was just a lot of fun, basically. The whole time I was paddling I was thinking as long as I'm cruising and having fun, this is what it's all about. I've been doing this race since the very first year, but couldn't do it last year because I was injured. So, this is a great way to come back with perfect conditions.'' Andrea Moller (SIC Maui, Bluesmiths)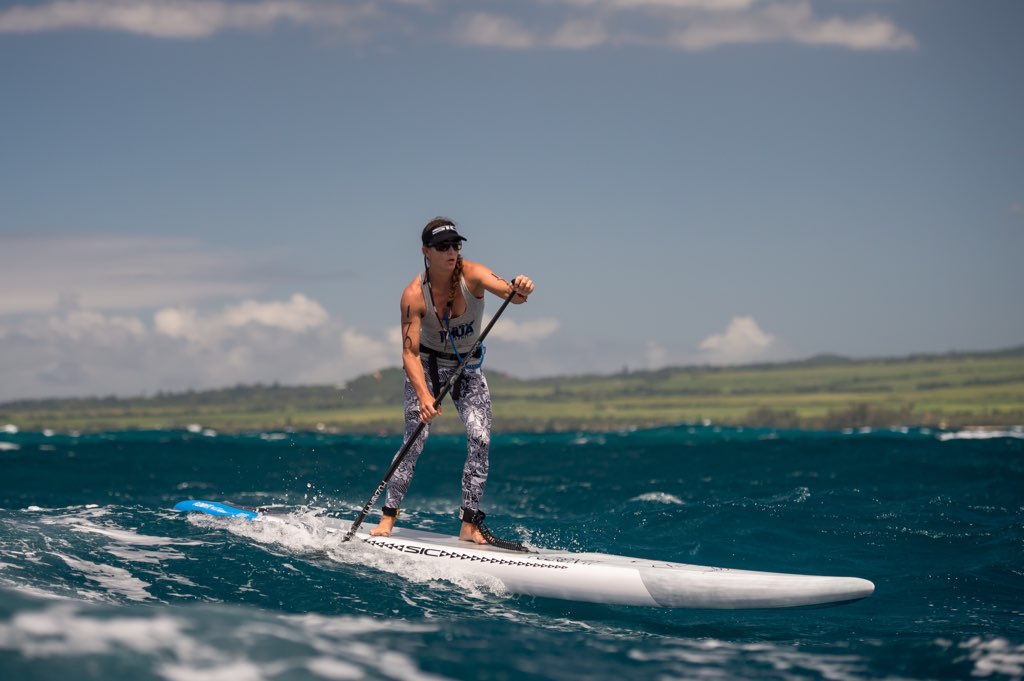 Other quotes:
"Bluesmiths Paddle Imua 2017 was a phenomenal event. 210 Maui and international athletes came together to support children with special needs. Conditions were all time on the Maliko Run and new bench-marks in foiling were set."
"A year ago when Kai [Lenny] kicked off the next generation of foiling, we decided immediately to open up Bluesmiths Paddle Imua to foilers. Ocean sports progression and development is a big part of why we're based in Maui. Fast forwarding a year and to see Fin Spencer and the sport of SUP foiling progressing this far is incredible. The 13 year old showed today that there is a big future for both hydro foiling and himself. That all being said, we were also reminded that if you want to win a race, you have to be fastest across the entire course. Overall, SUP unlimited took the stand-up win." John Smalley, Founder Bluesmiths Crafted Waterwear
"In Maui, we're not afraid to do our own thing on the water– to fall and learn something new. That's always been the case here. With Paddle Imua, from these learning experiences, the community comes together to help out the kids with special needs. This is a world class event. It's raised the bar for watersports enthusiasts and caring and sharing for community needs." Loch Eggers, SUP Pioneer
Results for the 6th Annual BLUESMITHS Paddle Imua-
Men's OC1: Lopaka White (1:04:40), Jb Guard (1:06:41), Quinn Whitford (1:07:10);
Women's OC1: Kathy Shipman (1:11:37), Dane Ward (1:12:25), Fiona Van Ammers (1:13:07);
Men's OC2: Michael Giblin (1:07:20), Kevin Ledesma (1:11:10), Hunter Eggers (1:13:15);
Women's OC2: Kristina Dougherty (1:04:17), Alaka'I Kealoha (1:13:16), Michelle Cerizo (1:21:19);
Men's Surf-ski: Michael Owens (1:01:30), Eric Rohozinski (1:07:09), Richard Spork (1:08:49);
Men's SUP Unlimited:
Kody Kerbox (1:07:13)
Jeremy Riggs (1:08:00)
Bernd Roediger (1:10:49)
Women's SUP Unlimited:
Andrea Moller (1:13:54)
Devin Blish (1:16:15)
Sharon Baldwin (1:37:27)
Men's SUP 14' No Rudder:
Josh Riccio (1:08:14)
Travis Baptiste (1:08:51)
Ethan Koopmans (1:14:17)
Women's SUP 14' No Rudder:
Alyssa Joy (1:37:41)
Natalie Fon (1:44:48)
Jaecey Suda (1:43:59)
Hydro-foil SUP: Finn Spencer (1:10:48).
For more results, please visit
http://live.pseresults.com/e/16#/leaderboard/A/50
All photos : Frank Berthuot / Bluesmiths
About Bluesmiths Paddle Imua:
Bluesmiths Paddle Imua is a downwind paddle race along the Maliko Run in Maui which raises funds for Camp Imua. Camp Imua is a week-long annual camp run by Imua Family Services in Hawaii for the benefit of children with special needs.
We're always so excited to co-host with BLUESMITHS, our title sponsor. It's a benefit race for Maui County children with special needs who attend Camp Imua, a 41-year old program that offers an overnight special recreational camp for children with special needs here in Maui County. This race has been the race that's put Camp Imua back on the map, and made it sustainable after these 41-years. This is the 6th year of this incredible race, and what athletes love doing is coming out and meeting our kids with special needs and making them feel like they were really part of something that's so much bigger than this epic race.
Dean Wong, Executive Director for Imua Family Services 
About BLUESMITHS
BLUESMITHS Crafted Waterwear makes the hardest working, most versatile water wear and accessories in the world. Based in Maui, a real-time research and development lab, everything we make is the result of rigorous testing by a small but accomplished team of ocean athletes, pioneers and watermen. At BLUESMITHS, we live for real innovation and problem solving, best-in-class fabrics, timeless styling and uncompromising manufacturing standards. View more at bluesmiths.com
It wont be long until there are hydro foil SUP classes in all downwind events like this around the world. We shall wait and see!