Last weeks video of Kai Lenny down winding on his custom SUP Hydro Foil went viral around the virtual world of SUP and prompted a lot of discussion about hydrofoils. Here is the SUPboarder quick history of foils, how they work and where they could take the sport.
The history of foils
Hydrofoils were first successfully used over 100 years ago on powered craft allowing them to reach speeds of 40+ mph over the water, which is quick by any standard for a displacement hull. By the 1960s speeds had increased to 60+ mph but the use of foils was falling out of fashion with the military and as a result development slowed down. Around the same time the first waterski foils were made by Walter Woodward, an aeronautical engineer in Massachusetts. However Walter was not the first to use his invention (maybe he was too sensible!) The first towed foiler was Frazer Sinclair. Through the 1960s and 70s Walter continued to develop his foil technology, and his company with a select few others, developed the waterskis improving performance and strength while reducing weight and making the foils more efficient.
In 1972 the first kneeboard with a foil was produced, and development from that initial design lead to single structs to reduce weight, improvements to design that reduced drag and improved manoeuvrability and to improved foils with increased lift at lower speeds.
Those developments evolved over the years into the high-tech foil made by Go Foil used on Kai's SUP.
How does it work?
The foil is essentially a wing that works underwater. The shape means that as water moves around the foil the water moving over the top of the surface travels further than that below it. This generates lift and pushes the craft attached to the other end of the strut up out of the water.
How fast?
The first waterskis would fly at around 10mph and could easily pass 25 mph with an experienced skier. Improvements in the technology used mean that a modern, single struct foil will start to fly at around 6 mph, a speed easily achieved on a downwind SUP run with a skilled paddler like Kai. Once flying the SUP foil is far more efficient at moving quickly above the water. There's a lot less drag for starters!
What about waves?
Breaking the surface is the quickest way to stop any foil from working and bring the rider back to the surface, with a splash. Foil designers keep this in mind and this is probably the biggest influence on foil placement and design. On Kai's SUP the foil is positioned further back than you might expect compared to other foil crafts, but that's a common theme with all the towed foil craft available. It certainly seems to work well when up to speed but we're sure that it's not as easy as Kai makes it look.
Are foils the future?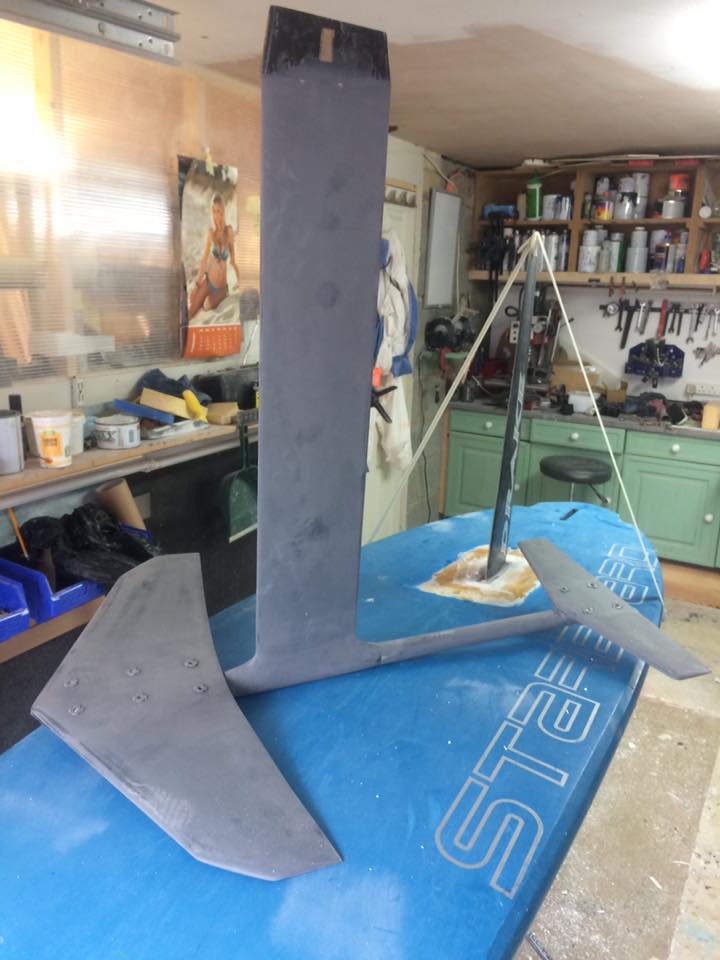 For most SUPers no, it is highly unlikely. But for achieving higher speeds and added thrill on downwind runs then why not? Incorporating a foil on a SUP pushes the boundaries of our sport, makes for great videos and is something that we will no doubt see a lot more of in future. Particularly if a foil could be added to a board and removed when hot needed.
SUP foils are not just for YouTube or Vimeo. Here in the UK, custom SUP builders like Charlie Grey are busy getting their own foil designs out there, so don't be too surprised if you're overtaken by someone several feet above the water one day soon! Check back to SUPboarder to keep up with this SUP progression.