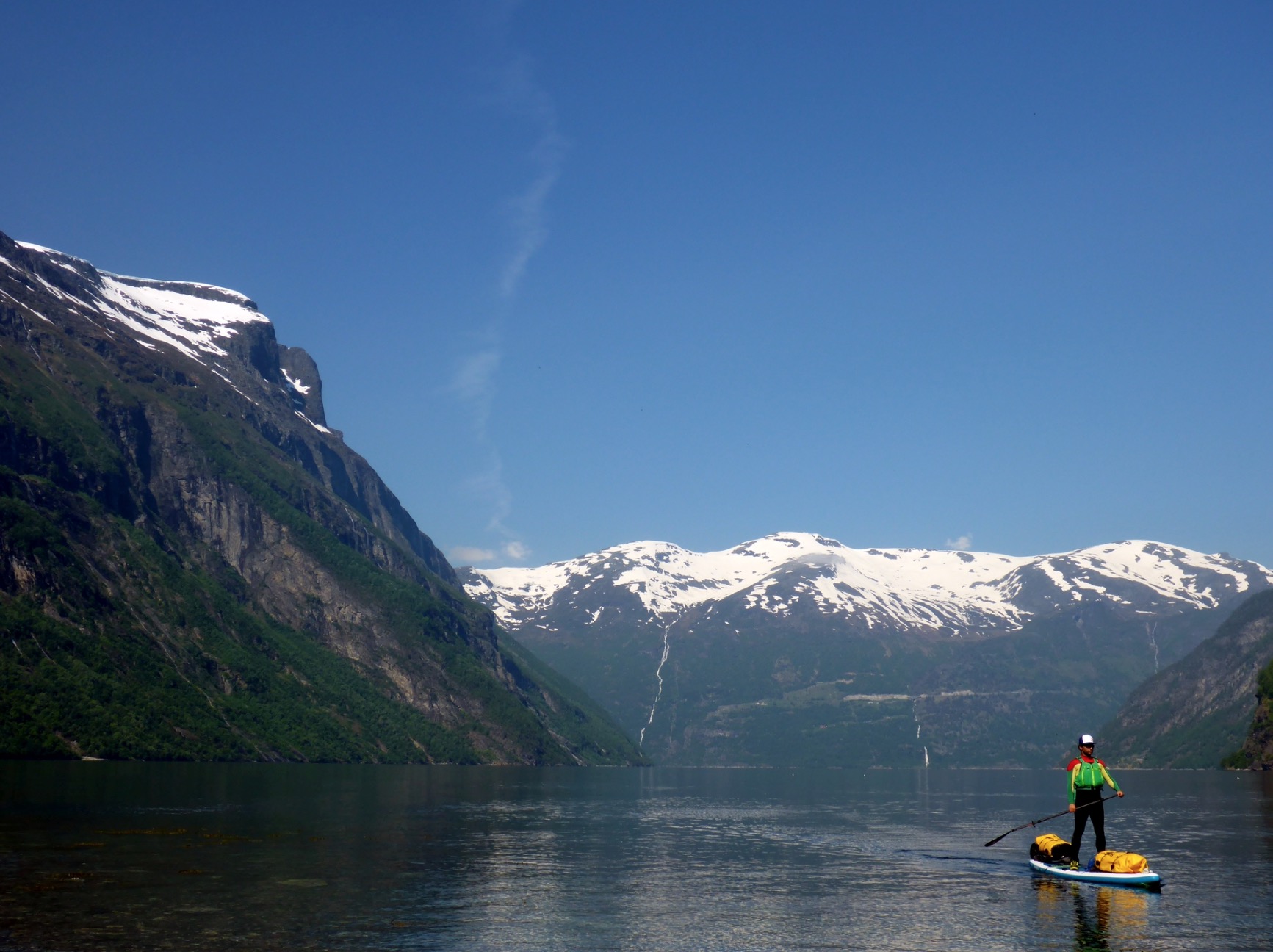 Arno Dekker has been a waterman his whole life. Getting the surfing stoke at age 5, and discovering SUP 7 years ago, Arno has enjoyed paddling around watching ocean life unclose, enjoying nature and being part of the ocean environment. However over the last couple of years with the surf spots getting more crowded and with tension in the lineup higher than ever, Arno realised he had lost the stoke after 25 years. He decided he had to do something different. He felt the need to connect back to the ocean environment.
So last year Arno started planning a SUP route from Alesund to Geiranger in Norway, exploring the fjords of Møre go Romsdal off the beaten track. A route nobody had paddled on a SUP before. An area famous for its magical landscapes, big waterfalls and silence. Arno planned to fly from Amsterdam to Alesund, starting his 160km paddle from the heart of the city centre. Following the coastline of the fjords, Arno would paddle on average 30-40km a day. Planning, training, testing equipment and convincing local authorities cost him almost a year. However in Spring 2016 everything finally came together and he was ready to go. Arno shares his stunning photos and tells SUPboarder all about his solo SUP journey in the fjords of Norway…
What kit did you take?
My main target was to paddle unsupported and solo… enjoying nature at its fullest. So I had to carry my own food, fresh water and camping equipment. I had to choose a paddleboard big enough to carry the 30kg of equipment, 10L water and food for the upcoming days. I chose the RedPaddleCo Explorer 13'2, a board big enough to store all my luggage and with still plenty of glide for easy paddling. The board was customized with extra attachment points from SeatoSummit to secure my heavyduty drybags, and even more important my GPS and cameras. Life jacket and drysuit were mandatory on this trip and provided by Palm. And I also had a GPS tracker and VHF-radio in case of emergency.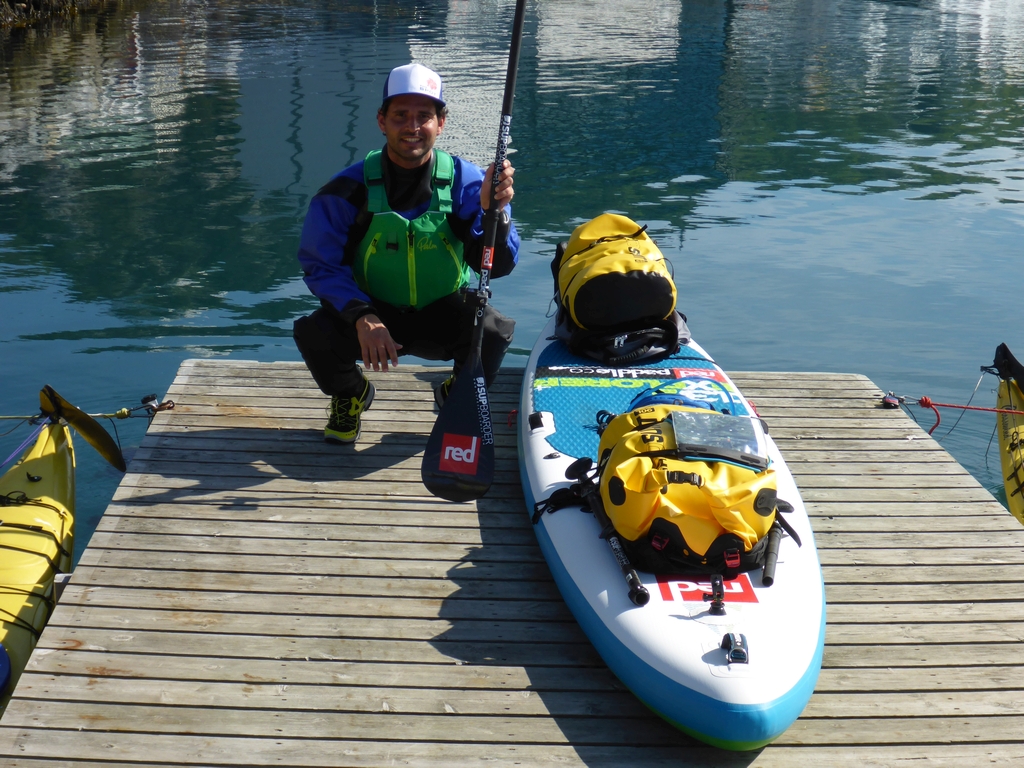 Tell us a bit more about your trip.
May 28th – I arrived in Alesund. Weather predictions were good, even pretty warm for Norway. There was still some snow left in the mountains and the water was freekin cold. Next morning I loaded all my gear on board and paddled from the centre of Alesund in northeast direction. Impressed by so many fish swimming under my board and hundreds of birds flying around, time flies. After paddling 25 km I found a small bay on an island called Vamoya. My campsite for the night, with a view only dreamed about.
The third day. I checked the tidal current and decided to leave my campsite to conquer the Skodje straumen. As the name already says, it's a water flow of 7 km. The only way to make it, is to paddle upstream just before low or high tide. You definitely have to reach the 7 km point before the tide drops in again… tempting. My average speed in normal conditions is 7 km/h, but the GPS told me I was only moving 1.5 km/h upstream. Frustrating and tiring, but luckely I made it in time. After a break I entered the first fjord of my journey… Storfjord! Amazing scenery, all alone and waterfalls everywhere. I paddled 40 km today and ended up in Stordal. Due to bad weather conditions overnight, I decided to take a break for one day and move on to the south the day after.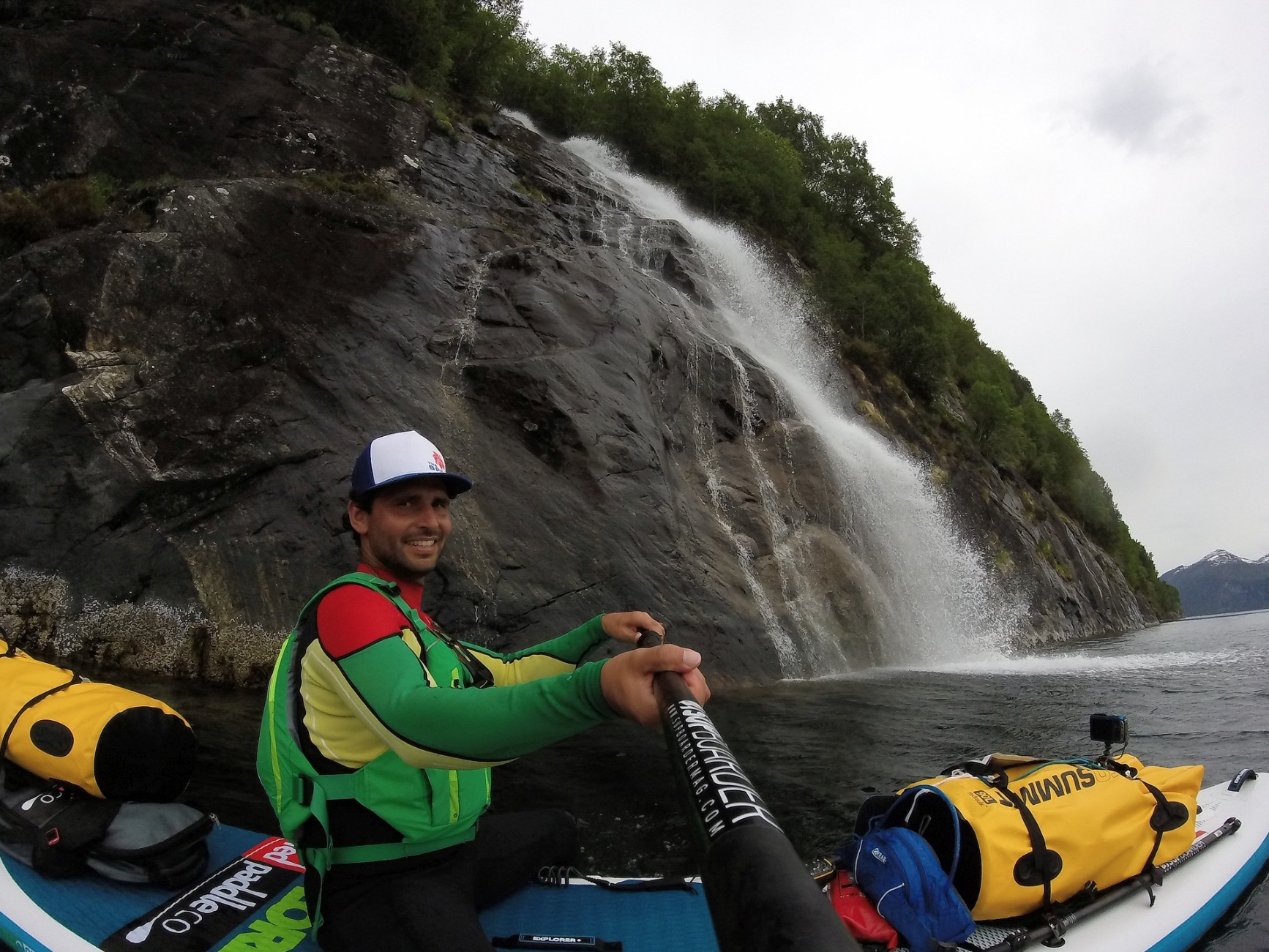 June 1st – I left Stordal at sunrise because it would be a long day of paddling. And sure it was… 45+ km paddling along vertical walls and no place to rest for hours, made my muscles sore and my legs burning. But definitely worth the pain. The huge waterfalls, the complete silence on the water for hours and a bunch of porpoises following me, made this an unforgettable day. After 10 hours on the water I entered Hellesylt. My campsite for the night.
June 2nd – Stuck at my campsite again. Last night there were some heavy rain showers in the fjord, which caused low clouds and a very thick fog in the morning. With some big cruise ships passing by, it was too dangerous to paddle out.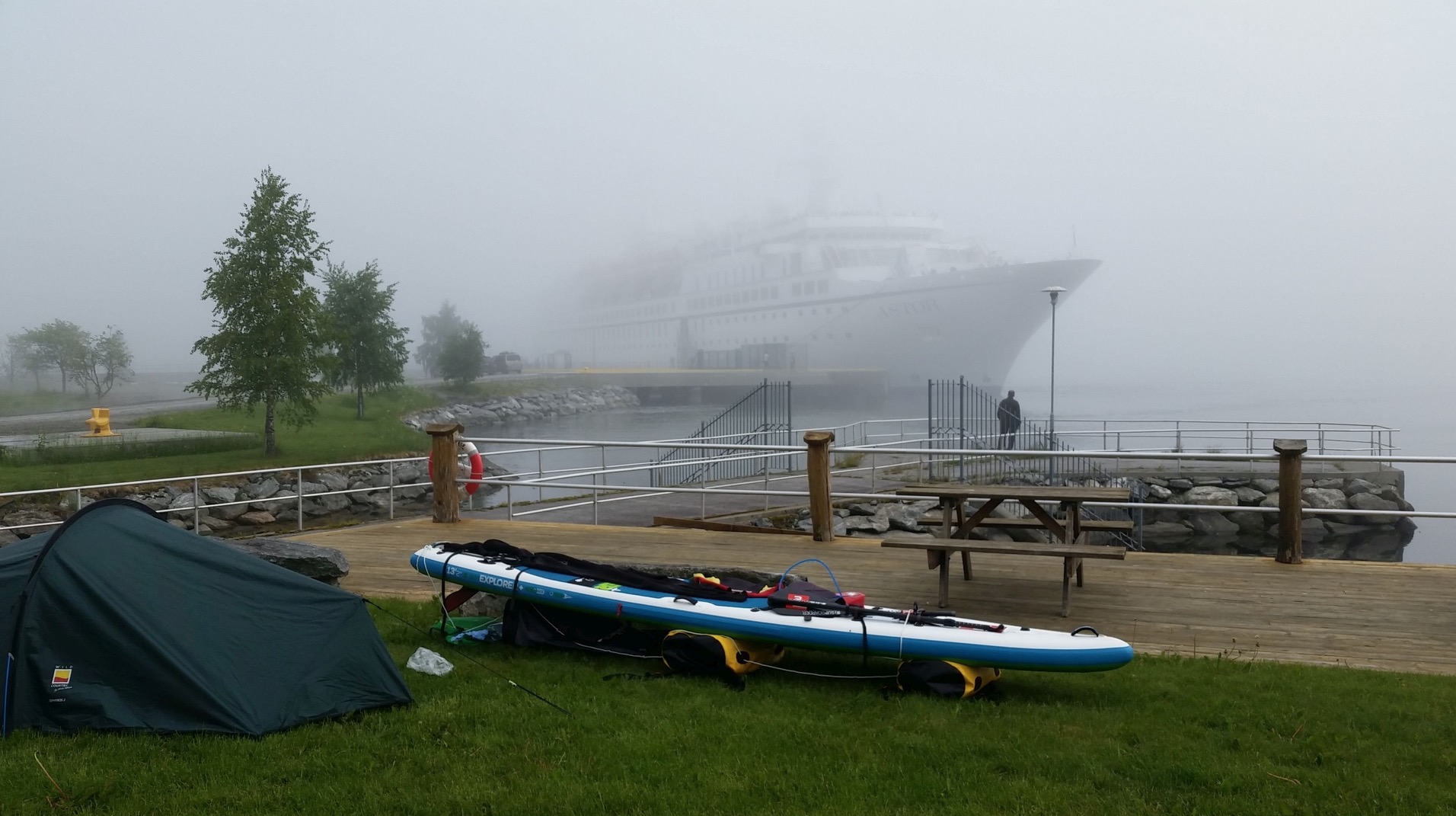 June 3th – The fog disappeared and I left Hellesylt harbour at 7 a.m. for the last stage. A partly cloudy sky and the sunrise gave me a view on the fjords in a different way. A bit spooky. By the time I entered Geirangerfjord, weather was clear and I had an impressive view on hundreds of waterfalls. I think I know why this is called an Unesco Heritage site… I spent 2 hours or more just paddling around in this part of the fjord. Behind every corner there was always a bigger and better view. After 6 hours touring I arrived in Geiranger. The endpoint of this journey.
How did it all go and would you do anything differently?
I expected the trip to be rough and tiring. But due to very good weather conditions and all equipment performing well, the paddling was much easier and I really enjoyed it. For sure it wasn't as easy as normal to paddle with a fully loaded SUP, but with the amazing scenery around me I have never thought about quitting.
As usual during paddle trips like this you get to know your equipment better so I will definitely make some small equipment changes for the next journey. Next trip I would change the accupack for a solar panel. The rechargable battery worked well this time but when it gets wet you can't rely on it especially in a salty environment.
I couldn't do this without the help of RedPaddleCo, SeatoSummit, Palm Equipment and Bever. Thanks guys! We will soon meet on the water again!
So most importantly… have you re-gained your stoke for SUP?!
I had an amazing trip, and definitely found my stoke back. I am already thinking about my next journey (but can't tell to much about that yet!) Enjoying nature on your own, on unpaved paths is something very special and in my case there's nothing more relaxing than enjoying it on a SUP.
Great to hear that you've regained the stoke Arno! We look forward to hearing all about your next adventure.
So, if you feel like you're loosing the love. Don't let it put you off, just go and find it again!