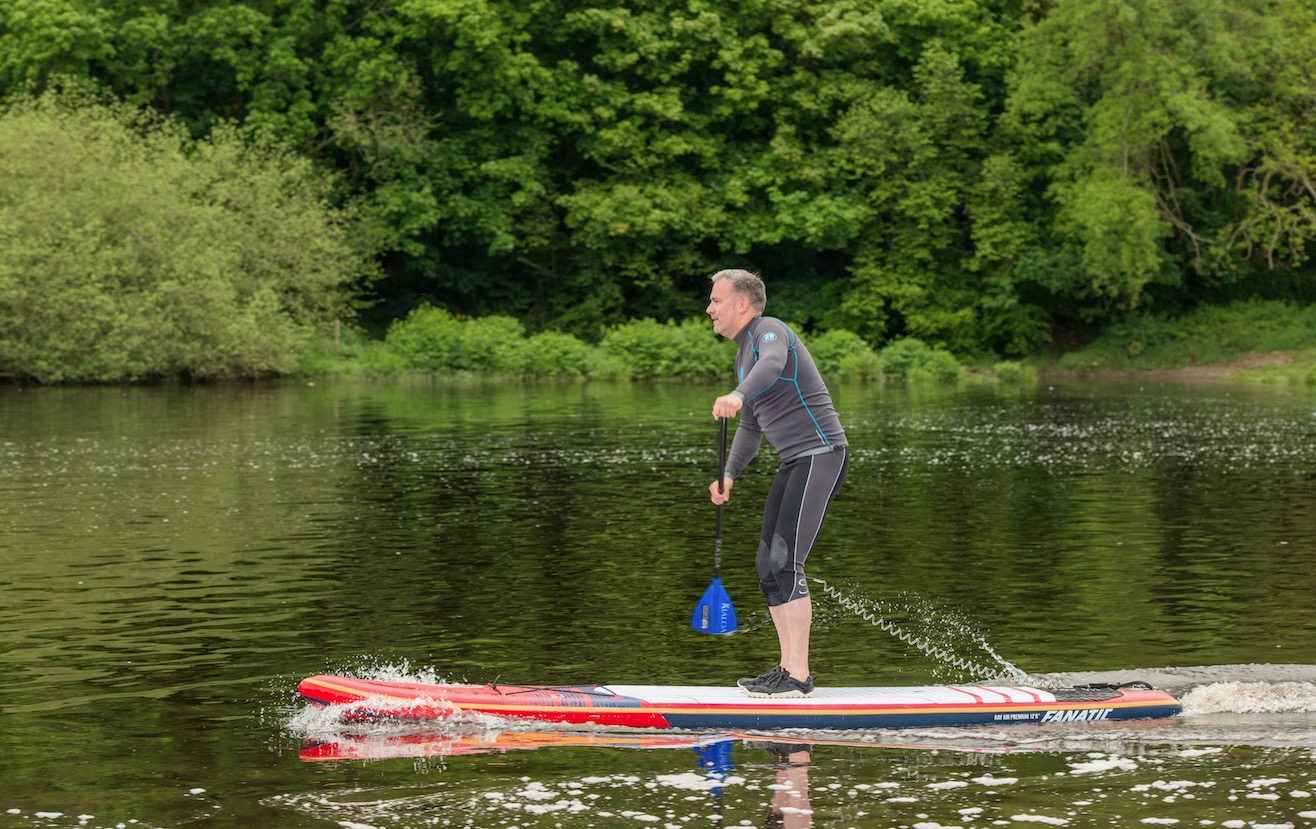 Nookie are a small UK based company that design and make technical gear for wet environments including Stand Up Paddleboarding. SUPboarder have recently been putting the Ti Vest, 3/4 length neoprene wetsuit strides and Salopette Waterproof Trousers to the test. Here's the SUPboarder verdict…
About Nookie
They are a team of watersports enthusiasts based in Cornwall that design and make gear for paddlers. They pride themselves with making as much of their kit as possible in the UK, and in Cornwall.
Ti Vest – £54.95 Long sleeve / £49.95 Short sleeve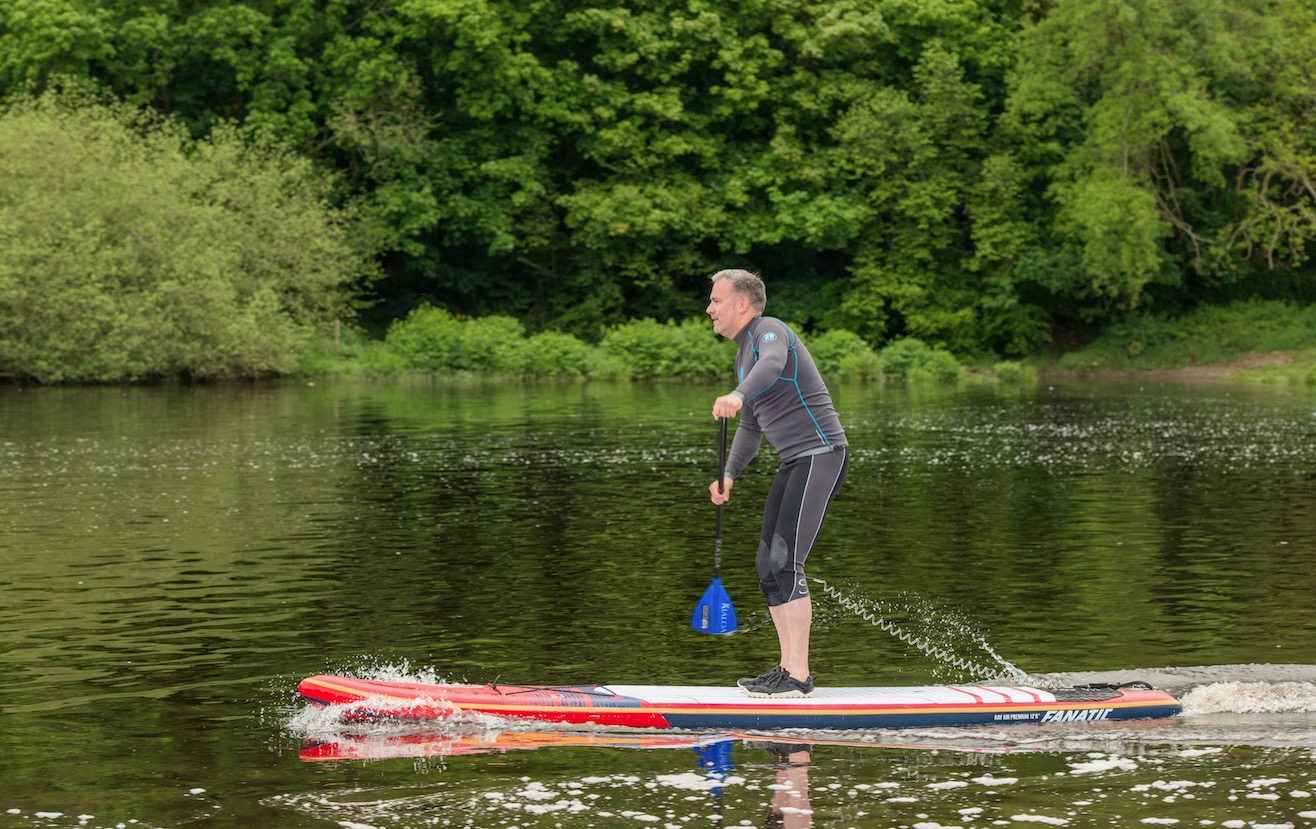 The Ti Vest comes in two varieties, long sleeve and short sleeve and a few largely black colour variants. Both are made with 1mm thick neoprene with 0.5mm panels under the arms, have minimal seams, the same adjustable waist band and only differ in the arm length. The wrists on the long sleeve are finished with a stretchy band as are the shorter arms on the short sleeved top.
The neoprene used is metalite glideskin which means it should be warmer and less stinky (the metalite bit) and easier to pull on (glideskin). Both tops are sold as compression wear and as such are designed to be very close fitting, tight even, to minimize muscle fatigue. The size charts are accurate albeit a little conservative on height, the XL size tested fitting our tester well despite him being a couple of inches taller than the advised 6'2" for that size. The adjustable waist was useful for taking up the slack around the middle but it's not tight enough to prevent water ingress during a swim.
For a 1mm top these are warm! Easily warmer than 2mm or 3mm tops used in the same test period, so the Ti part of the construction seems to do its job. Warn with a long-john wetsuit on a SUP surf session the tester was more than warm enough on a spring evening. Being slightly thinner they do not restrict movement, almost certainly aided by the slightly thinner panels under the arms.
However they are not that easy to get on. The unseasonably warm weather may have had a hand in that but the close fitting design meant it was a hot struggle getting dressed. That in no way detracts from the technical performance of the material or for the claimed benefit for reducing muscle fatigue.
Pros – Great quality, simple designs that work well and are good value.
Cons – Any colour as long as it's black! (but they do go with anything.)

3/4 length neoprene strides – £54.95
These are longer than normal neoprene shorts that are cut just below the knee. They have a reasonably high waist that is higher at the back, perfect for paddling be that sitting down or standing up. The knees have an extra pad with a stippled grip on them and the seat of the strides have the same grippy pattern on them. The panel behind the knees is a thinner 2.5mm stretchy neoprene that aids with fit, the panelled construction is well cut, the seams are blind stitched and glued and the fit of the large size on our tester was excellent.
Other than the grippy pattern there are no clever materials used in the strides, just good quality 3mm neoprene that keeps the thighs and kidney area nice and warm without being restrictive and they quickly became the go-to layer for our tester on warm spring days combined with a Ti Vest on cooler morning paddles or a thermal rash vest later in the day.
Pros – Excellent fit, good value for the quality.
Cons – None.

NKE Centre Salopette Waterproof Trousers – £54.95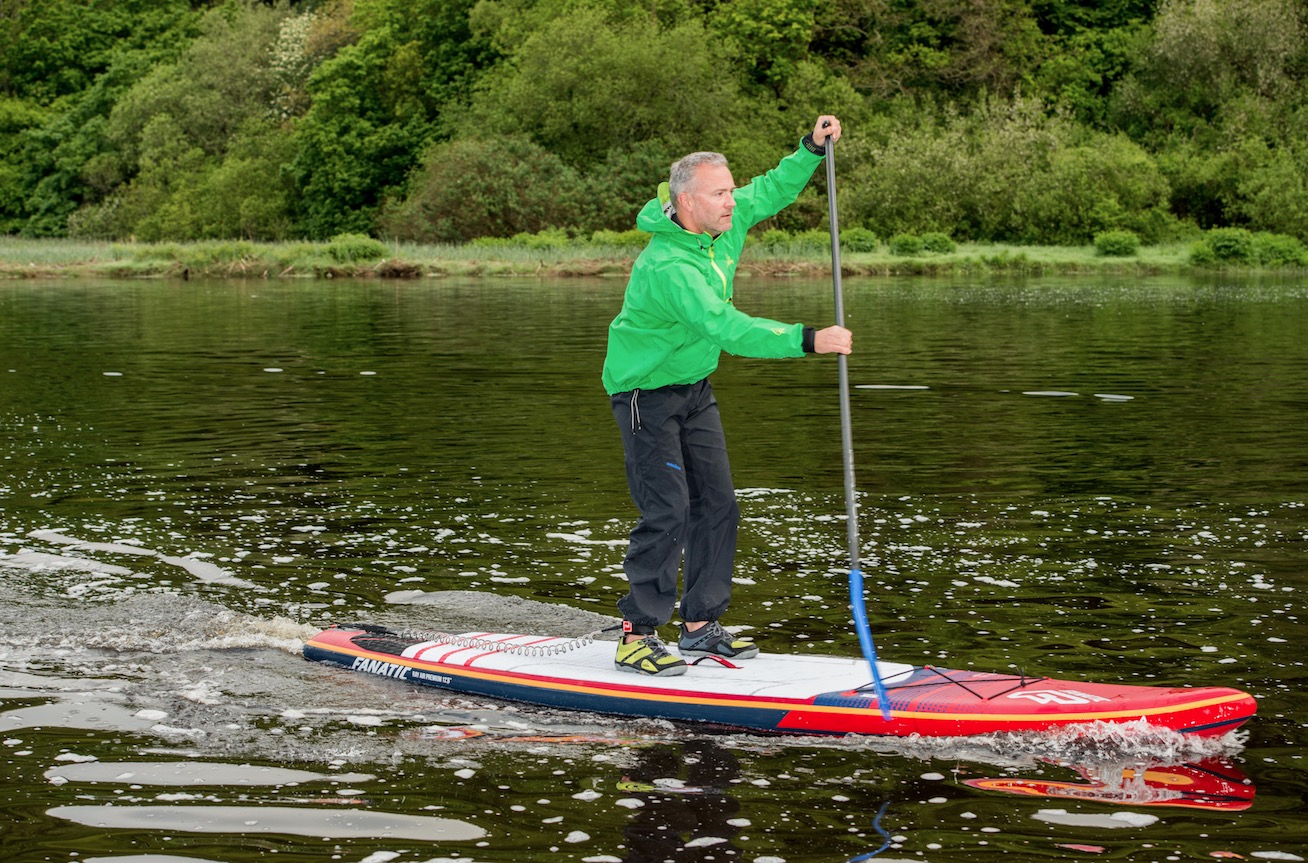 Exactly as the name suggests these are waterproof trousers which Nookie have developed with and for outdoor sports instructors. They typically spend more time on the water than most people so would be pretty tough on equipment and these have been designed with them in mind. We'd never thought of using anything like these trousers on the water but Nookie suggested we try them and we were pleasantly surprised.
Constructed from a tough waterproof, breathable nylon they are available in black in 7 sizes, each size using a different colour logo. The size chart again is accurate (if a little cautious on the height), and our tester was quite happy in a large (blue logo) pair. They have a simple cut to the trouser with a high waist and adjustable elastic braces that are nice and wide and do not rub when paddling. The bottom of the trouser leg is elasticated. This isn't too tight so any water that gets in when launching freely escapes, the same applies if you take a swim. There is no tight cuff to hold water in the trouser leg and because the material is windproof there is no chill to cool you down.
In use they are completely windproof and although having a relaxed cut there is no flapping or material getting in the way. Combined with a windproof top and something thermal underneath these trousers were a great alternative to a wetsuit for inland paddling where the chances of a swim are low. They allow the paddler to layer up for conditions and because there is no tight waist to keep water out they are good for temperature control.
There are no pockets so snacks, keys etc will have to find a home elsewhere. When worn without a top it would be good to have a chest pocket.
Pros – Quirky alternative to wetsuit or drysuit for your lower half.
Cons – Really could use a pocket or two.

Nookie might not be the first name you think of when looking for kit to paddle in but we think that they should make any shortlist. The tops, shorts and trousers we have tested are great bits of kit, with simple but effective designs that are well made and competitively priced.