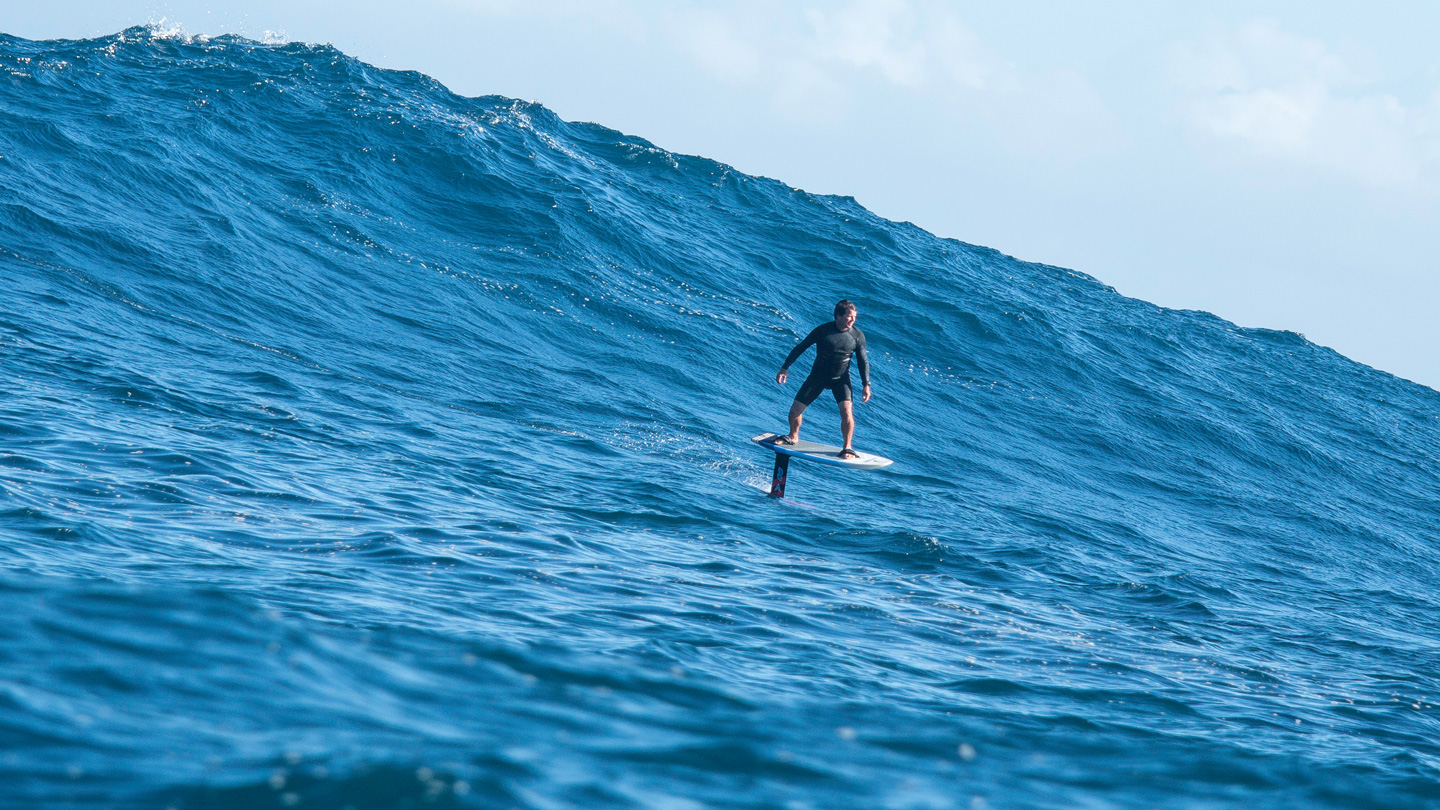 In the early days to foil you needed to go fast, and so big waves or a boat was a must. But that was until designer and founder of Go Foil, Alex Aguera took a fresh look at foil design, making foiling at slower speeds possible. Approx 3 years ago foiling on a SUP was born and since then SUP foiling has grown steadily across many SUP disciplines. None of this would have been possible without Alex's passion, design and development of foils. We chat to the foil pioneer Alex about the past, present and future of foils in the world of SUP, and hear Alex's top tips for getting started on a foil…
In this article
Downwinding
Foil
Surf
Wing
Technique & Tips
SB/ When and where was the first time you tried a foil?
AA/ I think the first time I ever tried a foil was in about 1983 at a windsurf event in the San Fran Bay area when I was doing a race there.
SB/ How different was your foil then to how it is today?
AA/ It was drastically different than what I usually use today. It was using a double V or W shaped foil that was mounted or really strapped to the bottom of a windsurfer one design board.
SB/ Can you talk us briefly through the developments of foils, and the main changes we've seen?
AA/ Main advancement in foils was when I tried or invented the newer thicker foils. Foils we were using were mostly used for kite surfing, air chairs and tow in foiling. These foils were all thinner foils at about 15 mm or thinner (somewhere thinner than 9/16″). I had been approached by Kai Lenny to make something to SUP better than the kite surf foil I had given him. So I thought about it for a while and came up with an idea that the thicker foil would create more lift at slower speeds. I worked for a couple of weeks modifying my existing Kite Foil wings into a thicker version and then tested it and wallah, it worked!
SB/ Foiling isn't new. So why do you think it took so long to gain momentum and get to where it is today?
AA/ The "KEY" or missing link, was the making of the newer thicker foil sections as it lets you perform at a much higher level without your own power source like a kite, sail, or a power source like a jetski motor or whatever. Thicker foils produce higher lift at slower speeds. And truthfully, I wonder why no one else had tried it before as I was only making kite foils for about 5 years and many others had been doing foils for much longer than I… I guess we were all just trying to go faster and faster and not slower!
"As foil technology improved, all the old ideas about what it meant to go fast on the water changed - radically."
SB/ Where do you see foiling going – both in the surf and on flat water?
AA/ It is not just contained to surf and flat water, which will continue to progress. Foiling will start spreading more and more whether it is sailboats, powerboats, windsurfers, surfers, kiters, wakeboards, wing foil boards etc… It is just a more advanced way of getting through water. There is less effort (friction), longer rides and more speed. Look at it like it is just 'Evolution in the World of Watersports.'
SB/ Who do you see as really pushing the foil boundaries and taking the riding to the next level?
AA/ If you are talking about water board sports, it is obviously the youngsters! In all sports it is the youngsters who will take it to the next level. Although, some of the 'oldies' still look pretty impressive!
"Foiling will change your life, it is so addictive that once you get it dialled, you will want to do it all of the time!"
SB/ Can you tell us what you're working on now with regards to foil developments?What really excites you!?
AA/ Right now, I am working on a lot of different aspects on the foil side like our New GL wings which are higher aspect and fast, for more gliding for the end users experience. We at Go Foil are always working on new stuff trying to stay ahead of the others. I am also intrigued by the new Foil Wing, Wingsurfer, or whatever the generic name will end up being called! This concept or contraption is easier for most people to learn than windsurfing or kite surfing. So far downwind foiling is not easy for the masses but the Foil Wing will let this happen and is a lot of fun! You don't have to go just downwind either as I can go pretty well upwind too on the Foil Wing.  Also, you don't have the same problems of launching a kite in a restricted area like 'The Hatchery' where I just was in the Gorge. I did a downwinder from there to the event site and had a blast and I had only tried the Wing Thing 4 Times!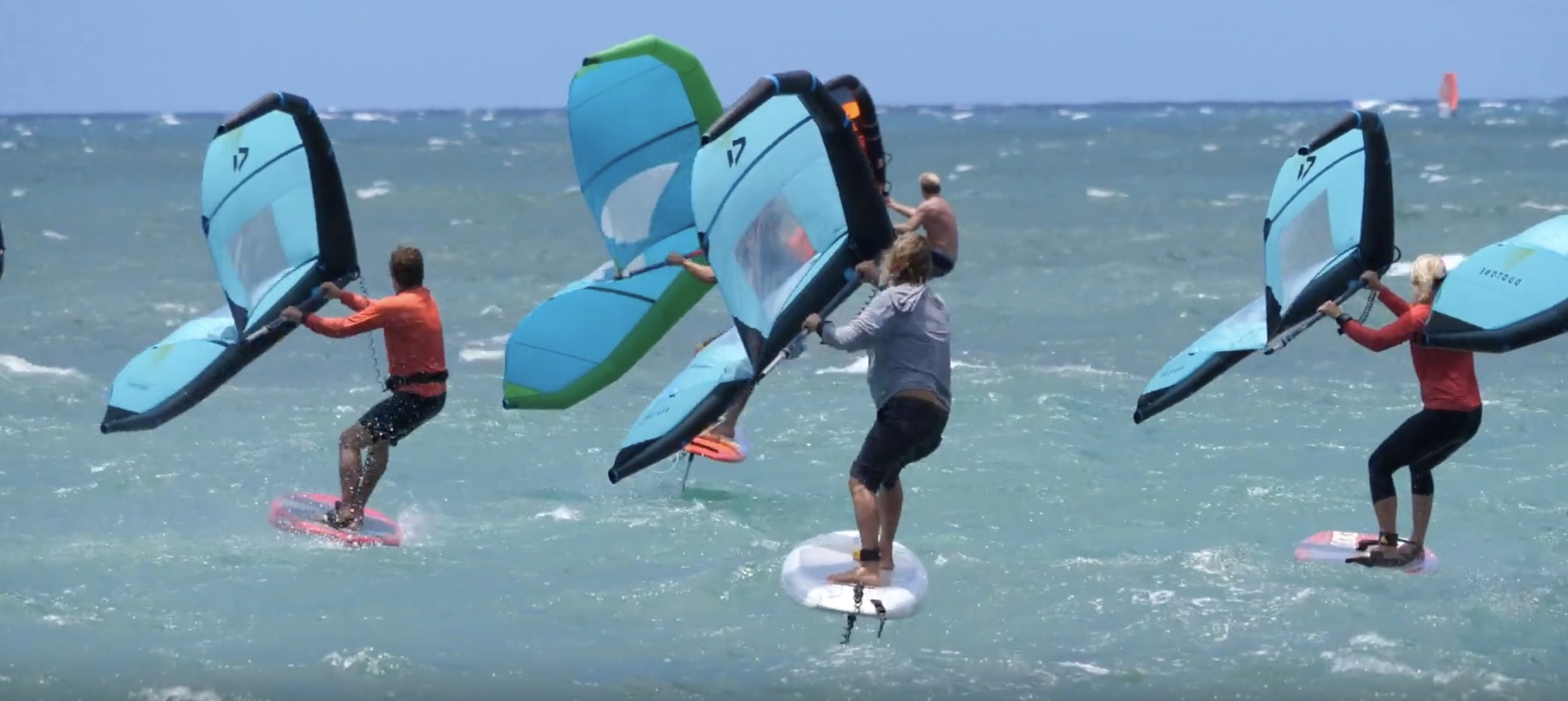 "It never caught on before, when it was called the Wind Weapon because it did not have the power and speed to get going and make it fun for the average Joe. Now with the bigger Foils like our Maliko 200, you can get up and Go on these Wings!"
It's fun to ride in the surf, lakes, rivers, just about everywhere… evolution again!
Alex's top foiling tips
Wear a leash.

Start in small surf if you are trying in waves.

Stay away from other people!

Foiling is a front leg sport so put lots of weight on your front leg.

Try to get your feet on or across the centre line of your board. I call it getting to the toe-side of the board or put lots of weight on your toes when first learning while standing towards the toe side of the board.
Featured image by : Chris Pagdilao