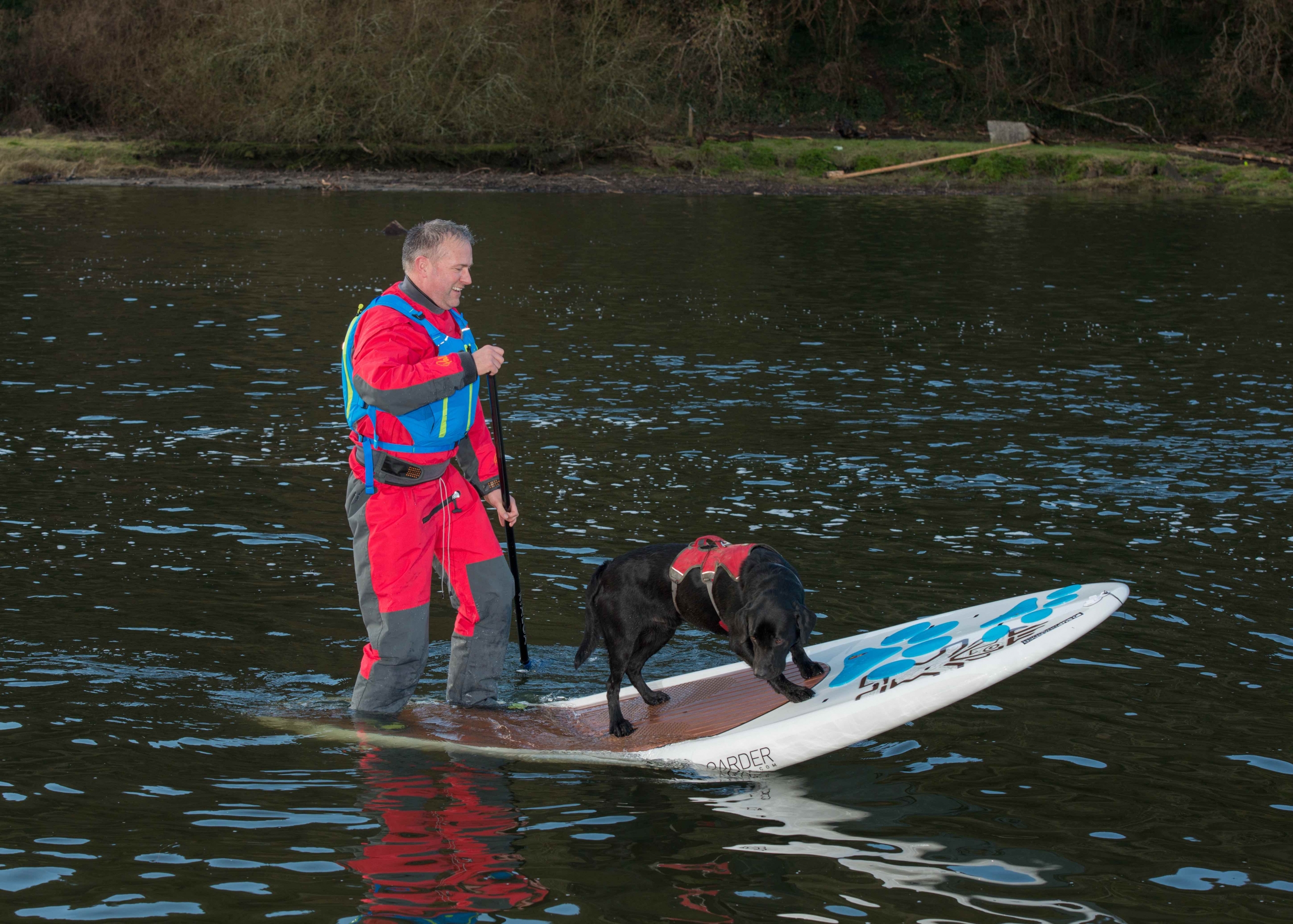 Going for a paddle on a crisp sunny day is one of the pleasures of winter that all paddlers enjoy. But when the temperature drops what clothing options does a Stand Up Paddler have? This is part of the SUP Basics Series – 'What to wear in winter';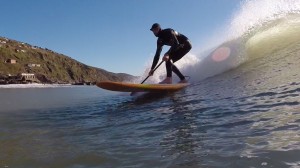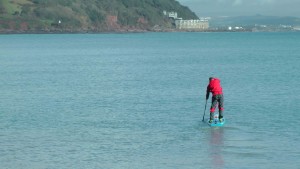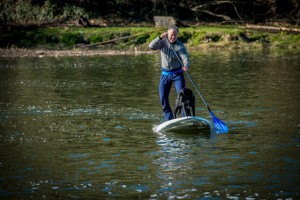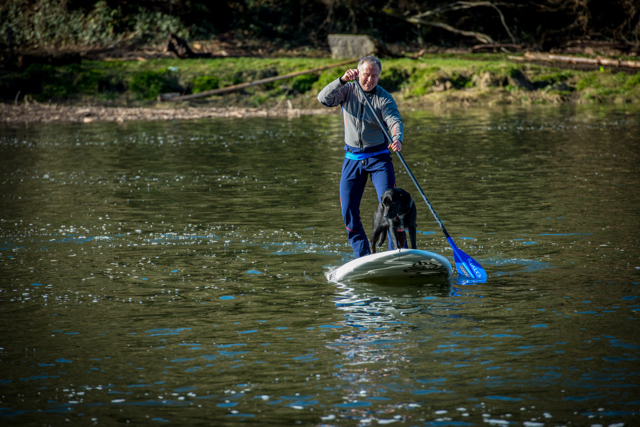 Wearing appropriate kit when you're out for a paddle isn't just about staying dry and looking good, you need to consider what happens if you fall in. The risks of cold water shock have been covered on SUPboarder before (link) and wearing the right kit is important, all the more so in winter. Here are some options for winter wear from the team at SUPboarder.
The wetsuit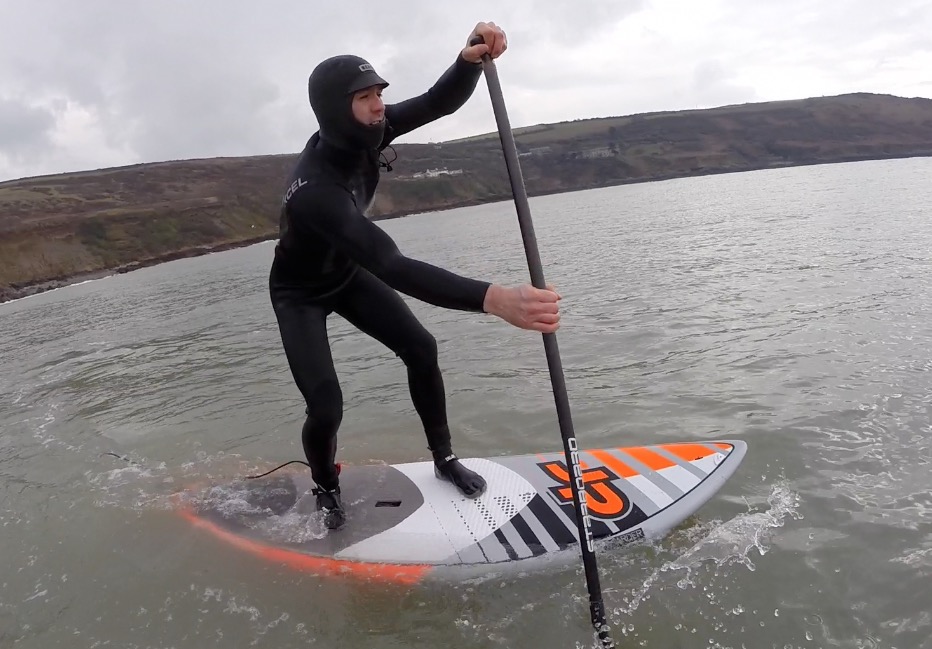 The staple of cold water paddlers all over the world,  the wetsuit has been the default winter choice for SUPers since the modern sport began. There is a staggering choice of wetsuits available from 7mm full on winter suits with built in hoods to 2mm summer suits. In winter the logical choice will be at the thicker end of the spectrum, 4 or 5mm being the most common here in the SW of England, probably a thicker choice further north.
Wetsuit choice will depend on the use. The SUP Surfer will be in the water much more than the racer on a training session so will need more insulation. The racer in the same suit will quickly overheat so is likely to opt for something thinner and more flexible.
The thicker the suit the warmer it is but with a trade off in flexibility, and each paddler will find their preferred combination of warmth and flexibility.
Pros Easy to find, robust, can be low cost, low maintenance.
Cons Compromise on flexibility / warmth, designed for being in the water not on it.
Wetsuits can be relatively inexpensive, it's very easy to find one that fits perfectly and they are pretty robust and will last for years with a little care. Check out the SUPboarder article on that here. Even with a small hole it can still function and keep the wearer warm.
The dry suit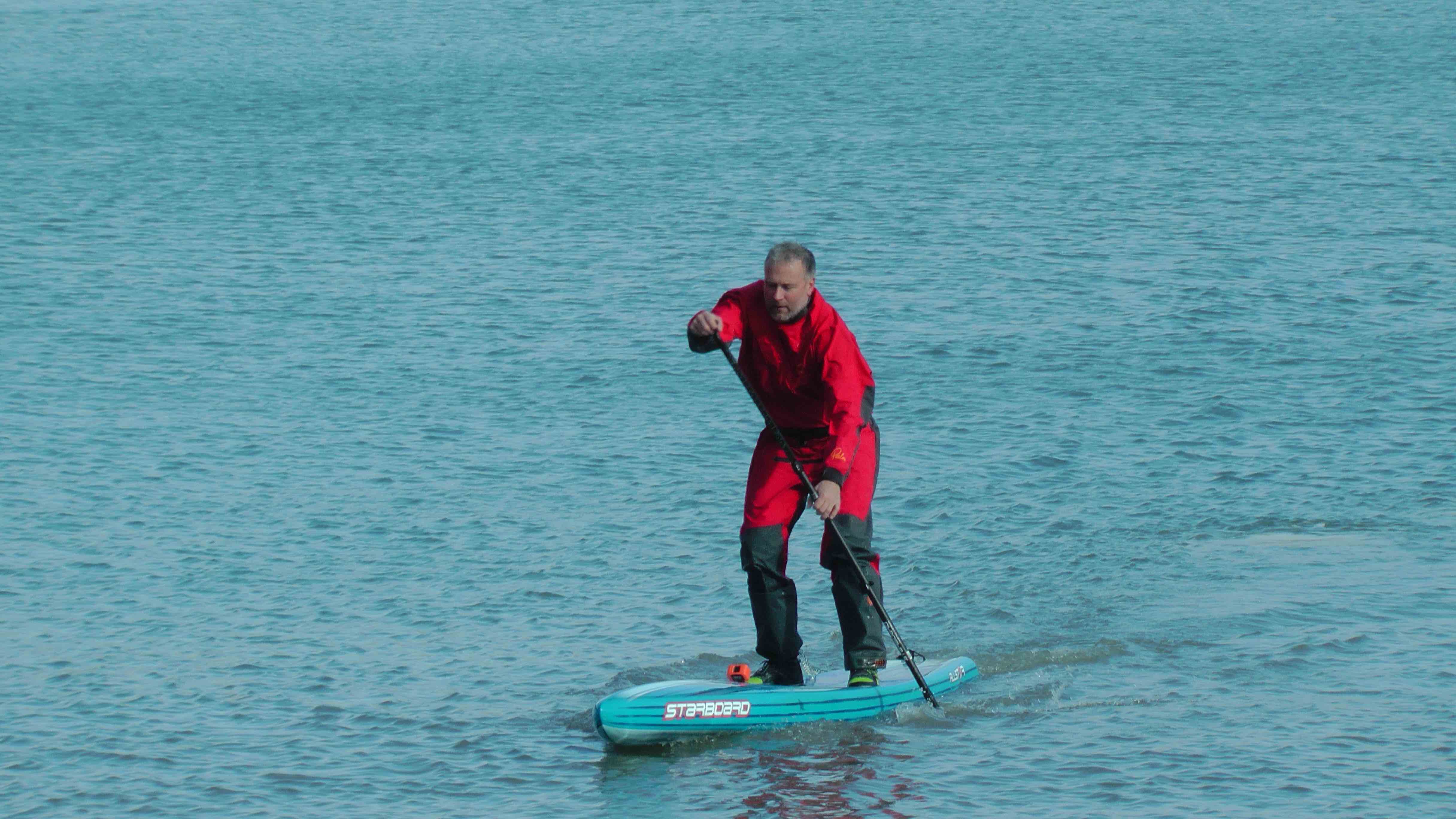 Or surface immersion suit. A cross over garment from kayakers and canoeists the dry suit typically is found on White Water SUPers year round. A far warmer option than the wetsuit a good dry suit will protect the wearer from the elements without impending on their ability to paddle, after all they were designed for paddlers. They will also keep the wearer warm for prolonged periods in the water, you could swim all day in one and stay dry. These suits are becoming a more common sight on inland waters around the UK and are great for coastal exploration. Entry to the suit will be via a big, waterproof zip that will require occasional maintenance. The neck and wrists will have latex seals, or gaskets. Some suits will have built in socks, others will use latex seals around the ankle to stop water ingress. If the suit has socks then they must be protected with a more robust outer layer or a pair of shoes, as a hole anywhere in a dry suit is not a good thing!
While the suit will keep the paddler dry they typically do not have any insulation and heat will quickly be lost where skin meets suit making base layers and leggings necessary to keep warm. Getting the right balance of insulation will depend on how hot you get when you paddle. Remember it's a sealed suit so ventilation is out of the question.
Pros Keep the paddler completely dry and warm regardless of air or water temperature. No restriction on flexibility.
Cons Cost, need more care and attention than wetsuits, over specified for most Stand Up Paddlers.
Drysuits are more expensive than wetsuits, require a little more care and maintenance and will not function properly if damaged. But for the right application they are hard to beat, they can be repaired and can last for years with some care and maintenance.
The SUP specific dry suit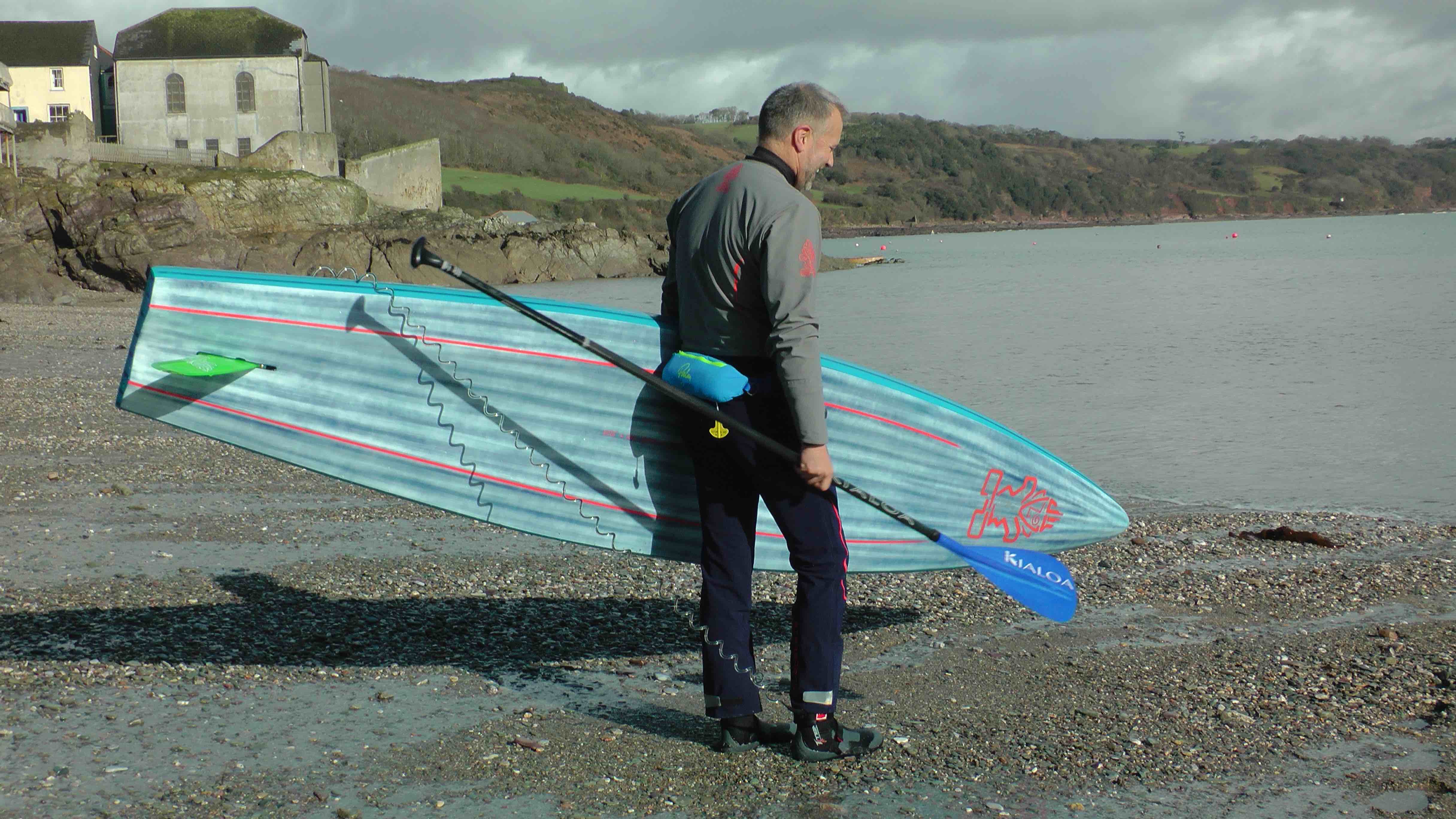 A new development brought to the paddling world by SUPskin and now Starboard. Filling the space between wetsuits and more traditional dry suits these are designed specifically for Stand Up Paddlers who do not need the protection and bulk of a surface immersion suit, for faster paddling and limited time in the water. Marketed at those who want to paddle fast the semi-dry suit is also a great solution for many more leisurely paddlers.
The difference between this and the surface immersion suit is simple, these suits are designed for brief periods of immersion and usually do not have the same seal around the neck to prevent water getting in. The assumption being that in most cases the paddler will quickly get back on their board and get paddling. These suits come in two variants, one with vertical waterproof zip with an open neck and one with a diagonal zip and latex neck seal. Both have latex seals around the wrists and ankles. The vertical zip version will not be as resistance to water ingress as the version with a neck seal but it will hold out the worst of the water. Like the more common dry suit there is no insulation in the SUP dry suit so a base layer will need to be worn underneath, top and bottom.
As a product that is relatively new to the market durability is unproven but as with all things, if you look after it then it should last. The seals, zips and materials are used widely in other applications so should be repairable if need be.
Pros Designed for SUP, keep the padder dry or enough depending on the neck seal, very flexible.
Cons Cost, more expensive than an entry level dry suit. Cold feet on some models.
As a garment designed for SUP the SUP dry suit has to make no compromises in it's design. They are far less bulky than dry suits and far lighter to wear. Already this type of suit is evolving with versions with full neck seals and built in socks available. They do not feel as durable though and time will tell how well they last in normal use.
The Santa Suit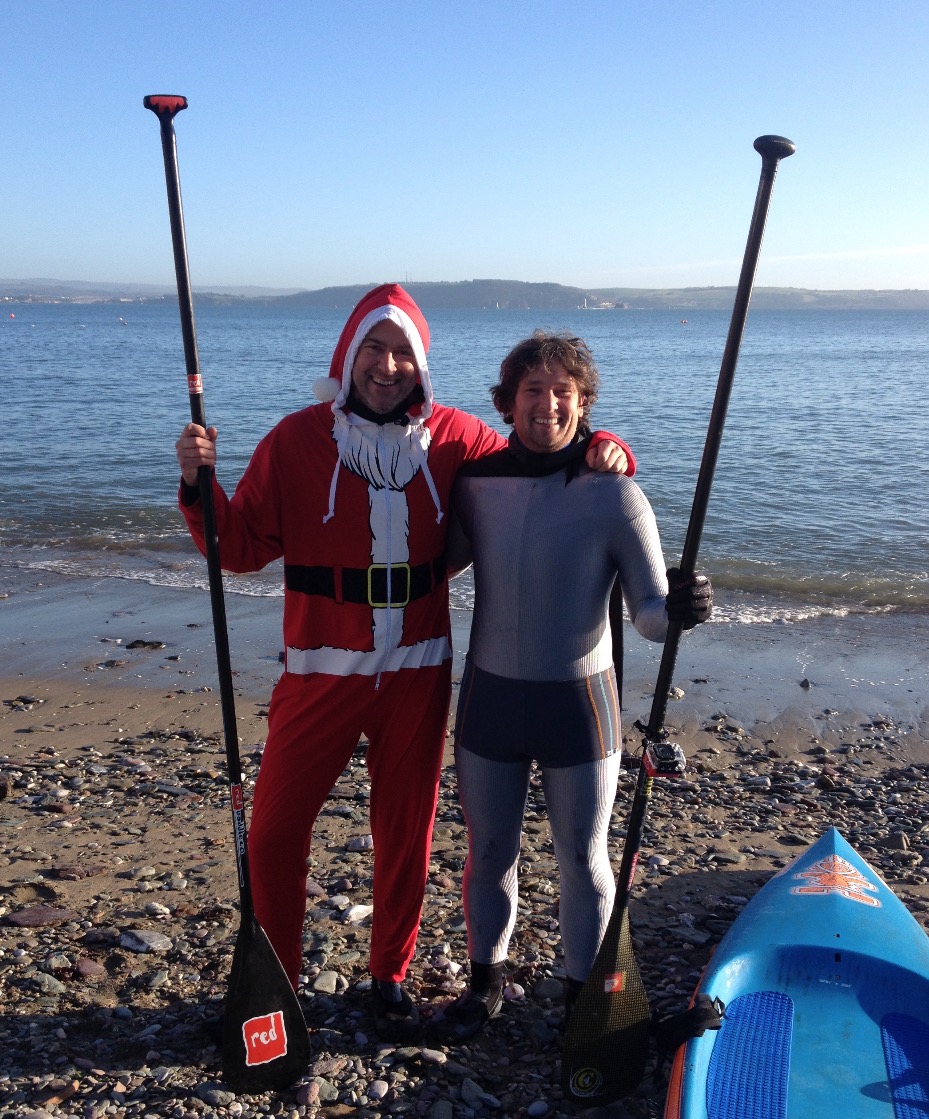 First developed for use on sleds traditionally pulled by flying reindeer the Santa Suit would not seem to be the obvious choice for SUP. Surprisingly this suit has become the paddlers choice from the end of November through December. Pre-dating even the wetsuit a well looked after Santa Suit could last a lifetime.
Pros Spreads joy on dark winter days.
Cons Too many compromises in design for serious SUP use, traditionally available in one colour only.
The Santa suit is a very niche product that is completely unsuitable for use on the water in it's traditional form, to swim in one could be the last swim you take. However improvements in design and materials, with suits available in any material from paper to lycra, mean that there may be the ideal suit out there for your next Christmas paddle.
With the torso, arms and legs covered by a suit what about the extremities? Here there are two choices, neoprene and not-neoprene. 
Feet
Winter wetsuit boots are relatively cheap and the obvious choice regardless of the suit used. Try before you buy to get a boot that is a snug fit, not too big and not too small. When using boots with a suit that has latex ankle seals the winter boot will probably sit outside the seal and that means cold feet.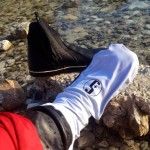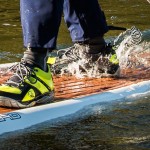 There are any number of sock options available to keep your feet warm and dry. From neoprene socks that are thinner than the boot option to dry socks from SUPskin that require a shoe or robust outer layer to protect them. There are also options from the likes of SealSkinz that could keep your feet dry and warm, as long as water doesn't get in through the top.
If using a dry suit with socks then shoes will be needed to protect the fabric. SUPboarder have seen everything from wellington boots to crocs used on the water. Obviously it's a paddlers choice and it's what works for you, but heavy boots/wellies not recommended!
The Santa suit will usually be worn with leather boots, utterly impractical for SUP but they do complete the look!
Hands
The simple glove has many variations that are good for SUP. The wetsuit glove is an obvious choice but make sure it has some grip on the palm. Neoprene is also used for open palm gloves like the Palm Talon reviewed here, developed initially for other paddle sports but a great option for SUP. And there are less obvious choices like gloves from seal skins through to Marigolds, yes we've seen them used!
Head
There are no hard and fast rules for headwear on the water. White Water paddlers will be wearing helmets but for the rest of us anything that works for you is the right choice. From bobble hats to neoprene hoods if it keeps your head warm when you need it to then put it on and go paddle.
Pros for Neoprene Hard to beat for value for money. Widely available. Plenty of choice in sizes
Cons for Neoprene Feet can get very cold on a SUP in neoprene boots. Grip can be poor with gloves. Hats often come in one size fits all (which doesn't)
Pros for Not-Neoprene Often a better solution than neoprene for a given application
Cons for Not-Neoprene Inevitably more expensive, less durable, harder to find the right size 
So there you have it, an overview of what the SUPboarder team recommend you wear on the water over winter. Although not always cheap, if you plan to make the most of those cold and crisp days and paddle throughout winter, it will guaranteed be money well spent. But whatever you chose to paddle in just make sure that if you fall in you will not put yourself in danger with waterlogged clothing and that you have enough insulation to keep you warm after a swim. You might not plan to fall in but you never know!
What not to wear Vs full winter kit! Note that this was taken for illustrative purposes only in very shallow water post paddle. Clothes, and grins, models own. Drysuit and PFD from Palm Equipment.
Words – SUPboarder.
Images – SUPboarder unless stated.
Feature Image – Mike Lister Photography