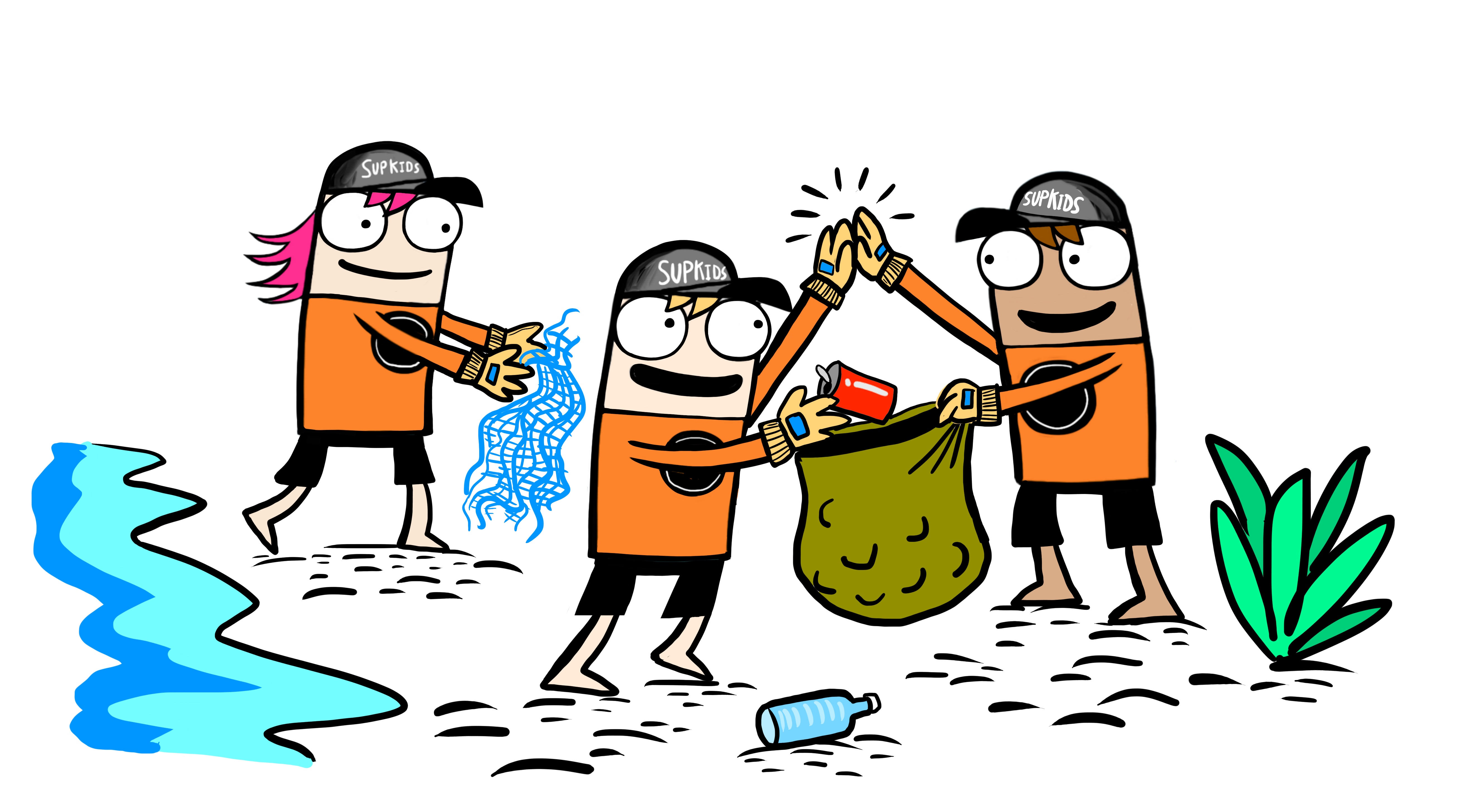 Spreading the word of SUP and getting young paddlers onto the water are two fundamental things needed to grow our sport. The first one is easy, SUP is what we love to do! The second though is harder as SUPboarder found out when we met up with Linzi Wilson, one of the founders of SUPkids, to hear about the work she and others are doing to increase children's water safety awareness and to start to nurture a love of their, and our environment.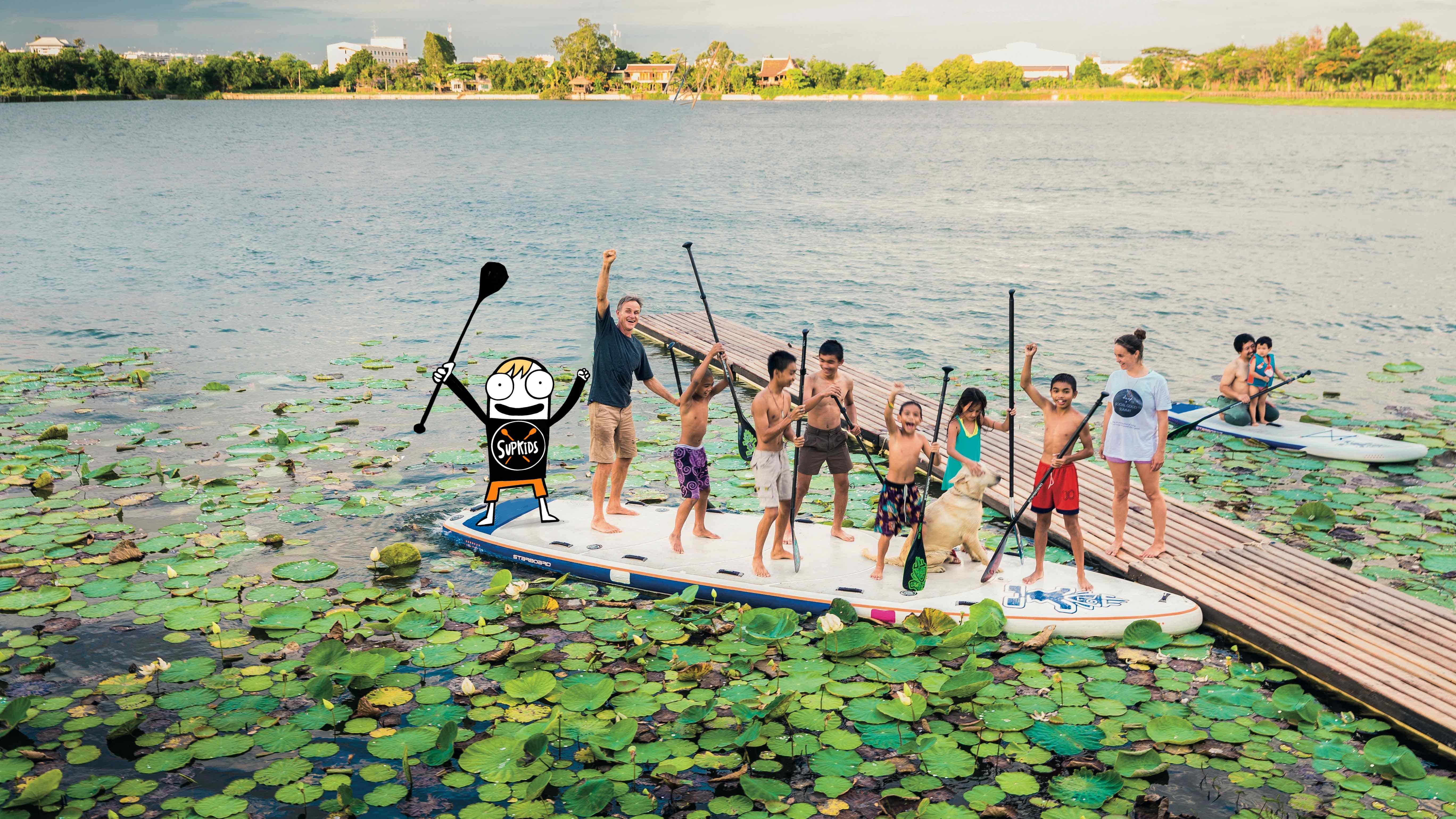 This story starts in Cairns, Far North Queensland (FNQ). Two years ago I was contracted by Mick & Kate Wilcomes (an awesome husband & wife team – she's a former pro surfer and coach & he's an incredible videographer and producer) to fly out to Aus & help them set up a SUP school. I've spent many years building & growing surf schools, so this seemed like a pretty simple job.
When I first arrived, and flew over all those tropical beaches (Cairns is the gateway to the Great Barrier Reef), I wondered why we were setting up a school in a man made lagoon in the city as opposed to running lessons in the ocean. But my first visit to the beach cleared that up…. huge yellow signs warning people of crocodiles & stingers, plus kinda murky brown water (I arrived at the end of summer – rainy season).
Hmmm, not as easy as I first imagined.
Our experience as surf coaches really magnified the difference between the two sports. Teaching surfing is hard, it takes time. Some kids pick it up really quickly, others struggle. We could spend a full week with kids in the water teaching them to surf and we'd have plenty to keep them occupied.
But SUP is different. Learning the basics of SUP is easy, it's fast (which makes it great for kids self esteem, because they can learn something new & achieve it within a really short time frame). But it actually makes life tricky for a SUP school, because after that initial lesson, you need a whole lot of imagination to keep kids engaged (otherwise they'll just be paddling around in circles).
Parents, teachers, schools – they all want more depth. It's not enough to offer a basic class and leave it at that. But there's a big gap between spending $50 on a beginners lesson for your kid and then spending $1000 plus on a board. Plus there's the fact that parents want to know their kid is going to be safe, and actually carry on with the sport, rather than race inside when they get bored and turn on the tv.
So here's what we did : We developed a program called SUPKids – combining SUP, water safety & environmental education.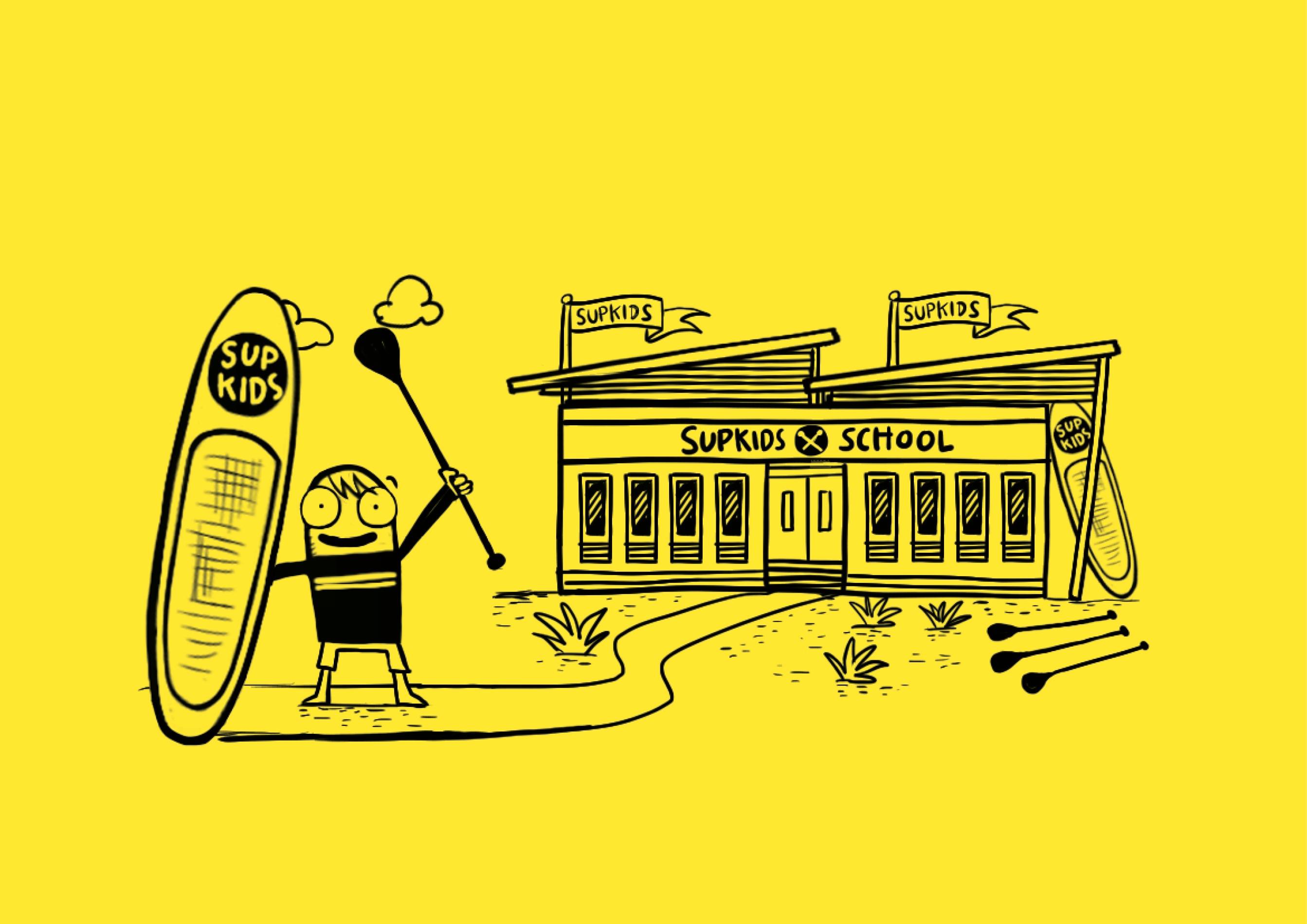 We know what it's like to fall in love with being in the ocean. And we know that, with a passion for SUP comes a responsibility to take care of our environment. Our vision is to create experiences for our SUPKids that will enhance their appreciation, respect & understanding for sustainable living. The program is run in an inclusive, non-competitive environment with a real focus on building self-esteem. We use games, drills & SUP activities to ensure that our SUPKids walk away with vital water safety skills that will stay with them for life.
When we shifted from running standard beginner lessons to teaching the SUPkids program, everything changed. Not only were kids more engaged & excited to learn, but parents were much keener to sign their kids up, knowing that they would learn more than just how to SUP. We also started attracting interest from local schools & clubs, who saw the value in the program and realised it would be a much more effective way of teaching environmental education than anything classroom based.
Our experience of teaching SUPKids (and many years of surf coaching before that), is that when you take these lessons out of the classroom, when you make them fun & interactive. Kids engage. They learn. And they want to get involved.
Instead of arming kids with textbooks, facts & figures. SUPKids allows kids to think in terms of solutions & possibilities.
Within a few weeks of being on the ground in Cairns, we became friends with a fellow SUP'er who worked at the Royal Flying Doctor Service. He was really interested in what we were doing. Our school, and the program that we were delivering was a little different from anything else he'd seen.
One night, in true Aussie style, over a few beers, he told us that he wanted us to deliver our SUPKids program to a local Indigenous community. These kids spent their all their spare time swimming & playing in the river, but had no concept of water safety or how to take care of their environment. Every year there were drownings, and every year more and more kids were become disengaged from the community and were getting into trouble.
So we planned a trip up to Mossman Gorge and ran our very first SUPKids program for a remote Indigenous community. It was the beginning of an incredible journey. Red Paddle Co sponsored the trip, and donated inflatable boards (vital – as some locations were only accessible by plane !). That one program turned into two, then three, then four, and within a few months we were planning a tour of Cape York to deliver the program to kids who needed it most.

Here's what we know to be true .. when kids fall in love with an outdoor sport, they fall in love with the outdoors. And kids who love their planet become ambassadors for taking care of it.
In short,  When kids were learning to SUP, everything changed for them. They built a healthy respect for their environment, they were able to identify hazards & make smart choices when it came to staying safe. But most importantly, they were stoked on being outside in nature & the feeling it gave them.
A few months after our first SUPKids tour with the RFDS, we found out that one of the kids who'd attended our program had saved the life of his younger brother. His little brother, aged 3 had fallen into a swimming pool, and he remembered the rope rescues from his SUPKids lesson & found a nearby rope & threw it in & pulled his brother out.
A year on, and we were running our second SUPKids tour in FNQ with the Royal Flying Doctor Service, revisiting some of the communities and adding new spots to the tour.
Micko checked his email one morning and told us
some guy called Svein from Starboard had sent us a message asking us about our program. Who's Svein then ?
We asked. Forgive us, we're surfers at heart ! A few minutes later (thanks Google) we realised that Svein from Starboard was kinda the real deal.
Within a few days, we jumped on Skype, and met the team. Within a few weeks, Micko & I were on a plane headed to Bangkok to start talking about how we might be able to work together.
Our time in Bangkok affirmed the fact that we were all on the same page. Starboard are passionate about the environment, and, as a company, are making huge commitments to building a more sustainable future for SUP, as well as working alongside Worldview International Foundation on their Blue Carbon projects.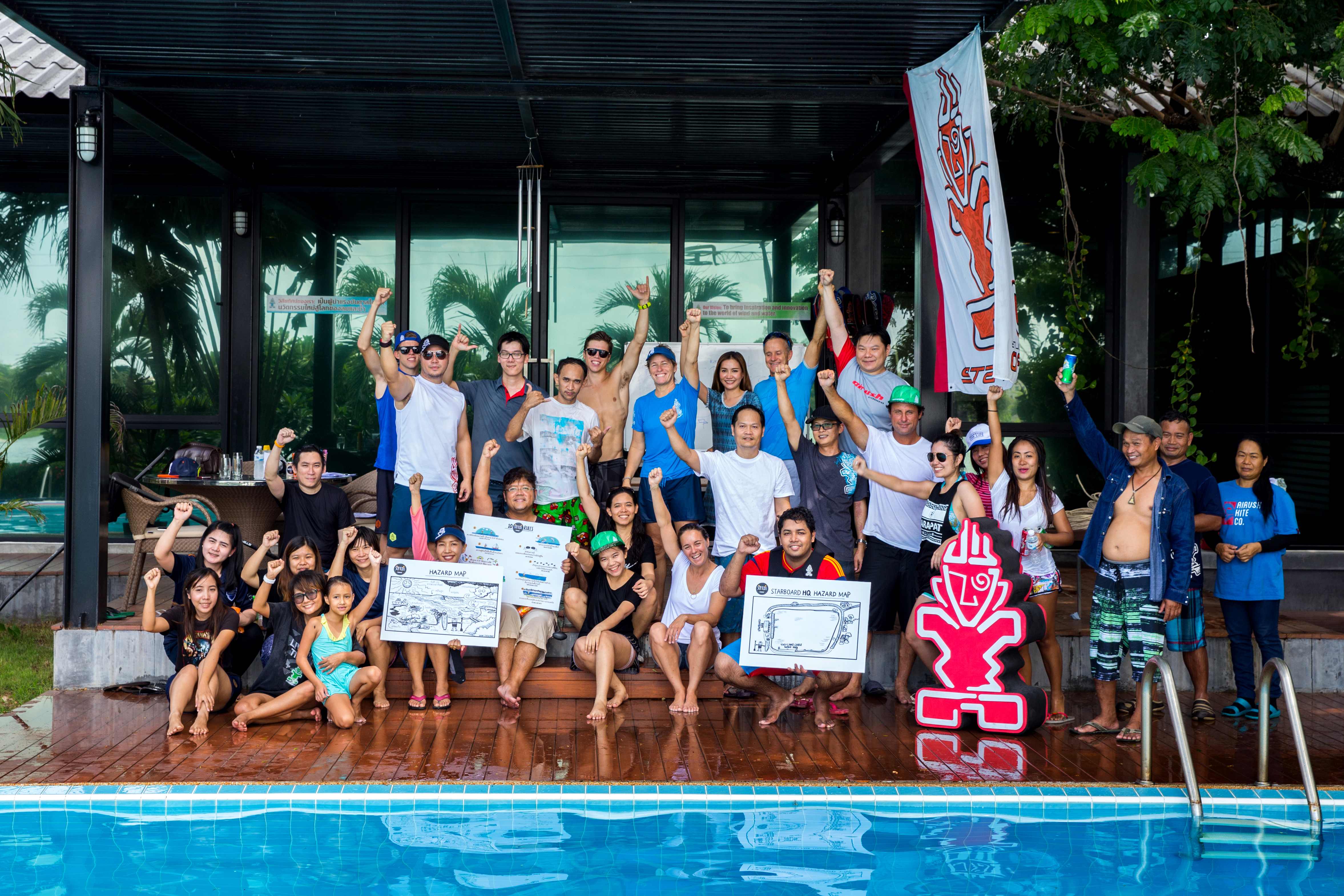 We realised that together, we could have a greater impact. And so Starboard & SUPKids are working together to enable more kids to have access to the program.
The program itself is super flexible. It's designed for kids from 5 -12, and can be delivered in the ocean, on a lake, in a river or in any safe waterway.
We've also developed the program so it can be delivered in 3 different ways – As a 5 day camp (perfect for summer holidays), as 5 consecutive lessons (every weekend or once a week after school) or in a condensed format as a one day activity (perfect for schools/clubs etc).
The program is made up of 5 core lessons :
Safe SUP : We start by ensuring every SUPKid knows how to be safe & how to keep their friends safe. We teach rope rescues, board rescues & how to identity hazards (things that have potential to cause harm to us, and our planet).
SUP Adventures : This lesson is all about exploration. Sharing the tales of Thor Heyerdahl & teaching them how to plan micro adventures of their very own.
Reduce Reuse Recycle : The third lesson focuses on plastics and the impact they have on our environment. We talk about the life cycle of our waste & the impact that plastics have on our oceans.
Healthy SUPKid : This lesson reminds kids about living a healthy lifestyle. Staying fit, hanging out outdoors & eating good, sustainable food. We show them how this kind of lifestyle is positive for the planet too.
Ambassador for the Planet : In the last lesson, we teach our SUPKids how to become ambassadors for their environment. We don't want to tell them what they 'should' care about, we invite them to choose their own cause & learn more about it. Then we equip them with the tools to go out & make a difference.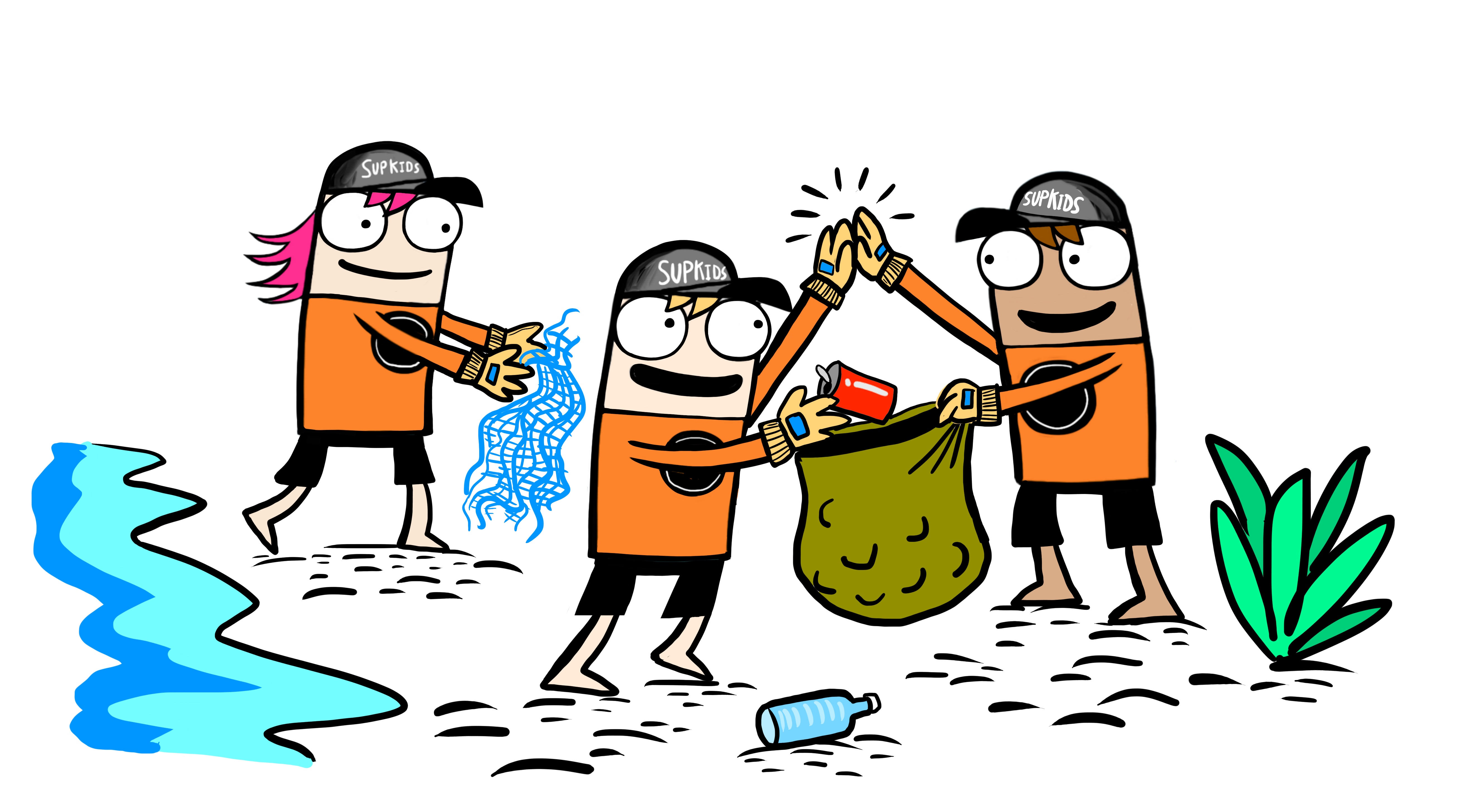 So how do SUP schools get involved ?
First up, we've developed a SUPKids coach training program. This live training will be run in various global locations and will include all teaching resources, lesson plans, & training manuals. Everything you need to be a SUPKids coach.
We've also created SUPKids packs; a gift for every kid who signs up for the program. An eco backpack with their SUPKids workbook, a reusable water bottle & stickers.
SUPKids delivery centres will also receive all their own promotional materials and marketing strategy – from posters, to FB ads & a practical how-to guide to help you implement it all.
And lastly, because the whole process is powered by Starboard, you can imagine the leverage & media attention every delivery centre will be a part of as they launch their programs.
Becoming a delivery centre is pretty simple. Anyone can run a SUPKids program, a dealer, a shop, a SUP school, an athlete or a club. The most important aspect for us is that our programs are run in a professional & safe manner, so every SUPKids coach must have the relevant qualifications (SUP coach & lifeguard/rescue).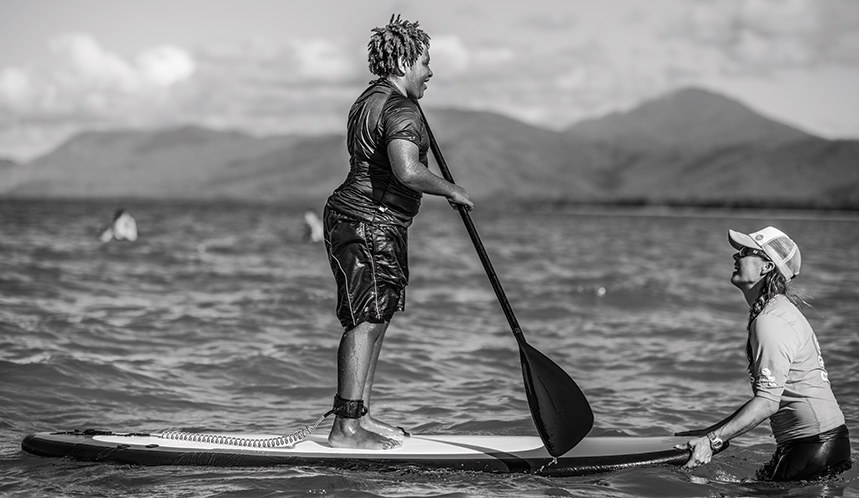 With SUPKids, everybody wins –
Kids – Learn a new sport, fall in love with the outdoors & become part of a global community
Environment – A new generation of passionate kids who'll take a stand for what they believe in
SUP industry – Recognised as a leader in innovative environmental education & steps away from green washing
Delivery Centres – A new revenue stream, a world class program to teach, and stoked kids & parents who become lifelong customers
For more information, or to register to become a SUPKids delivery centre, go to our website www.sup-kids.com or email linzi@sup-kids.com
Words and images Linzi Wilson / SUPKids
When SUPboarder met Linzi we were immediately taken by her passion and enthusiasm she has not just for SUP but for the children who are lucky enough to be part of SUPKids, for their safety and for the environment. SUPKids challenges children to do more than stand up on a paddle board and that's got to be a good thing.