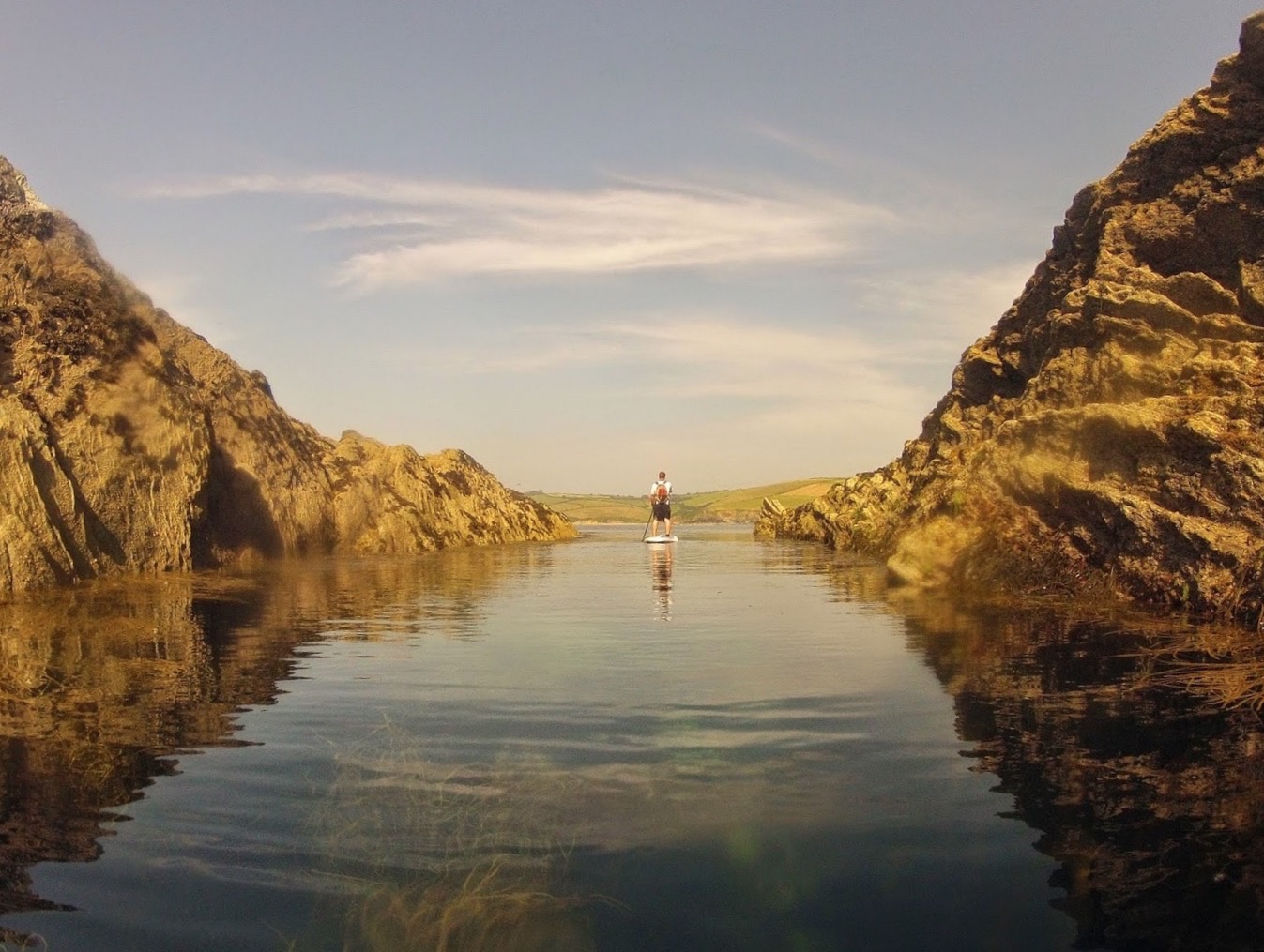 We see so many pictures of beautiful places around the world, like the clear water of Tahiti or the beautiful waters around the Caribbean Islands. But do we really have to go that far for some picturesque coastal SUP exploration? No… here in the UK we are blessed with miles and miles of stunning coastline, and on the right day the water can be as clear and turquoise as those tropical islands you no doubt often dream of. When the suns shining and the summer is in full swing, there is no better time to head to the coast with your SUP for a bit of SUP coastal exploration. And on the right day the UK has paddle opportunities to rival anywhere in the world.
SUPboarder's Chris Jones tells us all about his summer coastal SUP exploration in South Devon and why it definitely beats a day in the office!…
Take two inflatable paddle boards, a lot of air, a flat calm day, incredible visibility, two lucky friends with the afternoon off and some sun block, and you have what might be the perfect day for some coastal exploring.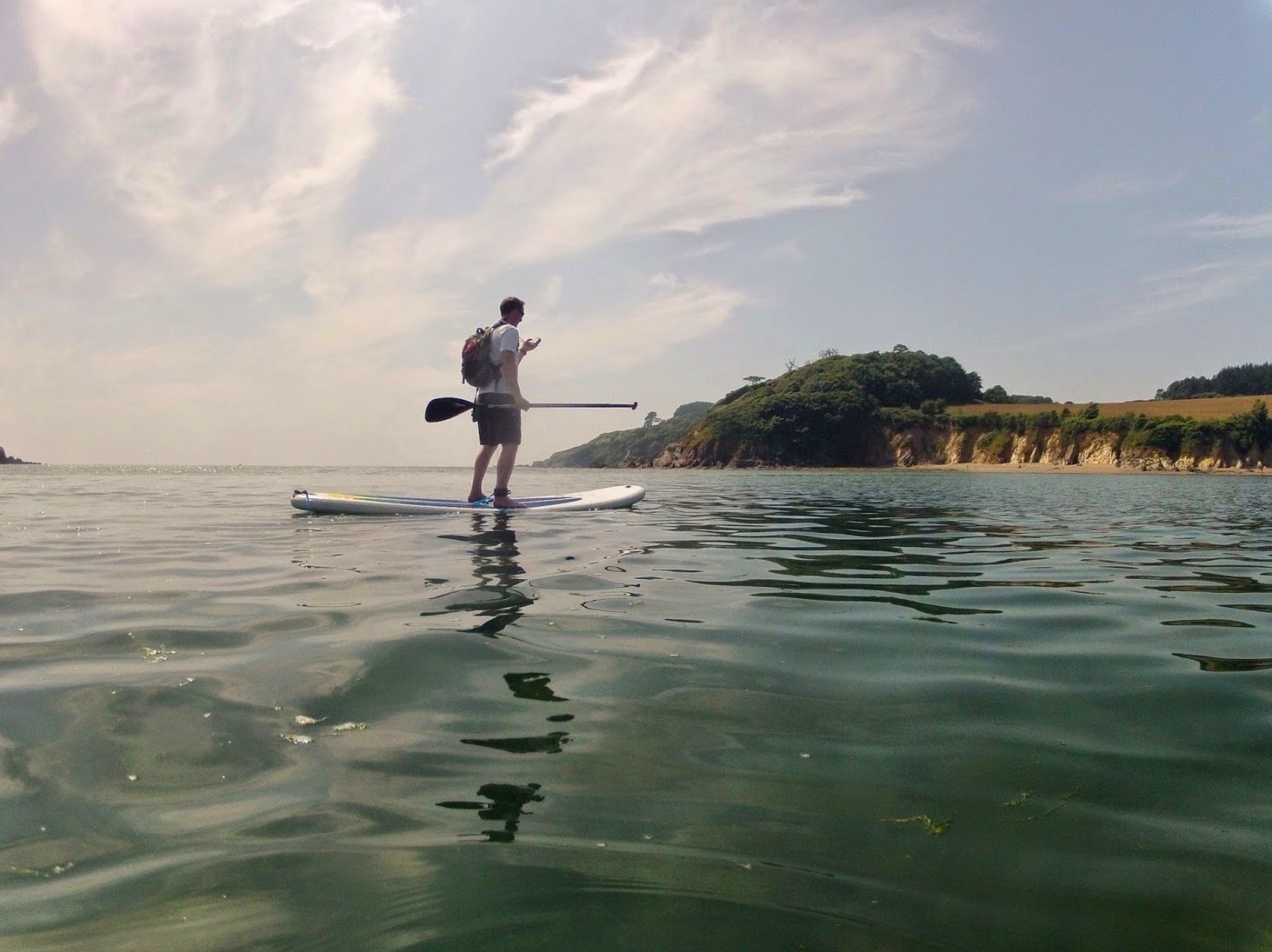 Wonwell Beach in South Devon was our launch spot. Some describe this as a hidden gem and they have a point, it is very well hidden. The single track road there was a challenge in itself and I was glad to be a passenger on the way there. The beach is near the mouth of the River Yealm that opens to the English Channel in a wide, sheltered tidal estuary. A perfect spot for SUPing and very popular with the local SUP Club who enjoy the beach break when the conditions are right. We'd both paddled there several times, either attempting to surf or going up river with the tide.
Launching just before high tide we had one simple plan, head to the mouth of the estuary and turn right. That was it. No idea of what we'd find or how far we'd go, just paddle for a few hours and enjoy a cheeky half-day from our day jobs.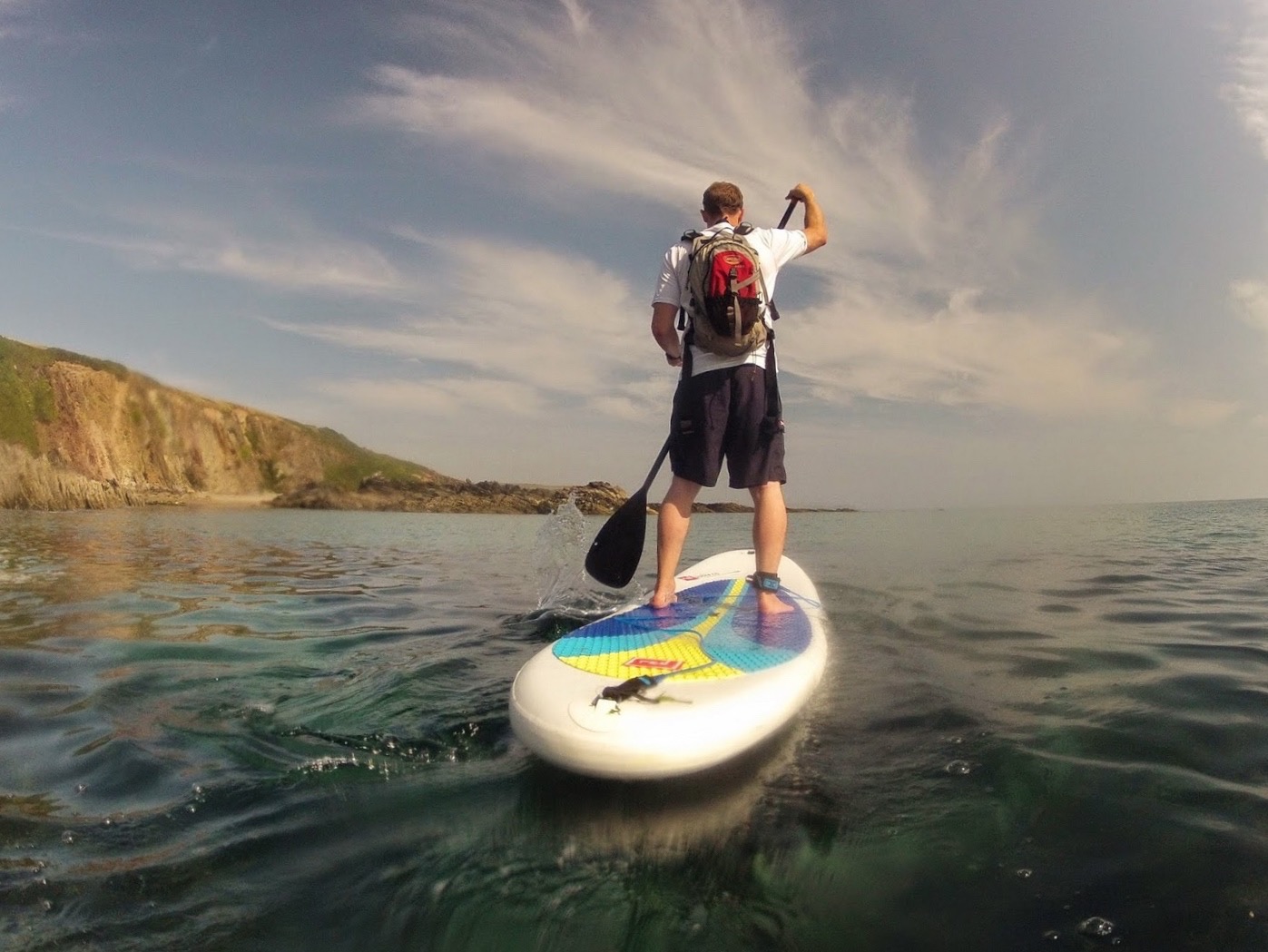 Our paddle started off as 'nice'. We'd been here before and were catching up as old friends do. It was warm, it was sunny, there was a lazy swell, the water was green with sea lettuce and we had the estuary to ourselves. What more could we ask for?
The change from 'nice' to 'ooooh' was a gradual one, once we'd stopped chatting and started to look around. We'd cleared the estuary and the water was no longer green, it was crystal clear.
One of those days where the view under our feet was as clear as that above us.
The swell had faded to nothing and we were paddling on a glassy smooth surface. With no wind it could not have been a more perfect day for a paddle.
Conditions were just right for some exploring in and out of the rock formations that form this part of the South Devon coastline. Layers of slates, sandstone and volcanic rocks that have been laid down over the millennium, then pushed, pulled and squashed to form a jagged mishmash of inlets, gullies and bays. This gives the curious paddler a lot of places to explore. Perfect for iSUPs.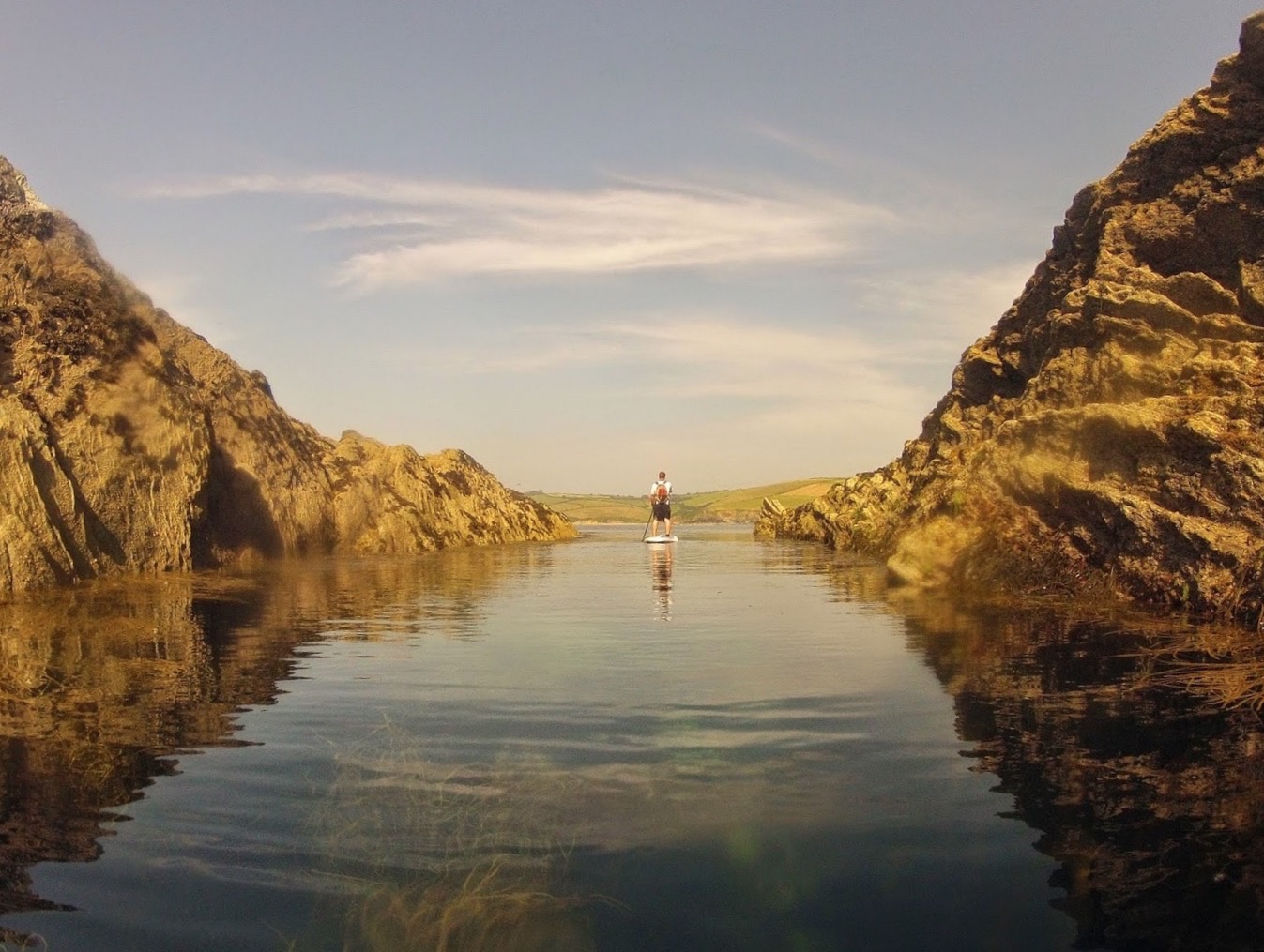 We paddled for hours. Finding several dead ends that had looked passable but that required some thought to turn a 12'6" board around! And plenty more that opened up to another as yet un-paddled bay or a pristine beach where we could hop off. It was pretty much perfect.
For once we'd both remembered to bring polarizing glasses and had an incredibly clear view of the seabed below us. Visibility was easily 30 vertical feet and at times when paddling over a submerged cliff the sensation of vertigo gripped me, looking down at the sudden drop away to blackness.
The further we went the better the view above and below the waterline got, with more and more wildlife around us. Below us forests of weed, too many species to identify, but all of varying heights and colours. I was convinced some were in flower. We could clearly see spider crabs foraging until our shadow passed over them, then they slowly made for cover, hiding in the weed. Starfish, shoals of fish of all sizes and occasionally a solitary Wrasse hiding in the weed, waiting for us to pass before continuing its business.
Above and around us, all manner of gulls, oyster catchers scolding us for passing too close for their comfort, and cormorants, always diving away as we approach.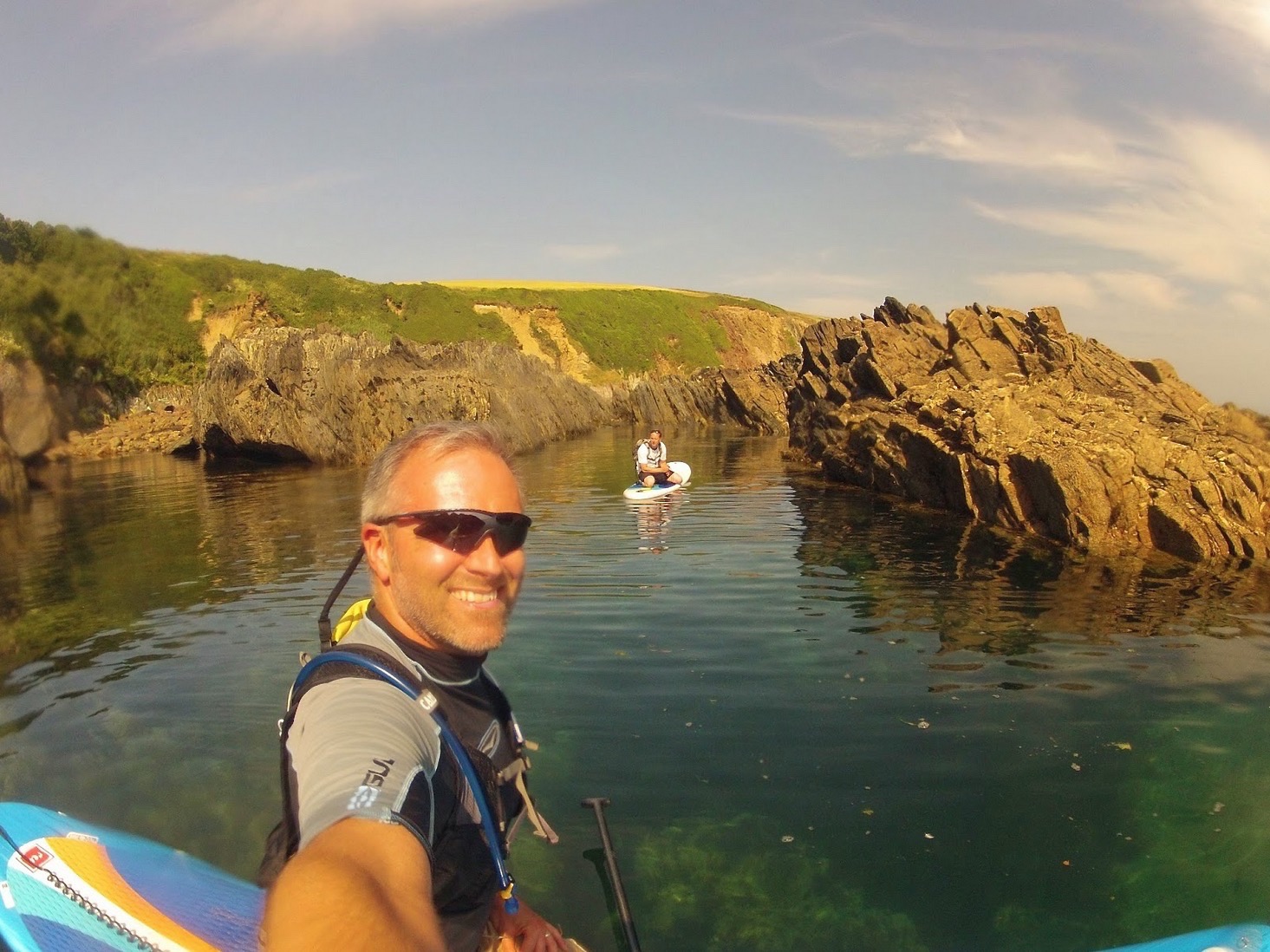 All too soon it was time to turn back. After several hours the tide had fallen some way, so our return was different again. What was passable was now tricky, what was tricky was now impassable. So although we returned the way we came, we had a totally different perspective on a place we'd only just visited. All too soon we were back near the mouth of the estuary, contemplating the long walk up the beach back to the van, after a brilliant afternoon. And left with the hard decision of where to explore next…
SUPboarders top tips to coastal exploration: 
Use google earth – to find new spots and check out water accessibility. 
Take a friend – it's not only a good idea for safety, but can be much more fun, and saves you having to take too many embarrassing selfies!!
Always check out the tides and latest weather forecast – SUP exploration is all about safely exploring new places, not battling the elements! And when you get them right it's much more pleasant paddling, and you'll be able to get much further. Use the tides and wind to your advantage.
Make a day of it – with a bit of planning and a good dry bag you can easily carry with you on a SUP all you need for a day of exploration. 
Take a fishing line – coastal cruising is the perfect opportunity to have a go at SUP fishing.
Get yourself a pair of polarised sunglasses – you'll be amazed how much more you can see underwater… fish and rocks!
Don't forget your suncream, hat and plenty of drinking water.
Which bit of coast are you planning to explore this summer?