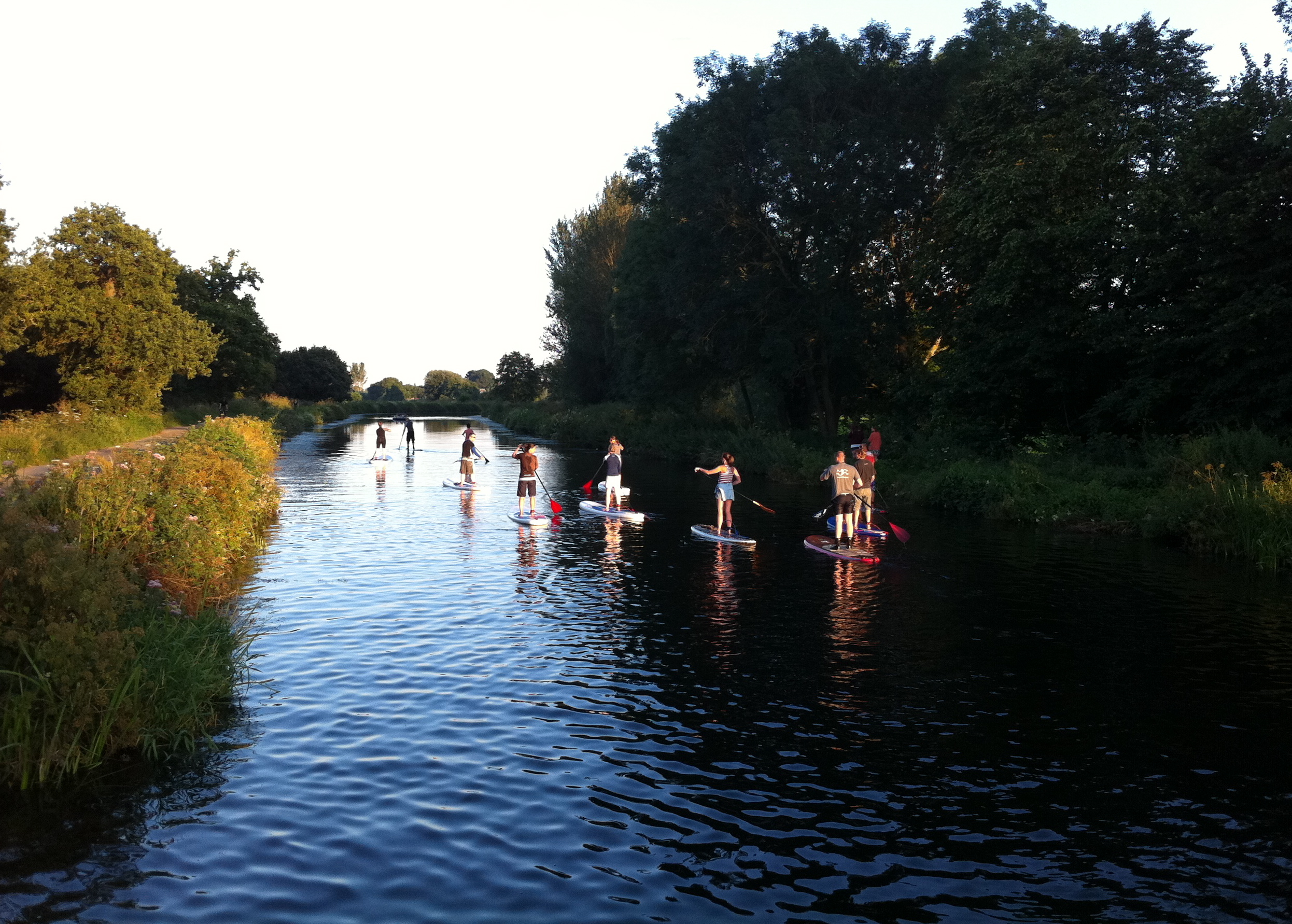 There are many SUP clubs/schools around the UK offering regular fun, social paddles. You only have to look at the SUPboarder SUP club/school map to see how SUP has grown across the country, from the top of Scotland to the bottom of Cornwall and everywhere there's water in-between! Some are linked to shops and many have been set up by super enthusiastic paddlers who just want to share their stoke for SUP, and provide a fun, social environment for others to enjoy SUP. Some of us got into SUP via clubs like these and use them regularly for tuition and group paddles. But for those of you who've already found paddleboarding, are at a good paddling level and have got your own board is there a reason to join and paddle with your local club? Absolutely!
Below are a few good reasons why everyone should get involved with their local SUP club/school:
It's fun! What better way to get into SUP or develop your current SUP skills than joining a fun, social SUP group for a paddle in your local area. The more the merrier!
Increase your confidence. Before venturing off on your own, paddling with others is a great way to gain confidence. (And it's always good to see other people falling in too when you're a beginner!)
Learn about kit. Demo and talk about all the latest kit. It's the perfect way to find out what your best first board should be, and what your dream board would be!!
Meet other like minded people. On and off the water your local SUP club is the perfect place to meet others with a stoke for SUP. You never know you might even find your perfect paddling partner!
Get some inside knowledge! Explore your local area, find out where the best paddle spots are and when they work best from someone in the know. Perfect too if you're on holiday and don't know the area.
Take the stress out of paddling. There's no need to panic about where's best to paddle in the 1 hour of daylight after work, as your SUP club will already have chosen a good paddling location having checked the forecast. Just turn up!
Try something new. Many SUP clubs have specialised in certain SUP disciplines e.g racing/surf/fishing/yoga so it's the perfect opportunity to give it a go.
Try before you buy. Many SUP clubs are linked to a shop enabling you to try out the latest kit before buying. Ideal if you're undecided what would suit you best.
Get involved. Take part in your local club event or represent your club at a larger event e.g National Club Championships, rather than going alone. Check out the events calendar to find out whats going on near you.
Find a training buddy. If you're wanting to get into racing or use SUP as a training method you'll be sure to find someone wanting to do the same.
Learn. Pick up some free paddling tips whilst paddling with others or have a 1:1 lesson.
Get motivated. What better way to motivate you to get out paddling on those chilly winter days. No excuses!
Get a mate into SUP. Your local SUP club/school will have all the perfect beginner kit so you don't have to worry about them dinging yours!
Rent a SUP. Some SUP clubs/schools offer rentals so if you need to get another SUP for the weekend for a mate they'll probably be able to help.
And the list goes on!
So if you want to be a social SUPer this year check out your local SUP club/school. And if you haven't got one, why not think about starting one! Find out more here.
To find out where your local SUP club/school is check out the SUPboarder map.
If you're already part of a SUP club and it's not on our map please tell them to send us their details.
And let us know what it is you love about your local SUP club!