https://www.youtube.com/watch?v=zFRXq2aRPFg
In just a few weeks the UK is gearing up for its National Club Championships at Eton Dorny Rowing Club. This event is not just for the elite racer, but an open, friendly event that is a perfect introduction to the UK race scene whatever level you are. In addition it gives you the incredible opportunity to paddle on the prestigious Olympic rowing course. We caught up with Simon Frost from Bray Lake Watersports for a little more info on the event…
On the 23rd August the 2nd National SUP Club Championships will be held at Dorney Lake. Last year saw over 130 SUPers take part in the UK's largest race and the UK's first interclub event. This year everyone will be back to contest last year's results and to try and knock Bay SUP off the top slot. A task that will not be easy.
The event is open to every level of club paddle whether you race on the national circuit or just at your local club. It is also a perfect race for those who have never raced before as there are classes for every level of paddler and whatever your level, age, gender or board type. Even if you have only just started SUPing your score will help to build your overall club points.
Lasts year's event proved a great catalyst for many of this year's regular national series competitors who site this event as the one that got them involved, and it also kick started a few new clubs.
This is a fun event, with a great atmosphere at the world renowned Dorney Lake Olympic Rowing Venue. Get your club involved and if you don't have a club in your area start one today.
For further info go to Windsor and Maidenhead SUP Club www.windsorsupclub.co.uk/national-club-champsionships-2014.html or call Simon Frost at Bray Lake 01628 638860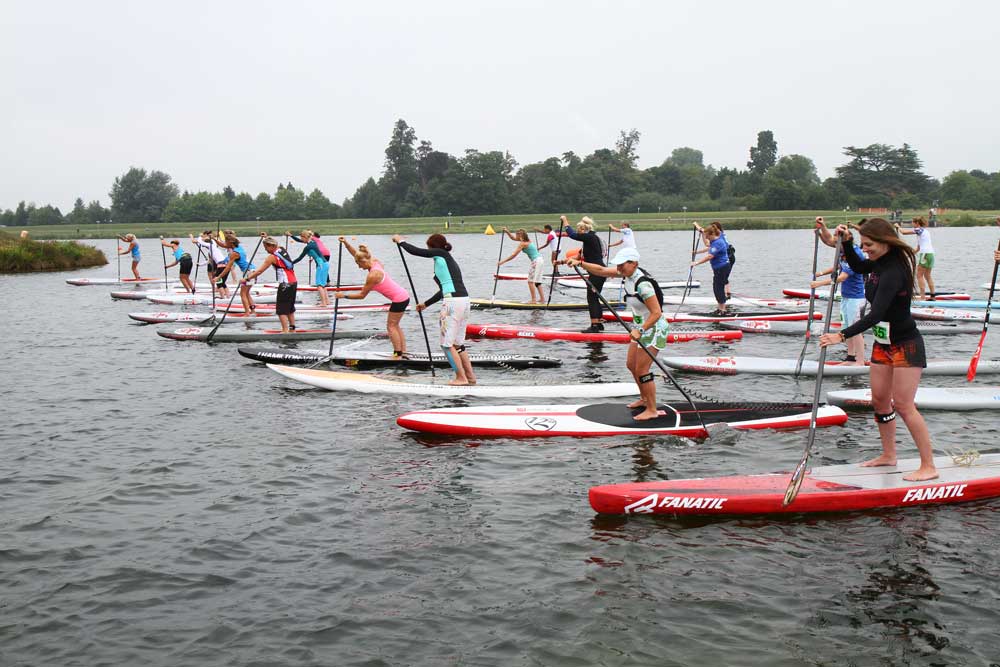 "Last years race was a wet one but a great one!"
Race Classes and Courses
We will be running a 6k and 8k flat water distance races, and a junior short course technical race.
 Cross Over Boards – Surf Style
This class is only open to novice racers. Those who have never taken part anything more than local club races. It is a 6km race and will be held separately to the main race but will count towards the overall points.
Race Board Classes
This is the main event and is open to all levels of SUPer 12'.6" and 14'. It's an 8km race using both the main lake and the return lake. This is open to all and results will be aged divided and go towards the overall points.
Junior 10.6
This will be a technical format with lots of buoy turns. Maximum board length is 10.6 and will be run in heats with repo charge and final. Boards will be supplied by Red Paddle Co.
Club Relay Race
This Team event run over a short sprint course in Teams of 4. Each Team must consist of at least 3 different categories. Point do not count towards the overall result however there will be separate awards for the winners.
Individual and Team Registrations
All registrations must be completed before the event. The last day to register will be 17th August. Registration is via www.windsorsupclub.co.uk/national-club-champsionships.html
Race Categories and Classes, and Age Groups.
Junior 8-14
Cross Over 15-62 – Novice only
 Race Board Youth 15-17, Open 18-40, Masters 41-51, Veteran 52+, & Super Veteran 62+.