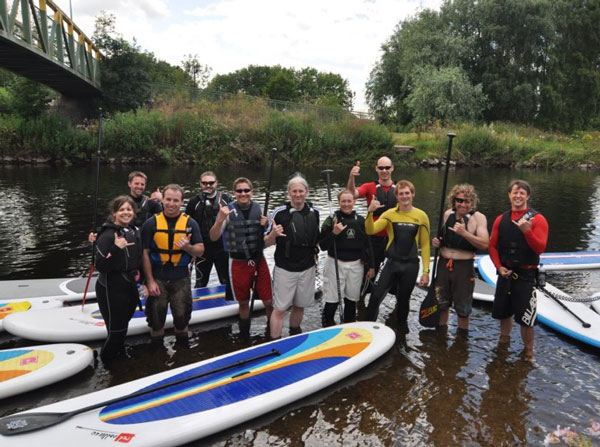 Setting up a SUP Club can be a great way to raise the profile of the sport and get more involved. It can also be a good way to meet like minded souls who love to paddle too. So… if you're thinking about setting up a SUP Club this guide by Chris Kenyon from Central SUP will help you get started and provide you with necessary  information to get set up and run your club.
Where to SUP?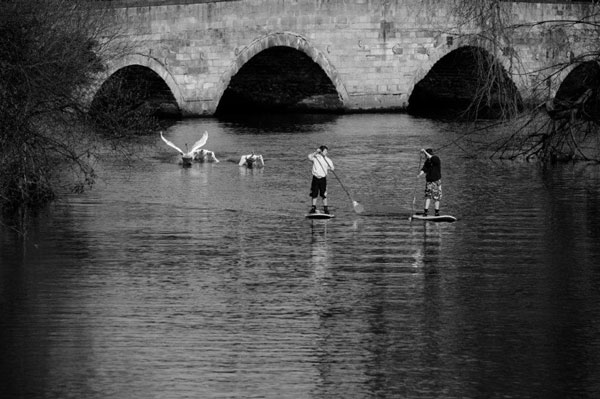 This can be tricky but a little bit of research into your local waters will soon get you some answers. You may need to contact the Canals and Rivers Trust too to get a license for your boards. This link will give you more information – canal rivert rust.  As SUP is a pretty new sport in the eyes of organisations like this we end up being categorized as canoes. However BSUPA (the British Stand up Paddle Boarding Association – BSUPA) is working on this on behalf of the sport.  Once you have a good idea of where you can and can't SUP you will need to get a good understanding of your home waters.  Factors to consider will be tides, other water users, wildlife, the general public, fishing clubs and many more. You will need to build in risk management documents to show you have assessed these risks and acted appropriately on them.
Getting your club affiliated
At the moment there are two ways to do this, the first is as we mentioned above by becoming a member of BSUPA and then benefiting from their insurance and policies as a club. The other way is to use Canoe England (www.canoe-england.org.uk ) This link will take you to their website where you can find out about their cost and policies too.  Either way you will need a few essentials to become a legitimate club first, these are detailed in the next section. If your club is not affiliated you will still need insurance and this can be a minefield if you are not sure about what insurance you need and what it will actually cover you for. As a minimum public liability insurance up to 10 million is needed, beyond that will be dependent upon what you plan to do with your club.
Club essentials
To get your club started you need a few key people to make sure it runs properly, a chairman and vice chairman are really important as they will be overseeing the whole process. A club secretary is needed too so that the paperwork and administration is all in place. If you have volunteers at the club you will need a volunteer coordinator too. As your club grows you will find the need to appoint more roles and responsibilities.
A membership form with some kind of agreement and club rules needs to be given to each member so they are clear on what they are doing when paddling.  Ask an existing club for an example of theirs to help you with this.
If your club plans to have members under 18 then CRB checks will be needed for each person who will be responsible for them as well as your child protection policy too.  At the moment AALA – the adventures and activities licensing authority will insist on you having a license if you're going to have members under 18 at the club unless the legal guardian or parent is within sight and sound of their child. A school teacher or youth worker would not count in this instance. For more information please visit www.hse.gov.uk.
You will need to have some instructors too for leading club paddles and courses can be done with both BSUPA and the ASI (www.ASISUPUK.com) and of course hold the relevant first aid certification.
A community bank account solely for the club is a good idea then you can keep track of what is going in and out of the account, a treasurer of the club secretary can be in charge of this.
Finally the club will need a constitution; there are lots of different templates for this on the internet or perhaps approach an existing club to see how they designed theirs.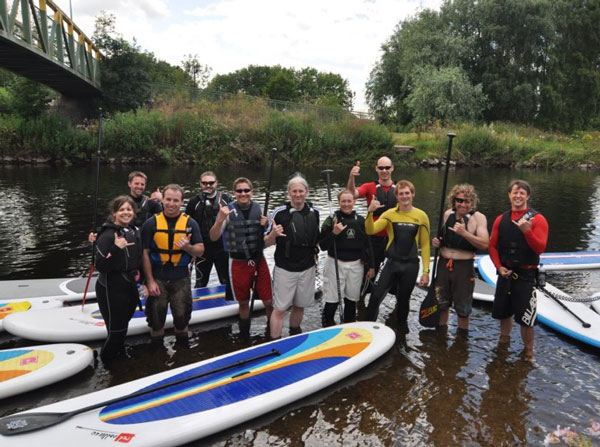 Finances and Funding
"Provided your club is not profit making then you are eligible for all kinds of funding. A good place to start will be your local council as they will often want to support projects that will benefit the community. Sport England also currently offer funding for clubs too" –

www.sportengland.org

.
By getting you funding you can help to grow your club quickly by having more kit to use, advertising and marketing your club, supporting its administration costs and developing the 'staff'.  You just need to make sure that you meet the criteria and have a clear idea of what your funding is for and how your club will use it.
Other sources of funding will come in the form of events and membership or kit hire, so think about what you want to set your prices at.  Remember it's not for profit but you need to be able to cover the running costs of your club or replace kit if necessary.
What kit do I need?
This is down to the individual club and what funds you have; the environment in which you paddle will have a huge bearing on what you get too. For example if you're on flat water all of the time then you will not really need a SUP built to surf.  Get in touch with a brand, there are many out there that will help and support your club and offer you the best advice on what kit to use.  In addition to boards and paddles you will need to purchase things like leashes, buoyancy aids and possibly wetsuits.
The day to day running of your club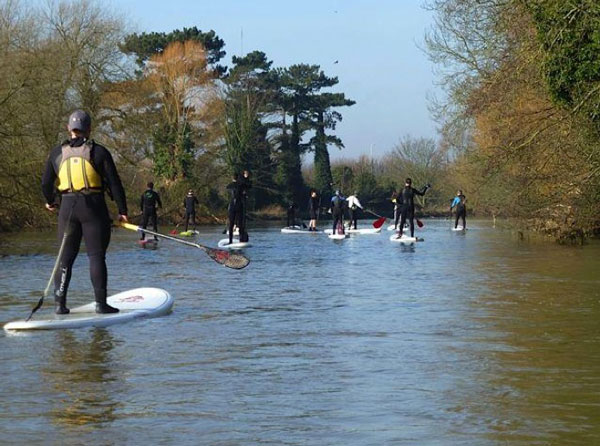 Once you have everything in place you will then be starting up your paddles! It's up to you what you bring to them; it could be a fitness element, a social thing, race training, adventuring or all of the above. The environment, your risk assessments and the diversity of your group will decide that. As the club grows then you can use their feedback to see what they like. Your club insurance covers you for club activities only so make sure your members are aware of that. If they paddle by themselves they are no longer covered by you. Personal insurance can be purchased from Canoe England, BSUPA or SUP insure (www.SUPinsure.com)
If your club is running an event like a race, check your insurance so you know you are covered. Sometimes you need to record and pay an additional fee, normally a few pounds for anyone who is not a club member to take part.
You can do as little or as much as you want on your club paddles, just remember the dynamic of the group going out and what risks are present. You may have a mix of complete newbies and experienced paddlers so catering for all needs is something to keep in mind. As a club we only let members paddle with us and if they have never paddled before we insist on an induction. This at least makes them aware of what they are doing and gives them some instruction. If you feel that the person should not be out on the water don't be afraid to tell them so and recommend a lesson first.
Club paddles can be great social events that families can also be involved in; dependent upon your location more often than not the odd barbeque or pub meal does not go amiss amongst your members. If you give them a sense of belonging and are welcoming then you are bound to have them come back and paddle with you again. Your club could potentially be that link between them and the world of Stand up Paddle Boarding. We all have the opportunity to grow the sport in a responsible and enthusiastic manner so as a club you are in a good position to help achieve this.
We hope this guide helps you. If you would like more information then please follow the links given or contact chris.kenyon@centralsup.com. And most importantly get out there, have fun and paddle!
Chris Kenyon is the chairman of the Central SUP Club in Tamworth, Staffordshire. He has been surfing for 20 years and paddling for 3. Chris is part of a group who have a common interest in developing SUP Clubs up and down the UK and is also a member of the Starboard SUP UK team. So if you're thinking about setting up a SUP Club and wanting to find out more information about how to go about it, Chris is your man!