We are now well into the new year and focus moves to the upcoming SUP race season that is fast approaching.  However, SUP racing is not just for elite athletes, it can be for anyone who simply wants a challenge to aim for, in the same way you might challenge yourself to complete a 10km run, or half marathon.  A key part of succeeding in your challenge is to come up with a training plan.
In this months race training feature, SUPboarder rider Ben Swails talks us through how to build a successful race training plan…
With the temperature outside hovering around freezing, it is a good time to sit back and begin thinking about training for the event/s that might have caught your eye this upcoming season. Whether it's your first race at a local club or an international endurance event, putting together a solid training plan will ensure that you are able to meet your goals and not burn out or get injured along the way. Get it right and you will not only complete your challenge, but you will have learned how to push beyond your limits and reap the rewards of performing at your highest level.
As Stand Up Paddle (SUP) boarding is relatively new to the UK, I have noticed a lack of information pertaining to SUP specific training programs and race preparation. Having grown up within the paddle sports world, I spent years following the advice of paddle coaches and personal trainers. These lessons formed a basic training plan that helped me to complete the SUP 11 City Tour in 2012. While it is important to seek coaching advice from professionals, I thought it might be helpful to share a few of the lessons I've learned throughout the years and plan to use throughout 2013.
In the meantime…
1.) Choose A Specific Event & Let It Be Your Focus.
The 2013 calendar is full of sprint and long distance races, coastal battle of the paddle (BOP) events, and endurance challenges. Whatever your interest, let your training plan target the specific needs and requirements of the event. If possible, choose a race or challenge more than three months away as this will allow enough time to develop a base level of fitness and then focus on the training needed to hone your strength, stamina, and paddle technique leading up to race day. Developing a training plan is all about peaking at the right time, so plan accordingly.
For example, a SUP Marathon might be scheduled for the beginning of July. A training program for this event should start at least three months prior to this event date.
2.) Build Your Base.
The time of year could not be better. As with many New Year resolutions, it is time to get into the gym, join a fitness class, go for a jog, lift some weights, and shed a few pounds. For many, this might be one of the most difficult parts of any training program as the focus is about establishing a routine, getting accustom to following a plan, and most importantly, begin utilizing many of the muscles and joints that you will be using on a daily basis once training officially begins. Use this base phase of your training to prepare for the intense three month training regime that will lead up to your event.
If possible, read and study about the differences between aerobic and anaerobic thresholds (the two different energy systems your body can use) and how these can translate into heart rate whilst training – aerobic training for long distance events and anaerobic training for sprint events. Everyone is different, which is why it might also be helpful to invest in a heart monitor to help focus your training to your own specific physiological abilities.
No matter what, treat this base building phase of the plan with respect, diligence and patience. Go slowly and take your time. It will surely pay dividends down the road.
A few activities and exercises to focus on throughout your base building phase: Thirty minutes or more of daily paddling, rowing, running, or biking. Swiss ball exercises. Press-ups and pulls-ups. Free weights (low weight / high reps). Time on the water is always the best idea; however, I realize it can be difficult in the winter months.

3.) Month One: Distance and Speed.
Three months till race day. It is time to move from building a basic level of fitness and get down to business. Training officially begins now.
Sit down with a coach, personal trainer, or other paddlers from your local SUP club and write an official schedule for your time on the water, key workouts, and cross-training sessions. Month One should be about developing your ability to endure your race distance and improve the basic speed with which you are able to paddle, so structure your plan appropriately. Leave the really challenging workouts for Month Two. Once your training plan is in the calendar do your best to stick with it. Get others involved as they can really help to push you along and make it a fun experience. The key is to consistently push a little bit harder each day, be patient, and have fun.
"When I'm training I prefer to go out with groups of friends, it makes it more fun and you can push yourself more and NEVER GIVE UP!" – Dan Ashford, SUP Competitor and 11 Cities Veteran

11 cities tour in the Netherlands is one of the top event in Europe.

Time on the water is critical. Below is a small scale to help dictate the amount of time you might consider spending on the water each week.
Novice: 6-8 hours a week
Intermediate: 8-12 hours a week
Elite: 12-20 hours a week
"Nothing beats time on the water. If you are racing and know that you have paddled more than everyone else that will give you a massive edge both physically and mentally. If you know that you haven't it's a different story all together." – Sam Ross, SUP Coach and Trainer
Lastly, ensure at least one rest day each week, as your mind and body will likely need some time off.
A few specific goals to aim for: Develop a plan to ensure that you have at least two key workouts each week. These two workouts should be the most intense of your week and should be your primary focus. The other sessions within your plan will simply help to build stamina and endurance. Also, if possible, aim to hit the free weights at the gym for at least one hour each week. Strength obtained within these weight sessions will develop your core, add power and help prevent injury.
4.) Month Two: Peak Training.
Month two is going to be the hardest and most important month of your training regime. The goal of each session should simply be to add to the intensity with which you are working, building towards your specific goal. As ever, be consistent and patient and focus on good technique at all times. The objective at the end of month two is to ensure that your heaviest weeks of training are behind you.
Sprinters might consider interval training two or three times a week as a way to increase speed and endurance. Think about possibly setting up a small course at your local training site that will help to measure your success against the stop watch. An example workout could be:
3 x 8 minute sprints at 70% max power/speed/effort
3 x 6 minute sprints at 80% max power/speed/effort
3 x 4 minute sprints at 90% max power/speed/ effort (race pace)
Rest with an easy 2 minute paddle between each set
In addition to the occasional interval workout, long distance paddlers should consider focusing on base mileage each day and work up to one long distance paddle each week. For example, paddle three to five miles a day during the working week and then strike out for a fifteen or twenty mile paddle at the weekend.
If possible, it is a good idea to participate in at least one organized SUP event at some point within month two. The experience should really help to boost your motivation and possibly teach you a few race day do's and don'ts.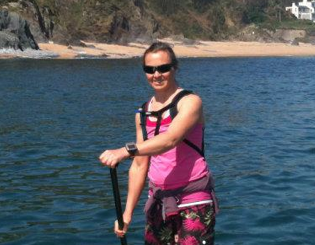 "I learned about the importance of hydration and pre-race nutrition while racing in Paris. I simply ran out of energy half way through the race because I didn't have anything to top up my energy levels. All I had consumed beforehand was an energy drink and bar. I needed more."
– Marie Buchanan, SUP Competitor and Starboard UK Team Rider
A few tips to help develop stamina and maintain a positive attitude: Know your heart zones, aerobic and anaerobic thresholds. There are plenty of articles on the web to help understand the importance of training in a specific zone… do your homework and speed will come. If you begin to feel burnt out, rearrange your weekly training schedule to add an additional rest day. Make up the missed session with a long paddle on the weekend.
5.) Month Three: Tapper Down.
By now you should have completed all the hard work within your training plan. You should feel strong and capable. The danger in Month Three is to plan too much, push too hard and burn out just before race day. For these reasons it is important to begin easing back the amount of mileage you are paddling (but not the intensity!) within the final two weeks of your training program. This should allow you to feel sharper, stronger, and less vulnerable to injuries. Diligence to maintaining and slightly improving the fitness that you have developed thus far is important. Keep pushing hard during each planned session. Remain focused on your event and begin rehearsing your pre-race and race strategy.
One week before your event, it is important to rest your body for one monumental effort. Paddle no more than two or three times throughout this last week. Rest as needed. Simply get ready and enjoy the ride.
A few suggestions to think about throughout month three: Resist the temptation to add extra sessions or cross-train (it is not possible to make up lost time so close to a race). Stop drinking and partying (save it for the after party). Enjoy month three as it shouldn't be stressful.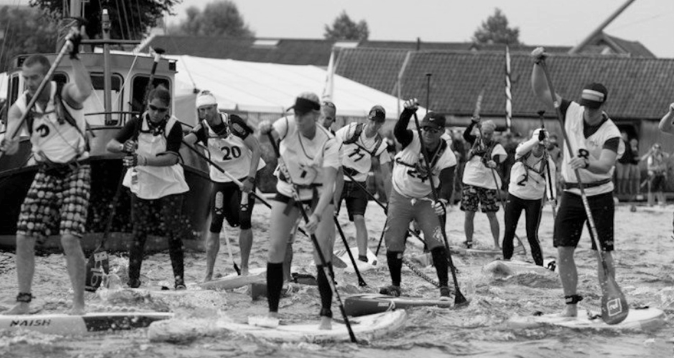 For more info on Ben Swails check out his other features on the 2013 race scene.  Check out Ben's personal website to keep updated with his training.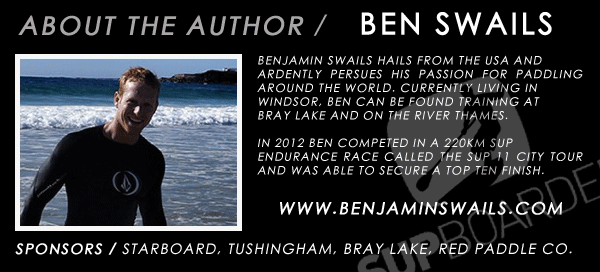 Don't forget, a SUP race challenge is for anyone… you can start by aiming for your first 2km race such as in the Central SUP Midland 5ive race series and maybe one day you will be attempting a SUP marathon! The possibilities are endless, so why not give yourself a SUP race challenge?