Benjamin Swails a regular on the UK and Europe SUP race scene, sums up 2012 and explains what race events we've already got to look forward to and start training for in 2013…
"Speed. Power. Stamina. Strength. My hands are still blistered from the many miles spent training throughout the past Stand Up Paddle (SUP) season. It's been fantastic."
The buzz associated with SUP racing continues to grow throughout Europe and the UK, and for those of us watching from the water, it's been great to see so many newcomers pick up a paddle and commit to this new athletic lifestyle. As the 2012 season comes to a close and we officially move into the off season, it is good to look ahead to see what we might want to begin training for in 2013. Many local shops and clubs have done a great job of starting local races and competitions and provide a great way to get into the sport, meet new people, and develop new paddle skills. Be sure to ask around to see what is happening near you.
In the meantime, here are a few of the unique events already being planned for next season, both here in the UK and Europe. Personally, I plan to attend as many as possible. I hope to see you there.
20/04/13 Head of the Dart – Dartmouth, United Kingdom
The Head of the Dart officially kicks off the British SUP Race Season. The 9 mile race has historical roots as an annual rowing race that takes place between Totnes and Dartmouth. SUP was added to the event four years ago and is now a highly anticipated event throughout the UK SUP community. This race welcomes paddlers of all abilities.
Details will be posted at: www.darttotnes.co.uk
18/05/13 Blue Chip Battle of the Thames – Surbiton, United Kingdom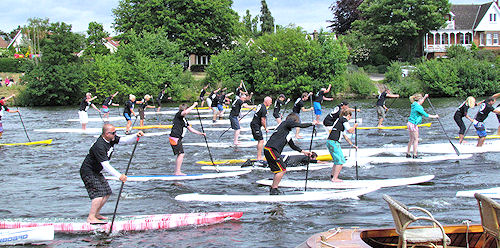 A 10k "Battle of the Thames" race on the River Thames. This event is full of energy and enthusiasm and offers a really unique take on paddling the Thames, just a few miles from Westminster. Last year saw a really great turn out and it is only expected to grow in 2013.
Details will be posted at: www.windsurfer.co.uk
25/05/13 The SUP Race Cup – St. Maxime, France
The SUP Race CUP, also known as The International Mediterranean Trophy, is one of the most difficult combined races on the European calendar. With two races over the course of the weekend, a 7k and 15k respectively, many of Europe's top paddlers treat the event as a full sprint along the French coast. Last year the event featured many top paddlers including: Eric Terrien, Gaetene Sene, Casper Steinfath and Bart de Zwart.
Details will be posted at: www.thesupracecup.com
01/06/13 Lost Mills International – Brombachsee, Germany
The Lost Mills International caused quite a stir in 2012 in beautiful Bavaria, Germany. With $20,000 in cash and prizes, the race drew a stacked field of paddlers from Europe and around the world. The main event is a 13.75km race across two lakes, with an intense 100m run in between each. To make matters worse, last year the race leader averaged an even 10kph pace throughout the entire 13.75km distance. It is fast and not for the faint of heart.
Details will be posted at: www.lostmills.de
15/06/13 Bray Lake SUP Festival – Bray, United Kingdom
New to the British and International Race Calendar, the Bray Lake SUP Festival is forming up to have all the components of a great event. With an aim to attract new paddlers and competitors, highlights will include an SUP Duathlon, featuring a 5k paddle / 5k run as well as a 16 mile adventure paddle. Sprints, board demos, live music and an evening party will really help to celebrate all things SUP.
Details will be posted at: www.braylake.com
06/07/13 Paddle Round the Pier SUP Marathon – Brighton, United Kingdom
Without any debate, the Paddle Round the Pier SUP Marathon in Brighton is by far the most difficult endurance race in the British season. As with any marathon, the endurance and stamina needed to compete in this event is critical. Finishing times in 2012 ranged between five and seven hours. No matter how you look at it, that is a long time to stand on a board whilst paddling on the south coast of England.
Details will be posted at: www.paddleroundthepier.com
4-8/09/13 SUP 11 City Tour – Leeuwarden, Netherlands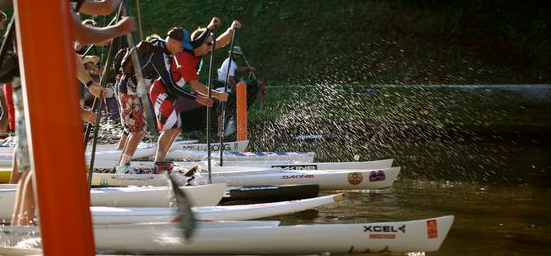 If you can imagine paddling approximately 26 miles a day for five consecutive days in the canals of the northern most province of the Netherlands, you might begin to comprehend the commitment and mental strength needed to complete the 11 City Tour. With over one hundred years of history, the tour began as an ice skating race linking 11 cities in Friesland. Founded by Anne-Marie Reichman in 2009, the SUP version of 11 City Tour now has a reputation for being the most difficult SUP race on earth as the total 220km distance is not to be taken lightly. In 2012, warm and sunny weather helped the top three paddlers complete the combined five day distance in under 24 hours, the fastest time ever logged. Notably, Bart de Zwart remains undefeated after four consecutive years of competing in this epic event.
Details will be posted at: www.sup11citytour.com
TBC/12/13 NAUTIC SUP Paris Crossing – Paris, France
Setting off at first light, racing through the centre of Paris on the River Seine is an experience not to miss. With a course length between 11k and 15k, the NAUTIC SUP Paris Crossing passes many Parisian landmarks and is quickly becoming a trademark race to wrap up the European SUP Race season. Eric Terrien has won the race for three consecutive years. It will be interesting to see if he can maintain his title in 2013.
Details will be posted at: www.salonnautiqueparis.com
Stay tuned to Sup Boarder for more articles by Benjamin Swails to help prepare you for different races and events, at all paddling levels. Topics will include off season training, racing techniques, cross training, race strategies, diet, paddler interviews, etc.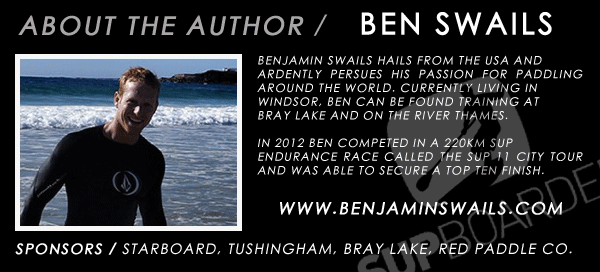 Feel free to contact him if you have any ideas, questions, or feedback.