Another good week for UK SUP, where Sunday brought light winds and even some sunshine, making perfect conditions to polish off a January weekend.
Out in the Channel Islands, the Jersey Frostbite Race Series continues – race 6 took place this weekend. Check out the photos of the SUP racing here . You might spot our featured young gun, Aaron Rowe in the race pictures – it looks like Aaron is putting some good training time in and keeping to his new year resolution, as he told us in his exclusive SUPboarder interview this week – if you haven't read the interview, check it out here.
Down in the South West, ISA World Stand Up Paddleboard UK team member Marie Buchanan is taking a break from race training and has scored some South Devon waves. From the looks of her twitter feed, Marie is fully in the training zone in preparation for her trip to Peru.
Marie's team mate in the Peru event, Abi Barker-Smith has just returned from a pre-worlds training trip to Morocco. Check out this nice little edit from Abi's partner in crime and boss at the the  SUP Hut, Wales, Matt Barker-Smith.
The ISA Paddleboard Worlds will be held in March this year out in Peru, with the UK sending 8 athletes to the event across three different disciplines, including men and women riders.  SUPboarder will be running exclusive interviews with each of the athletes as they prepare for the world championships, so stay tuned.  If all this talk of competition is getting you in the mood for some racing action then check out the Central SUP 5ive series – you don't have to be a pro racer, as its designed to be for the newcomer!
Again, on the competition scene, good news from the Stand Up World Tour, who have announced that they will be including a women's category in the 2013 tour.  Fancy giving it a go??- we definitely would, since you get to go to Hawaii, France, Tahiti, Brazil and the BVI's… sounds better than work to us!  Check out some of the final stages of the surf competition in the BVI's to get a flavour of what you could get involved with.
It seems that the competition scene is live and kicking, but SUP definitely isn't all about competing. It's a way to simply enjoy the ocean, a river, canal, lake or anywhere with some water.  WeSUP in Falmouth have been getting into 'tanker tagging' . Confused?… well so were we!  We will be running a special feature on what it's all about, and how you can get involved on Tuesday.  There are just so many ways you can use your paddleboard.  Check out a sneak preview of the new SUP obsession  in the  pictures below courtesy of Sam Crowther….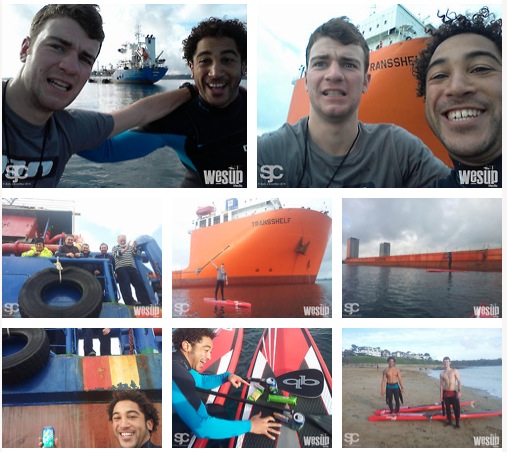 This week has seen some great UK surf, but it's not just been limited to the more consistent spots – we spotted this picture from Hayling Island bar, taken by Steve Barrow from Andy Biggs Watersports. Apparently the bar was sucking up some nice head high sets in the Portsmouth area – perfect for a SUP.  It's a small picture, and taken from a long way away from the bar, so we are confident its pretty big!  We're desperate to see some close up shots of Hayling Bar working, so if you have any from a Go Pro, post them to our facebook page!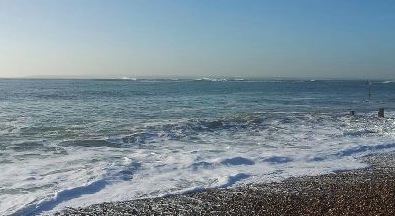 Our feature image this week is from Julia Slack, who can often be found wandering the beaches of the UK taking pictures when not on her SUP – the shot is taken at Whitsand Bay, South East Cornwall today.  Some small waves, perfect for all ability paddle surfing .
That's all for now, but stay tuned to SUPboarder Magazine this week, for top stand up paddle board Videos and Features… we have some great stuff planned. And if you haven't already check out the SUPboarder forum for some good SUP related discussion.  Happy Paddling!