Over the next few months SUPboarder will be bringing you a series of Young Gun features, interviewing some of the UK and Europe's up and coming SUP competition stars.  Across both racing and surf disciplines we will interview a group of motivated & talented athletes.  These youngsters are special, not only because they are the future of paddleboarding competition, but they are challenging the norm and embracing a new and developing sport.  They have recognized the scope possible from the sport and see the wider SUP possibilities. They are the champions of tomorrow, and should they choose to continue could be the innovators in paddle boarding for years to come.
Aaron Rowe / Jersey's Finest
First up we interview Aaron Rowe at just 15 years old Aaron has already made a mark on the UK competition circuit and  appeared on the world stage in the stand up world tour.  Aaron shows incredible talent and at such a young age is certainly one to watch on the water; not just in the future but NOW!  Not only did Aaron win the UK Youth Surf Nationals 2012 in Watergate, but he also managed to secure himself a position on the podium in the men's competition.  Aaron is already challenging the best adult athletes and is certain to make a big mark on the UK scene.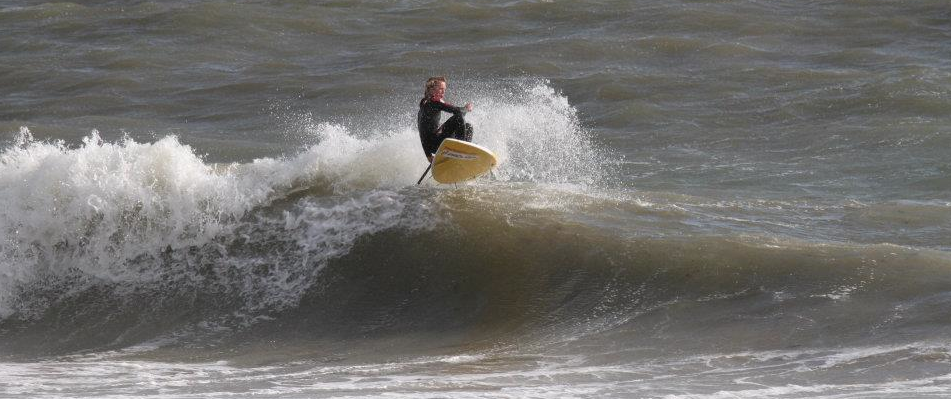 So over to Aaron…
Hey Aaron, thanks for taking the time to talk to us, to start with here is some standard questions we ask all of our 'Young Guns'… 
SB/Where are you from?
No worries! I'm from Jersey.  Big up to the Jersey massive!
SB/How old are you?
15 years old
SB/Which SUP disciplines are you competing in?
Surf & Race
SB/Tell us how you got into SUP?
Well my old man was always a goat boater so I would always be around the sea and I would either sit in the van and watch, or go in the sea.  I started standing up on a body board, then progressed onto a surf board and doing a few contests. I then moved up to a SUP because my dad started getting into that.  I fancied giving it ago because I like showing him up…!
Growing up I spent my time skating, so I have a solid background in board sports.  When I was 8  I started building extremely dodgy skate ramps in my back garden, which would generally end in pain!
SB/Where is the favourite place you've paddled?
Down the Seine in Paris last year… was so sick!
SB/Where is the place you want to paddle the most?
I'm not fussy… much…any place with a long sick left hander which is sunny and hot.
SB/Do you have any nicknames?
ASBO!
SB/Who is your biggest influence in SUP?
My old man – he got me into the sport and supports me loads.
SB/Who are your sponsors, and what are you riding?
Naish UK, Prolimit, Outerlimit clothing, Quickblade UK and gonepaddling.com – Im using he 8'0'' 8'3''  Naish Hokuas and the 12'6'' and 14' Naish Javlings
SB/What paddle length are you using?
All my paddles are cut 9cm above my head.
SB/Goofy or Regular?
Who you calling goofy?! Yeah I'm goofy…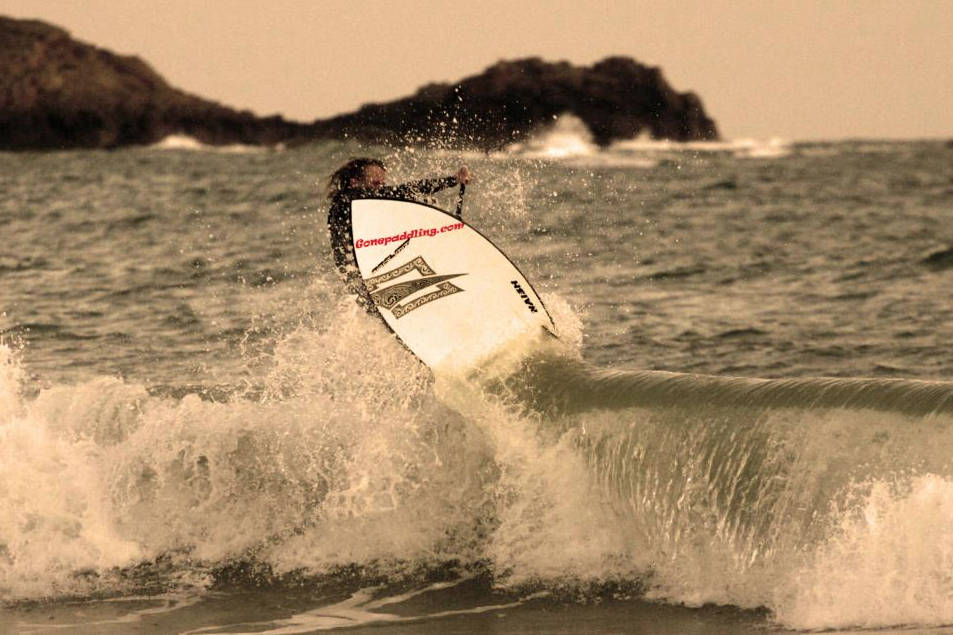 Competition
SB/Awesome stuff – sounds like you are well into your boardsports so SUP has come naturally.  2012 was a big year in terms of competition for you, tell us about your 2012 Stand Up World Tour La Torche event?
La Torche 2012 was such an achievement for me as I entered the men's trials last minute. I won my first heat and carried on advancing till the quarter finals leaving me with 3rd in my heat, narrowly missing my chance to advance into the main event – all I needed was a 2nd.  Since I did my first ever event in 2011 I was pretty pleased with how far I got.
SB/What is Jersey like for SUP – is there a friendly attitude in the water?
Yeah it's pretty sound.  We have some fun waves that only SUPs and longboards can ride around, and a very friendly attitude.
SB/What's the competition scene over there like?
We have a frost bite race every 2 weeks but no surf contests unfortunately.  I would like more events, particularly in the UK.
SB/How do you train for the events?
'Training' is my new year's resolution… currently I'm not that focused on it I just lounge around, and eat food when I'm not on my board.
SB/What are you goals for 2013 – what will you be competing in and how do you want to rank?
It would be sick to rank higher than 3rd in the men's British Championships.  It will be hard but I'm motivated to do it.
SB/What do you consider your best results?
2x Under 16 British champion ('11 & '12), but I also finished 3rd in the men's category in the 2012 Watergate Surf Nationals.
SB/It was wicked to see you ripping at the Watergate event in October….When receiving his thanks for all the help he has given the UK SUP scene at the event 2012 , Gareth Grant mentioned yourself as the future of the sport  – how did a comment like that make you feel and did it motivate you?
Totally – it felt good to know that people are realizing juniors amongst the men and it's motivated me to keep at the sport and not give up.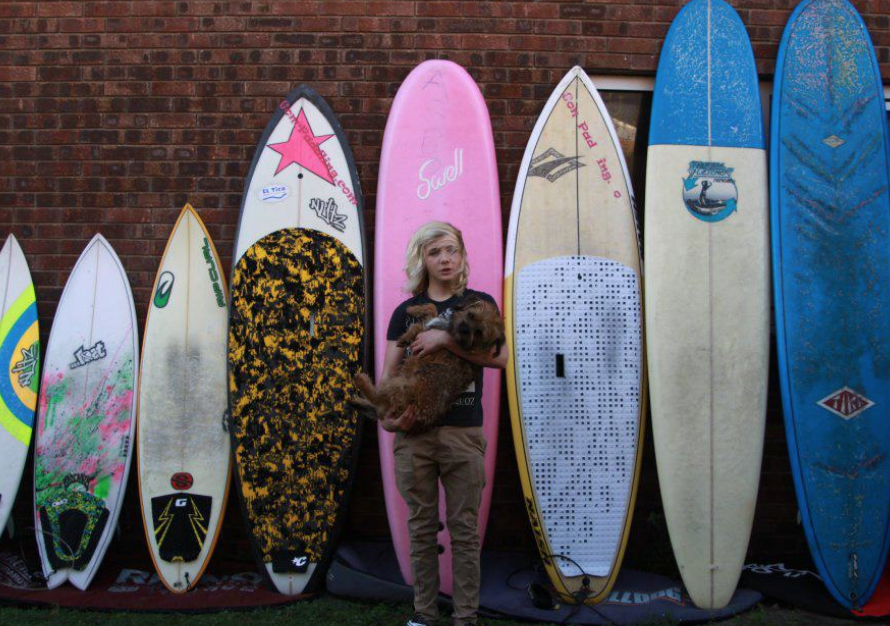 AARON'S SUP WORLD
SB/Its great that you are taking real motivation from guys like Gareth, now back to the banter – Which is better Jersey or Guernsey?
Jersey of course!
SB/Is SUP cool?
Well I do it so of course it is!
SB/Who is your ultimate SUP hero?
Just this guy that I look at in the mirror every morning.  [maybe we should ask how big his mirror is…! – Ed.]
SB/Laird Hamilton – Mad man or Legend?
Both!
SB/Inflatable SUP's – Cool or Stupid?
Amazing – the Naish 12'6 Inflatable is great fun.
SB/Do you think SUP will ever be in the Olympics – would you go for it?

I think it should be in the Olympics and yeah I think in time it will be – If I wanted to try to get to the Olympics I would have to get over my laziness and train!
SB/Finally – any words of love for the readers of SUPboarder Magazine?
I love you all!!!
Thanks Aaron – we are looking forward to following you this season, happy paddling…and don't look in the mirror too much!
Aaron Rowe is supported by: Naish UK, Prolimit, Outerlimit clothing, Quickblade UK and gonepaddling.com – and using the 8'0'' and 8'3''  Naish Hokuas and the 12'6'' and 14' Naish Javlings
Pictures by Tim Rowe