Fanatic have released their 2023 line up for hard composite SUPs. Some great new additions plus changes to their whole paddle range.
Let's take a look into what is new for 2023.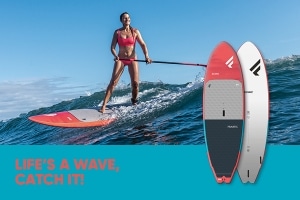 The 2023 AllWave comes in a completely new shape. Sizes available are 7'9″, 8'2″, 8'7″, 8'10" and 9'2″.
• New compact outline: Shorter overall length for paddling comfort and easy surfing in less powerful waves
• New rail shape for stability, security and clean turns
• Sharper rails around the tail for acceleration and grip while turning, rounded rails in the nose area for easy surfing
• Lightweight domed deck for more volume in the stance area
• New extreme bottom shape: Deeper single concave in the stance area turns into a double concave and into a pronounced V-double concave between the fins
• New bottom shape for intuitive rail to rail surfing and speed in turns without losing grip on the rail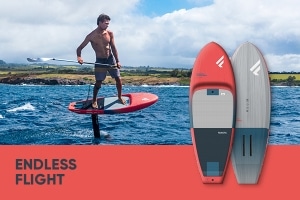 The Downwinder was developed for one purpose only: To paddle on the foil as easy as possible and to surf any kind of swell as long as possible. Available in 5'10" and 6'2″.
• Stretched outline for more speed and smaller foils
• Extremely large volume in the nose for better pumping
• Lowered deck for more paddle control and more direct foil control
• Round nose for easier pop-up and controlled touchdowns
• Rounded rails in the front of the board prevent clipping on touchdowns
• Beveled rails in the tail for better release when getting on the foil
• Tail kick for easier pop up and free pumping of the board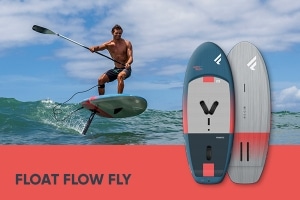 The 2023 Sky SUP is a compact SUP foil board perfect for shredding any size waves on a foil.
• Recessed deck shape for more stability, direct connection to the water, early flight and maximum leverage for pumping and turning
• V bottom shape in the nose which transitions into flat in the back half of the board for early take-off, clean water release and less sticky touch downs
• Beveled rails from nose to tail to help the rail clear the water during tight turns
• Kick tail for a tight transition of a small wave while still giving the board plenty of clearance to pump and turn
• Nose keel to help the board tracking in a straight line when paddling out through the lineup and while catching waves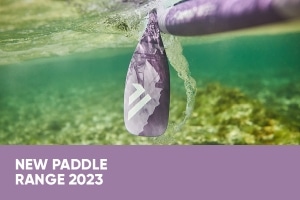 The newly developed paddle range is designed for everyone: From beginner to pro rider, for all genders and ages. A highlight of our 2023 paddle range are the completely redesigned blades for a super controlled stroke with better traction and a higher efficiency as well as the newly developed thin paddle shaft with a thinner diameter. This leads to a significantly improved handling while keeping the same stiffness when paddling.
The Anti Twist System on all adjustable paddles makes sure that handle and blade are always lined up correctly and never twist. Available with a 7.3″ or smaller 6.9″ blade and a newly developed thin diameter shaft with only 26mm or 28mm diameter. All paddles come with integrated ABS blade protection and the adjustable versions have a range from 170-220cm.