Casper Steinfath has just completed the 120km SUP Foil across the Kattegat Sea from Denmark to Sweden! Viking Crossing 3.0.
In what is by far one of Casper's greatest achievements, he has again managed to cross a Sea using a form of SUP discipline. This time, his challenge was to cross the Kattegat Sea by SUP Foil, a 120km stretch of water between Denmark and Sweden.
**Press Release: Casper Steinfath
The 27-year-old paddle surfer had to dig deep into the mental and physical bank to become the first to cross the Kattegat on a SUP hydrofoil board downwind. He covered the 123 kilometres in 10 hours and 53 minutes.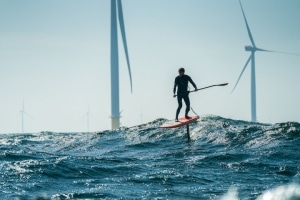 Seven kilometres before the finish line in the small port town, Bua, north of Varberg at the Swedish west coast, wind and waves suddenly disappeared. Casper Steinfath had only two choices: Give up or fight the last part lying on his board and paddle in a prone position with the foil underneath him. He was grounded seven kilometres from the coast but he chose the to keep fighting.
"I couldn't get my foil flying. I was grounded seven kilometres from the shore with no wave and powerless legs. I was toast. But I could see my destination, and my arms were still working, so after a few hours, I came ashore," – Casper Steinfath.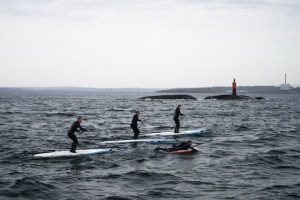 When he was most disillusioned and the crossing was hanging in a thin line, help came from an unexpected side. Casper Steinfath's longtime coach, Magnus Lindstedt, suddenly showed up on a SUP and paddled Casper Steinfath home along with a handful of local standup paddlers.
"I got tears in my eyes. Suddenly, I saw my coach, and he gave me the belief that I could paddle home. It was a huge surprise and meant everything," – Casper Steinfath.
The script was written entirely differently when he took his first paddle stroke in the Port of Grenaa on the Danish east coast Sunday morning. But the problems already started when he came out on the open water after just few kilometres. The wind was more easterly than expected, and Casper Steinfath had to paddle with a significantly elevated heart rate close to max to fight against the elements.
"I was close to giving up several times. The first time was actually after 10 kilometres. I worked at 198 heartbeats per minute, and I was super scared to give up before Anholt. I had very dark thoughts racing through my mind – fear of giving up and fear of failing. I would feel so bad about myself if I did not give myself 110 percent."
But eventually, he could see the Swedish west coast and the lighthouse in Bua, where a small crowd of local Steinfath fans had been waiting for hours for the six-time world champion.
I'm glad it worked out. Not least because, it just did not go as I expected and instead into much more than a simple battle of crossing an ocean. Kattegat gave lots of resistance and did not make it easy, but that made it even more rewarding and meaningful to complete this adventure."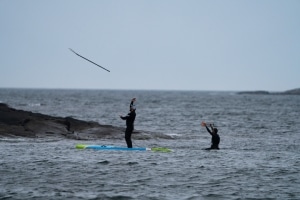 Casper safely completed his 10hr 50min foil yesterday, Sunday 9th May, 2021. See all the action below on his Instagram channel.
View this post on Instagram
View this post on Instagram
View this post on Instagram
View this post on Instagram
We are all so proud of Casper's ability to push the limits of our sport. More details to follow as they come to hand.