Understanding the weather and your local paddling conditions are essential if you're wanting an enjoyable and safe paddling experience.Last summer Oona Tibbetts co-founder of Wild SUP Tours set herself the challenge of paddleboarding the "Wild Atlantic Way' 2100km along the west coast of Ireland.Unfortunately unsettled weather and tricky paddling conditions meant Oona was unable to complete her paddle last summer. But it hasn't put her off and Oona plans to finish her SUP challenge this year. Sharing her experiences Oona explains why considering the weather, tides and local landscape is so important. And why the weather is always the boss!
What is the first thing you do when you decide you want to go stand up paddling?… If your first answer is not check weather conditions, I'd recommend you rethink!
"Paddling in the right conditions is a wonderfully fulfilling experience while paddling in adverse ones is no fun at all, and can even be downright dangerous."
As an outdoor adventure sport, stand up paddle boarding is hugely affected by weather conditions. Paddling in the right conditions is a wonderfully fulfilling experience while paddling in adverse ones is no fun at all, and can even be downright dangerous.
Last winter I decided that when May 1st hit, I was going to start paddling up the entire west coast of Ireland, or the Wild Atlantic Way, as it is locally known. I had that goal in mind and I prepared, both physically and mentally, to achieve that goal before the summer was over. However, wind and sea conditions meant that in that end, that goal was unattainable (last summer!) I'm already looking forward to trying again next year!
"There are many factors to consider when determining appropriate paddle conditions."
May 1st arrived, the wind was light, the sun was shining, it seemed perfect. I set off with my board fully loaded for the first time. Things quickly went downhill from there and I covered a third of my desired distance. The launch went from pure jubilation to downright frustration and tears in under 10km. The bags piled up acted like a sail and I had underestimated the cross wind. I learned quickly after that to pack lighter and smaller and to start reading the lay of the land more thoroughly.
There are many factors to consider when determining appropriate paddle conditions. Wind is, of course, a huge player but the actual topography of the land can change the wind too, as well as the tide and the swell being key factors as well. Wind doesn't just blow straight, it wraps around hills, buildings and trees. It creates little vortexes and eddies at the bottoms of cliffs. This means you have to look, not only at the strength and direction of the wind, but at the actual lay of the land as well when planning a paddle. The tide coming in or going out creates a current of at least one knot and it can be much stronger in certain places.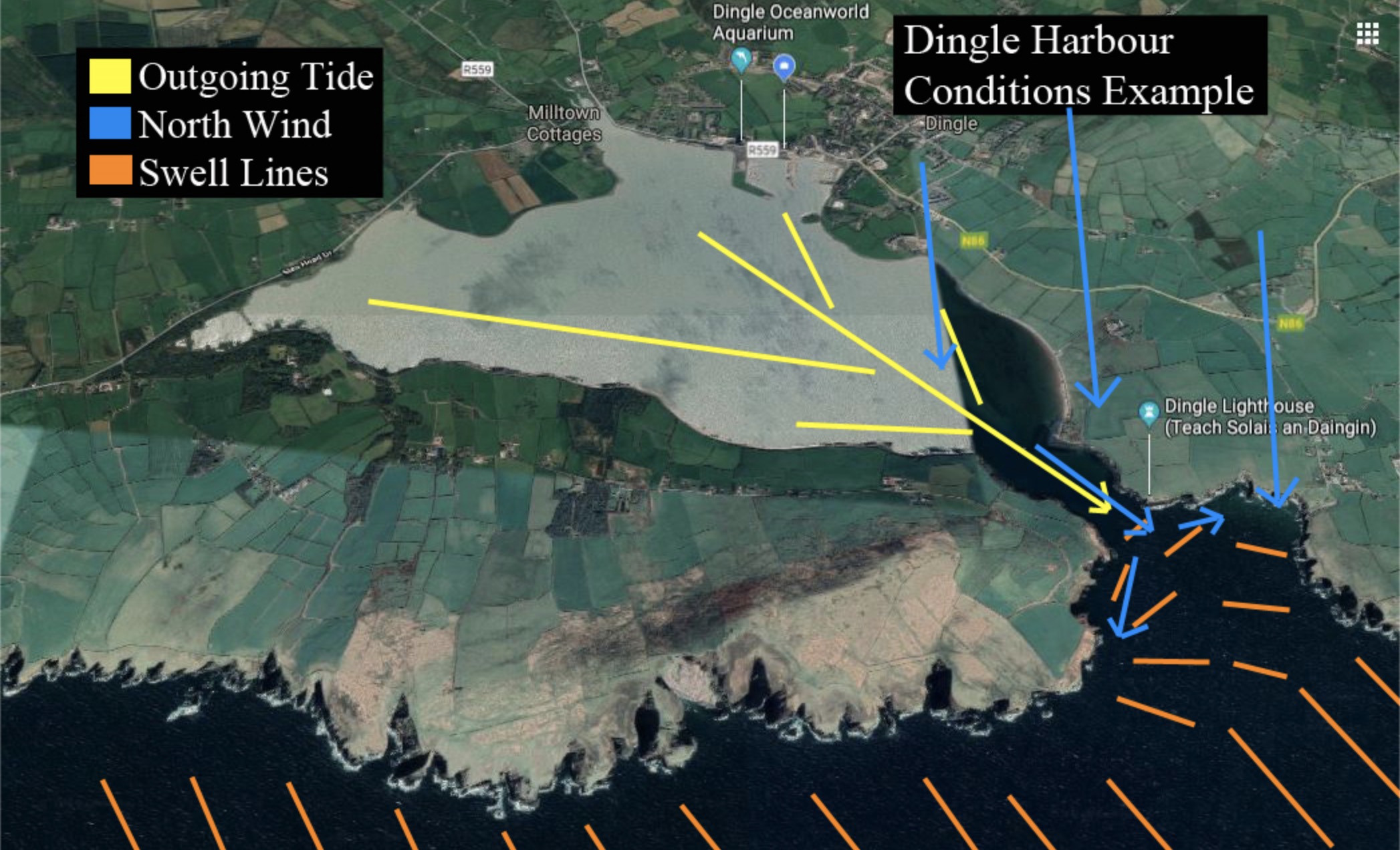 The tidal current at the mouth of Dingle Harbour, where my business Wild SUP Tours is based, can reach 9 knots. That is part of why we don't rent equipment out. It could be downright dangerous if someone launched and didn't know what to expect. The tidal currents around headlands can be stronger as well. Over time, those currents can have a huge effect on your paddling, either with you or against. If you are looking to paddle in exposed water, ocean swell is a real consideration. Will you be paddling over sandy beaches, reefs, or under cliffs? Swell behaves differently in each area so keep an eye out for white water and adjust your route accordingly. Know your own physical limits as well. How long can you realistically paddle into a headwind or against the tide? How steep a wave can you actually handle before it becomes dangerous?
I was about 500km into my journey when I was preparing to cross the Shannon, Ireland's largest river. I had been speaking to local water users in the area and had heard the currents could be strong and behave unusually near the cliffs. So, I decided to make the 15km open water crossing straight for Loop Head. I launched so that I would be hitting the middle of the estuary at high tide when there was little movement in the water. What I failed to realise was that that would mean I would be reaching the headland just as the tide started to go out with more strength, with an off shore wind to boot and paddling my new board for the first time fully loaded, it meant I was quickly being blown out to sea. This was the only time in my journey that I felt genuinely concerned.
One of the things that differs from watersports to land sports, is that when you set off on the water you can't really stop for a real break until you are back on land. When cycling or running you can, more or less, take a break whenever you so choose. This is not the case when on the water. You may be tired, your muscles might be burning, you may be desperate for a drink of water or bite of food, but if you are on the water, unless conditions are perfect, you cannot stop. The situation will only get worse if you do.
As I was getting swept out to sea, as I rounded Loop Head, I gritted my teeth and started to paddle harder. I'd barely eaten anything that day and had drunk very little water, I was tired and hungry, but I had no choice. My only viable option was to paddle harder and head back towards land.
"I cannot stress enough the importance of checking weather conditions."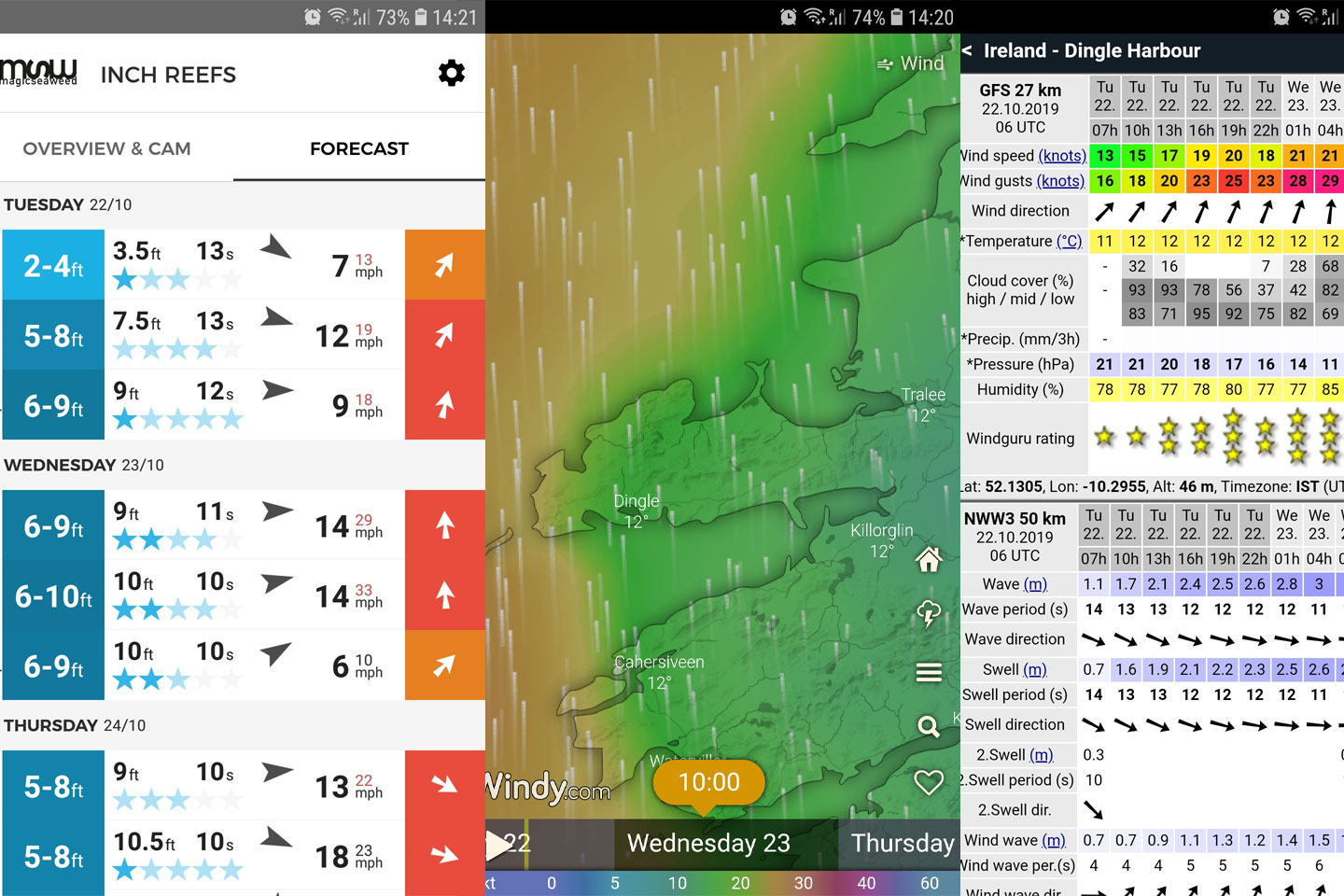 I cannot stress enough the importance of checking weather conditions. I use a few different apps for wind forecasts: Windy, Windguru, and PredictWind are my favorites. For ocean swell, I check Windguru and Magic Seaweed. For tide times, I'll google the local area or closest local beach or harbour. One of the best things you can do, especially if you don't know the area, is to ASK A LOCAL! Ask a fellow water user, surfers and fisherman are particularly knowledgeable and have proven to be invaluable sources of information for me. Never assume you know.
There is a short sound at the tip of the Beara Peninsula in West Cork called Dursey Sound and I was getting close to paddling through it along my journey up the west coast. The tidal currents were notorious, but everyone I spoke to had a different idea of when would be the best time to paddle through and all were conflicting. I finally got the answer I needed when I spoke with a local fisherman who lived on the island. I reached it an hour and a half after low tide, as he recommended, and let the strong north current of the incoming tide help me through. I flew along, even with a strong northerly headwind, the water was incredibly rough as a result but I made it through easily. In this case, the current was stronger than the wind. I often find the opposite to be true.
If you waited for perfect conditions every time you went out, especially in Ireland, you wouldn't be paddling very often! Sometimes you have to make the most of less than perfect conditions.
But before you head out on the water ALWAYS…
Check weather conditions/forecasts
Look for sheltered spots or paddle downwind.
Work with the water never against it.
Be prepared to compromise and be willing to change your plans.
Know your limits and take those into account when planning your paddle.
Talk to locals and other paddlers
Inform someone on land when you will be launching and when you will be back in.
Bring along some sort of communication device with you when you do go out, just in case. It never hurts to be over prepared.
Know and check your equipment
Check the conditions again!
"Never take the water for granted, the water will always win."
Stand up paddle boarding, and SUP Touring specifically, is an incredibly rewarding sport. I can't recommend it highly enough.  The right conditions and planning can make your paddle experience a true delight.  However, never take the water for granted, the water will always win. Be smart, be aware, check the conditions, check them again and then go out onto the water and have the time of your life!
Feel free to get in touch with us at Wild SUP Tours, for SUPing around Dingle, on the West Coast Ireland. We'd be more than happy to share our local knowledge and SUP love.
We hope the Irish weather is kinder to you this summer Oona and you're able to complete your paddle challenge. Good luck!