POENAIKI RAIOHA CONTINUES HIS MOMENTUM WITH A WIN AT SUNSET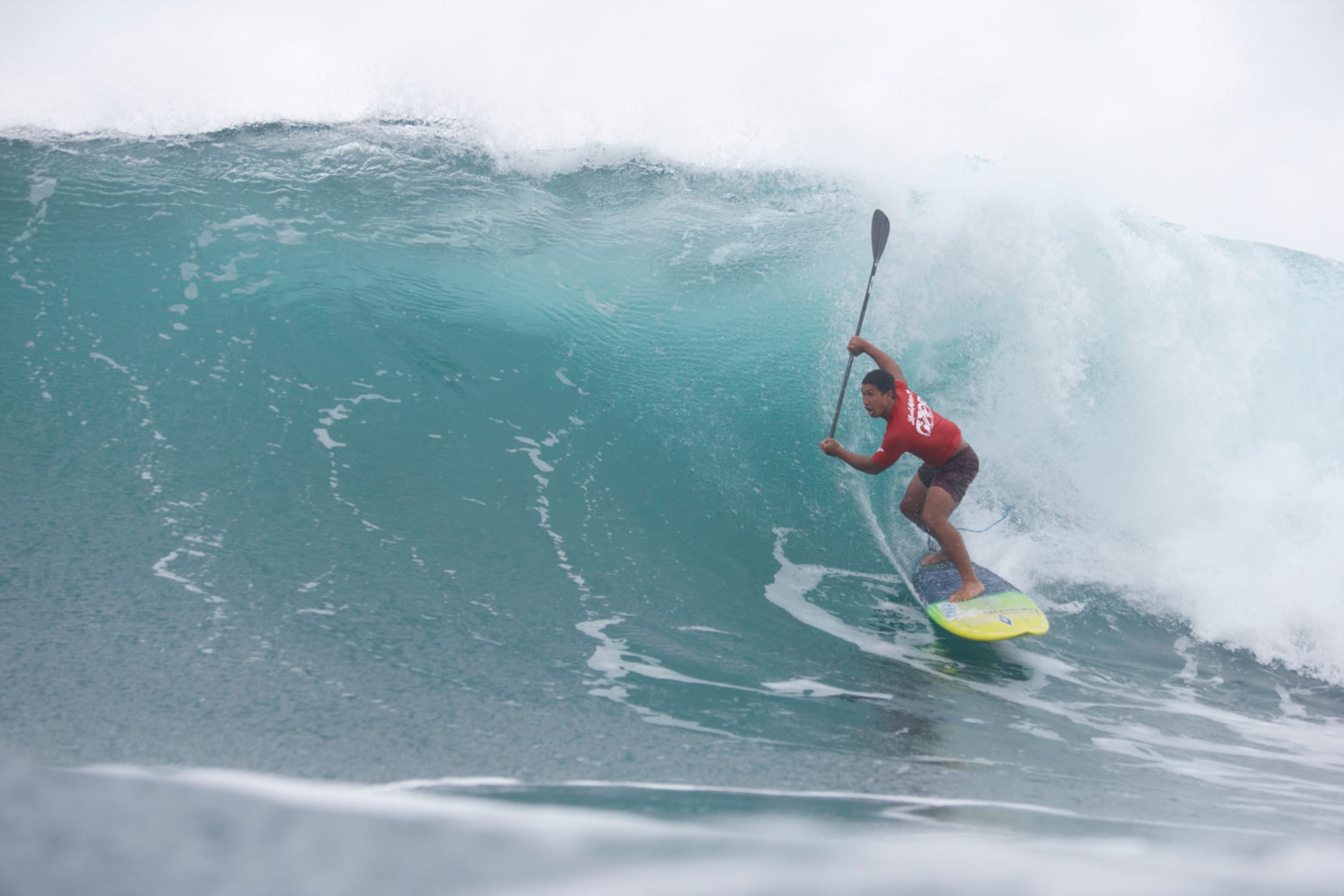 Poenaiki Raioha continues his momentum from Las Palmas de Gran Canaria to take victory at stop #1 of the APP World Tour
-
Sunset Beach, Oahu: 19th February 2019: After an incredibly tricky holding period filled with storms, incessant rain, devil winds, thunder and lightening, the APP World Tour was blessed with a pristine final day of action today to wrap what has been, when all is said and done, a spectacular event.
With clean lines and offshore winds finally contrasting the seemingly neverending onshore pattern of the last few weeks, the World's very best put on an exciting display of performance surfing at Sunset Beach.
Poenaiki Raioha from Tahiti has looked like the man to beat throughout the holding period, with flawless, and powerful rail surfing that has been turning heads all week, and coming into Finals Day, he seemed focused and ready for the job at hand.
However, through Round 4 and the Quarters, he was looking a little less alive than he has been previously, not able to find the waves he was looking for, but still putting together a solid performance.
In the semi finals, the waves went a little slower, but Poenaiki found enough to win the heat and earn his spot in the final. Once there, the conditions turned on and he put on a performance for the ages, unleashing full power rail turn after rail turn, posting a near perfect score and backing it up with another score in the excellent range, comboing the other 3 athletes in the heat to take his first victory here at the Sunset Beach Pro presented by Local Motion.
Today, Poenaiki once again made Tahiti proud, and also made his intentions for the 2019 season very clear: he wants the World Title and he has the first notch in the belt on his way there with 3 more events to go this year….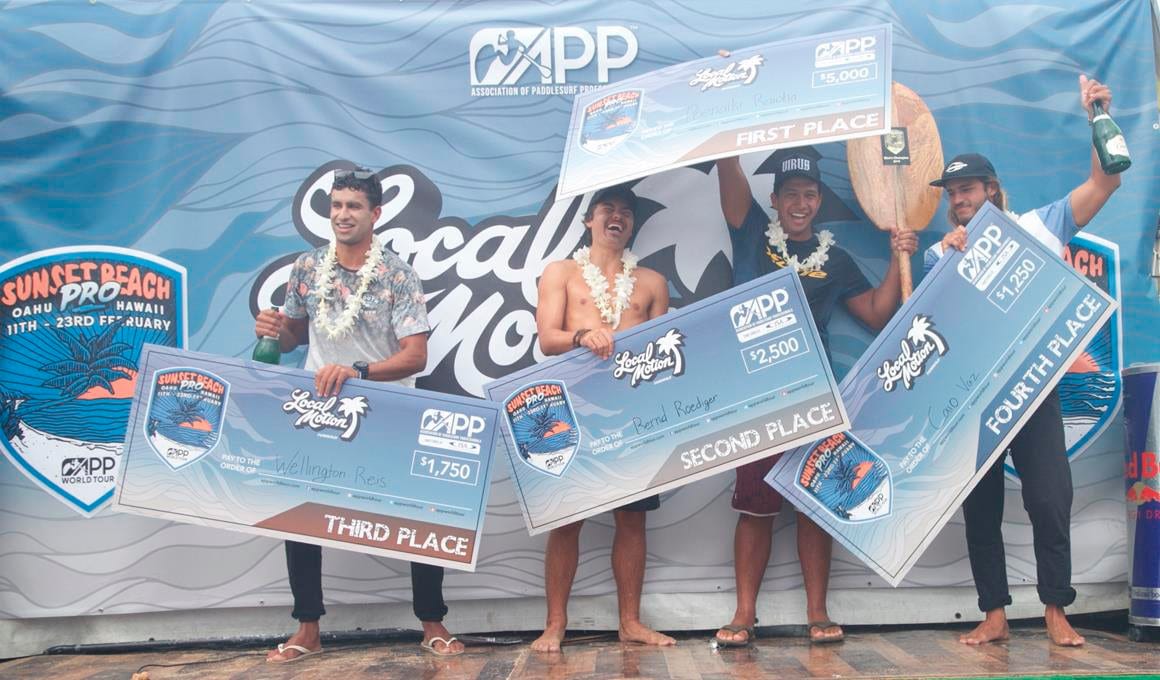 Bernd Roediger once again demonstrates his comfortability at Sunset Beach to take a well deserved 2nd place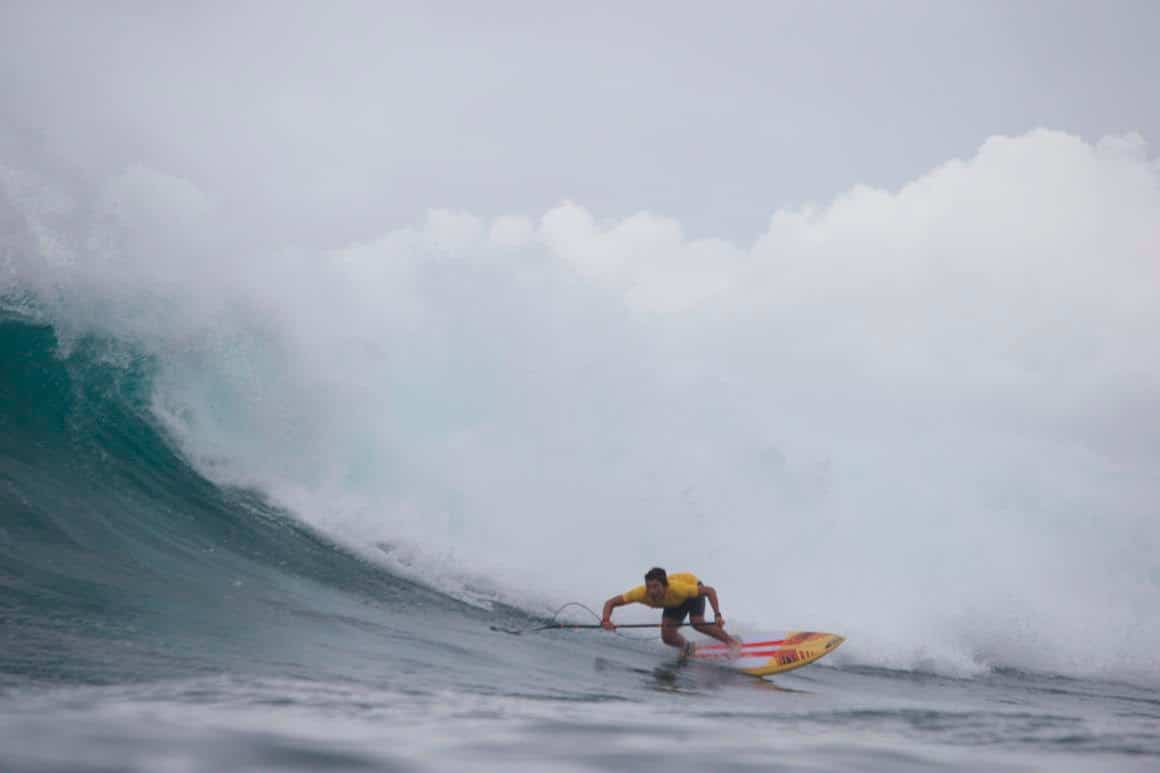 Bernd Roediger from Maui is no stranger to the Finals here at the Sunset Beach Pro presented by Local Motion, with multiple appearances over the past few years as a testament to this. However, this year, his surfing has been on point, as he has drawn clean, fluid lines across the Sunset walls throughout the week, finding the right sections to hit and making it count to progress all the way to the Finals.
While he was unable to overcome the mighty Poenaiki Raioha in the Final showdown of the event, he put on a solid performance, and was able to secure 2nd place for the event, a result that will prove incredibly valuable as we embark on the 2019 Title Race with 3 more events to come this year in New York in September, Barbados in November and of course ending once again in Las Palmas de Gran Canaria in December.
Wellington Reis puts on a masterclass in surfing Sunset on his backhand to take 3rd place at the Opening stop of the Tour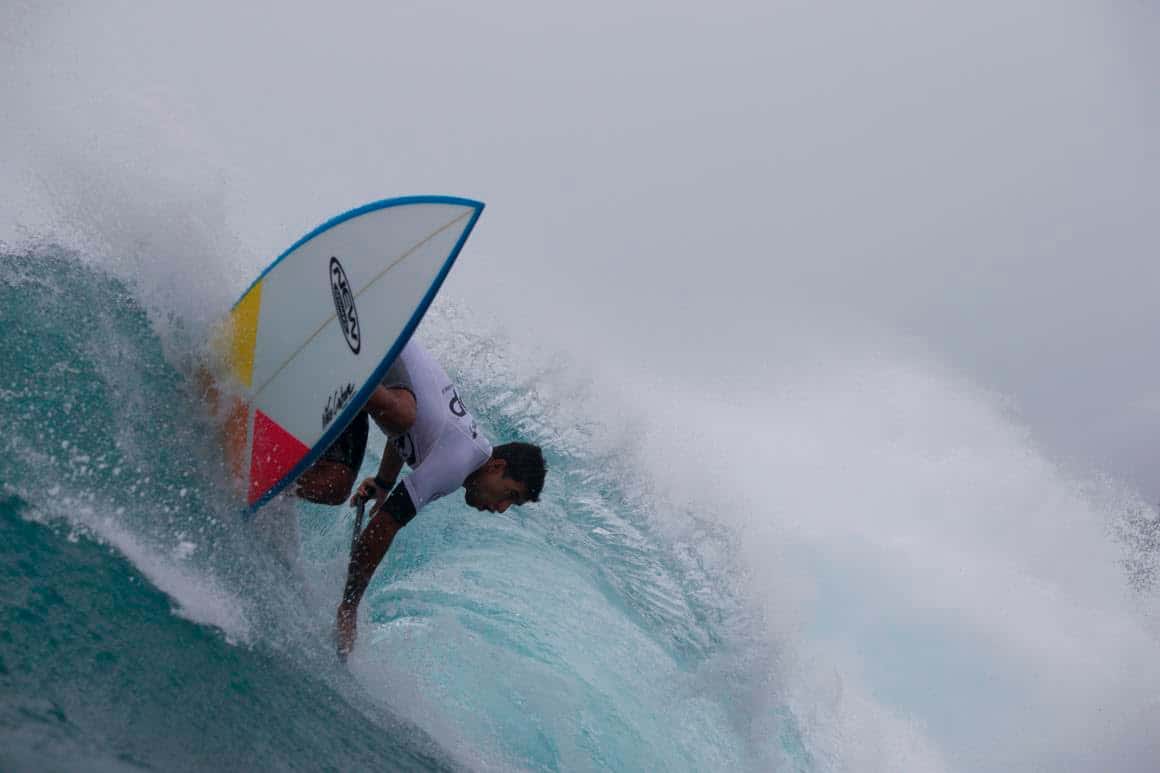 Wellington Reis turned heads back in New York with a mindblowing display of flawless surfing in the tricky beachbreak line ups. While he had a good showing in Las Palmas de Gran Canaria and was able to finish in 5th overall for the year in 2018, coming into Sunset Beach, the unknown was how his surfing would adapt to the powerful and tricky Sunset Beach line up.
Wellington well and truly answered that question today after a putting on a masterclass of performance surfing on his backhand at Sunset Beach and making it all the way to the Final at an event that is notoriously difficult to do well in on your backhand.
As we look past Sunset to the year ahead, it is hard to put a finger on Wellington's weaknesses, as we look forward to see what is setting up to be one of the most exciting Title Races yet unfold in 2019 in which, Wellington Reis will no doubt feature heavily.
Caio Vaz returns to great form to make the final and finish in 4th place, kicking off his 2019 season the right way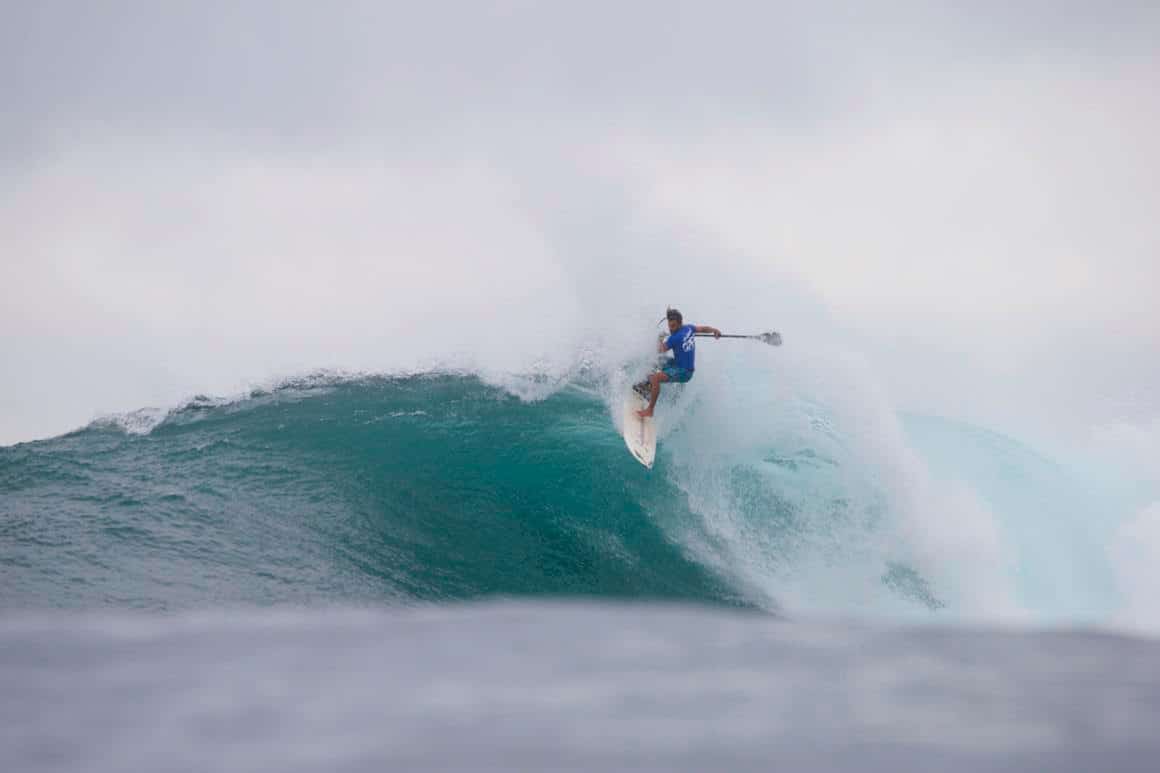 Caio Vaz is back and is looking stronger and more dangerous than ever. While he is still so young, he, along with fellow Brazilian World Champion Leco Salazar are now the leaders of Stand Up Paddling's very own Brazilian storm: with riders such as Luiz Diniz, Wellington Reis, Matheus Salazar, Bezinho Otero, Lucas Medeiros, Marcio Grillo and many more lining up to take on the best of the best on the APP World Tour, it is an exciting era for Stand Up Paddling in Brazil
With regards to Caio's performance at Sunset, he once again showed that he has a great connection with this wave as one of only 4 winners out of the 9 years of the Sunset Beach Pro, with 2 wins to his name.
In 2019, a finals finish saw him throw everything at it to take the win, but had to settle for 4th place. While 4th place is not a victory for Caio, it is still a great start to his season, especially coming off a long injury that sidelined him for the majority of the year in 2018 and from which he still isn't 100%.
Rui Horikoshi makes Japan proud by taking victory in the U18 division of the Sunset Beach Pro presented by Local Motion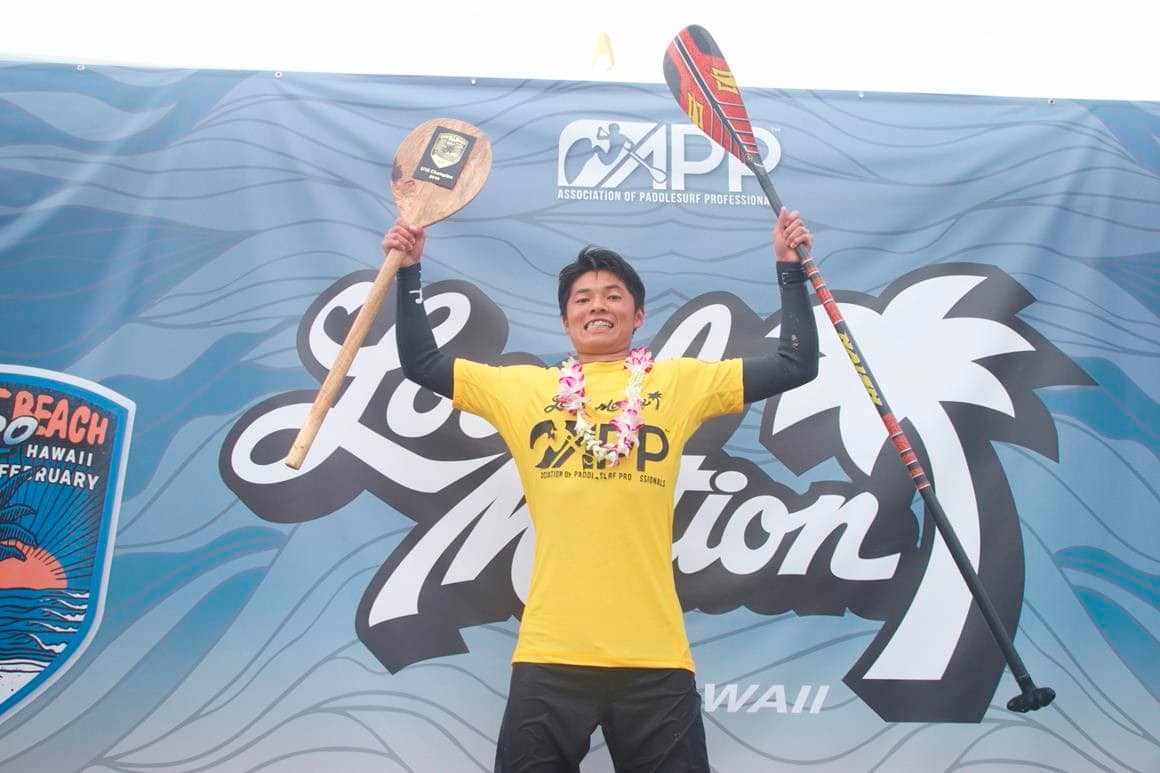 Japan is one of the fastest growing regions for Stand up Paddling in the world right now, and the influx of young talent coming from Japan onto the APP World Tour is a clear testament to this, with the Sunset Beach Pro presented by Local Motion proving to be a true testament to this.
Rui Horikoshi put on an impressive display in the Main event, as did his compatriot, So Nomura, as the two made their presence felt and did their country proud.
In the U18 division (Rui is just 16), Rui took it a step further today to take the well deserved win ahead of the on form Maximilian Torres from Puerto Rico in 2nd, Leonardo Gimenes from Brazil in 3rd and So Nomura from Japan in 4th.
Derek Hama makes a dramatic comeback in the Masters division to take victory on his home turf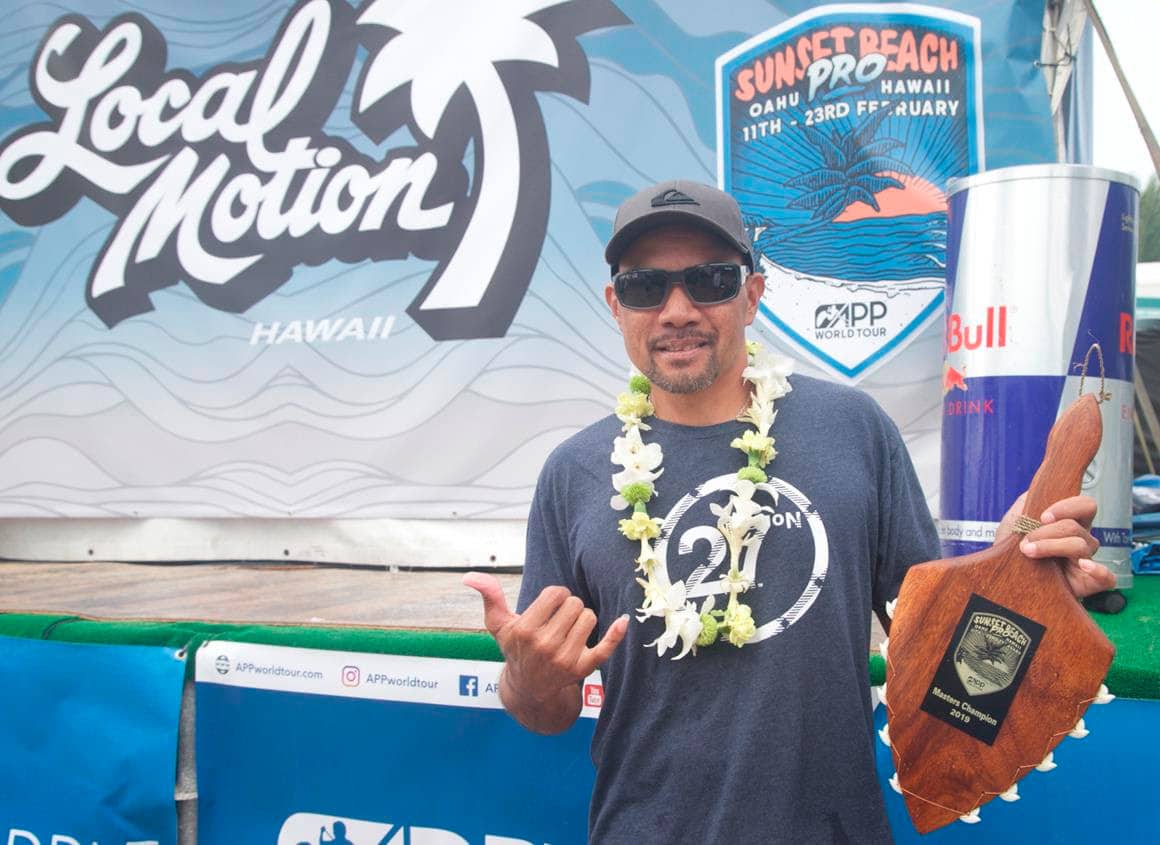 It was a local affair for the Masters Division of the 2019 Sunset Beach Pro presented by Local Motion, as 4 Hawaii athletes stepped up to do battle in pristine surf on tap at Sunset Beach today.
After a disappointing finish in the Main Event, Derek Hama came back strong in this Masters heat to overcome his competitors and take the well deserved victory ahead of Pete Lakos in 2nd, Jimmy Kress from right here at Backyards in 3rd and Jonny Kahakaloha in 4th.
It was great to celebrate the complete spectrum of competition here at Sunset Beach, from 9 year old Bobo Gallgher who took on full sized surf on Sunday, the Pro Men and Women who once again raised the bar of performance SUP surfing, to Masters, who put on a great display out at Sunset today: the sport of SUP Surfing continues to evolve and grow and the future is clearly bright.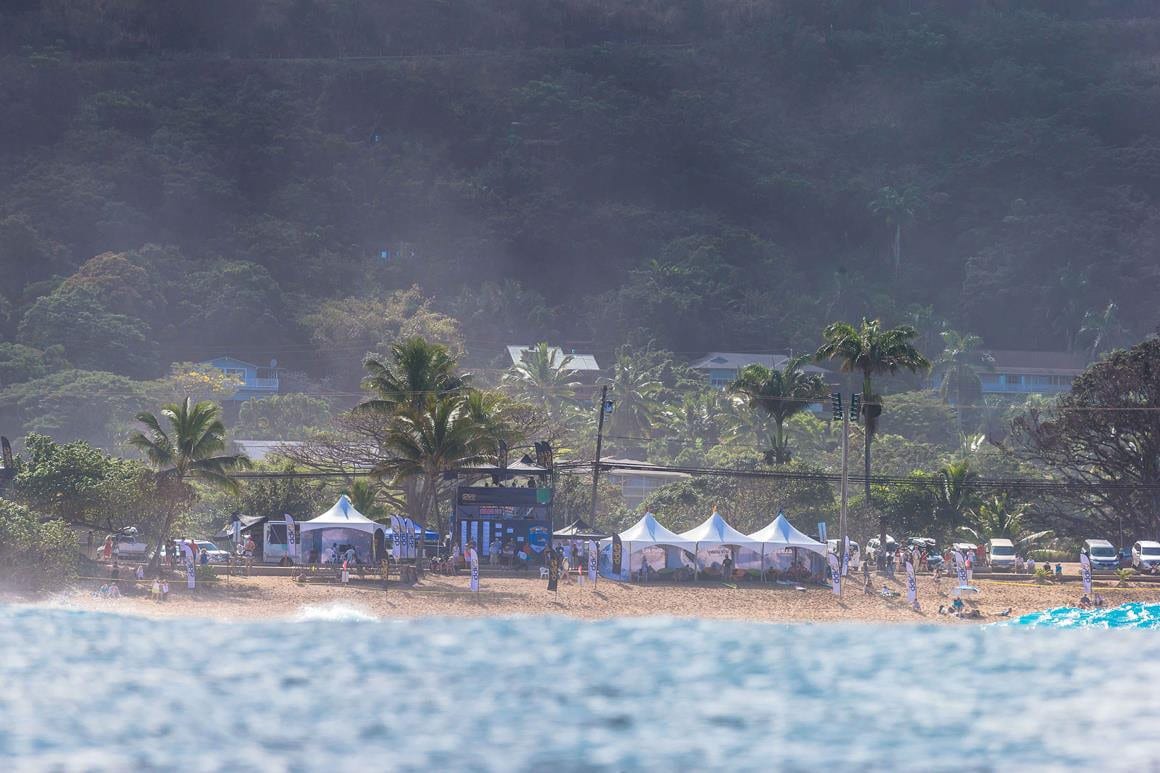 While the performances from all our APP World Tour athletes set a new bar and delivered a spectacle like no other, one thing is for sure: Sunset Beach was still the star of the show, wowing the crowds with its unpredictability, power and spendour, and while this was perhaps the trickiest forecast the APP World Tour has seen in its 10 years on the North Shore, Sunset Beach still did not disappoint, delivering pristine surf on the final day and a very complete and exciting challenge on the opening two days of competition.
With Sunset Beach now secured as the Opening stop on the APP World Tour thru 2021, we can't wait to come back to what has become the proving grounds for performance Stand Up Paddling here on Oahu's North Shore.
Next up: Long Beach, New York from the 31st – 5th September for the APP World SUrfing Tour, followed by Bathsheba, Barbados from the 9th – 17th November and Las Palmas de Gran Canaria from the 11th – 18th December.
FIONA WYLDE WINS THE 2019 SUNSET BEACH PRO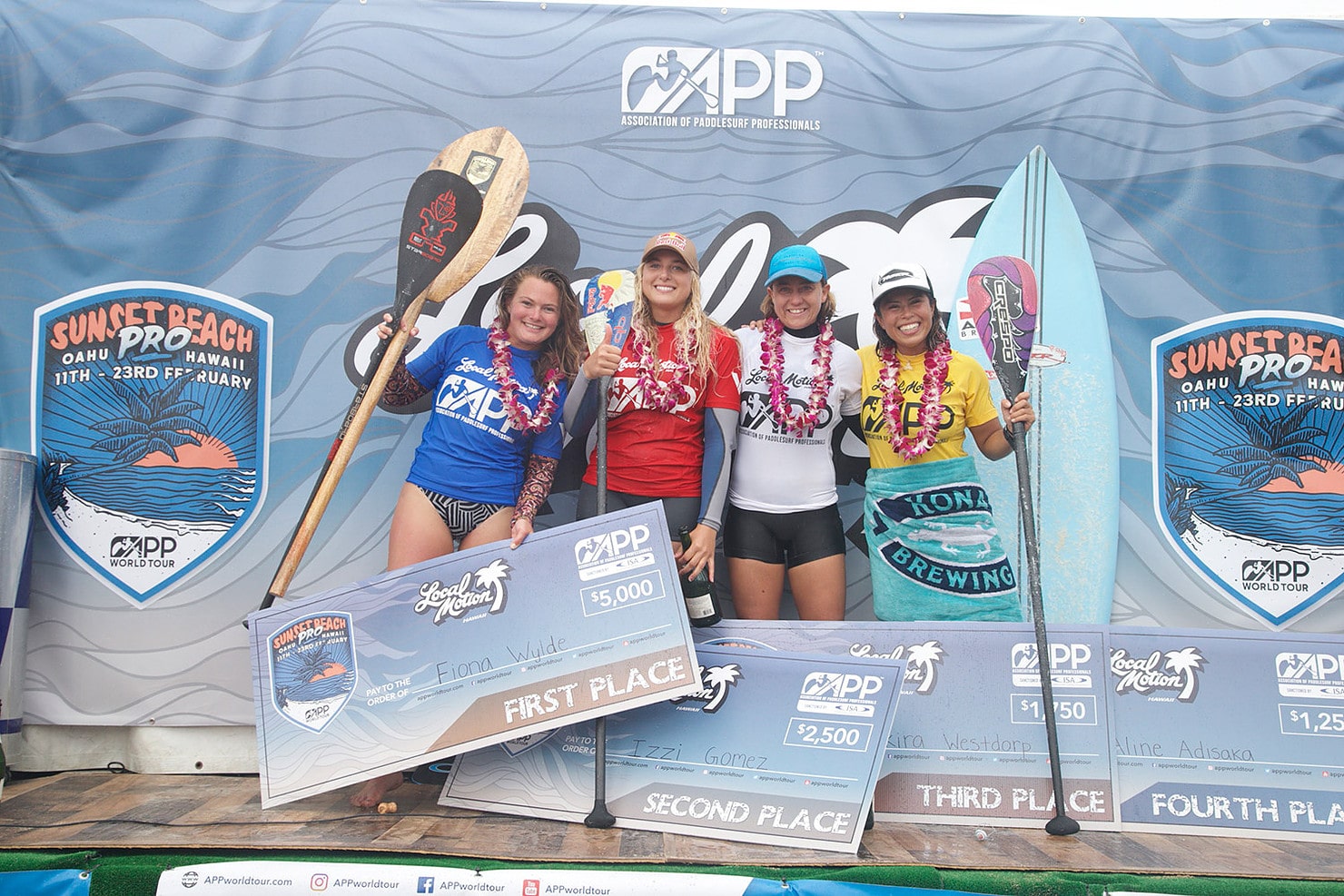 Fiona Wylde wins the 2019 Sunset Beach Pro Presented by Local Motion in a tightly contested final in solid surf.
-
Sunset Beach, Oahu: 17th February 2019: After a dramatic and challenging day of competition, Fiona Wylde has been crowned Sunset Beach Pro Champion for 2019. In the lead up to the event, Fiona was looking quietly confidant and self assured in the tricky line-up at Sunset Beach, rapidly gaining respect amongst the local community for her approach, positioning and bravado at this powerful North Shore break.
This carried on through the event itself, as Fiona calmly worked her way through the rounds to make the final, and put on a performance to remember, picking off the best waves of the heat and surfing them with speed, power and flow.
Results:
1) Fiona Wylde (USA)
2) Izzi Gomez (Columbia)
3) Shakira Westdorp (Australia)
4) Aline Adisaka (Brazil)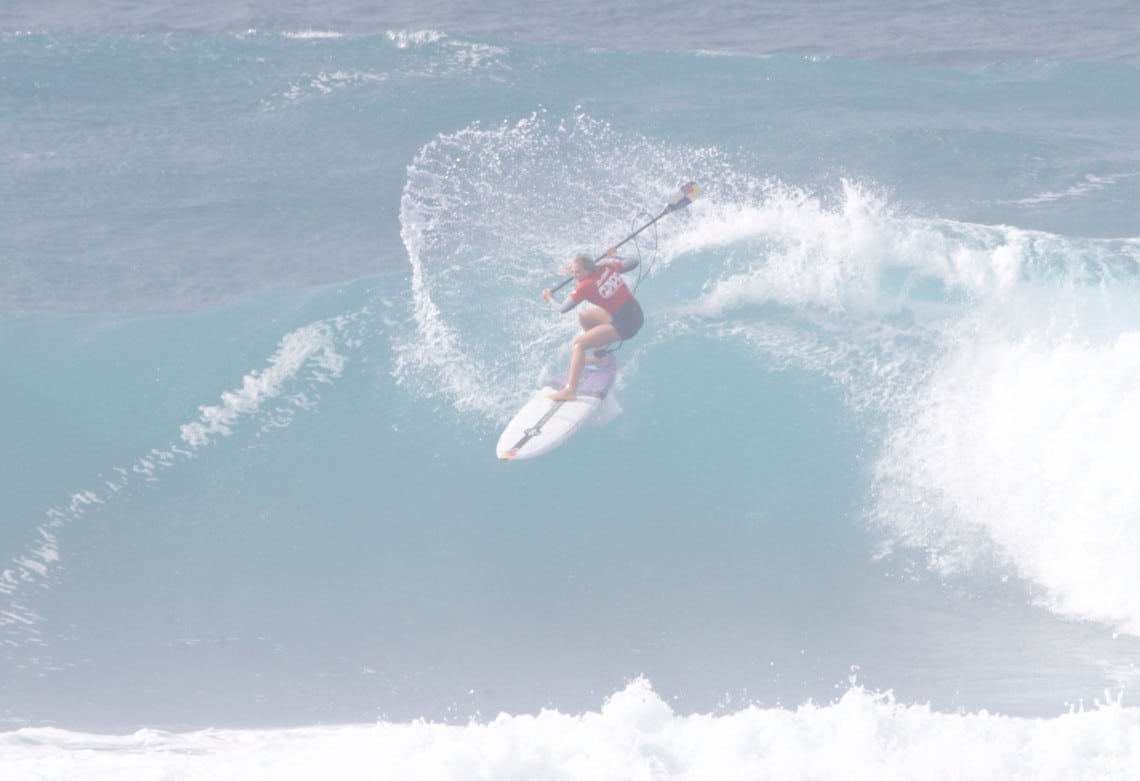 While Izzi Gomez has become used to being on the top of the Leaderboard, with multiple World Titles to her name, 2nd place is still an incredible achievement for this young talent from Columbia when you consider the caliber of competition here on the APP World Tour these days, as Izzi contimnues to re-define the boundaries of performance SUP Surfing.
Posting some of the highest single scores of the day, coming into the Final, Izzi was certainly the one to watch out for, especially given that she had won here at the last edition of the Sunset Beach Pro back in 2017.
She put on a solid performance through the final and put it all on the line for victory, but came in just shy of the score she needed to take the win, having to settle for 2nd.
The scene has been set for an incredible year ahead for the Women on the APP World Tour, as the most competitive field yet has assembled to open the year in style and set the tone for the events to come. With New York and Barbados to follow in September and November respectively, and then Las Palmas de Gran Canaria to close out the year in December, it is going to be the most exciting year yet for Women's SUP Surfing.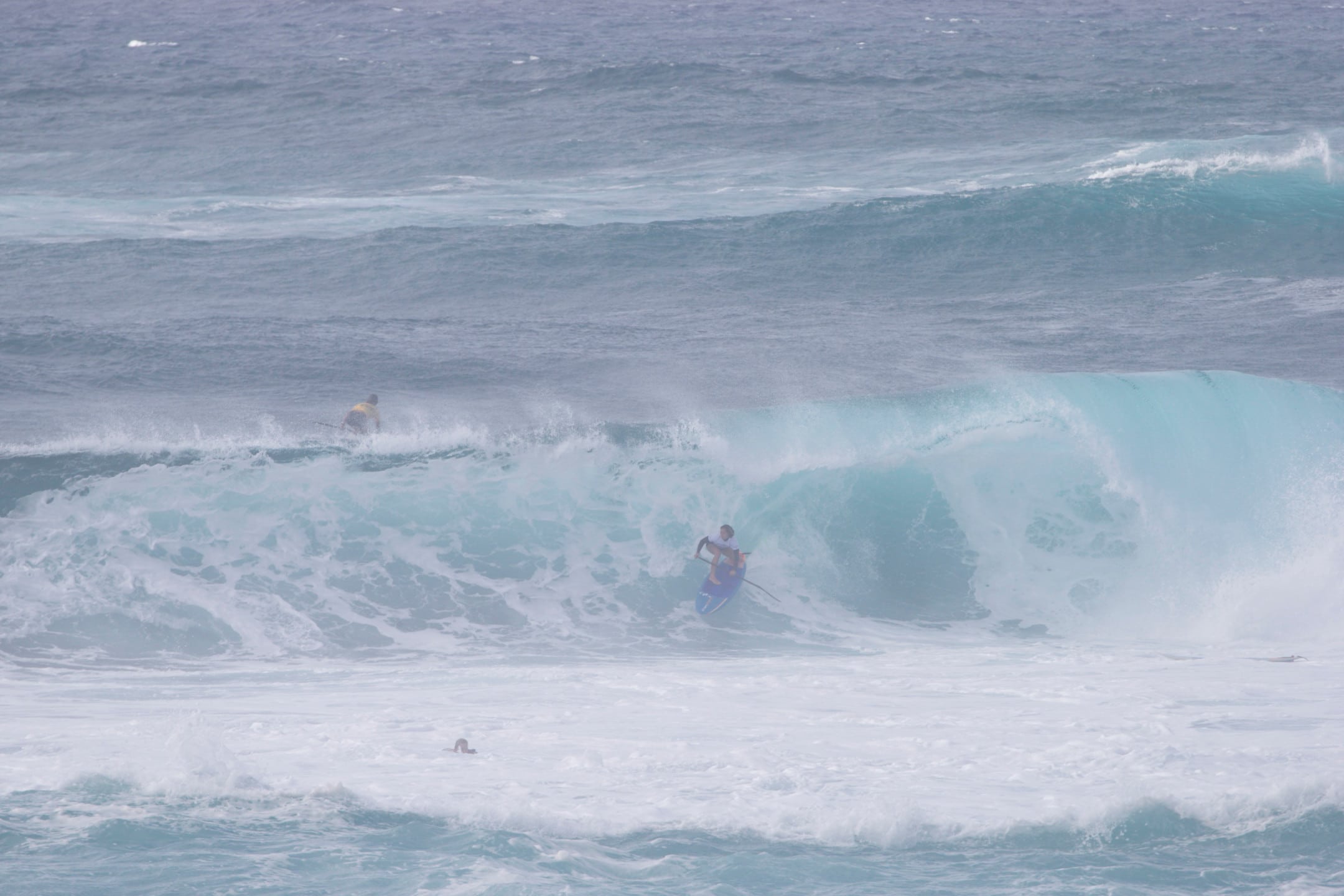 Shakira rarely backs down and never walks away from a challenge, and today was a testament to this, with a courageous performance from start to finish that saw her secure 3rd place in an incredibly competitive final.
On her backhand at Sunset, Shakira continued to attack the line up as if it were 2ft, and pulled into a thick barrel in the bowl that brought the crowd to their feet in the closing stages of the Final.
Shakira is without doubt one of the most talented and capable surfers on Tour, and is a true Title Contender: with just 1 from 4 events now complete, and a 3rd place in her scorecard, Shakira Westdorp will be one to watch out for as we progress through the season.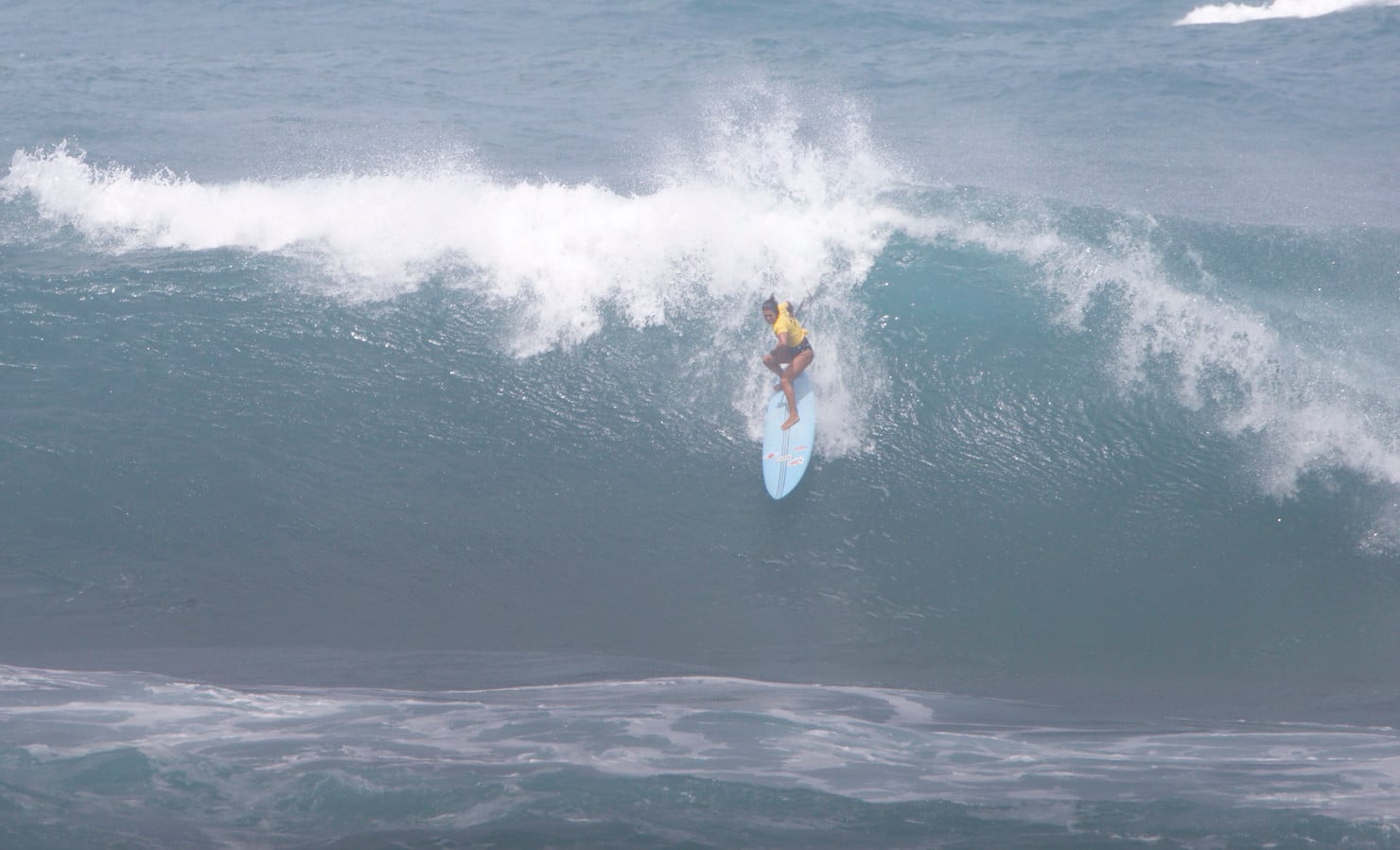 Aline Adisaka is one of the most friendly characters on Tour. However, do not let her smile deceive you – she is a fierce competitor, and that showed today at Sunset Beach, as she fought her way back from behind in her semi final heat to edge ahead of an on form Vania Torres to earn her well deserved place in the prestigious Women's Final.
Aline's surfing is looking confidant this year, and her wave lecture sharper than ever: as a result she will be another character to keep an eye on as we progress through the 2019 season as the Title Race heats up after stop 1 of the APP World Tour.
Full Results:
1) Fiona Wylde (USA)
2) Izzi Gomez (Columbia)
3) Shakira Westdorp (Australia)
4) Aline Adisaka (Brazil)
5) Lara Claydon (Hawaii) /Annie Reickert (Hawaii)
7) Hannah Finley-Jones (Australia) / Nicole Pacelli (Brazil)
9) Dominique Miller (Hawaii) / Vania Olivieri Torres (Peru)
11) Iballa Moreno (Spain)
Check out more videos on SUPboarder