When the cold, dark days of winter are in full swing, it's difficult to find time to head out for a paddle and hone those SUP skills. Short of hopping on a plane in hunt of warmer waters Red Paddle Co have put together 6 tips that will have you embracing cold water paddling like a warm hug.
Paddleboarding in the winter months is a great way to experience nature at its very best. The days may be short, but you really can't beat the sunlight glistening over cold water on a crisp winter's morning. And who doesn't love warming up after a cold day in the great outdoors – not to mention the bragging rights? So, if you are planning on hitting the water this winter, make sure you are well prepped by following our 6 tips for cold water paddle boarding during winter.
1. Check Your Gear
Before you head out in search of remote lakes and snow-capped mountains, make sure your inflatable SUP is up to the task. Not all paddleboards will cope well in extreme weather. Red Paddle Co inflatable SUP's use industry leading drop-stitch technology called MSL and are built in our own private facility over a period of 72 hours using a process known as TEC AIR. Incorporating the world's most rigorous quality control checks, this process offers superior quality and durability to deliver reliable performance. Remember to check the pressure of your board, especially if you've stored it inflated over a period of time. Aim for 20 PSI as your board will sit higher in the water and offer improved stiffness and glide as you paddle.
2. Check the weather and make a plan
We are not just talking about the sun shining here (although it helps!). Make sure you know the air temperature, water temperature, wind speeds, tides and currents when paddle boarding. Wind direction is an important one to note, especially if you are planning a long-distance paddle as even a gentle head wind can make progress slow and increase the wind chill factor. Make sure you study the forecast before setting off (ideally two forecasts to double check) as the weather at this time of year can be unpredictable and water conditions can change very quickly as a result.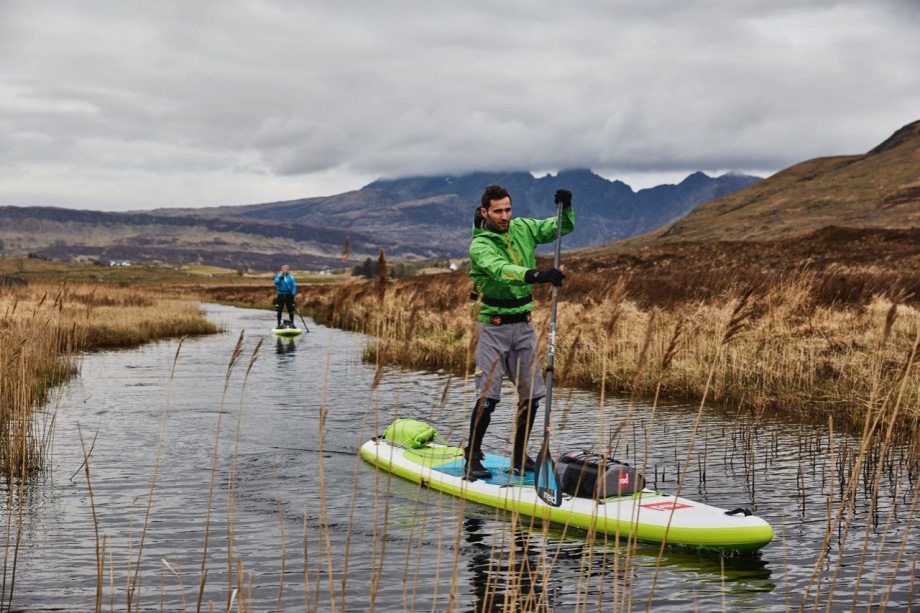 3. Winter paddle boarding clothing
To get the most out of cold-water paddle boarding it is vital that your SUP kit has the essential items you need to stay dry, warm and safe. While it is sometimes tricky to know what to wear paddle boarding throughout the year, your winter attire really hangs on what type of paddling you intend to do. If it is particularly chilly and you plan to head out into choppy waters or into the surf, a wetsuit will be your best option. If however, you plan to paddle a longer distance in calmer conditions, choose something warm yet breathable as this will help to regulate your temperature, especially if you begin to build up a sweat during your paddle.
Performance layers for cooler conditions use dri-release fabric technology so you can keep warm, dry and comfortable while paddling. And don't forget your hat and gloves!
4. Pack an essential SUP kit
Hitting the water during the winter can come with increased risks so ensuring you have the right equipment to keep you safe on the water is vital. Pack your dry bag or deckbag with at least one spare dry top and a waterproof / wind proof layer. Take enough water and food to last your intended distance and have a few snacks to keep yourself fuelled. Always take a communication device with you in case you need help during your paddle. There are couple of options for keeping your mobile phone safe and dry while paddle boarding. Every Red Paddle Co board comes with a free splash-proof phone case which has been designed to be lightweight and water-resistant for those times you may need to stay connected!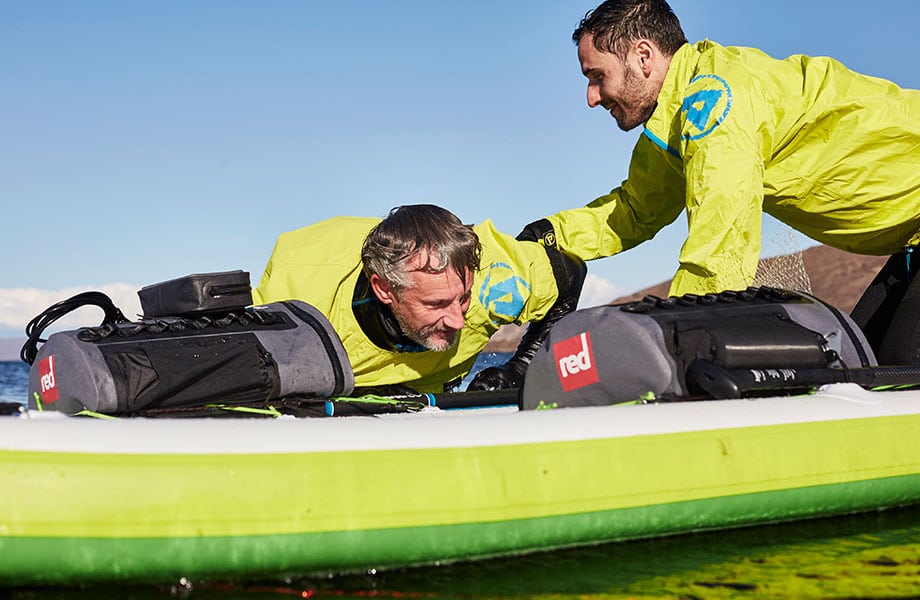 5. SUP safe – be ready to submerge If you happen to fall into the water not only is a leash essential but investing in a good quality personal flotation device is a necessity. You should have these items with you at any time of year but especially in winter. Submerging into cold water can result in a 'cold water shock response'. While your natural urge is to thrash and swim in the water, it is best to try to float until the shock subsides. Wearing a PFD gives you added security; it will help you float to conserve your energy and breathing before you try to get back on your board. And once you are back on dry land make sure you warm-up the right way.
6. Paddle with friends
Lastly, find a paddle buddy. Not only is it safer to paddle with a friend, it is so much more fun; how else are you going to photograph yourself paddling into that glorious winter sunset? If you can't entice a friend to join you then make sure you tell someone where you are going and what time you'll be back.
Put simply, if you respect the water, plan ahead and know your limits, you'll be a winter SUP warrior in no time. Stay safe and don't forget, to send us your stories and tag @redpaddleco in your paddling pics – we may share them on our social channels.
Happy Paddling!
Interests
-
All the guidance, insights and inspiration you need