2019 Fanatic ProWave 8'9"x30.5" LTD / £1499
The next board up in our 2019 Pro shape board test is the Fanatic ProWave 8'9" in the new LTD, Custom Surf technology construction. This board is geared up for performance from nose to tail. With its rocker-line and thinned out rails it really is a board that an advanced SUP surfer will love. But those lighter intermediate surfers will find it's happy to ride in less radical conditions too. The SUPboarder testers loved this board for its top to bottom surfing style, especially being a 120L 30+" wide board.
Board details:
Length        8′9"
Width         30.5″
Volume      120l
Fin set up  5 multi fin boxes comes with 3 x 4.75"fins
Weight       7.8 kg
Rider size   70-90kg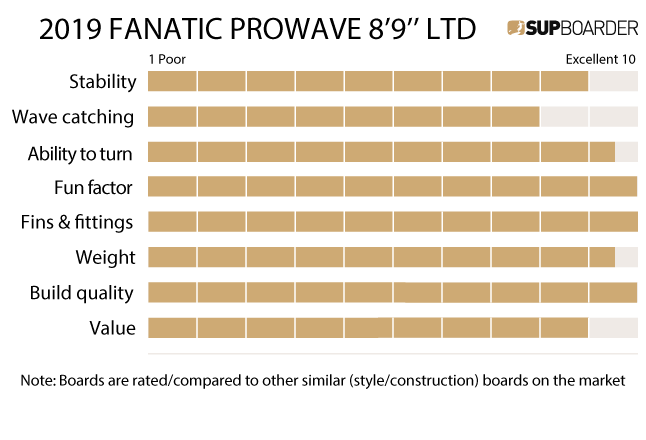 Other sizes in board range;
7'6″ x 26.5" 80L
8'0″ x 27.5" 92L
8′5″ x 29.5" 108L
Our photo gallery
Read on for brand video, details and website 

www.fanatic.com
Whether you're going for fast carves in powerful reef breaks, radical hacks in sloppy beach breaks or charging massive surf, we're sure there's a ride for you in our high performance ProWave line.
The four new ProWave shapes are based around the needs of our International team riders who are pushing the boundaries of powerful new surfing performance with these models. Balanced and easy to paddle, yet super radical once unleashed onto a wave, they offer a responsive ride with quick acceleration, great speeds and lots of drive. The ProWave is designed for deep carves and tight arcs in the pocket whilst handling mushy days with ease. The controlled flow gives you the confidence and comfort even on the biggest days. The ProWave comes in our new Custom Surf technology and with five boxes to give you the choice of either a Quad or Thruster fin setup allowing you to adapt the board to your style of riding and conditions on the day.