Hatha Aura 10'4" x 32" £625 package
In this SUPboarder review we look at one of the newest boards from the UK based SUP company Hatha. The Hatha Aura is an all round yoga/fitness board. At the competitive package price point of £625 including a 3 piece glass paddle, the Hatha Aura would be a great board for a beginner all round paddler wanting to get into SUP and take to the water to do some yoga and fitness too. A good looking inflatable SUP that show cases the brand Hatha at their best.

Board details:
Length        10′4"
Width         32″
Thickness   6″
Volume      317l
Fin set up  2+1 (Single US box and 2 mini side fins)
Weight       9.8 kg
Rider size   50-110kg
Our photo gallery
Meet the Aura and take your fitness outdoors. The Aura boasts a full length deck pad with a discreet visual alignment guide to maintain the perfect position. The 10 inch FCS ii connect fin makes getting onto the water even easier. This is our first board in our range to boast our "TFT" Thermo Fusion Technology making the board both lighter and stronger. It is constructed using our premium Military grade PVC making it extremely durable.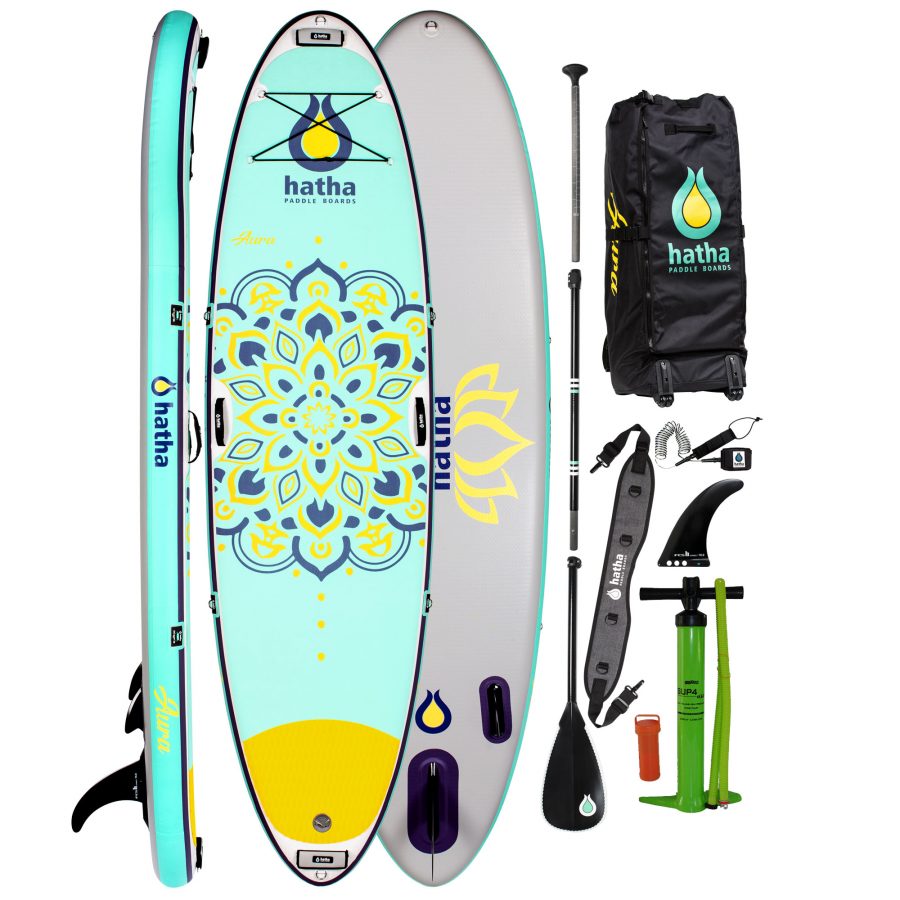 The Aura is packed with features, including front D-rings that perfectly align with the Hatha docking station. Front and rear paddle holders will keep your paddle safe and out of the way. As the Aura has no central carry handle so we have developed the Cario System which is a unique padded shoulder strap which attaches to the side of the board leaving your hands free! (patent pending).
Included is a three piece adjustable composite paddle with double locking clips and also stainless steel locking pins to minimise any twisting. It has a rubber ABS edge to the blade to protect your paddle as well as your board.
Also included is a colour coded heavy duty wheeled bag packed with features, including shoulder and waist straps, internal pockets, large front zip and a secret pouch to tuck away the shoulder straps when not needed. There is a double pump and a robust 10' coiled leash inside the box.
Get at one with nature ……. take out the Aura.