There's no better way to get you in the racing mood than launching your new race board range with a video. And at SUPboarder, Starboard have already got us saying 'we want more!'  For over a decade Starboard have been at the top of the race board market and in the last few years they've allowed us to paddle faster and ride narrower boards than ever before. The graphics and colour ways of this years 2019 Starboard race boards look very similar to last years, but don't be fooled! Starboard's 2019 boards are more refined and have been tuned to paddle even faster.  
As always, we are looking forward to getting these new boards on the water and giving you our honest feedback. But until then, here are some first look thoughts from our Race Dr Bryce Dryer on the new 2019 Starboard race board range…
"As far as things go, I'm generally cynical of SUP's 12 month R&D cycle that we see each year. That's the shortest of any sport or industry I've ever been involved with and it's hard sometimes to see the real value to us as consumers. Despite this, having seen Fanatic's offerings the other week, I was really keen to see what Starboards brochure had in store for us in 2019.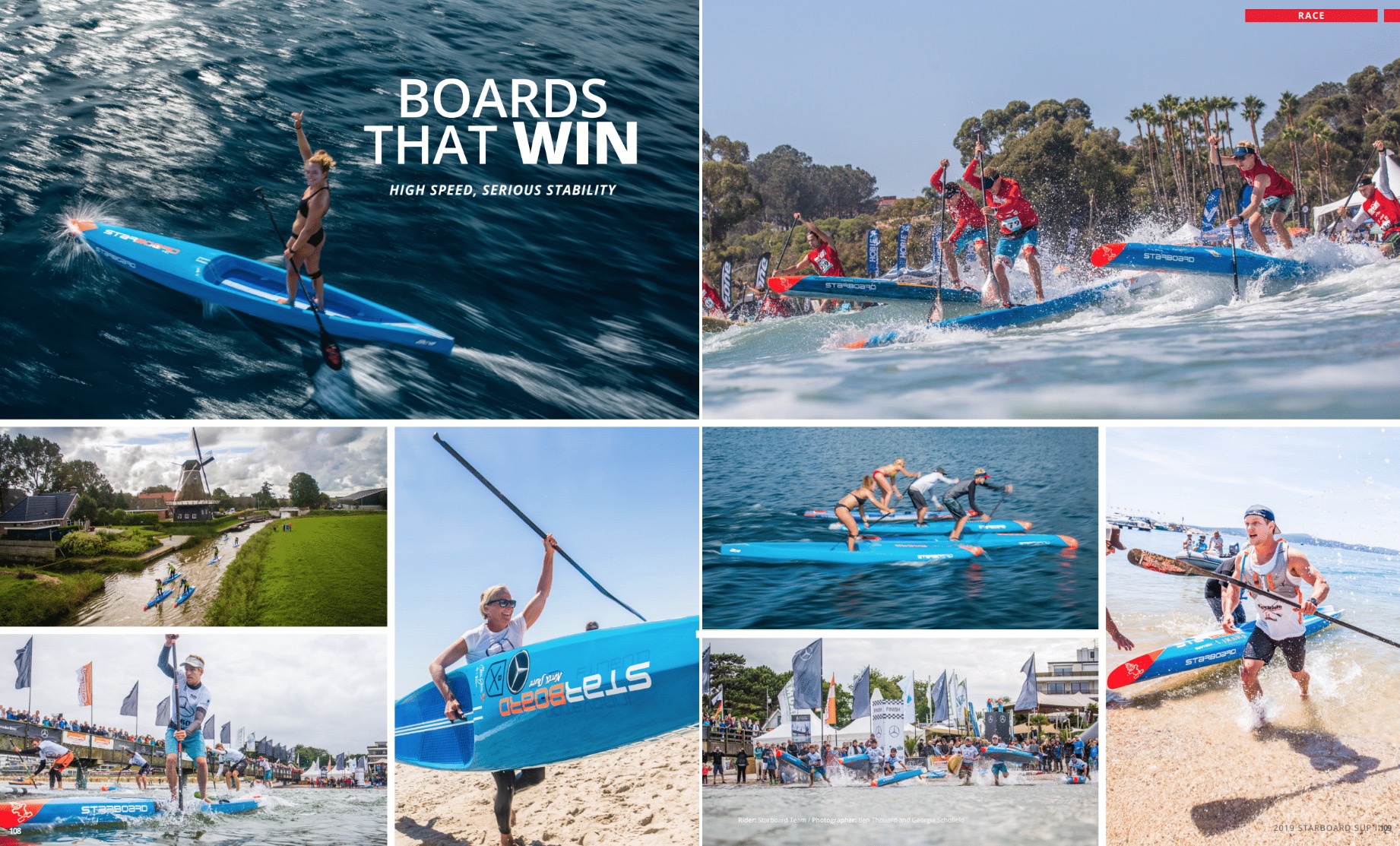 In my opinion, Starboards heavy adoption of deep bottom concaves from around 2015 were game changing for intermediate race paddlers such as myself. It allowed many of us who were stuck on boards of 26 inches in width or greater to suddenly go sub 25 with no loss in stability and to gain some speed in the bargain. Those bottom shapes continue to be tweaked in 2019 with the promise of yet more stability. If that's truly the case, it sounds promising. 4 years ago, the thought of racing on a 23 inch width board seemed absurd for most of us – now it's within reach and not just for some of us with ballerina-like balance.
Looking at the Allstar, (and depending on your power output and weight), it's a risk that the volumes on offer are getting very high for smaller paddlers and could lead them to feel 'corky' or a struggle in the wind but some other brands also often offer too little. It's impossible to please everyone but the huge choice of widths and sizes on offer here may go some way to address that. The extremely large and boxy tail changes of the 2019 Allstar design also jumped out to me. Like the concavities underneath, it looks like that feature may increase confidence to the everyman racer when manoeuvring the board. The brochure also includes a nice overlay of the 2018 vs the 2019 boards in section that illustrates the underside profile changes. For me though, the strength of the 2019 Allstar design will be purely a question of whether the new bottom profile can compensate for the potential stability lost by moving to its slightly narrower tail next year. I want to go faster but keeping its stability is a fine balancing act. The proof of the pudding will be in the paddling there I think.
The 2019 Sprint is a board I liked the look of since this year's model came out. The 2018 model compromised some of its raw flatwater speed by accommodating the ability to handle some light open water conditions. This I feel is actually a reflection of what many of us actually see in most of our races. Again though, there is also the promise of more stability. We've been told that there is increased stability year on year so the question remains if this is really the case ? I personally think the elite or pro riders are so well trained they are the wrong people to be asking. It's your novice or club level racer whose feedback is most critical here as they'll be far more sensitive to such changes. If such racers can handle something like the 12'6 or 14ft in the 23 width here, then Starboard have really come somewhere from as a little as 2-3 years ago and we're all going to go faster as a result. Either way, if you look beyond the practicalities and went on looks alone, it's a great looking board to my eye.
The Ace is something of a design classic that has stood the test of time for downwinding. It's only available as a 14ft this time around and gets a few shaping tweaks. Interestingly, it says the outline is by NASA (I'm not sure this shouldn't be NACA – an organisation that ratifies aerofoil profiles). Either way, this is the first time I've seen something like this mentioned before in SUP and gives the board some credibility in its design. An increase on the tail inner width is also a nice touch as pin tails can be a handful when you want to step backwards. Whether you like or need it or not, the Ace has remained relatively the same for some years now which is only testimony to its dugout design.
The Starboard brochure finishes with its illustrations regarding their construction options. Research has shown that weight has been shown to be less critical in rowing or kayaking boats but I feel that the lower speeds and high deceleration of SUP boards when paddling may mean every kilo may well count for us. I also know that an extra couple of kilo's can feel more uncomfortable when carrying the board around so the build choices here should not just be seen as if they are faster when on water but also with respect to your everyday experience when going from storage to the finish line and home again (plus their durability when doing so).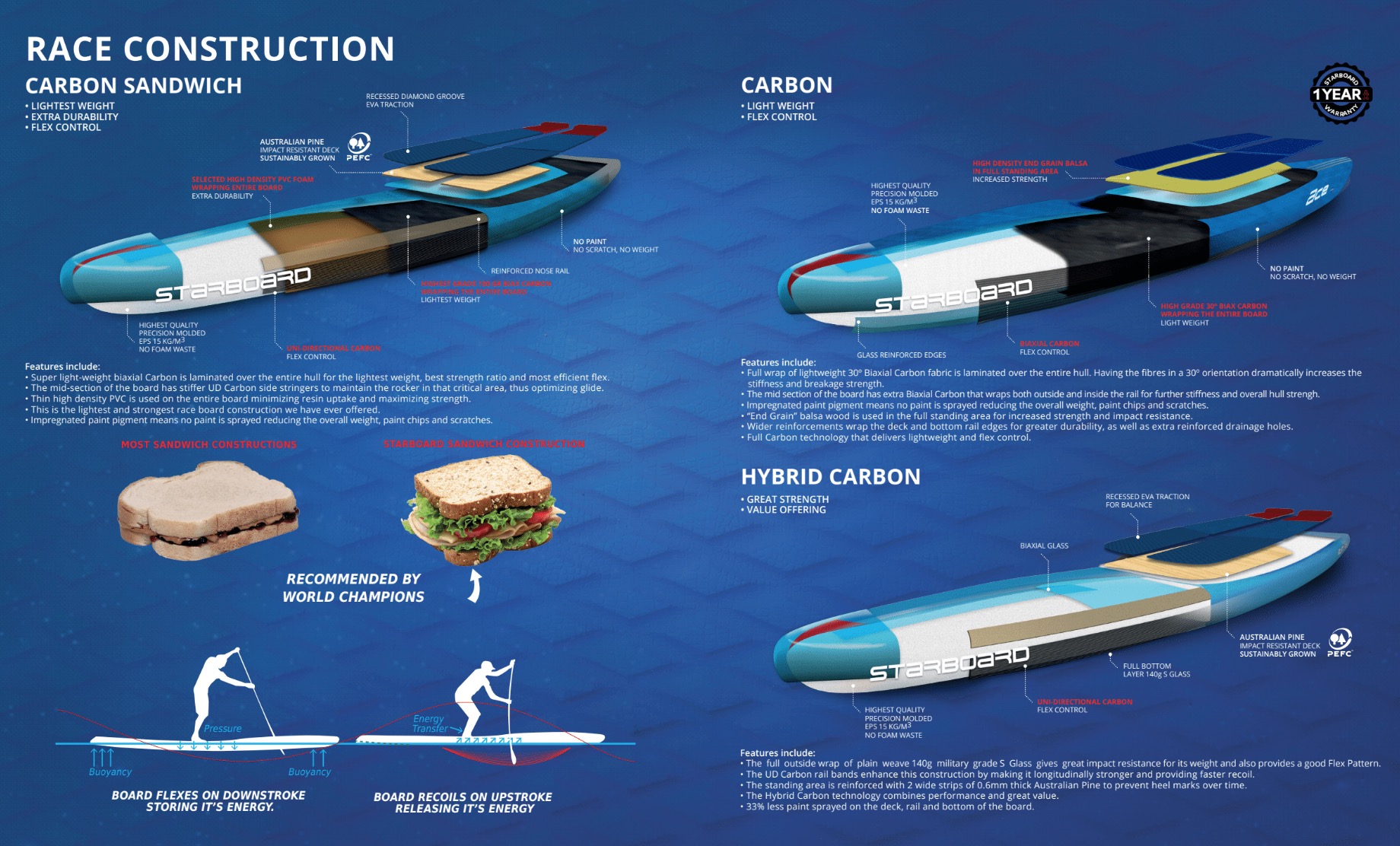 Lastly there are their 'energy storage and board recoil' performance benefits. I'm somewhat sceptical of the claim. Partly as, again, there's no evidence out there to show this is possible with SUP's but also that when you put energy into something, you actually get less back and it remains to be seen if what you do get back is consistently in a vector (or direction) that is actually beneficial to you moving forwards. I'd love to investigate if this is possible. I personally find this is where Starboard unnecessarily risk letting themselves down from time to time. These claims (or their occasional time trial head to head videos) appear too fast and loose in design to me to be credible. In my view, the strength of Starboards 2019 range isn't the jargon, straplines or any dubious scientific claims – it's actually that behind that is a well thought out range that sees comfortably small levels of evolution from 2018 that ultimately make them more useable and enjoyable when in the real world. For me, that's going to be the main intrigue when many of us demo these soon."
Read on for brand details and website www.star-board.com
BOARDS THAT WIN –
Starboard  2019 SUP  Race Range
Leading the SUP racer world ranking every day, 5 years straight,
with all riders using stock production boards.
An exhausting hunt for the highest-performance and more environmentally-friendly materials, the new designs are tested by our multiple World Champions; Connor Baxter , Michael Booth, The  Hasulyo brothers, Fiona Wylde and Sonni Hoenscheid. Only the best shapes survive and go to production to yet again produce more titles in 2019.
Starboard's 2019 race range is faster and again more stable, breaking new boundaries in our sport.
For every board sold, we are picking up plastic equivalent to 200 plastic bags from our coastlines.
We also plant one mangrove for each board sold, absorbing one ton of CO2 over the next 20 years.
Live a deep blue life and paddle for the planet with us.
ALL STAR– https://star-board-sup.com/2018/boards/starboard-2019-all-star-race-board/
One board, all conditions. Be an all-star at every race.
 High-performance race shapes designed by world-class athletes.
From progressive level riders to elite racers. The All Star is the world's most successful, user-friendly and versatile race design.
The updated bottom shapeis more stable when switching between strokes, allowing you to maintain a smooth and balanced glide without disrupting the speed.
Narrower tail outlineoffers faster acceleration and gives you more glide with every stroke.
The Flatter tailmakes turning easier and gives a smooth release.
The Boxy taillet the waves push the board forwards on downwind courses.
14'0"x22.5" & 12'6"x23" All Star remain the lower-volume models with a thinner overall profile and the narrowest width for lighter riders.
Target rider: Riders up to 115 kg.
Key features: Boxy rails. Fast center channel, flatter tail concave, stable side planes.
Conditions: All.
SPRINT– https://star-board-sup.com/2018/boards/starboard-2019-sprint-race-board/
Meet our fastest board.
The ultimate speedster for flat water and chop. Instant acceleration, amazing top end speed.
The all-new 2019 Sprint – instant acceleration, direct turning and controlled stability.
A refined bottom shape with a straighter channel, flatter side planes has a faster and more stable glide.
The new extended standing area with straighter tail angle makes for more controlled trimming and buoy turning.
Flat-rockerextends the glide for fastest speed, while the sunken standing areawith high side rails gives stability and control in chop.
Carbon Sandwich. Only available in the lightest, fastest and strongest Carbon Sandwich Technology.
Target rider: Riders up to 115kg.
Key features:  Boxy rails. Fast center channel, flatter tail concave, stable side planes, sunken standing area, flat rocker.
Conditions: Flat-water to small chop.
The 2019 Sprint is hands down the fastest race board we ever produced. Refinements in the standing area increase the overall comfort and control, while the improvements in bottom shape upgrade the overall stability and speed.
ACE– https://star-board-sup.com/2018/boards/starboard-2019-ace-race-board/
When there's chop, you need pop.
The downwind game-changer for choppy water and open-ocean conditions.
Narrower nose outline for less resistance and better  glide through waves.
 Refined nose design and rail height allows more pop and stability in chop.
Lowered nose rocker andraised tail kickhelps the swell push the board into bumps earlier and gives greater maneuverability when surfing on the tail.
Widened inside tailgives more room for greater control and comfort when surfing and in buoy turns.
High sidewalls block water entering the tray, offers increased pop & secondary stability, and greater control surfing on rail. New rounded rail edge in the sunken standing area makes for a friendlier entry getting into the board.
Target rider: Riders up to 100kg.
Key features: NASA outline with full nose and narrow tail, sunken standing area, high volume nose, curved rocker.
Conditions: Open ocean, upwind and downwind races.
All models feature new diamond grooved deck pad in the standing area. All Star and Sprint have diamond grooved tail pad for extra grip and control for buoy turns.
All models feature multiple handle mount positions for beach starts.